printer friendly version
Axis launches new IP camera running at three frames-per-minute
CCTV Handbook 2017 Editor's Choice, CCTV, Surveillance & Remote Monitoring
The headline you just read is somewhat misleading. It would have been more appropriate for an article published around 1996 when Axis Communications launched the world's first IP camera, invented by the company's Martin Gren and Carl-Axel Alm.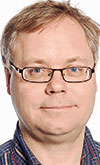 Dr Martin Gren.
Martin Gren is one of the founders of Axis Communications and is currently the chairman of Axis Communications. Gren studied advanced computer science and electronics, and in 2015 he was appointed Honorary Doctor at Faculty of Engineering, LTH, Lund University.
Hi-Tech Security Solutions was able to speak to Gren during a recent trip to South Africa in which he spoke about IP cameras, both old and new, and what the company is focusing on today in a world where a camera is rapidly becoming a commodity.
Axis itself started out making print servers for IBM mainframes in the 1980s, and in the 1990s moved to connecting things via TCP/IP. In today's terms, that makes Axis a pioneer in the Internet of Things (IoT), but that term wasn't invented until much later. After coming up with the first IP camera, even at a frame rate of 1 frame per 17 seconds, the company understood the potential of the technology and became the Axis Communications known today.
Roy Alves.
Having made its own chipsets for its print servers, Axis continued the habit in its cameras, launching its own chip in the late '90s. This allowed the company to focus on optimising the performance and scalability of its cameras. Roy Alves, regional business development manager for Axis in South Africa and the Middle East, remembers installing 200 cameras with these first chipsets for a hotel in 2001, running at 15 frames per second (fps) with a 340 x 480 resolution. Some of these are still working today. Axis also developed its own Journaling File System, which it later open-sourced.
Four years later the company produced its second chip and PoE (power over Ethernet) technology was introduced to power cameras, and allow users to install cameras without requiring a certified electrician to handle the electric cabling.
Beyond cameras
Today, Axis looks beyond manufacturing cameras and the related accessories. Gren says that about three years ago the company found that customers were looking for more and more integrated solutions, which is why Axis now also supplies access control, intercoms and audio equipment, as well as analytical software.
Alves says partners can now buy a solution incorporating these aspects from Axis, with the company taking responsibility for the performance of the hardware solution, although Axis only operates through its channel.
With the 'official' advent of the IoT, Axis is also taking care to ensure its products are as secure as the manufacturer can make them in order to assist users in preventing their equipment from being used in attacks – such as we saw with the Mirai botnet in 2016. This includes hardening the kit against hackers and ensuring that the 'phone home' capabilities are switched off by default, among other functionality.
One of the biggest risks users take is when they buy OEM cameras that are sold under a brand that does not have the manufacturing skills to make their own. With OEM products, customers generally don't know what they are buying or what's inside their devices. The original manufacture will be responsible for developing updates and security patches, and they will do it for their own equipment first before rolling it out to OEM partners – assuming they pay proper attention to their OEM customers. This leaves users compromised for longer and at greater risk of attack.
More than a megapixel
When it comes to selecting a camera for your requirements, people often look at the resolution to determine what meets their needs. In today's world, users have a wide choice of cameras offering any number of megapixels, but we often find the camera doesn't do the job we want. One can buy a camera promising the same resolution from various vendors and easily see the difference in the images delivered.
Gren says the choice of a camera is no longer about megapixels, but the image you get at the other end. When considering the quality of the image, resolution is only one component of a good and usable image. Naturally, some situations require a high megapixel count, such as stadium surveillance, but for many other uses there is much more to consider.
The ability to see the scene you are looking at clearly and make decisions based on that image is critical. With a good image, you can do so much more than just have a picture on the screen.
To accommodate the security industry's needs for image clarity without requiring massive bandwidth and storage upgrades, Axis developed an image algorithm specifically for this market. Called Zipstream, it reduces both the bandwidth and storage required for high-resolution video (www.securitysa.com/7481r). Zipstream determines which areas of the image are 'of interest' and which are not, and then compresses the 'not of interest' regions of the image dramatically, while leaving the areas of interest, such as a person, less compressed or uncompressed.
Other issues that impact the quality of the images captured include WDR (wide dynamic range) which balances out areas of high or low light, reduces glare and so on to deliver a clearer image. LightFinder is another Axis invention which allows its IP cameras to produce colour images in conditions of almost total darkness. Gren mentions that in terms of 'seeing in the dark', LightFinder cameras actually operate better than the human eye.
Intelligence counts
When it comes to differentiating your products in a commodity (or almost commodity) market, intelligence counts. We can see many companies competing to deliver intelligent algorithms that enable people to rely on computing power to monitor video feeds and trigger events. In this area, image quality is incredibly important as the more the intelligent algorithms have to work with, the better they perform.
The improvements in facial recognition, for example, clearly demonstrates how intelligent analytics has improved. Today, we can not only recognise a face, but even determine demographics like gender and age from an image. These advances will continue and accelerate as software is used to deliver more, faster than ever and more accurately than ever. And Axis is already leading the way in these deep learning initiatives, as well as in making cameras more versatile by allowing users to load analytical 'apps' onto its cameras to suit whatever situation is required.
For more information contact Axis Communications, +27 (0)11 548 6780, sasha.bonheim@axis.com, www.axis.com
Credit(s)
Further reading:
Reinventing network camera security
Issue 1 2020, Axis Communications SA , CCTV, Surveillance & Remote Monitoring
Now in its seventh generation and celebrating its 20th anniversary, the Axis ARTPEC chip was launched in 1999 designed to optimise network video.
Read more...
---
Axis gives a brighter future for children
Issue 1 2020, Axis Communications SA , Editor's Choice
Fully networked camera solution provides visibility and accountability, letting orphanage focus on what's important – its children.
Read more...
---
SFP Security & Fire becomes ISF SFP
Issue 1 2020, ISF SFP , Editor's Choice
SFP Security & Fire was sold to ISF in 2019, becoming ISF SFP and attaining Level-1 BEE status.
Read more...
---
Janu-worry or Twenty-Plenty?
Issue 1 2020 , Editor's Choice
If the available security spend right now is somewhere between limited and non-existent, here are just a few suggestions.
Read more...
---
CCTV surveillance needs are critical in defining types of camera deployment
Issue 1 2020, Leaderware , Editor's Choice
Cameras by themselves do not reduce crime; they need to be implemented as part of a considered strategy of crime prevention and detection.
Read more...
---
Trends 2020
Issue 1 2020, Technews Publishing , Editor's Choice
Hi-Tech Security Solutions asked a few people from diverse companies to join us in a round-table discussion about what they expect to see happening in their environments in the coming year.
Read more...
---
Seven key trends for 2020
Issue 1 2020, Hikvision South Africa , Editor's Choice
Hikvision looks at a few trends that will affect the security industry in 2020 and beyond.
Read more...
---
Hundreds of millions to reskill
Issue 1 2020 , Editor's Choice
By 2022 alone, 75 million jobs will probably be displaced across 20 major economies, while 133 million new ones will spring up in industries that are only just gaining traction.
Read more...
---
Slow and steady wins the access race
Issue 1 2020, ZKTeco, Technews Publishing , Editor's Choice, Commercial (Industry)
The commercial sector is slow in migrating to new access control technologies, with the majority of companies remaining with card and fingerprint solutions.
Read more...
---
Client property access integrity
Issue 1 2020 , Editor's Choice
Blind or unquestioned trust is something that we all seem to willingly and unconditionally give our security service providers and their reaction officers.
Read more...
---