printer friendly version
Empowering the CCTV installer
April 2017 CCTV, Surveillance & Remote Monitoring, Security Services & Risk Management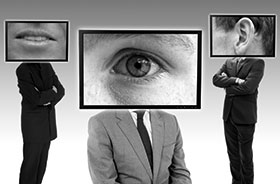 Research in the field of closed-circuit television (CCTV) shows that more than 200 000 new cameras are being installed in South Africa every month. Of these, the rate of cameras being monitored offsite is increasing at 500 percent per year. The CCTV industry is growing at a rapid rate, and this growth spurs competition, further aggravated by a low barrier to entry.
There are few regulatory or accreditation requirements in this field and the market is heavily biased toward widely-known hardware brands, therefore the same products are used across the sector, and by all suppliers.
The increase in competition in the CCTV sector begs the question of how installers can differentiate themselves in a saturated market. Rael Jaffe, general manager at Wholesale Monitoring Services (WMS), believes the answer lies in offering auxiliary or bolt-on options to customers. "CCTV installers' core competencies are excellent sales and relationship keeping, and installing and maintaining equipment of a high quality. We feel that offering offsite monitoring via a rental option can add value to your customers and help bring ongoing monthly revenue to your business."
All South African consumers have preferred suppliers with whom solid and often long-term relationships are maintained. "We want to empower our partners to offer these additional benefits to their new and existing client base," Jaffe explains.
The trend in the market is to move away from manpower towards technology. "Human beings are simply not designed to stay awake all night patrolling a perimeter or stare at monitors onsite," says Jaffe. "We believe that threat detection should be undertaken by the system, while the human element plays its role in effective access control and response services."
Offsite CCTV monitoring is currently offered by companies who target the end-user, with a handful of companies attempting to educate the market about the many advantages of effective offsite monitoring services – often with poor results.
"Offsite monitoring is simply putting the video of interest (VOI) in front of a competent person in real time. We have found that the best way to achieve this is by using machine-learning software which self-learns any environment and prioritises VOI to a control room," says Jaffe. "Our video analytics software is completely hardware agnostic so our partners can continue selling their preferred hardware brands and we simply bolt onto it."
Of the benefits offered by WMS, the rental option is a game changer. Instead of a significant once-off installation fee, often out of reach for smaller clients, installers can offer a rental option as the ideal solution to clients without an available lump sum, who will likely be far more agreeable to a monthly fee.
Experts in their field, installers understand that ensuring a high standard of quality on installation work and building positive relationships is key. Partnering with WMS enables the installer's customer to reduce their spending on security guarding and save money while home owners and business owners feel secure with an affordable monitoring solution at a fraction of the price.
The South African offsite monitoring market can only grow once trusted installers offer and support a solution which actually works. WMS combines technology with specialised monitoring systems at the forefront of modern-day safety advancements so that installers can offer their clients an effective, progressive CCTV package.
Further reading:
Why rehearsals and drills for crises and evacuation are so important
August 2019, Leaderware , CCTV, Surveillance & Remote Monitoring, Security Services & Risk Management
The rehearsal of concept (ROC) drill has been used extensively in the military, but is just as important when facing risks in organisations and institutions to protect people on the ground.
Read more...
---
Milestone partners prove their skills
August 2019, Milestone Systems , News, CCTV, Surveillance & Remote Monitoring, Training & Education
Within the span of one week in mid-May, the Milestone Learning & Performance group celebrated important benchmarks: 200 000 course registrations and tutorial views, and 10 000 certifications.
Read more...
---
ONVIF Hosts 20th Developers' Plugfest
August 2019 , News, CCTV, Surveillance & Remote Monitoring
ONVIF, the global standardisation initiative for IP-based physical security products, hosted its twentieth ONVIF Developers' Plugfest in early June in Tokyo.
Read more...
---
24-hour emergency response for staff
August 2019 , News, Security Services & Risk Management
The FirstRand Group has partnered with PanicGuard to create a 24-hour emergency response programme for staff.
Read more...
---
Licence plate recognition camera
August 2019 , Products, CCTV, Surveillance & Remote Monitoring
VIVOTEK has introduced a new licence plate recognition camera featuring built-in licence plate recognition software and edge-computing capability.
Read more...
---
Keeping our changing environment secure
August 2019 , Editor's Choice, Security Services & Risk Management
For a crime to take place there needs to be a victim and a criminal who sees an opportunity. For a cybercrime to take place we need the same set of circumstances.
Read more...
---
The importance of real security risk assessments
August 2019, Sentinel Risk Management , Editor's Choice, Security Services & Risk Management, Residential Estate (Industry)
Andy Lawler, MD, Sentinel Risk Management, says a security risk assessment is an onerous task, but is not something estates can consider optional or a luxury item anymore.
Read more...
---
Risk assessment or product placement?
August 2019, Technews Publishing, Alwinco, SMC - Security Management Consultants , Editor's Choice, Security Services & Risk Management, Residential Estate (Industry)
Hi-tech security solutions asked a couple of experts to provide estate managers and security managers with some insights into what a 'real' risk assessment includes.
Read more...
---
Securing Savannah Hills Estate
August 2019, Rhyco Risk Projects , CCTV, Surveillance & Remote Monitoring, Perimeter Security, Alarms & Intruder Detection
Savannah Hills Estate in Midrand planned a security upgrade which was awarded to Rhyco Risk Projects. The project started in March 2019 and was completed in May 2019.
Read more...
---
10 things to consider when shopping for a VMS
August 2019, Genetec , CCTV, Surveillance & Remote Monitoring, Integrated Solutions
Today's video management systems (VMS) provide a wide range of tools and capabilities that help make security personnel more efficient by allowing them to focus on what really matters.
Read more...
---