printer friendly version
Five years of serving the trade
July 2013
News
Powell Tronics is a prominent supplier of high-end integrated access control and security solutions. As a national distributor of world-renowned technologies, specialising in biometric, RFID and full IP-based access control and identification systems, and backed by unparalleled support, we have become known as the supplier of choice for contracting businesses and installers operating throughout southern Africa.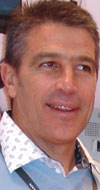 John Powell (MD, Powell Tronics).
Our unique understanding of end-user requirements and ability to collaborate with our clients, helping them source the perfect solution for the end-user, has made Powell Tronics a specialist distributor of advanced and fully integrated security solutions.
Powell Tronics was established in Cape Town in 2008 at the peak of the global recession. The aim for Powell Tronics was to become the preferred distribution partner for 'Advanced Access Control Solutions' to the contracting industry, mainly to capitalise on the collective experience of over 50 years in this industry of the initial team.
We decided at a very early stage and experience had taught us that choosing the correct products to represent in a distribution environment was key to our success. Impro Technologies and Morpho were the two main products we initially settled on, and two years later, we added Golmar as our third main brand.
The company has focused on developing strong relations with its suppliers with the aim of promoting products that are tried and tested in the world market. The primary brands that we represent were all established over 25 years ago and are still leaders in their respective fields today and have had enormous learning curves over the years, compared to many of the brands entering the market place today.
With our headquarters in Cape Town, Powell Tronics has extended its footprint nationally to include branches in Johannesburg, Durban and Port Elizabeth. Each of our branches boasts a fully-equipped training centre and consultation facilities, ensuring our clients receive the full benefit of all the services Powell Tronics has to offer. Furthermore, Powell Tronics is proud to have extended its reach beyond South African borders and now supplies a dedicated group of dealers in Botswana, Zimbabwe, Namibia, Malawi, Nigeria and Swaziland.
Before adding a national foot print, we invested our resources and efforts into ensuring that skilled individuals joined the team, who are capable of adding real value back into the supply chain. To this end our experienced national sales team are highly motivated and keen to assist with enquires and proof of concepts for respective customers, they are also very well supported by their admin colleagues who ensure we maintain adequate stock levels in the branches to ensure speedy delivery of products to our dealer base.
As the ever-changing world of access control evolves end-users and installers are demanding more and more flexibility, wishing to link various areas/cost centres and products within the business to their primary security solution. We accepted this challenge and today we boast an in-house development department that is dedicated to provide Bespoke software solutions to the market, through our valued dealer base. These customised integration modules are developed to stringent criteria/standards and in most cases incorporate Impro Technologies products as the back-bone for the custom application, with Morpho & Golmar products incorporated.
A message from Impro
The management and staff of Impro Technologies would like to congratulate Powell Tronics on its fifth anniversary and for an exceptional history of significant growth from a fledgling start-up to a major industry player in only five years.
We are also proud to be a major supplier to the company, and have enjoyed watching the evolution from distributor to an organisation that also produces specialised custom software for the industry.
Loyal to the Impro Brand, Powell Tronics adds a great deal of value, including technical design expertise, support and customisation services to enhance our product offering in the African market.
We look forward to maintaining a very long and successful relationship with Powell Tronics.
Errol East, managing director, Impro Technologies
A message from MORPHO
On behalf of Morpho, I extend our heartiest congratulations to the management and staff of Powell Tronics on the occasion of your 5th anniversary.
Since its inception in 2009 Powell Tronics has carved for itself a highly respected position in the security industry. Powell Tronics has been successful in supplying specialised security products to the South African market. We have witnessed the growth from a single branch to offices throughout the country. Morpho is honoured to have Powell Tronics as one of our biometric terminal distributors.
Today, Powell Tronics is recognised for its high quality customer service as well as its ability to keep abreast the latest trends and opportunities. Steered by its dedicated leader John Powell we are certain that Powell Tronics will see a successful and rewarding growth path.
We certainly wish the management and staff of Powell Tronics the very best on reaching this milestone. We look forward to a successful partnership for many more years to come.
Jean-Paul Deguines, managing director
A message from GOLMAR
On behalf of Golmar and the export team we would like to congratulate Powell Tronics on reaching this milestone.
We wish them every success with their continued efforts in creating market share with our full range of communication products, ranging from IP Video intercoms to wired systems and kits.
There are many exciting new products on the way, especially on the IP Video range of products.
Albert Estopa, export manager – Golmar
Credit(s)
Further reading:
TAPA: The role of an effective treasury function in business risk management
June 2019, Technews Publishing , News
Neil Le Roux, the Founder of Diligent Advisors will speak at the TAPA SA (Transported Asset Protection Association) annual conference on 26 July 2019.
Read more...
---
iLegal 2019: Enhancing and empowering your control rooms
July 2019, Technews Publishing , News, Conferences & Events
iLegal 2019 will be held on 12 September 2019 at The Rosebank Crowne Plaza in Johannesburg. iLegal is the surveillance industry's premier one-day conference hosted jointly by Hi-Tech Security Solutions and Dr Craig Donald.
Read more...
---
Residential Estate Security Conference 2019: Managing for efficiency
July 2019, Technews Publishing , News, Conferences & Events
The Residential Estate Security Conference 2019 will be held on 20 August 2019, once again at the Indaba Hotel in Fourways, Johannesburg.
Read more...
---
Spending to save
August 2019, Technews Publishing , News
As residential estates and complexes grow like weeds across South Africa, often promoting themselves as more secure than a stand-alone house, many are finding that close proximity to a neighbour or a ...
Read more...
---
The benefits of electronic visitor management
August 2019, Powell Tronics , Access Control & Identity Management, Residential Estate (Industry)
Access control is a critical aspect of estate security as it represents the controls put in place to restrict entry (and possibly exit) along the outer boundary of the location.
Read more...
---
From the editor's desk: The difference between potential and skills
August 2019, Technews Publishing , News
This issue of Hi-Tech Security Solutions includes our annual Local Manufacturing feature and it's great to know that local security manufacturers are still going strong, even if the general manufacturing ...
Read more...
---
A customised solution for backup power
August 2019, Specialised Battery Systems , News, Integrated Solutions
Specialised Battery Systems designed and implemented a bespoke solution for Stallion Security Electronics to deploy at almost any site.
Read more...
---
Patient critical – healthcare's cybersecurity pulse
August 2019, Wolfpack Information Risk , News, Cyber Security, Healthcare (Industry)
The healthcare industry has become one of the leading cybersecurity attack vectors worldwide for several reasons.
Read more...
---
iLegal 2019: Keeping security one step ahead
July 2019, Technews Publishing , News
The iLegal 2019 conference will focus on Augmented Surveillance, including the physical and logical technologies, people and processes required to enhance security and business decisions.
Read more...
---
A one-size-fits-all approach won't secure the IoT
August 2019 , News, Cyber Security
Securing the Internet of Things (IoT) is something which cannot be done with a one-size-fits-all approach, and every kind of connected object must be assessed individually.
Read more...
---