printer friendly version
Access control solutions need to embrace open platforms
Access & Identity Management Handbook 2017 Access Control & Identity Management, Integrated Solutions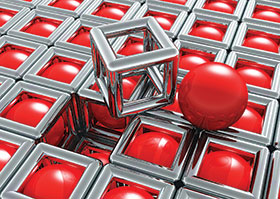 Optimising video and access control within the broader surveillance or security solution is no longer about synergy, interfacing or integration. Today, astute users want a cohesive and non-proprietary access control system that can talk, and interface with a video management system.
"While the industry made big advancements when it moved from traditional interfacing to a more integrated approach, there were still limitations. What users want is unity between video, access and intrusion systems with built-in reporting and alarm management functionalities," says Marnix de Lorm director, IP Video Solutions (IPVS).
He says that it goes beyond the basic functionalities of interfacing and integration or even PSIMs: "It is about offering end-users an efficient, flexible and cost-effective option to system unification."
He warns that the viability of developing this next generation platform lies in it addressing users' specific criteria while still offering functionality can be made to work using standard software platforms, and avoiding the requirement for bespoke integration which is cumbersome and costly.
Improving efficiency
In understanding the user better, de Lorm says that the point of having security employees is to monitor, investigate and react to low and high priority situations and not to manage complex technology: "In reality the technology used should assist them to become more efficient and not slow them down. This is further aggravated by disparate systems that are not able to generate alarms and investigate the incident within the same technology platform."
Furthermore, having separate systems means operators and users need to know and understand two separate systems that may, or may not, talk to one another. Unlike the PC industry, which has succeeded in interoperability, the security industry is not able to plug and play because there are so many different hardware and software vendors with different types of implementation. As a result, de Lorm says the industry is a long way behind the PC industry in terms of interoperability:
"It is likely that it will still be a long time before the security industry is able to achieve what the PC industry has in terms of interoperability."
Despite this lag, integration has improved collaboration within the security industry and moved it forward in terms of interfacing. But, de Lorm says there are still drawbacks as most integrated solutions still require two systems as very few vendors offer video and access control systems in one unified interface.
Move to non-proprietary access
"The limitations of standalone access control systems are obvious; most of them do not support interfaces that allow for video streaming, camera playback or PTZ control. Access control – which is largely hardware-based – has largely evolved outside of the IP network and it is for this reason that the link-up with video and access control is happening primarily on the VMS side where software can be easily developed to create the modules that allow for co-operation between access control and VMSs.
With the open-platform concept already established in the video surveillance industry, the new trend towards non-proprietary door controllers in the access control industry is on the increase. The result is that the unified platform is a comprehensive software and hardware solution that manages access control, intrusion and video functionalities through non-proprietary security appliances.
De Lorm says an open-unified platform is not only starting to transform the access control industry, but more importantly it is meeting the needs of the user with a single, consistent software suite: "In taking this approach the users investment is also protected through interoperability and the security needs are met in an affordable way."
Since a unified platform supports commoditised products, the end user's hardware investment is protected. The power of this approach, according to de Lorm, is that the end-user still has the freedom to make changes if the solution is not working: "They simply change the hardware components."
The next generation of video and access control integration has adopted this approach: "It offers the most flexible and cost effective video and access control application that protects the business as it grows and needs change and more importantly allows the customer to use the specific hardware that suits their budget and their application."
For more information contact IP Video Solutions, +27 (0)11 706 2679, info@ipvs.co.za
Further reading:
Improved security health check tool
Gallagher Access Control & Identity Management Products
Gallagher Security has streamlined its free Security Health Check tool, making it easier than ever to protect against potential system risks and improve business efficiencies.
Read more...
---
Suprema showcases integrated security solutions
Suprema Access Control & Identity Management Products
Apart from being an access terminal that supports multiple credentials such as facial recognition, RFID, mobile and QR codes, the BioStation 3 also supports VoIP Intercom and real-time video monitoring features to make it a truly multi-functional reader.
Read more...
---
Success in business process best practices
Technews Publishing Kleyn Change Management Editor's Choice Integrated Solutions Security Services & Risk Management
This month we commandeer time with the woman who is spearheading our national conversation on Women in Security, Lesley-Anne Kleyn, to get to know the lady herself a little better.
Read more...
---
Local electronic locks
Access Control & Identity Management
YeboTech is an electronics manufacturing company, founded in 2005, which designs, markets and sells an electronic key and locking systems, aimed at replacing all conventional mechanical locks.
Read more...
---
Selecting the correct access control system
Enkulu Technologies Access Control & Identity Management
Frazer Matchett, Managing Director of Enkulu Technologies, suggests the right questions to ask when selecting an access control solution; not just the access system, but the integrated solution that fits your requirements.
Read more...
---
Integrated guarding services
XtraVision Integrated Solutions Access Control & Identity Management Industrial (Industry)
XtraVision offers a few tips on how to go about planning and setting up an integrated approach to sustainable and successful security services, from the initial risk assessment to the technology and people required.
Read more...
---
Paxton secures multi-tenant office in Cape Town
Paxton Integrated Solutions Access Control & Identity Management Products
Cecilia Square in Paarl, Cape Town is an office building from where several businesses operate. The multi-tenant site has recently undergone a full refurbishment, including a complete upgrade of its security system for access control.
Read more...
---
AI face recognition OEM module
Suprema News Access Control & Identity Management Products
Suprema AI, a company specialized in artificial intelligence–based integrated security solutions, recently launched its high-performance face recognition OEM module called 'Q-Face Pro' in response to the growing need for contactless security solutions.
Read more...
---
KWAL raises a glass to security upgrade
Turnstar Systems Access Control & Identity Management Products
The Kenya Wine Agencies Limited (KWAL) was in need of an integrated security upgrade. This is where Turnstar came into the picture to provide a solution that would keep KWAL secure and efficient.
Read more...
---
Dahua Insider Series for touchless access
Dahua Technology South Africa Access Control & Identity Management Products
The Insider Series Access Control Solution offers touchless access (via Bluetooth) using the DMSS mobile app; it has three distance modes and two trigger modes (normal and shake).
Read more...
---