printer friendly version
Access control solutions need to embrace open platforms
November 2016 Access Control & Identity Management, Integrated Solutions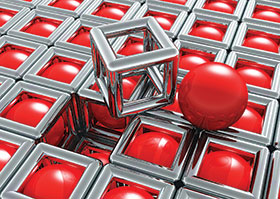 Optimising video and access control within the broader surveillance or security solution is no longer about synergy, interfacing or integration. Today, astute users want a cohesive and non-proprietary access control system that can talk, and interface with a video management system.
"While the industry made big advancements when it moved from traditional interfacing to a more integrated approach, there were still limitations. What users want is unity between video, access and intrusion systems with built-in reporting and alarm management functionalities," says Marnix de Lorm director, IP Video Solutions (IPVS).
He says that it goes beyond the basic functionalities of interfacing and integration or even PSIMs: "It is about offering end-users an efficient, flexible and cost-effective option to system unification."
He warns that the viability of developing this next generation platform lies in it addressing users' specific criteria while still offering functionality can be made to work using standard software platforms, and avoiding the requirement for bespoke integration which is cumbersome and costly.
Improving efficiency
In understanding the user better, de Lorm says that the point of having security employees is to monitor, investigate and react to low and high priority situations and not to manage complex technology: "In reality the technology used should assist them to become more efficient and not slow them down. This is further aggravated by disparate systems that are not able to generate alarms and investigate the incident within the same technology platform."
Furthermore, having separate systems means operators and users need to know and understand two separate systems that may, or may not, talk to one another. Unlike the PC industry, which has succeeded in interoperability, the security industry is not able to plug and play because there are so many different hardware and software vendors with different types of implementation. As a result, de Lorm says the industry is a long way behind the PC industry in terms of interoperability:
"It is likely that it will still be a long time before the security industry is able to achieve what the PC industry has in terms of interoperability."
Despite this lag, integration has improved collaboration within the security industry and moved it forward in terms of interfacing. But, de Lorm says there are still drawbacks as most integrated solutions still require two systems as very few vendors offer video and access control systems in one unified interface.
Move to non-proprietary access
"The limitations of standalone access control systems are obvious; most of them do not support interfaces that allow for video streaming, camera playback or PTZ control. Access control – which is largely hardware-based – has largely evolved outside of the IP network and it is for this reason that the link-up with video and access control is happening primarily on the VMS side where software can be easily developed to create the modules that allow for co-operation between access control and VMSs.
With the open-platform concept already established in the video surveillance industry, the new trend towards non-proprietary door controllers in the access control industry is on the increase. The result is that the unified platform is a comprehensive software and hardware solution that manages access control, intrusion and video functionalities through non-proprietary security appliances.
De Lorm says an open-unified platform is not only starting to transform the access control industry, but more importantly it is meeting the needs of the user with a single, consistent software suite: "In taking this approach the users investment is also protected through interoperability and the security needs are met in an affordable way."
Since a unified platform supports commoditised products, the end user's hardware investment is protected. The power of this approach, according to de Lorm, is that the end-user still has the freedom to make changes if the solution is not working: "They simply change the hardware components."
The next generation of video and access control integration has adopted this approach: "It offers the most flexible and cost effective video and access control application that protects the business as it grows and needs change and more importantly allows the customer to use the specific hardware that suits their budget and their application."
For more information contact IP Video Solutions, +27 (0)11 706 2679, info@ipvs.co.za
Further reading:
A customised solution for backup power
August 2019, Specialised Battery Systems , News, Integrated Solutions
Specialised Battery Systems designed and implemented a bespoke solution for Stallion Security Electronics to deploy at almost any site.
Read more...
---
HID addresses identification challenges at ID4Africa
August 2019 , News, Access Control & Identity Management, Government and Parastatal (Industry)
Being able to verify people's identities is critical for a nation's growth and prosperity and yet HID says nearly half of all African citizens can't prove who they are to vote, travel freely and receive government benefits and services.
Read more...
---
Came acquires Turkish company Özak
August 2019, CAME BPT South Africa , News, Access Control & Identity Management
Came broadens its market horizons and signals growth and consolidation in the Middle East.
Read more...
---
Augmented security with drones
August 2019, Drone Guards , Editor's Choice, Integrated Solutions
Drone Guards is moving into an untapped market of using drones to secure residential estates and other high-value assets such as mines, farms and commercial properties.
Read more...
---
10 things to consider when shopping for a VMS
August 2019, Genetec , CCTV, Surveillance & Remote Monitoring, Integrated Solutions
Today's video management systems (VMS) provide a wide range of tools and capabilities that help make security personnel more efficient by allowing them to focus on what really matters.
Read more...
---
The benefits of electronic visitor management
August 2019, Powell Tronics , Access Control & Identity Management, Residential Estate (Industry)
Access control is a critical aspect of estate security as it represents the controls put in place to restrict entry (and possibly exit) along the outer boundary of the location.
Read more...
---
Addressing risks by means of access control layout and design
August 2019 , Access Control & Identity Management, Security Services & Risk Management
In order to develop a suitable, practical and appropriate security system for any organisation, it is essential to first develop a master security and life safety plan strategy.
Read more...
---
Secure hands-free access
August 2019, Suprema , Access Control & Identity Management, Residential Estate (Industry)
Suprema's facial biometric terminals bring no-touch access into secure residential estates, high-rise apartments and luxury homes providing fast, easy and intuitive user authentication with the added benefit of hygiene.
Read more...
---
MorphoAccess Sigma Extreme
August 2019, IDEMIA , Products, Access Control & Identity Management
MorphoAccess Sigma Extreme from IDEMIA is a touchscreen device with multiple recognition device interfaces (NFC chip reader, PIN and BioPIN codes, contactless card readers).
Read more...
---
Outdoor access terminals
August 2019, Suprema , Access Control & Identity Management, Residential Estate (Industry), Products
Rugged, dust- and weather-proof access control solutions that provide exceptional durability in extreme conditions is a strong requirement for many residential estates.
Read more...
---