printer friendly version
Ergonomic design delivers practical benefits
Access & Identity Management Handbook 2017
Access Control & Identity Management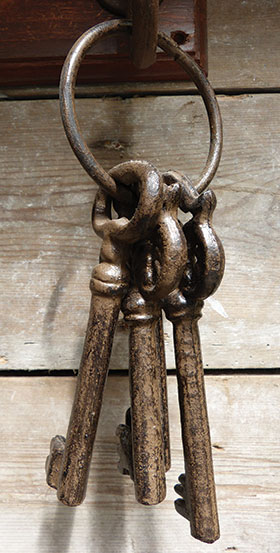 As early as the 18th century, the workplace has been studied as it relates to the worker. Fast forward to the 21st century and the principle is still being studied, but now under the broader name of ergonomics.
The word ergonomics originates from the Greek word ergos (work) and nomos (natural laws). In an ergonomic workplace, tasks and tools are designed to fit individual capabilities and limitations so people can do their jobs with greater comfort and convenience, and without being injured. More broadly, ergonomics can be applied to optimise larger systems like resource management, work design, human-machine interfaces, etc. within the organisation (hence the term 'organisational ergonomics' from http://ergonomics.about.com/od/M-R/g/Organizational_Ergonomics.htm).
When Morse Watchmans was first making its way into the security industry with an automated key control and management system, ergonomics was fundamental to its design. We studied how people of all shapes and sizes would use the device to make sure the display was properly positioned for correct viewing; that actual key access was swift and unencumbered; and when two or more cabinets were installed that the door openings were uniform.
These particular findings, along with a multitude of other tests and studies, were used to develop a key control system that encompasses four main principles of ergonomic design; those being safety, ease of use, productivity/performance and aesthetics. Following are the benefits of smart key control systems that align with these ergonomic design principles.
Safety
It goes without saying, but misplaced keys and lost assets can compromise the safety of the individual. To this end, a vandal-resistant cabinet design helps security personnel ensure that important keys are safe from unauthorised access, while stainless steel locking rings add to key security by deterring tampering. The design is complemented by an on-board alarm system that will sound if the cabinet itself is tampered with or if incorrect codes are repeatedly entered.
Access to the cabinets and to individual keys is controlled at all times, and every key is accounted for. When networked, a firewall and AES256 encryption technology for data exchanged between the cabinet and the server help protect the system and the organisation's assets.
Ease of use
On the physical level, security key cabinets are designed to offer the flexibility needed for installation at almost any height that allows for the user to easily reach the cabinet and interact with it. A slanted console provides a natural viewing angle and makes it easier to swipe a card or use fingerprint identification to access the key cabinet. Once the cabinet is opened, the requested key location is illuminated so the user can easily identify it. Both larger touch screens and audio prompts help make the interaction faster and more convenient and can help improve productivity.
Productivity/performance
Keys are attached to a fob that features an identification microchip and a stainless steel locking ring. The security key fob fits into a cabinet key slot and, critically, automatically records all access activity. No more time spent manually recording key activity. The recorded data lets authorised users more easily determine who has keys out and when they are scheduled to be returned; meanwhile, instant e-mail or text alerts reduce the burden on management even further, letting them know an overdue key or when it has been returned. And of course, key inventory systems with integrated tracking can help prevent lost keys and reduce vulnerabilities – not to mention wasted time and user frustration.
Aesthetics
The aesthetically pleasing key cabinet with its visual display of organised key placement is far more appealing than a messy box of keys. Cabinets are designed for horizontal or vertical placement and multiple units can be precisely installed to maintain a professional appearance. System maintenance is also considered in the design, which allows servicing of the unit to be accomplished with minimal disruption and/or disassembly.
These and other benefits of key inventory systems are cumulative, helping make life easier for users, while also supporting the company's activities and reducing the risk of losses. All of this is welcome news for the business itself – who says good design can't support good economics?
For more information, contact Morse Watchmans, +1 203 264 4949, morse@morsewatchman.com, www.morsewatchmans.com.
Further reading:
Cloud-based or on-premises access control
Salto Systems Africa Access Control & Identity Management Products
Choosing between cloud-based and on-premises access control solutions can be a difficult decision, however, the best solution for your organisation, property, or building type will depend on a range of factors.
Read more...
---
Improved security health check tool
Gallagher Access Control & Identity Management Products
Gallagher Security has streamlined its free Security Health Check tool, making it easier than ever to protect against potential system risks and improve business efficiencies.
Read more...
---
Suprema showcases integrated security solutions
Suprema Access Control & Identity Management Products
Apart from being an access terminal that supports multiple credentials such as facial recognition, RFID, mobile and QR codes, the BioStation 3 also supports VoIP Intercom and real-time video monitoring features to make it a truly multi-functional reader.
Read more...
---
Local electronic locks
Access Control & Identity Management
YeboTech is an electronics manufacturing company, founded in 2005, which designs, markets and sells an electronic key and locking systems, aimed at replacing all conventional mechanical locks.
Read more...
---
Selecting the correct access control system
Enkulu Technologies Access Control & Identity Management
Frazer Matchett, Managing Director of Enkulu Technologies, suggests the right questions to ask when selecting an access control solution; not just the access system, but the integrated solution that fits your requirements.
Read more...
---
Integrated guarding services
XtraVision Integrated Solutions Access Control & Identity Management Industrial (Industry)
XtraVision offers a few tips on how to go about planning and setting up an integrated approach to sustainable and successful security services, from the initial risk assessment to the technology and people required.
Read more...
---
Paxton secures multi-tenant office in Cape Town
Paxton Integrated Solutions Access Control & Identity Management Products
Cecilia Square in Paarl, Cape Town is an office building from where several businesses operate. The multi-tenant site has recently undergone a full refurbishment, including a complete upgrade of its security system for access control.
Read more...
---
AI face recognition OEM module
Suprema News Access Control & Identity Management Products
Suprema AI, a company specialized in artificial intelligence–based integrated security solutions, recently launched its high-performance face recognition OEM module called 'Q-Face Pro' in response to the growing need for contactless security solutions.
Read more...
---
KWAL raises a glass to security upgrade
Turnstar Systems Access Control & Identity Management Products
The Kenya Wine Agencies Limited (KWAL) was in need of an integrated security upgrade. This is where Turnstar came into the picture to provide a solution that would keep KWAL secure and efficient.
Read more...
---
Dahua Insider Series for touchless access
Dahua Technology South Africa Access Control & Identity Management Products
The Insider Series Access Control Solution offers touchless access (via Bluetooth) using the DMSS mobile app; it has three distance modes and two trigger modes (normal and shake).
Read more...
---