printer friendly version
Best barrier practice on residential estates
Access & Identity Management Handbook 2017
Access Control & Identity Management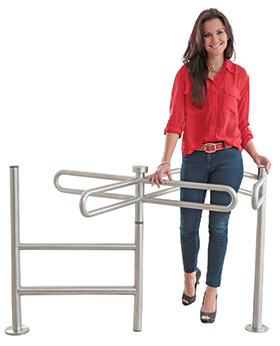 Keeping unwanted visitors out of residential estates can be tiresome and frustrating. Given the fact that humans are fallible, technological intervention is required to ensure enhanced security. Craig Sacks, CEO of ISO 9001:2015-accredited Turnstar, discusses the various physical access barriers available to estates and other secure environments.
Access control in residential estates can be divided into vehicular control and pedestrian control. The ideal is to provide heightened security measures, without causing unnecessary aggravation to residents due to delays instituted by the access control system.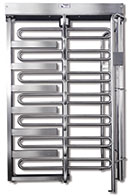 Not all visitors arriving at a residential estate will be in vehicles. Examples include estate employees and employees of residents. Controlling pedestrian access into an estate will typically include the use of turnstiles. Sacks explains that a number of external and internal options are available, with varying levels of security. Turnstiles are preferable to doors, since they can limit the number of people who can enter and exit on each presentation of a credential. In addition, one can control the direction of passage.
Using the Turnstar range to illustrate best practice, he says there are turnstiles designed specifically for internal use and which blend in with the ambience of the interior. These include an automatic motorised half-height glass turnstile which is suited for applications requiring medium volume access and medium levels of security and, due to its aesthetics, is ideal for prestige installations. Two full-height turnstiles, contained in either octagonal or curved glass, provide a higher level of security, with a pressure mat preventing entry from the wrong direction.
Turnstiles that can be used either internally or externally include a half-height option that provides a low visual barrier, as well as a three-quarter height version which is suitable for high volumes and which provides medium security levels, ideal for operating under severe conditions. A number of full-height turnstiles provide varying levels of security for high volume areas. For added time and attendance, such as is required for estate employees, a version with integration to a biometric reader is suggested. Turnstar's Tribune turnstile requires the input of biometric data in mid-rotation operation in order to facilitate the full opening of the turnstile.
Materials and construction
In all instances, Sacks recommends a number of standard features to ensure extended longevity and reliable operation. The material of construction is important, specifically where the turnstile is being used outside. All steel used to manufacture the frame and arms should be certified to recommended SABS levels and where possible, should be corrosion resistant. Components should provide minimised maintenance to guarantee maximised uptime and continuity of operation. A self-lubricating mechanism is advised.
A number of safety and security features should also be included in the design and manufacturing of a turnstile. Examples are a mechanical key override, a self-centring rotation which allows the turnstile arm/s to return to the start position after every rotation, an anti-trapping system which means that should one lose power to the system there will be no mid-rotation locking or trapping of people, battery backup for continued operation and an anti-reverse system.
In addition, turnstiles should be able to seamlessly integrate with popular access control and time and attendance systems for enhanced security and management of visitors, residents and employees. By providing a self-validation function, using barcodes, magnetic stripes, PIN codes, RFID or NFC cards and biometrics, the burden on security guards is lessened, allowing them to concentrate on their primary job function.
Turnstiles should have the ability to be programmed to default to either fail-safe or fail-secure operation on loss of power. Fail-safe unlocks or opens the turnstile and it remains open for free flow of pedestrians without authorisation. Fail-secure means that the turnstile remains locked when the power fails, thereby disallowing entry or exit through that entrance. Typically, one would set the system to fail-secure for entry and fail-safe for exit, preventing people from entering the estate but allowing people to leave the estate.
Vehicle access
Vehicle barriers are now ubiquitous in residential estates and in addition to serving as an immediate deterrent to criminals, they create a choke point and allow security guards to acquire visitor details and conduct vehicle searches where necessary. These barriers can be both manual and automatic.
Most commonly used at residential estates is the traffic boom, which can be manually lifted by the security guard or opened automatically by the guard using a pushbutton, RFID/NFC card or token or a keypad. These methods can also be facilitated by a third party (resident, contractor, employee or visitor) and the deployment of a biometric fingerprint reader adds another dimension which can be used by the third party.
Sacks recommends the following as prerequisite elements when selecting a traffic boom. The stand, base and arm should be manufactured from heavy-duty steel which is capable of withstanding harsh environmental conditions and which should be unaffected by dust, dirt and moisture. The base should be mounted in a concrete base of 450 x 450 x 450 mm deep at 20 MPA. It should be lockable by padlock in both the open and closed positions and should have rubber buffer contacts in both positions. Automatic traffic booms should contain an infrared transmitter and receiver or loop detector to ensure that they do not mistakenly close on a vehicle.
A second vehicle barrier option is the tyre spike, which is available in a standalone version or in conjunction with a traffic boom, and which can be surface-mounted or recessed. The standalone version is ideal for medium volume access and high levels of security and allows uni- directional traffic flow. The combination spike/traffic boom alternative is designed for high volumes of traffic and security levels, with bi-directional traffic flow facilitated.
Durability and strength should be hallmarks of spike barriers and in the case of the standalone version, a heavy-duty spike return mechanism is necessary. Each spike should be linked to its own spring return mechanism, thereby minimising the risk of an aided escape. The automatic spike barrier requires an ultra-heavy-duty electromechanical mechanism and heavy-duty deep groove ball bearings. The tension spring counterweight system should be self-lubricating, with an industrial plastic bush. A double buffered mechanism will allow decreased mechanical stress, resulting in longer operational life.
To ensure maximised safety levels, there should be a three-stage opening and closing procedure whereby the vehicle driver is unable to drive under the barrier arm before it is raised and the spikes have been fully lowered. The opening procedure therefore entails – spikes are lowered, barrier arm raises, traffic light changes to green and vehicle drives through. Closing procedure – traffic light changes to red, barrier arm descends and spikes are raised.
The choice of pedestrian and vehicle barrier is dictated by the specific requirements of the estate in terms of security levels required, volumes of traffic and the attendance or non-attendance of security guards. In all instances, Sacks recommends that Homeowner Associations visit previous estate installations completed by the supplier or installer and ensure that the systems are manufactured to the highest quality standards.
For more information contact Turnstar Systems, +27 (0)11 786 1633, craig@turnstar.co.za, www.turnstar.co.za.
Credit(s)
Further reading:
Improved security health check tool
Gallagher Access Control & Identity Management Products
Gallagher Security has streamlined its free Security Health Check tool, making it easier than ever to protect against potential system risks and improve business efficiencies.
Read more...
---
Suprema showcases integrated security solutions
Suprema Access Control & Identity Management Products
Apart from being an access terminal that supports multiple credentials such as facial recognition, RFID, mobile and QR codes, the BioStation 3 also supports VoIP Intercom and real-time video monitoring features to make it a truly multi-functional reader.
Read more...
---
Local electronic locks
Access Control & Identity Management
YeboTech is an electronics manufacturing company, founded in 2005, which designs, markets and sells an electronic key and locking systems, aimed at replacing all conventional mechanical locks.
Read more...
---
Selecting the correct access control system
Enkulu Technologies Access Control & Identity Management
Frazer Matchett, Managing Director of Enkulu Technologies, suggests the right questions to ask when selecting an access control solution; not just the access system, but the integrated solution that fits your requirements.
Read more...
---
Integrated guarding services
XtraVision Integrated Solutions Access Control & Identity Management Industrial (Industry)
XtraVision offers a few tips on how to go about planning and setting up an integrated approach to sustainable and successful security services, from the initial risk assessment to the technology and people required.
Read more...
---
Paxton secures multi-tenant office in Cape Town
Paxton Integrated Solutions Access Control & Identity Management Products
Cecilia Square in Paarl, Cape Town is an office building from where several businesses operate. The multi-tenant site has recently undergone a full refurbishment, including a complete upgrade of its security system for access control.
Read more...
---
AI face recognition OEM module
Suprema News Access Control & Identity Management Products
Suprema AI, a company specialized in artificial intelligence–based integrated security solutions, recently launched its high-performance face recognition OEM module called 'Q-Face Pro' in response to the growing need for contactless security solutions.
Read more...
---
Turnstar Systems
Turnstar Systems Products
Turnstar Systems offers a wide range of security products including turnstiles, speedgates, revolving doors, man-trap cubicles, vehicle barriers, high security spike barriers and anti-terror rising bollards ...
Read more...
---
KWAL raises a glass to security upgrade
Turnstar Systems Access Control & Identity Management Products
The Kenya Wine Agencies Limited (KWAL) was in need of an integrated security upgrade. This is where Turnstar came into the picture to provide a solution that would keep KWAL secure and efficient.
Read more...
---
Dahua Insider Series for touchless access
Dahua Technology South Africa Access Control & Identity Management Products
The Insider Series Access Control Solution offers touchless access (via Bluetooth) using the DMSS mobile app; it has three distance modes and two trigger modes (normal and shake).
Read more...
---