printer friendly version
Electronic locks are the new black
November 2016
Access Control & Identity Management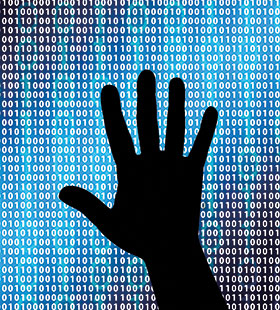 According to an IHS report from July 2015, electronic locks are one of the fastest growing segments of the access control industry. The research group predicted that the market for electronic locks would be over $1 billion globally in 2015, divided over three categories: mechatronic, electromechanical and digital cylinder. Moreover, electronic locks are expected to continue their growth pattern, clocking in a CAGR (compound annual growth rate) of 3.8% to 2017.
In the report, Blake Kozak, principal analyst at IHS notes, "Although electronic access control solutions remain expensive, more end-users are seeing the value of being able to control access rights securely and efficiently, monitor door status in real time, create audit trails and the ability to lockdown all doors immediately in the case of an emergency. As a result, electronic access control solutions are still forecast to have stronger growth rates than mechanical globally from 2013 to 2017 both in terms of revenues and units."
In addition, IHS forecasts that by 2019, electronic locks will exceed the revenue of both the readers and panels market, making it the largest segment for electronic door access control.
What is happening in the local market with respect to electronic locks? Are we seeing a similar growth curve? Salto Systems' Wouter du Toit says Salto has seen strong growth in the South African and African markets over the past couple of years. He attributes this largely to educating the end user, architects and consulting engineers and demonstrating the flexibility of these solutions, which don't need expensive wiring and can provide solutions where conventional access control is just not feasible or is too cost prohibitive.
"It is proven globally that electronic locks are less expensive, need little or no maintenance, are quicker to install and offer more solutions in all verticals," he explains. "They can work in a single door environment or in major projects with thousands of doors. Adding these devices to existing systems is also very easy and the disruption to the business is minimal because most of these solutions install in under 30 minutes."
Riaan Erasmus, Aperio product manager at ASSA ABLOY agrees, noting, "We see more and more channel and end-users using these locks. These locks are not only price competitive, but also provide an aesthetically better looking solution, all locks and cables are not visible to the naked eye (cables run inside the door and then through the door frame into the wall)."
As noted above, electronic locks is a title that covers a number of different types of devices. Erasmus explains that ASSA ABLOY systems are broken into primarily its magnetic, strike and electromechanical ranges of locks.
Different types of locks
Du Toit explains further. An electromechanical lock is a combination of a mechanical lock and an electronic strike, this lock can be used in both standard mechanical configuration or by running a cable to it and using the strike driven by an output. "This is, however, a very expensive type of lock that still requires cabling, but provides better security because of its location in the door. It is typically associated with conventional access control systems."
A digital cylinder lock is the conversion of a standard mechanical cylinder into an electronic cylinder, in which the key is replaced with an RFID card. Mechatronic cylinders use the existing mechanical cylinder, but create an electronic-mechanical key with a built-in RFID chip.
"Our solutions are based on using the mechanical lock in the door, and when it comes to the cylinder, replacing it with an electronic cylinder. Using mechatronic cylinder locks gives you the high security required and the mechanical cylinder replacement is inexpensive, but the electronic keys used are very expensive," adds Du Toit. "The problem with keys is that when you lose this key, it is also expensive to replace."
Electronic lock security
Readers will notice that a common trend throughout the Access & Identity Management Handbook is that of the security of our physical security equipment. In a growing Internet of Things (IoT) world, security products are generally unprotected from cyber attacks (although this is starting to change), creating a vulnerable point for criminals to either gain access to a premises or via a connected lock, to the network.
Du Toit admits there is always the perception that data can be compromised or stolen from an electronic device, but Salto's data-on-card provides more secure access functionality because the user's access plan resides on their card. "It allows standalone wireless locks to read, receive and write information via an encrypted and secure data-on-card system that uses the capabilities of RFID read/write technology."

In the Salto Virtual Network (SVN), all access data is stored on and distributed by its operating smartcard. When presenting a smartcard to an SVN standalone door, not only does this control access rights to that door, but thanks to two-way communication, the door also writes data like blacklist information or battery status back to the smartcard. "The smartcard then transmits this information back to the server via online wall readers that are able to update and receive information from the cards anytime and anywhere in the building. When the lock is wireless online, we can also receive the data through the wireless network."
Another concern, already mentioned in this publication, is that of battery power. One does not want any hold-ups because the battery on an electronic device has failed and you have to wait for someone to arrive and open the door or change the batteries.
Erasmus notes that ASSA ABLOY locks have the cylinder-override function, which allows for the door to be opened manually if the batteries do fail.
Du Toit, however, says battery power is not a real concern. Salto allows for up to 40 000 openings on a single device and the battery status is written back to the system for maintenance reporting and support. When the unit gets to the last 1000 openings it will visually warn each user that enters as well as the system administrator. If all warnings are ignored, there are also PPDs and portable battery packs that will power the unit from the front to allow for battery replacement.
"Some clients do opt for a mechanical key override," says Du Toit, "but this adds more cost to the system and then you have the problem of managing the keys."
Cloud control
As cloud or hosted access control grows in the market, it would make sense for organisations to manage their electronic locks via a cloud-based access management system, or larger security management system. Erasmus says this isn't a problem because his company's locks can work with almost any access control system.
Salto's electronic locks are also cloud driven, but Du Toit says they use the cloud securely. No information is stored in the cloud that could compromise the security of the lock. The company runs its own Salto private cloud for Salto KS. "We're talking about a 100% owned cloud as a result of Salto's acquired knowledge and expertise."
A supporter of cloud technology, Du Toit says advances in cloud technologies allow functionalities that were previously impossible to be implemented, including multi-site location and connected services, as well as CCTV integration with a cloud-based surveillance solution.
The ranges of both Salto's and ASSA ABLOY's electronic locks are suited for a variety of industries and uses. The companies have a great deal of experience in the access industry and have therefore designed these systems with a view to integration with other systems which are able to drive the locks according to the processes developed and approved by the organisation.
For more information:
ASSA ABLOY: www.assaabloy.com
Salto Systems: www.saltosystems.com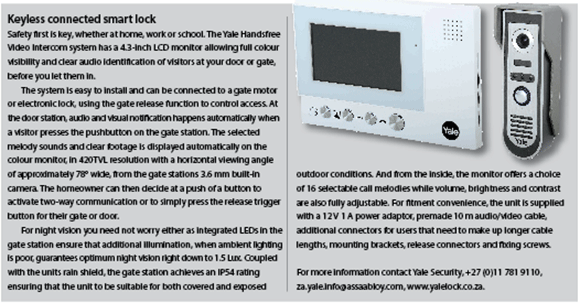 Credit(s)
Further reading:
Managing staff effectively
September 2019, dormakaba South Africa, iPulse Systems , Integrated Solutions, Access Control & Identity Management
Workforce management solutions allow organisations to track the relationship between productivity and the cost of employment, incorporating issues such as health and safety, T&A, rostering and more.
Read more...
---
Hennie Lategan joins Centurion as head of exports
September 2019, Centurion Systems , News, Access Control & Identity Management
Centurion Systems has announced the appointment of Hennie Lategan as the head of the company's exports department.
Read more...
---
New AlproMAX7 secures maximum rating
September 2019 , Access Control & Identity Management, Products
Alpro has launched a new range of ultra-secure mechanical mortice deadlocks, the AlproMAX7 which comply with BS EN 12209.
Read more...
---
ViRDI UBio Tab 5
September 2019 , Access Control & Identity Management, Products
ViRDI Distribution SA (ViRDI Africa) has announced the release of its long-awaited UBio Tablet to the South African market.
Read more...
---
Visitor access control at Ruimsig Country Club
September 2019, Elvey Security Technologies , Access Control & Identity Management, Products
Cost-effective access control solution that would control the ingress and egress of people, without hindering the traffic throughput of members.
Read more...
---
Estate-focused visitor management solution
September 2019, Vox Telecom , Access Control & Identity Management, Residential Estate (Industry)
Vox has expanded its cloud-based visitor management solution to cater specifically for the needs of small multi-dwelling unit estates and large residential estates.
Read more...
---
Biometrics control airport railroad
September 2019, Suprema , Access Control & Identity Management
63 km railroad to Incheon Airport is centrally controlled and secured by Suprema biometric hardware and software.
Read more...
---
Dual energy X-ray inspection system
September 2019, Regal Distributors SA , Products, Access Control & Identity Management
The ZKX6550 X-ray inspection system increases the operator's ability to identify potential threats; the device is designed to scan briefcases, carry-on baggage, small cargo parcels.
Read more...
---
ZKTeco parking barrier
September 2019, Regal Distributors SA , Products, Access Control & Identity Management
The PB3000 parking barrier is an ideal automatic car park barrier for parking lot and security control; it can easily integrate with revenue collection and access control systems.
Read more...
---
ZKTeco automatic bollard
September 2019, Regal Distributors SA , Products, Access Control & Identity Management
The high-quality automatic bollard is used to protect security areas from vehicle intrusion; in case of power failure, the bollard can be lowered manually.
Read more...
---