printer friendly version
Mobility and access meet
Access & Identity Management Handbook 2017 Access Control & Identity Management, Integrated Solutions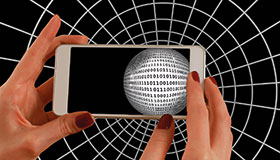 Mobile biometrics received an enormous boost into the mainstream consciousness when Apple released its first iPhone with a fingerprint reader. This was not the first smartphone with fingerprint recognition, but it was the first to hit the market with a popular following. Samsung and others joined in the trend and today there are endless smartphones allowing you to skip entering passwords or PINs in favour of simply scanning your finger.
These changes filtered throughout the world very quickly and made fingerprint recognition a common and accepted method of authentication. Even in countries like South Africa, where fingerprint biometrics had seen remarkable growth in business and government, fingerprint authentication became common and accepted by everyone.
Technavio's 2016 report on the mobile biometrics market, expects the global market to "grow steadily at a CAGR of over 103% during the forecast period" to 2020.
Today mobile biometrics is not simply a way you can log into your smartphone. First off, the type of biometrics available on one's phone includes fingerprint, facial, voice and potentially iris recognition. Secondly, the functions it is used for include authenticating yourself, mobile payments and, more pertinent to this publication, access control.
Access control via a mobile device does not necessarily use biometrics (except in the case of voice biometrics as we explain in another article in this publication), but makes use of near-field communications or Bluetooth technologies to transmit access information to a reader. Of course, in the case of authenticating your identity to the device in order to gain access, biometrics plays a role and is expected to play an even more important role in future and spread to a number of different industries and applications.
However, since we are focused on access control and making sure the right people are able to go where they need to go and are allowed to go, we approached two companies playing a significant role in the local access control market, specifically when it comes to mobile access, and asked them about the market. Our first question asked why mobile devices are being used for access control when we already have more than enough 'stuff', from fobs to biometrics controlling entrances and exits.
Why mobile access?
Vikki Vink, from local manufacturer Impro Technologies, says customers are looking for increased convenience, without the traditionally associated increased risk.
"In the past, convenience had to be balanced against the level of risk or security – tighter security meant greater inconvenience. Today however, technology is moving at a rapid pace and the use of mobile phones for your access control system are a reality, without compromising security. That's what makes the use of mobile so compelling."
She also notes that the highest technology adoption in the world has been the mobile phone so it is actually a natural progression that a device carried by everyone would evolve into more than just a phone – it's a camera, video recorder, computer, and now it's a credential carrier for you to gain entry into a restricted area.
"Even in South Africa, where we have significant poverty issues, most people have a cellphone. It's accessible, adopted and, through our new technologies, secure. A win-win for everyone."
SALTO's Wouter du Toit agrees, noting that the ability to bring your business and security onto a mobile platform has been a growing trend and technology is allowing us to provide better solutions for people on the move. "Being able to see what is happening at your office without you being there is just one of the ways mobile technology is improving the security element for SME users."
Another way, he says, is combining cloud-based solutions with your mobile device. For example, a retail operator who owns a number of retail chains can now link all these sites easily into a central cloud-based solution and use his mobile device to access any location or easily invite new users to gain access to the property. They are also able to cancel access on the go without having to be in front of the server and get real-time notifications on doors left open, forced open and other events.
Yet another way mobile phones are changing in the hospitality environment is by sending your room check-in directly to your phone and eliminating waiting in long queues. It also allows the hotel to send information to your device and even to easily re-room you or cancel your access without you having to return to the front desk, enhancing the guest experience.
SALTO uses android mobile devices with NFC in combination with RFID cards to allow remote and mobile workers to update their access plan on their card through their mobile phone, allowing users to gain access to offline controlled areas where no network is in place.
Mobile versus traditional access
While using a mobile device for access control, whether it's at work or in a hotel, wins many points for the 'coolness factor', Vink says it is really just an alternative credential carrier. Instead of using a tag, card or fob, now all that information is securely contained within your mobile phone. "The principle software and hardware remains the same (except for mobile-enabled readers on the door) and the user presents their phone to the reader for entry."
She adds that the benefit is convenience. Most people have their cellphone constantly with them, and we're more alert to protecting our cellphone as opposed to a tag. "This immediately reduces the security risk because the loss of a card is frequently not reported for some time. People may think they've left it at home, or that it will surface in a few days; however, if a cellphone is missing, it's immediately investigated."
Du Toit says mobile access adds the freedom to choose what type of carrier you would like to use for access-controlled areas. It is not bound to a fixed network or geographical location and allows you to be free in movement.
An additional benefit, according to Vink, is enhanced security. In the past if a tag was stolen, the only option available was to block entry to anyone presenting that specific tag. Now the option is available to revoke the tag on the mobile phone remotely. This means if a cellphone is stolen, the site owner can delete the credentials on the mobile phone 'over the air'.
"Additional failsafes are available, such as the user having the ability to remotely wipe their phone with a variety of free apps; as well as the traditional method of revoking the individual's credentials on the access control software, so if the phone is presented it will not allow access.
"It all adds up to greater security and peace-of-mind."
Significant benefits
There are many benefits that come along with mobile access control. A few of them, according to Du Toit, are:
• Mobile access allows you to modify the users access rights on the fly wherever they are. SALTO has a number of ways for using mobile access, the one is through BLE where you use the Bluetooth connection between the phone and the reader, this is more accessible to the masses because most smartphones have this technology built in and is widely adopted in various sectors.
• The second is using NFC on Android phones where a secure EV1 Desfire tag is used in combination with the phone. The phone is used as a hotspot and transfers the required credentials securely from the phone through NFC onto the EV1 card. This means you can be anywhere and update your card to enter a property without the property needing any physical network connection.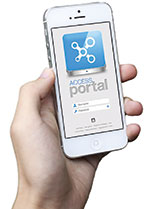 The greatest benefits, says Vink, are convenience and security; as well as protection of privacy as the user owns their credentials. "The user decides where to release those credentials, to whom and when, i.e. when entering the building to my company each morning, thus alleviating any privacy concerns, especially in international markets.
"And because mobile phones are so prolific in most markets, it's a readily available technology. Users are not being asked to take on a new technology, or change their way of operation. Mobile phones are part of our lives and most people are comfortable using them. This makes the market opportunity huge."
In addition, she notes that more than simply using your mobile phone as a tag, Impro is also able to provide users with the ability to manage and control their entire site from a mobile phone – this provides unrivalled flexibility. Authorised users can use any HTML5 device, whether it's a smartphone, tablet or computer to control the access control system remotely or to pull reports on the activities on site.
"Simplicity, flexibility and convenience. These are the waves of the future and we're able to meet them today."
The integration question
Many people have had the experience of buying the latest and greatest technology, only to find that it doesn't work well with other technical systems. In the access control world, there are many large installations with equipment from various vendors, and many of them will have been around for years. The question that must be asked is how easy it will be to integrate the newer mobile access technologies with older systems since it is unlikely that a company will simply decide to replace their entire access control setup with a mobile solution – although smaller companies may be in a position to do this.
Vink explains that one of the reasons Impro's Access Portal system has been so successful is the ability to quickly integrate new technologies into the solution. "Through our modular design, and the inbuilt flexibility of the platform, we are able to seamlessly bring in new products and features."
Since Impro was purchased by ASSA ABLOY, this flexibility has been extended and the company can now offer customers credentials securely on their mobile phones. This will require mobile enabled readers on doors (from a hardware perspective), while the user downloads a free app and receives the authorised credentials remotely onto their device. "When you want to enter the building, you simply 'twist' your phone in front of the reader – no touch necessary – and access is granted."
All these features are able to integrate into the company's Access Portal software suite, enabling customers to get a full solution from Impro Technologies.
SALTO offers a similar solution, delivering a complete access control suite that comprises mobile and traditional access methods, as well as an API (application programming interface). Du Toit says the company tries to simplify the integration process through the API, but ultimately it is dependent on the client's integration skills.
He adds, "Our platform is easy to use and quick to understand and is really no different from an operators point of view when adding or deleting standard credentials or cards on the system."
Expanding on the Impro Access Portal solution, Vink explains, "Our Access Portal system comprises a variety of solutions, tailored for different customers depending on their specific needs. We have mobile readers that are handheld biometric devices for remote offsite verification of employees; mobile phone credentials where your phone becomes your tag, as well as the ability to control your site through a mobile HTML5-enabled device.
"The options are vast and enable us to offer each customer a tailor-made solution, with off the shelf products, to address their specific pain points, goals and needs – both for today, but more importantly, for tomorrow and beyond."
From SALTO's perspective, Du Toit says, "SALTO offers mobile solutions for the hospitality industry. Clients benefit from various features including, online key management, instant extended stay, instant room change, personalised promotions. Furthermore, not waiting in long queues gives front desk operators time to personalise and welcome guests properly, increasing the experience when you check-in.
"We also offer mobile solutions for our cloud-based platform where you can have full control over your site(s) from your mobile device anywhere in the world, this includes cancelling access, who enters your property, is any door left open or forced open, opening a door locally or remotely, multi-site access and more.
Our standard SALTO platform also includes BLE (Bluetooth Low Energy) and NFC (Near Field Communication). BLE is used as a credential on the phone and you can use both card and phone for access control with bi-directional communication. NFC in mobile phones is used to update the card with the latest credentials for people not frequently visiting the office and needing to visit remote locations where no networked access control solution is deployed.
For more information:
Impro Technologies: www.impro.net
SALTO Systems: www.saltosystems.com
Credit(s)
Further reading:
Improved security health check tool
Gallagher Access Control & Identity Management Products
Gallagher Security has streamlined its free Security Health Check tool, making it easier than ever to protect against potential system risks and improve business efficiencies.
Read more...
---
Suprema showcases integrated security solutions
Suprema Access Control & Identity Management Products
Apart from being an access terminal that supports multiple credentials such as facial recognition, RFID, mobile and QR codes, the BioStation 3 also supports VoIP Intercom and real-time video monitoring features to make it a truly multi-functional reader.
Read more...
---
Success in business process best practices
Technews Publishing Kleyn Change Management Editor's Choice Integrated Solutions Security Services & Risk Management
This month we commandeer time with the woman who is spearheading our national conversation on Women in Security, Lesley-Anne Kleyn, to get to know the lady herself a little better.
Read more...
---
Local electronic locks
Access Control & Identity Management
YeboTech is an electronics manufacturing company, founded in 2005, which designs, markets and sells an electronic key and locking systems, aimed at replacing all conventional mechanical locks.
Read more...
---
Selecting the correct access control system
Enkulu Technologies Access Control & Identity Management
Frazer Matchett, Managing Director of Enkulu Technologies, suggests the right questions to ask when selecting an access control solution; not just the access system, but the integrated solution that fits your requirements.
Read more...
---
Integrated guarding services
XtraVision Integrated Solutions Access Control & Identity Management Industrial (Industry)
XtraVision offers a few tips on how to go about planning and setting up an integrated approach to sustainable and successful security services, from the initial risk assessment to the technology and people required.
Read more...
---
Paxton secures multi-tenant office in Cape Town
Paxton Integrated Solutions Access Control & Identity Management Products
Cecilia Square in Paarl, Cape Town is an office building from where several businesses operate. The multi-tenant site has recently undergone a full refurbishment, including a complete upgrade of its security system for access control.
Read more...
---
AI face recognition OEM module
Suprema News Access Control & Identity Management Products
Suprema AI, a company specialized in artificial intelligence–based integrated security solutions, recently launched its high-performance face recognition OEM module called 'Q-Face Pro' in response to the growing need for contactless security solutions.
Read more...
---
KWAL raises a glass to security upgrade
Turnstar Systems Access Control & Identity Management Products
The Kenya Wine Agencies Limited (KWAL) was in need of an integrated security upgrade. This is where Turnstar came into the picture to provide a solution that would keep KWAL secure and efficient.
Read more...
---
Dahua Insider Series for touchless access
Dahua Technology South Africa Access Control & Identity Management Products
The Insider Series Access Control Solution offers touchless access (via Bluetooth) using the DMSS mobile app; it has three distance modes and two trigger modes (normal and shake).
Read more...
---