printer friendly version
Local is lekker the world over
May 2013
News
When you talk about local manufacturing, there are always many negatives that come up in the conversation. These include a range of issues from labour laws to a lack of skills, low productivity, the high cost of importing components and the ever present threat of cheaper imports from China.
However, despite all these negatives, South African manufacturers of security products manage to produce goods that are not only successfully deployed in the country, but also throughout Africa and the developed world. Hi-Tech Security Solutions spoke to four successful local manufacturers and asked them to tell us what they do, why they are successful and how their cross-border business is doing, specifically in Africa. The companies we spoke to are Centurion Systems, known for its gate automation products, access control systems, transmitters and receivers, GSM monitoring and control systems; iPulse, our local biometric reader manufacturer and designer; and Cathexis, which develops analogue and IP surveillance hardware and, more recently, a video management system that empowers users to manage large installations of diverse cameras. We also asked Radio Data Communications (RDC) for comment and include its response in the sidebar.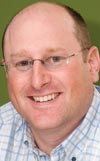 Adam Butchart, Centurion
Centurion's Adam Butchart says the company sells its products in South Africa via eight branches and a network of distributors and installation agents. It uses a network of distributors to sell its products internationally and recently opened a branch in Lagos, Nigeria. Cathexis's Gus Brecher says the company sells its products internationally, including South Africa, Africa, Europe, UK, USA, Australia and India. "Our largest market is the UK, our fastest growing market is Europe," he adds.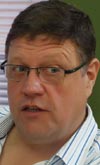 Gus Brecher, Cathexis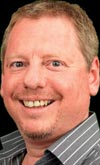 Gary Chalmers, iPulse Manufacturing
Gary Chalmers, CEO of iPulse says the company's biggest market is still South Africa, but its fastest growing market is the rest of Africa, followed by South America. It appears that apart from being friendly to BRICS countries, the Portuguese-speaking countries in South America are inclined to identify with Angola and Mozambique, countries where iPulse does business and for which it has translated its products and packaging. This has opened doors in these areas for iPulse.
What is new
Hi-Tech Security Solutions asked our interviewees what they had been up to over the past year or so that was new or exciting, including any internal processes designed to improve their products or services.
Butchart says Centurion has launched a range of new products, including industrial roller shutter operators; infrared gate safety beams with wireless technology and inductive vehicle loop detectors. It also bought a South African firm specialising in GSM monitoring and control devices, MyGSM, which will assist it with its drive into this market.
Brecher says, "We have introduced a new quality control and test methodology to improve yield form our hardware. We have also introduced a ticket-based testing and support infrastructure for test and support tracking for both hardware and software products."
iPulse has taken a dramatic, and unusual step over the last year and moved the majority of its manufacturing back to South Africa from China. Chalmers says that over 90% of iPulse's manufacturing is now done in South Africa. The move, while benefiting the local economy, was done for good business reasons.
Chalmers says that while the expense of manufacturing in China see the product costing 10% less than local production, when you consider shipping costs, the products made in South Africa are 34% cheaper – shipping has become very expensive. Moreover, with the new manufacturer in Cape Town, Chalmers says the quality of iPulse's products is actually better than the goods made in China. The products are now able to compete with any international products, both in terms of the components as well as professional finishes, something that is assisting in growing the company's customer base at home and abroad. Local manufacturing provides better control and it is easier to adjust manufacturing levels when large orders come in.
Cathexis is happy with its South African manufacturing partners. While some of its products' components are manufactured offshore, the main product manufacture is still in South Africa. "We have better control over the quality of the products that are manufactured here and have closer management of our stock levels by manufacturing to a JIT (just in time) system," Brecher says.
Centurion has the best of both worlds. Butchart says "We have our main production plant in Johannesburg, but also have an offshore manufacturing facility which has South African-designed and built production lines. While the overwhelming majority of our products are made locally, we do have a strategic advantage by having the offshore facility too. Our local production facility provides steady and reliable employment to hundreds of dedicated and often long-standing employees. This is very important to us and we have tried our best to retain our head count even through the recent tough economic climate.
"Manufacturing locally allows us to provide the highest level of support to our customers. Spares are always readily available and custom orders can usually be accommodated within short time frames. Besides our regular technical support and sales departments, we are also able to offer significant intellectual capital to our customers via our in-house R&D and product engineers – which is useful in solving complex technical enquiries.
"Our offshore facility provides us with a conduit for manufacturing that is unaffected by potential local disruptions to production and also enhances our procurement of materials."
How important is Africa?
The world is talking about Africa and the continent, despite its problems, is seen as an important future market for the world – and that is even apart from its mineral wealth. So while most companies are looking at the continent and strategising about how to capitalise on its growth, local manufacturers are also looking to expand northwards. And while many, if not most people still see South Africa as the route to the African market, it does not take long to realise that it is not simple to establish oneself in the region.
"We are optimistic about the growth potential within the African continent," says Butchart. "There are significant cultural challenges in doing business in certain regions, but with sustained efforts and the ability to adapt our offering to the needs of these customers, we are confident that we will do well in the majority of African countries."
"At the moment, we have some very large mining projects in progress in Africa," adds Brecher. "The region is booming as the mineral wealth is being exploited. We have product in Ghana, Mali, Mauritania, the DRC, Zambia, Namibia, Eritrea, Nigeria, Tanzania, Guinea and Angola. However, it is difficult to do business in this region directly from a logistical and a technical support perspective."
It is the area of logistics and support that Chalmers has found to be the toughest when establishing iPulse in Africa. He says that, from experience, he learned that to succeed in Africa, "we need to be 100% on top of our game in terms of local support, maintenance and service". Additionally, he states that to get market share, you need to have a local partner that is skilled in selling and supporting your product.
If a company has a poor quality product and a significant number of DoA (dead on arrival) products, the cost and time required in shipping products to and from South Africa will eat up any profits you may make. So while feet on the ground are important, Chalmers is adamant that quality products that are designed to perform optimally in almost any environment is just as crucial for an African adventure.
Partnerships
iPulse works through distributors to carry its stock into Africa and also partners with integrators who are actively working on projects within Africa.
As noted above, Centurion has a branch in Lagos through which it supports the West African markets. Southern Africa and East African markets are supported by its exports division, based in Johannesburg. "We usually sell to distributors that are able to offer local supports to clients in their respective regions," explains Butchart.
To those looking at moving into Africa, he advises they "do lots of homework. Try to understand the way that businesses operate in their respective countries and tailor your offerings to individual countries as required. Do not enter a market until you are well geared to offer support."
Brecher echoes this, noting, "Work through partners who have intimate knowledge of the nuances of the various regions."
Differentiators
Working in an industry with many local and international competitors, security manufacturers need to keep differentiating themselves from their competition if they want to stay ahead of the game. Chalmers says there are two critical factors to differentiation in this market.
The first is service; being local means you have the feet on the ground to take care of your customers' needs. The second is customisation. Being smaller than most international competitors and having control over its design and manufacturing allows iPulse to adapt to specific user requirements faster and bring product to market before the international competition has had its first meeting to discuss customisation requests. In Africa this is a distinct advantage.
Brecher says Cathexis is continuously evolving its products to suit market requirements. "We provide highly competitive, feature rich solutions that are close to the leading edge and we learn from the international business leaders in our sector. We are also flexible enough to provide our channel partners with solutions that differentiate them from their competitors."
Centurion keeps ahead of its competitors by offering products that are reliable, easy to install and even easier to use. "But we realise that this means very little without high levels of support," adds Butchart. "We invest heavily in creating support structures for our customers, which includes a dedicated technical support call centre, online technical and sales support via various social media platforms and full service centres at all of our branches.
"And probably most importantly, we try to cultivate a culture whereby each staff member takes personal accountability in serving customers to the best of their abilities and taking ownership of and resolving customer queries."
It is a safe bet that, while they may be small and poorly funded in comparison to their international competitors, South Africa's local manufacturers do have an advantage of being close to their customers, both at home and in Africa. And while there is no doubt that business in the rest of Africa is different to what we are used to in South Africa, experience has taught these companies the tricks of the trade and empowered them to establish a profitable business on the continent.
The simple fact that the companies mentioned above have successfully translated their success in South Africa to many other countries in Africa and the world is proof that the right attitude and work ethic does put this country on an even footing with any other manufacturers in the world. Even those who swear by outsourcing manufacturing to China and other countries are being proven wrong, both in price and quality of product by our local manufacturers. When one gets all the elements involved in manufacturing right, it is clear that local is not only lekker, it is internationally competitive.
Local succeeds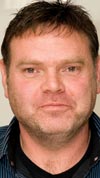 Brent Andreka, director, RDC
Radio Data Communications (RDC) comments on its local manufacturing experience:
As a long standing South African manufacturer, experience has taught us the importance of being able to adapt to market and customer requirements. Being an owner run business means that RDC is able to assess and adapt very quickly.
The critical nature of the environment in which our products are used demands that we deliver quality products without exception. Manufacturing our products locally, and in-house means that we have complete control of quality. Automation is also a key aspect to delivering consistent quality.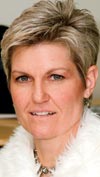 Lee-Ann Andreka, director, RDC
It is really important to use quality raw materials and components. Being proudly South African, RDC sources as many components as possible through reputable local suppliers and agents. Many components are imported and it is imperative that genuine brands are procured.
To remain competitive, management and staff alike continue to find more efficient and less expensive ways of achieving the same result – while quality is not negotiable. The design and manufacturing process is where we look first. Continual innovation in the way we design and manufacture our products is key. While drawing on 33 years of manufacturing experience, a lot of effort is put into researching leaner and more efficient manufacturing processes.
The management team is hands-on in the day-to-day operations. Being able to work closely with our in-house R&D engineers and manufacturing staff means we are able to assess and re-evaluate processes continually.
The security market still has many opportunities for further innovation and many new and exciting products are emerging. Our engineers have tremendous knowledge and experience and have on more than one occasion proved that they are capable of the task.
Credit(s)
Further reading:
Securiton and Dallmeier announce partnership
Dallmeier Electronic Southern Africa News
Securiton AG Switzerland is now integrating the Panomera and Domera camera systems from Dallmeier to ensure its customers benefit from the highest standards of privacy and security.
Read more...
---
Sasol ensures Zero Trust for SAP financials with bioLock
Technews Publishing Editor's Choice Cyber Security Security Services & Risk Management
Multi-factor authentication, including biometrics, for SAP Financials from realtime North America prevents financial compliance avoidance for Sasol.
Read more...
---
KPMG 2022 CEO Outlook, South African edition
Editor's Choice News
Mid-November saw the release of the latest KPMG 2022 CEO Outlook, South African edition, aptly sub-titled 'Potential Growth in Uncertain Times'.
Read more...
---
Mending Africa's digital infrastructure gaps
News
inq. Fabric is the first African-developed cloud connectivity, network-as-a-service software for automated provisioning and routing.
Read more...
---
Suprema renews international privacy and security standard certifications
Suprema News Access Control & Identity Management
Suprema has simultaneously renewed two important international standard certifications regarding information security management (ISO/IEC 27001) and privacy information management (ISO/IEC 27701).
Read more...
---
Technoswitch partners with Ciqurix for video fire detection
Technoswitch Fire Detection & Suppression News Fire & Safety
Technoswitch is pleased to announce the signing of an exclusive distribution agreement with Ciqurix (UK), a leading supplier of video fire detection products.
Read more...
---
Do you know where your data is?
Technews Publishing Editor's Choice
Flow Security focuses on making sure companies manage their data security in real time through automated Data Security Posture Management (DSPM).
Read more...
---
Two cases of cyber resilience
Technews Publishing Editor's Choice
Infinidat consolidates backups and cyber resilience for a cloud service provider in the healthcare environment, as well as an energy utility based in EMEA.
Read more...
---
Are you below the security poverty line?
Technews Publishing Editor's Choice
While management may think their company is pulling its weight in terms of cybersecurity, the security team knows if it is operating below the security poverty line.
Read more...
---
Cyber resilience is more than cybersecurity
Technews Publishing Editor's Choice Cyber Security Integrated Solutions IT infrastructure
Hi-Tech Security Solutions held a round-table discussion focusing on cyber resilience and found that while the resilience discipline includes cybersecurity, it also goes much further.
Read more...
---