printer friendly version
iLegal Conference 2013
May 2013
Conferences & Events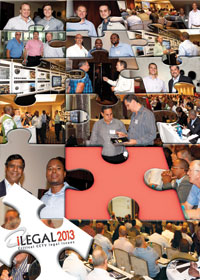 Hosted by Hi-Tech Security Solutions, the recent iLegal Conference 2013 highlighted current critical issues in CCTV security surveillance in this country and launched the updated Consumer Goods Council (CGCSA) CCTV Industry Guidelines.
A line-up of high-quality speakers from the CGCSA, Business Against Crime (BAC), legal authorities and major companies showed how these issues are impacting the industry, advised how to use CCTV to get successful prosecution and presented case studies showing the importance of fit-for-purpose CCTV systems and strategy. There were also two panel discussions, one on the application of appropriate camera technology and the other on the pros and cons of remote monitoring.
Transplanting CCTV strategy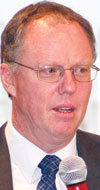 Craig Donald, Leaderware
The first presentation was by Craig Donald, director of Leaderware and a human factors specialist in security and CCTV. He has consulted and trained extensively in the UK and he shared his insight into CCTV standards in the UK and their implications for South Africa. According to Donald, the UK is the CCTV standards capital of the world. Its standards are highly respected and they are used internationally. There are lessons to be learned from these, but care is needed as it is not a straightforward process to transplant them.
He described the status of CCTV legislation in the UK, starting with the operational requirements manual produced by Jim Aldridge in 1994 – the most significant document on CCTV ever produced. The UK government eventually spent a total of £200m to define a process for establishing what is required from a CCTV system. However, by 2006 the situation was still not ideal and in 2009 new operational requirements were put out. These were not popular as there was no consultation and the changes were not accepted. Even today they are regarded as recommendations only. The Rotakin standards were part of this process.
Three pieces of legislation determine how CCTV is implemented in the UK: the Human Rights Act, the Regulation of Investigatory Powers Act (RIPA) and the Data Protection Act. Policy and law on the way CCTV is applied in the UK has the aim of getting public acceptance by avoiding a surveillance society. The UK is very conscious about peoples' privacy rights and RIPA protects these rights and defines how CCTV can be used to monitor people in public areas and how to carry out surveillance. He commented that although we have similar protection in South Africa if this was enforced we would catch only a small fraction of the people we do via CCTV at the moment.
The UK's Security Industry Association (SIA) training requirements provide minimum standards for training of public operators, but this is different from training for detection and observation in an industrial situation. The outcome has been that people do things correctly, but not necessarily the correct things. The UK also put out a CCTV strategy document in 2006 which acknowledges the weaknesses in the system and offers a recommended strategy based on the 'camera to grave' principle. This is a very constructive document, but implementation has been disrupted and it is still only a code of practice.
This led to the question of where we should go in South Africa with CCTV. Donald advised that we should draw on the expertise and excellence of industry leaders. There are good guidelines and tools available, with plenty of expertise, but they have to be looked at critically. There is a need for good auditing, both from the technical and the human factor angles. We should look to the law for precedents and cases where things went wrong; and we should use a system of continual improvement and give feedback to our people.
New CCTV industry guidelines

Selma Visser, CGCSA
Selma Visser from the CGCSA presented the newly updated CGCSA CCTV Industry Guidelines, which were hot off the press at the conference. These arose out of the Consumer Goods Risk Initiative. She said that the average loss in an armed robbery is R85 000 and CCTV plays a very valuable role in both reactive and proactive measures for combating crime; the return on investment in CCTV systems is a major concern for business.
Realising this, the CGCSA's first retail initiative resulted in a document aimed at understanding the use of CCTV. As the value of this document escalated, it was updated for a wider industry than retailing, in partnership with a wide range of industry experts, with CGCSA collating the information from all participants. Visser added that the document was an industry effort and would not have been possible without the participation and collaboration of these experts, especially BAC Western Cape. The objectives of CCTV are to influence behaviour, to protect clients, staff and property, and to provide evidence. The document provides a comprehensive guidance document to be used as a tool to address the design and implementation of CCTV systems.
The document identifies role players, outlines operational requirements, specifies technical requirements, and gives guidelines for installation, maintenance, management and staff development (a crucial area). It also covers legal aspects such as evidence handling and the chain of custody, and highlights the benefits of a properly installed and managed system.
Outlining the way forward, Visser said that she envisaged commitment from the entire industry in assessing the current situation; comparing this against guidelines and standards; analysing what needs to be done; and addressing the need to improve.
A syndicate foiled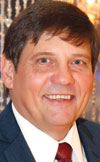 Juan Kotze, Attorney
Attorney Juan Kotze described how he has used CCTV for effective prosecution while assisting the Spar group to monitor syndicates and solve crimes using CCTV footage. He had the delegates' undivided attention when he showed some riveting footage of a till theft in action at Kingfisher Spar and raised the question of how an organised syndicate whose activities have been recorded for 15 years can get away with it. Describing their modus operandi, he showed a profile of a career criminal who typically has 19 surnames, 30 places of birth and 14 outstanding cases of theft. One of the biggest problems is facial recognition as the camera is often mounted at a different angle to the police photo making identification in court difficult.
Citing some of the lessons learned, he said that syndicates can operate for many years and they have no respect for CCTV systems, which are not a deterrent. A syndicate will not be foiled until someone makes it their business to stop it and it takes considerable effort and co-operation to prosecute. The quality of the cameras is paramount and it is vital to preserve the integrity of the footage – contrary to common belief, DVDs have a limited shelf life.
If the identity of the accused is disputed it must be proven by expert evidence. Also, police and prosecutors often lack the equipment and knowledge to present CCTV material as evidence, even if there is an excellent case. It is easy to see what is happening on the footage, but difficult to find out who is involved, and only one in 14 apprehensions are convicted. He concluded that CCTV is a valuable but underutilised aid in the fight against crime, but the best insurance is that criminals are arrested, prosecuted and removed from society.
CCTV in the retail world

Annetta Pillay, Liberty Properties
Annetta Pillay manages all the security functions that fall under the Liberty Properties portfolio. She outlined the security manager's function, which encompasses all key security clients – not only shoppers but also employees, tenants, operations management, community and investors. The responsibility of a shopping centre is to create a place of safety, in effect a babysitter role. This puts a huge responsibility on the centre.
For Liberty Properties the role of CCTV is to increase the level of service, safety and security. It has a perceived effectiveness and contributes to proactive monitoring and detection of incident conditions. It allows rapid response, deters crime, reduces customers' fear of crime, facilitates apprehension and prosecution of offenders, deters vandalism and discourages antisocial behaviour. Customers want to feel safe and CCTV makes this possible. It also minimises claims as it can prove how an incident occurred. Customers also expect CCTV to be available in the event of a loss or injury.
She then covered best practices and what has worked well for Liberty, saying that the return on investment must determine these. The goal is to use CCTV to its full capacity, including features such as motion detection, video analytics and popup alerts. The purpose of the camera should first be determined, with hotspots and areas of concern such as jewellery or phone stores being emphasised. Audits should be conducted to highlight critical areas and see what works, for example training for control room operators is an area that really adds value. It is also important to have a common incident reporting tool, with good information sources captured on a central data system, as well as to interact with internal and external forums such as BAC and SAPS. Maintenance is very important and there must be a budget for this.
She concluded by saying that CCTV has helped Liberty centres rank among the finest and safest in the world.
CCTV in residential estates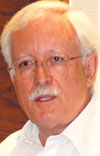 Rob Anderson, Rob Anderson & Associates
Rob Anderson of Rob Anderson & Associates shared his experience of CCTV in residential estates. He believes that CCTV must be put into the context of overall security: it is about the people, not the technology, and it is the total solution that counts.
He outlined a typical client profile on a residential estate, where the majority of people keep a low profile, a small percentage is criminal, a small percentage gets involved in managing the estate and another small percentage consists of those who think they are security experts.
There tends to be a big expenditure on visual items such as guards, with far less spent on technical equipment. Also, people assume that security does not need to be managed and that equipment lasts forever. Statistics show that most alarms pick up departing criminals and most criminals use the front gates. He added that security staff spend more time protecting themselves from residents than protecting residents and the guide to success is to have 100 metres of fence per resident, a minimum of 300 dwellings per gatehouse and security as a percentage of the levy being between 50% and 60%.
The design and layout of the front entrance is also very important. As far as perimeter solutions, the biggest challenge is the electric fence and the damage cause by lightning. Another issue is the data dilemma. CCTV collects masses of data about people, but it is not properly protected. Everyone knows the PIN code to the storage system and databases are being sold. The question is how to maintain and store this information properly.
Prosecutions in the 21st century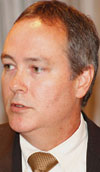 Christenus van der Vijver, National Prosecuting Authority
Christenus van der Vijver is a senior state advocate in the NPA. He said that circumstantial evidence has some advantages: you cannot ask it questions and it cannot make mistakes or be unsure or subjective in court. Camera footage is circumstantial evidence and it can cause a conviction.
There are two requirements for a court to accept circumstantial evidence: it must be consistent with the true facts and the facts must rule out all other possible inferences. He described four cases where convictions were secured, despite very poor quality footage. Here other factors played a role as well, for example clothing or good apprehension. CCTV can provide important corroboration for eyewitness accounts. Footage can show items such as a shoulder bag; and small details such as a shirt sticking out can make a difference – all little pieces of evidence that corroborate other stories.
In outlining good practices he emphasised that even when the footage is not good it can still assist a prosecution. His advice was: do not gamble with poor quality and strive to get to a situation where you can take the fight out of the accused – the quality must be so good that the case is closed. He also warned that if the system is challenged an expert witness must be provided and care must be taken not to tamper with the evidence.
Another issue is the need to prepare proper witness statements, and the importance of empowering the witness with confidence without coaching. He believes there should be a training programme for witnesses. In addition, most cases are tried in the lower courts where time is limited. "Know what you want to show the court and let the picture do the talking," he advised.
He ended with a warning not to discard evidence because of poor quality and to be careful about the authenticity of the evidence as it has to be proved that there was no tampering.
New robotic aerial surveillance systems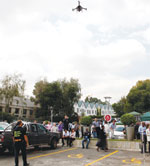 Aerial Robotic Media
The presentation by Neville Pienaar and Gary McDonogh from Aerial Robotic Media offered something completely different. They have a specialised commercial venture focusing on HD aerial imaging using flying robots and have developed a range of aerial surveillance products, which could be used for circumstantial evidence. They started with a live demonstration right in the conference room that had everyone sitting up in their seats. They then described how this new technology has application for surveillance in traffic and car parks, borders and perimeters, wildlife cameras, coastal monitoring, crowd control and residential estates.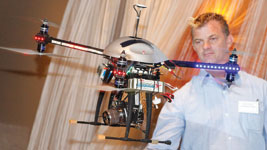 Aerial Robotic Media
It has many advantages, being able to deliver a bird's eye view at a reduced cost. It is silent and stealthy, has an autopilot ability (which makes it a drone), has low altitude ability and can operate in confined spaces or inaccessible areas. It also has multisensory capability and allows real-time video transmission to the ground. For example it could do a 2,5 km patrol route round Soccer City and help to observe the suspicious behaviour of people.
There are always limits with new technology and some of the challenges include the battery life, operating in the rain, and training of operators, as well as the legal implications and privacy criteria. They added that legislation is battling to keep up with technology and the Civil Aviation Authority (CAA) and Commercial Aviation SA (CASA) are only now developing a legal framework covering the equipment that can be used. For example, the question arises as to whether a drone is allowed to fly over a house. In the USA there are no-drone zones to deal with this issue. Another major challenge is bandwidth and Tx power. They concluded that commercial UAVs in South Africa will be here in the near future and they will have many applications, but there is a need for collaboration and investment in technology.
CCTV benchmarking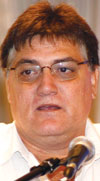 Rudi Wolter, Business Against Crime Western Cape
Rudi Wolter from Business Against Crime Western Cape gave a passionate talk about the importance of standards, as less than 4% of cases are successful in court. He explained the five Rotakin standards which were developed in the UK as a means of auditing the efficiency of a CCTV system and brought to this country as a franchise. They are an effective tool in the correct establishment of CCTV systems and are becoming very important for convictions.
He started by showing some examples of the impact on facial recognition of factors such as getting the camera angle wrong, having the wrong camera for the location, or the wrong lens for the focus area – one of the biggest problems. The camera should also have a wide dynamic range (WDR) and if the budget is a problem, high crime areas should be prioritised.
Wolter described the results of a shoot-out done over a period of four days in the Western Cape using a Digikin Rotakin doll as the target to do the camera setup. The shoot-out revealed that if you cut costs you get poor quality footage. There was a vast difference in picture quality due to the difference in lux levels at different times of the day. It was also found that the first 10 metres from the camera were totally overexposed. In addition there was a difference in resolution per test, over-exposure on infrared luminators, and facial recognition was a problem at night, with colour fading and loss of clarity. It was found that no camera does 24-hour surveillance effectively, not even HD cameras.
He concluded by saying that we have the standards but there is no testing and the industry needs a regulator with teeth to make resolutions happen and standards need to be included in tenders. BAC is starting to put in stronger measures, as a camera is only as good as the system design.
CCTV evidence in court
Brigadier Sonje de Klerk, SAPS
Brigadier Sonje de Klerk from SAPS summarised the important issues arising out of the conference and highlighted some of the major points. She said that system and incident management are as important as having downloaded footage, as the suspect will often attack the evidence.
Presenting in court is not an easy task and to be successful it is necessary to have a good quality image with high integrity, as well as positive identification. Quality relies on the position of the camera and she referred back to the need for a camera to have a job description which was highlighted in one of the panel discussions. She also said that light conditions are important and there should be no obstructions. These considerations should not be left to the installer. She could not emphasise enough the importance of the quality of the recording. Positioning of the camera must also be right for the purpose.
She explained that to identify a person there is much more available than just footage. Examples are tattoos, scars, hairstyles, clothing and mannerisms. To identify vehicles, the number plate, model, make and colour are needed. Other things that help are logos, any damage and car contents. All information must be on record with the date and time, so the camera time setting must be checked. Also the master copy should be downloaded, sealed and kept safe, with the second copy being given to the police. Every aspect must have a paper trail before a conviction can be successful. "Get standard operating procedures (SOP) in place for an incident, do a dry run and remember that CDs have a shelf life. Do not let the criminal be the first person to test the footage," she concluded.
Credit(s)
Further reading:
Cyber resilience is more than cybersecurity
Technews Publishing Cyber Security Integrated Solutions IT infrastructure
Hi-Tech Security Solutions held a round-table discussion focusing on cyber resilience and found that while the resilience discipline includes cybersecurity, it also goes much further.
Read more...
---
From the editor's desk: Security and resilience
Technews Publishing News
It's often said that South Africans are a resilient bunch, and history has proven this correct. When it comes to security, both cyber and physical, resilience is key to an effective defensive plan. ...
Read more...
---
Hikvision aims for solutions
Technews Publishing Hikvision South Africa Editor's Choice CCTV, Surveillance & Remote Monitoring News Integrated Solutions Conferences & Events
Hikvision recently held a roadshow titled Industry X, where the company highlighted its latest products and solutions, supported by partners and distributors.
Read more...
---
ADI Expo returns to South Africa
Technews Publishing ADI Global Distribution News
September saw the return of the ADI Expo to South Africa. The Johannesburg event was held at the Focus Rooms and the Durban event, two days later, at the Southern Sun Elangeni & Maharani.
Read more...
---
Technoswitch Awards dinner for 2022
Technews Publishing News Fire & Safety
Technoswitch hosted its fifth awards dinner at Montecasino in September, where customers and suppliers celebrated a year of success.
Read more...
---
Reliable, low-maintenance video appliances
Technews Publishing Editor's Choice CCTV, Surveillance & Remote Monitoring News IT infrastructure Products
Symetrix, part of the Agera Group, has added the AES range of video recording servers, storage appliances and workstations to its portfolio.
Read more...
---
Resilience is a collaborative effort
Technews Publishing Editor's Choice
Cyber resilience is not an 'IT thing'; Wayne Olsen says it is an enterprise-wide risk strategy that involves collaboration, lots of collaboration.
Read more...
---
The challenge of data safety and availability
Technews Publishing Editor's Choice Cyber Security
Veeam offers backup and recovery software that presents the user with one interface to manage backups to and from almost any platform.
Read more...
---
Cold chain integrity in real time
Technews Publishing Editor's Choice Asset Management, EAS, RFID IT infrastructure Transport (Industry) Logistics (Industry)
DeltaTrak offers real-time farm-to-fork IoT monitoring of the cold chain to ensure every step of the journey is recorded and verifiable via the cloud.
Read more...
---
How safe are your backups?
Technews Publishing Cyber Security
Immutable backups prevent malware from compromising your data and ensure the right data is restored in an emergency when following a four-step backup process.
Read more...
---