printer friendly version
Fire safety at home
October 2016 Editor's Choice, Fire & Safety, Residential Estate (Industry)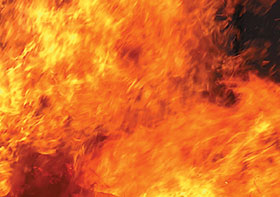 There is a general complacency in South Africa with regard to fire safety in the home. A large misconception is that fire detection is for commercial properties but not residential. With over 2200 recorded deaths in South Africa in 2011 (Mortality and Causes of Death in South Africa 2011: Findings from death certificates), and the further number of serious injuries resulting from burns and smoke inhalation, fire safety at home does need some consideration.
Domestic fires are commonly caused by:
• Faulty electrical appliances.
• Poor electrical wiring.
• Unattended open flames (candles, fires, stoves, cigarettes).
• Winter heaters.
• Children playing with matches.
• Generators.
It will come as little surprise to learn that there is an increase in reported events when load shedding has occurred. Alternative light and heat sources as well as extra generators running with long extension cables can quickly become deadly attackers. Considering how simple the safety measures are versus how devastating the consequences can be it seems perplexing more South African homes don't have the basic safety features.
Home protection
Early detection of fires can help avoid death or injury. It doesn't take much to install a small smoke detector in key areas, like outside the kitchen and in corridors. Battery powered devices are easy to install and properly certified devices (look for EN14604 certification) will warn when batteries need replacing. In many countries around the world, domestic smoke alarms are fitted as standard. It's a sensible precaution. And for a nation happy to install electric fences, CCTV cameras and sophisticated intruder alarm systems, it seems odd to overlook this simple and cheap addition to your armoury.
Extinguishers
Warning is a great start to alert the occupants and get everyone to safety, but preventing the fire from spreading is crucial. Applying the correct extinguisher to the fire is critical as the wrong action can often escalate the problem rather than remove it.
CO2
This is effective on flammable liquids and electrical fires, but not suitable for cooking fats or soft furnishings. 
Dry powder
This can be used on the widest range of fires in the home. It is safe to use on textiles, wood, flammable liquids/gases and electrical fires. However, it cannot be used on kitchen fires involving cooking fats and oils. It's a good device for garages and living areas, but you will still need a separate device for the kitchen.
Foam
Foam extinguishers are effective on woods and flammable liquids, petrol and spirits but not for kitchen or electrical fires, making this a handy device to keep in the garage. 
Water
Water fire extinguishers are good for putting out flames on carpets and soft furnishings, but are dangerous when used on flammable liquids or cooking fats. This is a good device to have in the bedroom and living room, especially if you are a smoker, but not useful for the kitchen.
Wet chemical
This is safe to use on soft furnishings and cooking fat fires, yet hazardous when brought into contact with electrical or flammable gases and liquids. It is good for the living room and kitchen but unsuitable for the garage.
Fire blanket
This is a handy item to have in cooking areas and can stop small pan fires from spreading. They are mounted on the wall and easily accessible: using a fire blanket is the best and quickest way to extinguish a pan fire. They can also be used to wrap around people when their clothing has caught fire.
The best thing to do is to assess the places in your home where you see the greatest potential risks of fires occurring and keep the appropriate devices in an easily accessible place nearby. A fire blanket and wet chemical extinguisher in the kitchen and dry powder device in the garage could prove invaluable tools in saving your home and your life in case of a house fire.
The invisible killer
There are many dangers associated with fire. While heat, where super-hot air can scorch your lungs and can melt your clothes to your skin, is one of the biggest fears, it's smoke that can do the most damage. Smoke and toxic gases kill more people than flames do. House fires generally produce smouldering fires which result in thick black smoke which create complete darkness hindering any escape. Fire uses up the oxygen in the room and creates large amounts of carbon monoxide. These deadly CO fumes can lull you into a deep sleep.
There is additional risk of CO poisoning from other sources such as car fumes (for garages linked to houses) and generators. An increasing number of CO detectors are becoming available in SA and like the standard smoke detector, it can be easy to install a battery-operated unit. Unlike the smoke detector, due to the nature of carbon monoxide as a gas, it can be mounted on the wall (eye level if it has a screen) or at least 15 cm below the ceiling. In a fire, the hot air can create a hot air layer at the ceiling which can prevent the carbon monoxide from rising to the ceiling mounted detector.
Escape routes
In an age where home security often includes physical safety barriers, it's worth checking that you haven't secured yourself so well into your house that you can't get out in the case of an emergency. If you wake to a fire, which has already started to take hold, the house will be filled with thick black smoke which will hinder visibility. In order to avoid inhaling poisonous fumes, you are advised to stay close to the floor as a means of escape. Make sure you have allowed easy escape access through security gates, windows or doors. Everyone in the house should know the agreed escape route to avoid confusion amidst the panic.
Once everyone is safely out, contact the neighbours and call the emergency services (Fire Brigade 10177).
Nichola Allan is the managing director of G2 and has been with the company since its inception in 2005.
For more information contact G2, +27 (0)87 940 9322, media@g2fire.co.za, www.g2fire.co.za
Credit(s)
Further reading:
Choosing the right fire detection system
August 2019, FDIA (Fire Detection Installers Association) , Fire & Safety
Charles Thiong'o from the FDIA highlights important factors to consider when choosing a fire detection system.
Read more...
---
Keeping our changing environment secure
August 2019 , Editor's Choice, Security Services & Risk Management
For a crime to take place there needs to be a victim and a criminal who sees an opportunity. For a cybercrime to take place we need the same set of circumstances.
Read more...
---
Augmented security with drones
August 2019, Drone Guards , Editor's Choice, Integrated Solutions
Drone Guards is moving into an untapped market of using drones to secure residential estates and other high-value assets such as mines, farms and commercial properties.
Read more...
---
The importance of real security risk assessments
August 2019, Sentinel Risk Management , Editor's Choice, Security Services & Risk Management, Residential Estate (Industry)
Andy Lawler, MD, Sentinel Risk Management, says a security risk assessment is an onerous task, but is not something estates can consider optional or a luxury item anymore.
Read more...
---
Risk assessment or product placement?
August 2019, Technews Publishing, Alwinco, SMC - Security Management Consultants , Editor's Choice, Security Services & Risk Management, Residential Estate (Industry)
Hi-tech security solutions asked a couple of experts to provide estate managers and security managers with some insights into what a 'real' risk assessment includes.
Read more...
---
How far are we really at with artificial intelligence?
August 2019, Axis Communications SA , Editor's Choice, CCTV, Surveillance & Remote Monitoring, IT infrastructure, Residential Estate (Industry)
Justin Ludik unpacks exactly how far AI has come and what it potentially can do for society and more importantly, surveillance.
Read more...
---
More than simply a camera
August 2019, Forbatt SA, Secutel Technologies , CCTV, Surveillance & Remote Monitoring, Residential Estate (Industry)
With the human element being the weakest link in all security solutions, Hi-Tech Security Solutions looks at the pros and cons of using body-worn cameras in estates.
Read more...
---
The importance of effective perimeter security
August 2019, Elf Rentals - Electronic Security Solutions, Stafix , Editor's Choice, CCTV, Surveillance & Remote Monitoring, Residential Estate (Industry)
Protecting the perimeter is critical for any residential estate; how does one go about making sure your perimeter is as secure as possible?
Read more...
---
Security playing speedcop
August 2019, Axis Communications SA, Hikvision South Africa , CCTV, Surveillance & Remote Monitoring, Residential Estate (Industry)
Estates now have a legal precedent to manage their traffic and fine people in the estate for violations of the rules; all they need do is find solutions that will support them.
Read more...
---
Residential estates: Just how secure are they?
August 2019 , Security Services & Risk Management, Residential Estate (Industry)
While estates may seem a refuge from the criminal threat lurking in the suburbs, crime may be rife here, too.
Read more...
---