Ambassadors of security
October 2016, News
Welcome to the second volume of Hi-Tech Security Solutions' Residential Estate Handbook. It's only been six months since the first volume was released, but the response was such that we decided to do a second edition.
In this edition, we diversify our focus and take a look at the guarding practice in residential estates and how it has evolved over the years. In fact, after talking to a number of guarding companies, I think it's fair to say that guarding on the whole has changed dramatically. No longer are we looking at the tough guys with sticks and guns trying to intimidate criminals – a tactic which may have scared off a few opportunistic crooks, but simply made the syndicates up their game.
Guarding today is much more professional and supported by new technologies we never thought of way back when. Today's estate guards are often seen more as ambassadors of the estate than simply bodies walking around in uniform. These are positive changes which are reflected in the results estates experience.
As one CEO told me, when he started out in a guarding company, you worked your way up the ranks. The first executive team he worked for had years of experience, but no formal qualifications. Today that same company has an executive in which every person has a degree and/or an MBA. It seems the tough guys have swapped their knobkerries for MBAs, it's a bit less dangerous.
During the process of putting the handbook together, we also found out that control room operators have also been given a boost. As Dr Craig Donald has been saying for years, you can't take a guard from the gate and plonk him in the control room, expecting him to do a good job (Dr Donald's wording would probably have sounded far more professional). Operators need to have the right aptitude and training to be able to do justice to the expensive equipment they use on a daily basis – and to do justice to the people they protect.
We have not focused only on the guarding aspect of residential estate security, of course. There is still a good amount of information in the handbook covering other areas of importance for estate security, from homegrown monitoring solutions to tools designed to support guards and estate management, and much more.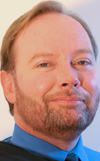 As we near the end of the year, this may be the best time to take another look at your estate's security posture to ensure everything is being done to avoid any unpleasant Christmas surprises. The Residential Estate Security Handbook is by no means a solution to every security need, there are simply too many ways and means criminals can take advantage of their innocent prey. The handbook does, however, look at some of the important aspects of residential security in the hopes of helping to secure residents against the continual onslaught of syndicated and opportunistic criminal enterprises.
We will publish another handbook towards the end of next year and if you feel we missed out on something important, please let me know along with your comments and criticisms at andrew@technews.co.za
Andrew Seldon
Editor