printer friendly version
Challenges and opportunities for the security manager
September 2012
News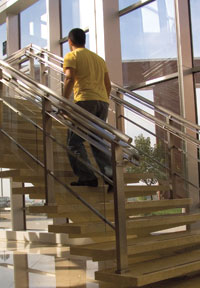 Some views on future challenges for the security manager from UNISA's Prof. Minnaar.
Over the last few years most security managers have been faced with increasing sophistication requirements and development of specialist skills across the broad spectrum of the (private) security industry. Whether this has been in terms of technology, equipment, risk management skills and corporate demands regarding organisational resilience and business continuity, let alone threats coming from the digital information security sphere with reference to cyber-espionage and cyber-theft of information, is merely a matter of fact that has to be dealt with by security managers on a daily basis.
The role of the security manager is certainly not disappearing, there is still a great demand for the specialised security management skills necessary for companies and organisations to operate in a secure and safe environment. The trick is to improve and build on existing security management skills and then go on and expand them by taking onboard the new areas of skills development needed to cover and respond to all these new developments and demands.
The core challenge for traditional security managers is to keep abreast of the changes occurring in such allied fields as corporate risk management and information security and to adapt their security management skills accordingly. This challenge translates itself into making top management stay interested in security, and keep investing in and funding security in all its aspects and spheres of application. This obviously requires security managers to continually develop the necessary professional skills to improve their own security management skills as managers of security services and security measures and thereby continue the provision of effective security to businesses and organisations in both the private and public sectors of the economy.
This also requires them to increase other professional managerial level skills that largely fall outside of the old traditional physical and industrial security skills such as (security) threat assessments, (security) risk analysis, better understanding the demands for organisational resilience and business continuity, co-operating in an integrated manner with other personnel at a company/organisation and the building of professional holistic security plans that move away from one-dimensional approaches to the provision of efficient, cost-effective and value-adding security services.
This professionalisation process, unfortunately, has to continually demonstrate security practitioners' value and worth to the company/organisation. It is therefore imperative for security officers, looking to move up to the supervisor and managerial levels, to continually educate themselves about the new developments in the industry. One dimension to this is improving one's educational qualifications, particularly at tertiary level. Many sectors of the industry are linking the obtaining of such security specialised university qualifications to promotion prospects.
Having well qualified professional security personnel serving your company often provides the organisation with a competitive edge. Increasingly, companies are funding such further educational qualifications as part of their career development path for security practitioners – thereby growing the pool of competent security managers as an investment in the future growth and overall professionalisation of the whole industry.
Part of this knowledge growth has been the advance in security technology used in certain security measures. Allied to gaining further professional educational qualifications is the informing themselves of all the new advances and applications of such security technology, and planning security risk control measures, taking into account new capabilities and specifications to devise effective security systems, designed with site-specific conditions and/or situations in mind. In other words, to be suitably knowledgeable about the best (in operational terms) and most cost-effective security system to implement for the properly and professionally analysed site situation. Here analytical skills are also of paramount importance.
An understanding of information analytics, data-mining skills and the development of own company/organisational incident information management systems is necessary and the application of strategic analysis to this in order to respond correctly to any perceived threats and risks (crimes) – all to better understand shortcomings, vulnerabilities and probabilities of occurrence of such potential risks (incidents). These are all crucial skills for the modern-day security manager to develop.
A further challenge to the job description of a security manager has been the exponential development and increasing use of in-house and/or contracted investigations in the corporate world. There is a dire shortage of suitably trained and qualified corporate investigators having the customised investigative skills necessary to be effective in organisations. It is no longer adequate, or suitable, to merely appoint ex-police officers as corporate investigators on the basis of their police specific crime investigation training.
Finally, a growing area where security practitioner skills are being applied is in crime prevention strategies particularly in residential neighbourhoods. The involvement of private security companies in these need to be, again, on the basis of a professional understanding of what it takes to make a contribution to the fight against crime in South Africa and more specifically in partnership with the South African Police Service.
Too often the profit motive becomes the sole determinant of the type of security services being provided. Such an approach often ignores and does not take into consideration the demands and responsibilities involved in forming such community safety networks and co-operating in security and safety provision at grassroots level in all communities.
My last comment on this issue – may the debate continue, robustly if necessary – around the relevance, need and value-adding benefits of the professional management of security in a sufficiently honest and transparent manner with a frank exchange of all viewpoints.
Further reading:
Crossing the chasm
Editor's Choice News Security Services & Risk Management Training & Education
Industry reports suggest that in the next ten years, millions of jobs could go unfilled because there simply are not enough people to fill them.
Read more...
---
The greatest asset for driving transformation
News
Dell Technologies' research from 40+ countries details how, after two years of accelerated digital transformation, business leaders are more aware than ever of the role employees play in driving successful change
Read more...
---
Top six priorities for business security this festive season
News
At this time of year it is not uncommon to see criminals enter a business posing as a customer or a delivery supplier, and then proceed to hold staff at gunpoint.
Read more...
---
DeltaTrak and Ericsson IoT offer real-time cold chain traceability
News Products Logistics (Industry)
Ericsson's Internet of Things (IoT) business and DeltaTrak announced a collaboration through Deutsche Telekom that will drive cold chain traceability enhancements powered by the Ericsson IoT Accelerator platform.
Read more...
---
No supply chain delays from Germany
Dallmeier Electronic Southern Africa News CCTV, Surveillance & Remote Monitoring Products
Dallmeier announces that its complete Domera single-sensor camera family is available without delivery problems for installers and channel partners.
Read more...
---
Lukas van Emmenis joins Olarm in Gauteng
Olarm News
Lukas van Emmenis has joined Olarm as its regional manager based in Gauteng, where he will make full use of his experience in the electronic security, security distribution and discreet manufacturing fields.
Read more...
---
From the editor's desk: Social beings
Technews Publishing News
      Welcome to Hi-Tech Security Solutions Issue 7. We have slightly fewer topics in focus in this issue because the bulk of the editorial covers one topic, the Residential Estate Security Conference 2022. ...
Read more...
---
SALTO launches integrated Technology Partner Programme
Salto Systems Africa News Access Control & Identity Management Commercial (Industry)
SALTO Systems has announced it is offering other technology leaders the opportunity to partner with it for an integrated and improved customer offering.
Read more...
---
Suprema launches BioStation 3
Suprema neaMetrics Editor's Choice Access Control & Identity Management News Products
Suprema has launched BioStation 3, a contactless access control terminal specialised for facial recognition in the post-Covid era.
Read more...
---
ESDA golf day a success
ESDA(Electronic Security Distributors Association) News
The ESDA Annual Charity Fundraiser, part of the Electronic Security Distributors Association's Golf Day, was held at the Benoni Lake Golf Course on 21 September 2022.
Read more...
---