printer friendly version
Five takeouts from IFSEC UK
July 2012
Conferences & Events
Hi-Tech Security Solutions was once again present at IFSEC UK. As can be expected from an exhibition and conference hosting nearly 25 000 guests, there were many interesting exhibits and educational seminars. We obviously cannot cover them all, but below we have mentioned five interesting snippets of information from among the many interesting stands.
In the coming months we will be covering a few new products you will be seeing more of in the future, in more depth.
To start with, a company celebrating its 30th year of operations spoke to us about a new product it just launched. Opgal Optronic Industries introduced its long-range EyeSec Zoom 225 as the latest addition to its advanced line of thermal security cameras. With this launch, Opgal offers an uncooled thermal camera with the continuous zoom performance and reliability of a cooled camera.

EyeSec Zoom 225
The EyeSec Zoom 225 is equipped with a continuous zoom lens ranging from 25 to 225 mm and provides a human detection range of over 5 km. Its high-sensitivity, uncooled 640 x 480 resolution detector with a 17 m pitch provides a detailed and clear picture, offering a superior visual assessment tool for a range of perimeter and homeland security applications, such as airports, correction facilities, transportation and many others. Secured inside a ruggedised enclosure, the camera can withstand harsh weather and environmental conditions.
The EyeSec Zoom 225 is best suited to video analytics and is recognised for its image quality and strong signal-to-noise ratio (SNR).
DVTel unveils Meridian NVR
DVTel announced the release of its Meridian network video recorder (NVR), a plug-and-play networked recording appliance that, according to the company, practically self-installs. Meridian provides resellers and users with ease of installation and management, and allows for cost reductions in megapixel video deployments.
Available in 4 and 16-port models, Meridian NVRs combine the functions of a network video recorder, including high-powered Ethernet switch, automatic set-up features and video management software, all in a single appliance. It automatically delivers power via PoE and IP addresses, configures cameras for motion detection and starts recording without user intervention. Standalone units are aimed at surveillance environments of up to 24 cameras. Multiple Meridian units can be set up within a network to build a larger system to meet growing security requirements.
Meridian offers digital zoom, camera tours, PTZ control and intelligent video searches to quickly retrieve captured video through thumbnail and event searches. The Meridian NVR offers up to 6 GB of internal storage that can be extended through an external eSATA connection. The plug-and-play system provides flexible management connections through a fibre or copper Gigabit uplink. Meridian is compatible with DVTel's Quasar IP camera line and supports third-party cameras from Axis Communications.
Surveillance storage
Iomega may not be well known for its surveillance solutions in South Africa, but it showed off its security solutions at this year's show. Based on EMC storage technology, the new suite of server class and standard class NAS drives from Iomega come complete with b uilt-in support for network cameras by Axis, Mobotix, Bosch, Panasonic and others.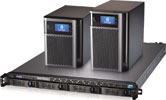 StorCenter
IP security cameras can capture and store video directly to an Iomega StorCenter NAS unit without the need of a dedicated PC, allowing users fast playback of video surveillance footage and live-view camera support.
The NAS units also include the embedded Axis Video Hosting Service (AVHS) for local to hosted cloud-based management of video cameras and storage of surveillance content. Users also have the option to use the downloadable MindTree SecureMind video service management software. A one camera licence of MindTree SecureMind is included free of charge; additional licences are available for purchase.
The MindTree SecureMind Surveillance Manager software is aimed at small to mid-level camera count installations. The combined Iomega+MindTree solution is targeted to standalone surveillance applications from SOHO small camera count installations up to 48 cameras (channels) in small to medium business (SMB) and distributed enterprise environments.
Pixim introduces Nightwolf
Pixim was promoting its Nightwolf imaging solution specifically designed for IR-assisted CCTV and IP cameras. Nightwolf eliminates hotspots common to IR cameras with near-field reflective objects in the scene and correctly exposes highlights as well as darker background details simultaneously.
Pixim Seawolf
A typical IR-assisted CCD camera attempts to solve the hotspot problem by either closing down a mechanical iris or dimming the infrared LED lights. While either of these compromises can help avoid hotspot saturation, the resulting side effect is that the camera loses critical shadow detail greatly reducing the utility of the captured video. With digital imaging technology, Pixim Nightwolf is able to capture both foreground and background details even in cases where very strong IR lighting is deployed. In fact, Nightwolf capability is so effective that use of expensive mechanical DC iris lenses or adjustable infrared LEDs is no longer necessary.
In addition to optimised night-mode operation, Nightwolf offers daytime colour performance identical to Pixim's Seawolf imager covering all lighting conditions night and day, including challenging, mixed lighting scenes. Pixim's Nightwolf delivers accurate, high-resolution colour images at 690 HTVL effective. With a dynamic range of 120 dB max, Nightwolf captures all of the critical details in a scene including highlights, shadows, and mixed lighting without compromising image quality or colour accuracy.
Throwing light on the subject
VARIO is a family of infrared and white-light low voltage illuminators, combining the latest advances in optics, remote control, electronic feedback and green technology into an all-round package. Its optical system uses interchangeable lensing allowing users to adjust the angle of illumination on site to a precise and pre-defined angle. A standard VARIO kit includes interchangeable lenses to deliver angles of 10, 35 and 60 degrees out of the box.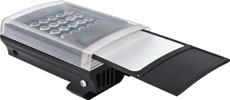 Vario interchangeable lensing
VARIO is controlled by a handheld remote. A single remote can deliver access to advanced features including an LED status indictor to report the operational status of the illuminator. The illuminators achieve longer illumination distances and allow cameras to produce better images than traditional LED illuminators thanks to elliptical beam patterns with hot-spot reduction technology (HRT). The HRT system delivers a highly diffused, elliptical beam shape to deliver more light where it is needed, generating both longer distances by minimising light wastage and reducing overexposure of foreground objects.
Credit(s)
Further reading:
A contact-free hotel experience
Issue 7 2020, Technews Publishing , Access Control & Identity Management
Check-in and go straight to your room without stopping at the reception desk at Hotel Sky in Sandton and Cape Town.
Read more...
---
Management of PPE allocation made simple
Issue 7 2020, Powell Tronics, Technews Publishing , Editor's Choice
Of all the roadblocks and challenges COVID-19 has introduced us to over the past few months, one of the tasks organisations have to manage is the issuing of PPE to staff.
Read more...
---
No downtime for transport security
Issue 7 2020, Secure Logistics, Technews Publishing , Logistics (Industry)
After a brief downturn in crime due to the COVID-19 lockdown, the transport sector is once again at the centre of a crime spree.
Read more...
---
Warehouse security and the pandemic
Issue 7 2020, Technews Publishing , Logistics (Industry)
The warehousing industry is under intense attack from organised, armed criminal syndicates following the lockdown.
Read more...
---
From the editor's desk: Waiting for PoPI
Issue 7 2020, Technews Publishing , News
A while ago we heard of yet another cyber breach, this time from Experian.
Read more...
---
An exciting journey in security
Issue 7 2020, Technews Publishing, BTC Training Africa , Editor's Choice
Errol Peace describes his 40-plus year career in the security industry where he was and is a great proponent of training as an "exceptionally exciting journey".
Read more...
---
Secure IoT devices and networks
Issue 6 2020, Technews Publishing , Cyber Security
Check Point Software's IoT Protect solution secures IoT devices and networks against the most advanced cyber-attacks.
Read more...
---
From the editor's desk: Covid consolidation
Issue 6 2020, Technews Publishing , News
The global security industry has seen quite a few high-profile mergers and acquisitions over the past year or two, with an even greater number of smaller companies that don't get the headlines also merging, ...
Read more...
---
Leaders in risk and security: As long as there are people, there will be risk
Issue 5 2020, iFacts, Technews Publishing , Editor's Choice
Jenny Reid is a self-made success, focusing on people, the risks they create and the potential they have.
Read more...
---
Mitigating the human risk
Issue 5 2020, Managed Integrity Evaluation, Technews Publishing, iFacts , CCTV, Surveillance & Remote Monitoring
Hi-Tech Security Solutions asked Jennifer Barkhuizen and Jenny Reid for some information around background screening and vetting of potential new hires.
Read more...
---