printer friendly version
IFSEC UK brings in the crowds
July 2012
Conferences & Events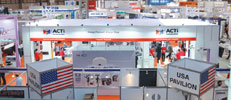 Uniting the entire security buying and influencing chain, to create an unrivalled business platform, IFSEC International delivered its most comprehensive show ever and reported an impressive 24 933 (excluding the Firex International show) total attendees (subject to ABC audit), a clear increase in the pure security audience and a 25% increase in end-users attending the show.
Established for almost 40 years, IFSEC International took place at Birmingham's NEC, UK, 14–17 May 2012, as not only UBM Live's flagship security exhibition, but the world's largest annual security and fire event. Over 700 exhibitors were present at the show, including over 100 companies exhibiting for the first time.
IFSEC International has undergone an overhaul of its content as it keeps pace with and reflects the changing trends and concerns within the security industry, representing the latest product innovations, technologies, services and solutions applicable to this broad industry sector. As a result, the show reports a 68% increase in the number of visitors attending education sessions at the show, representing approximately 10% of total attendees.
Positive feedback
Keith Crouch, loss prevention manager, Super Group, visited the show and said: "We work in retail so we have picked up things that would help improve our systems. We have made good contacts which has been really useful, and the CCTV seminar session run by Tavcom Training was excellent."
Thomas Wigley, Home Retail Group, added: "I came to see what is available on the IP market and there is a massive selection here. I have concentrated on some of the bigger suppliers; Norbain, Panasonic, Samsung, yet the entire show has been really useful."
Show organisers UBM Live injected major investment into IFSEC International's education programme this year, including the new Security Management Education Theatre, created for security managers and all those responsible for managing the security of their organisation, such as facilities, estate and building managers. Of particular note, 2012 saw a significant increase in end-user visitors from across the retail, transport, and facilities management sectors.
Eng Fernando Mendes from IVV Automacao LDA also visited and had the following to say: "I come every year to this exhibition and think it is one of the most important exhibitions in Europe. We are professionals; we are importers and distributors of this stuff so we have to come. This year is better than last year – more people – I will be coming next year.
"I come to IFSEC to check out latest technology that is available and how it is moving forward all the time. I found a number of products suitable for the environment I work in. We looked at the seminar on 2012 and IP which we found very interesting."

Convergence central
A hot topic for the industry which was heavily reflected at IFSEC International 2012 is IP and the move towards convergence. A bespoke education programme with an emphasis on IP and integration skills and knowledge contributed to a 40% rise in visitors from the IT/networking/telecoms sector, reinforcing IFSEC International 2012 as an important destination for the future of electronic security.
As part of this IP education drive, IFSEC International 2012 débuted the ipAssured Education Zone, presented by Anixter. The ipAssured Education Zone was an exclusive area where a team of experts offered presentations on leading industry trends.
Theresa Stenebring, EMEA programme marketing manager, Anixter said: "We chose to come to IFSEC because it is the most international show in EMEA. We wanted to take on an international event, and then also seeing that the time is right to talk and educate about IP and the migration. We want to help people, both end-users and channels, to really get into the whole new world of IP, which is not so new anymore. IFSEC feels like it is a bigger show this year, than the previous. Even if we have not exhibited before, we have of course been visiting. It seems that the people are here to learn and to understand, and see new solutions and products. It is good quality, we are very excited about it."
With the objective to make IFSEC International 2012 the meeting place for debate on the wider issues affecting the security world, the team worked with industry partners to deliver thought-provoking discussion on topics of crucial importance to the future of the industry.
"IFSEC is a place where all of the manufacturers of security products merge together. In four days you can accomplish what would take you a whole year to do if you had to meet separately for meetings and arrangements", says Glenn Fletcher, UK & Ireland sales manager, Milestone Solutions.
Boasting eight seminar theatres in total, the extensive and free-to-attend education sessions and workshop programme ensured IFSEC International offered more education than ever before. 
Broad support
IFSEC International is supported by leading industry and government associations and organisations; British Security Industry Association (BSIA), UKTI/DSO, ASIS, National Security Inspectorate (NSI), Security Institute, Fire Industry Association (FIA), The Association of Police & Public Security Suppliers (APPSS) and The International Security Industry Organization (ISIO).
James Kelly, chief executive, British Security Industry Association said: "The British Security Industry Association enjoyed another successful year at IFSEC International, welcoming almost four times more visitors to its stand than in 2011."
Huw Edwards, marketing communications director, Norbain said: "IFSEC International has always been a great forum for networking and meeting with new and existing customers. This was a particularly exciting IFSEC for Norbain as it gave us the opportunity to launch and gather initial feedback on a range of new services, including Service Plus, Norbain Academy and my-nvc.com. Using the touch screens on the stand was a very effective form of taking quality leads that have subsequently led to new accounts being opened. Our expanding IP portfolio was of particular interest to visitors, along with the seminars that were all very well attended."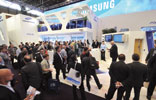 Key product areas
As keeping abreast of the latest industry trends is integral to visitors, IFSEC International 2012 saw the introduction of a number of key product areas. 2012 saw the showcase of IFSEC International's first Lone Worker Protection Product Area, sponsored by Connexion2, created to support and protect the UK's 8 million lone workers. With ever increasing numbers of lone workers, IFSEC International recognises that it is crucial that employers have an effective system in place for the protection of their staff. Managing risks in the workplace is a duty of care issue.
Adding to this, a number of new and interactive feature areas such as How Lighting Affects Surveillance and the ipAssured Education Zone, hosted by Anixter, proved incredibly popular throughout the four days of IFSEC International.
Acknowledging a number of successes across the security sector this past year, the IFSEC International Security Industry Awards, produced in association with the British Security Industry Association (BSIA) and headline sponsored by Norbain Group, took place during IFSEC International. Proving to be a highlight of the week, this spectacular night, hosted by BBC sports favourites, Mark Lawrenson and Dan Walker, saw more than £4000 raised for its charity partner ActionAid.
Key statistics:
* 24 933 total attendees in a non-Firex International year.
* 11 000+ downloads of the IFSEC International visitor app.
* 2295 visitors attended education sessions.
* IFSEC Connections saw over 40 meetings taking place with excellent client feedback.
* 72 members of the press attended the joint press office; and over 125 editorial pieces generated.
* Highly successful Security Awards with over 600 attendees, the highest number for several years.
Further reading:
How to choose which webinars to attend after lockdown
Issue 5 2020, Regal Distributors SA , Conferences & Events
The Regal Learning Academy has decided to provide training via live webinar streaming.
Read more...
---
Paxton expands free education offerings
Issue 4 2020, Paxton Access , Conferences & Events
In response to the recent global pandemic, Paxton has expanded its online installer training platform and launched a series of informative webinars.
Read more...
---
Open Source Intelligence post COVID-19
Issue 3 2020 , Conferences & Events
ASIS South Africa hosts Craig Pedersen in a webinar focused on open-source intelligence (OSINT).
Read more...
---
Making estate security work in the real world
Issue 2 2020, Technews Publishing , Conferences & Events
Hi-Tech Security Solutions is proud to have the CEO of Cotswold Downs, Shantelle Walters, presenting at the Residential Security Conference on the topic of 'Invisible Efficiency and Security.'
Read more...
---
The blessing and curse of communications
Issue 2 2020, Technews Publishing , Conferences & Events
In the Residential Security Conference 2020, Craig Rosewarne will delve into the murky world of cybercrime, while Rudi Potgieter will discuss the possibilities and benefits of a unified network.
Read more...
---
Technology at work to optimise security
Issue 2 2020, Technews Publishing , Conferences & Events
Artificial intelligence (AI) and drones are the latest additions to the security options for residential estates which will be discussed in the Residential Estate Security Conference 2020.
Read more...
---
Efficient and cost-effective risk management for estates
Issue 2 2020, Technews Publishing , Conferences & Events
Identifying your estate's vulnerabilities is key to being able to manage and maintain them effectively.
Read more...
---
Surveillance augmented by technology and people
November 2019, Technews Publishing , CCTV, Surveillance & Remote Monitoring, Conferences & Events
iLegal 2019 examined how the surveillance industry is being enhanced through the intelligent integration of the latest technology and the best people have to offer.
Read more...
---
Residential Estate Security Conference 2019
October 2019, Technews Publishing , Editor's Choice, Residential Estate (Industry), Conferences & Events
Hi-Tech Security Solutions hosted the Residential Estate Security Conference in August, focusing on the people, technology and processes involved in an effective security solution for estates.
Read more...
---
Securex West Africa returns in 2020
October 2019 , Conferences & Events, News
See more than 100 exhibitors over two days and join over 2500 professionals from more than 20 countries.
Read more...
---