printer friendly version
The Lite side of access control
March 2016
Access Control & Identity Management
Morpho has long been a leader in biometric access technology so it is no surprise that the company recently launched the MorphoAccess SIGMA Lite range of biometric readers to the international and local market. Addressing a call from its customers for a compact biometric reader that incorporates the technology popularised in the MorphoAccess SIGMA range of products, the advent of the company's SIGMA Lite series substantially ­narrows the price to technology ratio.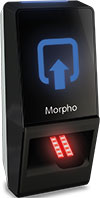 MA SIGMA Lite.
Guillaume Lefevre, vice president of sales and market development (access control and OEM) at Morpho, explains that the company has consistently invested capital and resources in developing technology that provides users with best practice in biometric efficiency. Leveraging the advances made in its pre­decessors, the SIGMA Lite comprises two distinct designs that clearly fill a perceived gap in the market.
"Morpho has a well-established range of very high-end biometric products and a range of what is deemed a more entry level reader. However, we recognised the need for a product range that would provide a middle ground for customers who demand full functionality, without the premium price tag. The SIGMA Lite+, with its touchscreen interface, provides customers with the best of both worlds," says Lefevre.
Launched in the United States in September 2015 and in South Africa in early February 2016, the SIGMA Lite+ and its LED-driven counterpart are fast gaining recognition in the global arena. Designed to readily fit on narrow mounting surfaces such as glass/aluminium door mullions, turnstiles, or server rack doors, these terminals are sleek, strong, smart, slim and safe.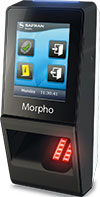 MA SIGMA Lite+.
Able to provide 1:10 000 user identifications in only 1 second, the readers can cope with 30 000 templates and 250 000 IDs in an authorised user list and one million logs. The first design features a LED indicator to assist users in the access control process while the SIGMA Lite+ reader offers enhanced inter­activity with a colour touchscreen. Both designs offer multiple card reader options (Prox, iClass or MIFARE/DESFire contactless card reader) to address a wide range of both indoor and outdoor applications.
Housed in a waterproof IP65 and vandal-resistant (IK08) casing, the SIGMA Lite ­terminals are built with ruggedness and durability in mind, whilst retaining their ­aesthetic appeal for installation in a wide range of application environments. Lefevre says that the readers feature a number of anti-fraud features including fake finger detection, duress finger and timed anti-pass back, for increased peace of mind that only authorised users gain access to facilities.
Compatible with legacy Morpho systems, such as Morpho and Bioscrypt, the SIGMA Lite readers also contain an embedded web server that allows users of laptops, tablets or smartphones to connect, then trigger on-device enrolment, configure terminals or retrieve transaction logs. While the biometric function remains fundamentally within the reader, this feature also permits management enrolment via mobile devices in keeping with the trend towards cloud-based solutions.
Underpinning Morpho's goal of providing the market with increasing levels of access control technology that requires minimal management, the launch of the SIGMA Lite series has been met with acclaim. "While the South African market has a loyalty towards the legacy Morpho products, the uptake of the new SIGMA Lite series in other African countries has been rapid. We do however anticipate that, as South African customers see the multiplicity of possible installation markets and the series' inherent benefits, they will quickly adopt this compact technology," Lefevre points out.
Besides the ongoing renewal of the range, the company's vision of increasing contactless technology within its entire range, is exemplified by the MorphoWave. This, says Lefevre, is not only useful for high-volume areas such as airports and appealing to installations intended to impress, like the HQs of large corporations, but moreover in the manufacturing sector where businesses are seeking the processing of large numbers of employees in as short a time as possible. The use of contactless technology could see employee access control processing increase from 20 people per minute to 60 people per minute.
.
Credit(s)
Further reading:
Powder coating provides durable finish
Turnstar Systems Access Control & Identity Management Industrial (Industry)
Turnstar's powder coating line provides corrosion resistance, high-quality surface finishing and a long-term environment-friendly impact for all access control components the company manufactures.
Read more...
---
Local makes lekker parking bay management technology
Access Control & Identity Management
South African born-and-bred technology platform Parket builds a seamless bridge between supply and the ever-increasing, but fluid – and often temporary – demand for parking bays.
Read more...
---
Local innovation continues
BoomGate Systems Access Control & Identity Management
While having local manufacturing facilities presents its own set challenges in South Africa, Boomgate Systems makes full use of its in-house local manufacturing and R&D.
Read more...
---
CathexisVision integrated with Suprema's BioStar2
Technews Publishing News Access Control & Identity Management Integrated Solutions
This integration uses BioStar2 access control events to trigger automated actions on the CathexisVision system, including alerts, recording a camera and commands such as locking and unlocking doors, and clearing an alarm.
Read more...
---
Maximise parking lot security
Hikvision South Africa Access Control & Identity Management
Hikvision has created its range of TandemVu PTZ cameras which provide wide-angle and close-up visibility of incidents, real-time alerts for security teams, and sound and light alarm deterrents in commercial parking spaces.
Read more...
---
Linux-based biometric access control
ZKTeco Products Access Control & Identity Management
The SpeedFace M4 is a Linux-based multi-biometric access control and time attendance terminal with visible light facial recognition and palm verification.
Read more...
---
Hospitality in the post-pandemic world
Salto Systems Africa Access Control & Identity Management
COVID-19 has forced the hospitality industry into reconfiguring hotel operations, but it has also provided a new opportunity to transform them for the better.
Read more...
---
ACaaS: The future of access control systems
Suprema Access Control & Identity Management
As many SaaS-based cloud services in other industries have shown, ACaaS will improve quality, making it more convenient, safe and quick to responding to user feedback.
Read more...
---
Advantages of palm vein biometrics
Fulcrum Biometrics Access Control & Identity Management
Fulcrum Biometrics Southern Africa offers five key differentiators when comparing the reliability and accuracy of palm vein biometrics with other modalities.
Read more...
---
Identity and access management spend to reach $26 billion
Access Control & Identity Management News
A new study from Juniper Research has found that global spend on identity and access management solutions will rise from $16 billion in 2022 to $26 billion by 2027.
Read more...
---