printer friendly version
An ever-expanding scope of ­operations
Residential Estate Security Handbook 2016 - Vol 1 Residential Estate (Industry), News, Editor's Choice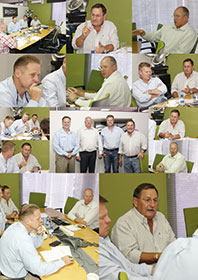 Residential estates are one of the growth industries in South Africa. Many people are opting to forgo buying a house and instead opt for estate living. The belief is that estates offer a better lifestyle for everyone and a critical aspect of this lifestyle is the security. However, as many people have unfortunately found out, simply living in an estate is no guarantee of security.
Yet, many people still believe and live a secure lifestyle in estates, going about their lives mostly oblivious to the work that goes on behind the scenes to make their homes safe and their lifestyle enjoyable. Hi-Tech Security Solutions hosted a number of estate managers and security and operations managers around a table to discuss how they go about their jobs to make a safe and enjoyable lifestyle possible for the many residents in their estates.
Our attendees included:
• Stephan Vorster, Ebotse Golf and Country Estate, estate manager.
• Ettiene de Lange, Ebotse's security manager.
• Hannes Hendriks, Serengeti Golf Estate's estate manager.
• Rassie Erasmus, Eagle Canyon Home Owners Association's security and risk manager.
Starting the debate, we asked our attendees to single out what they thought the biggest threat or threats were that their estates were facing right now.

Ebotse Estate.
The biggest risk
De Lange's biggest headache at the moment is dealing with contractors entering legally or illegally, whether in a vehicle or on foot. Vorster agrees that contractors are a major issue, but also highlight internal problems from residents.
With numerous sectional title residences on his estate, many rented to tenants the estate has no control over, the problem of petty theft and even drug abuse rears its head on occasion, requiring the estate security team to deal with it.
Serengeti's Hendriks sees two threats at the moment, one internal and one external. The internal threat is as above, managing the unannounced visitors and contractors who want to gain access to the estate, although he notes that the severity of this problem depends on what stage of development you are in. Once again, the second challenge is the residents, the owners. They want security, but they don't like the rules that come with it. Hendriks says the challenge is to educate them and help them understand that the security they desire comes with responsibility on their side as well; it's not only up to the security personnel.
Hendriks adds that another serious challenge is the lack of intelligence and sharing that data between estates, SAPS and other sources of information gathering expertise.
Erasmus agrees with Hendriks' internal threat scenario, noting that residents require security, but seem to think the rules and the penalty clauses created to prevent threats should not apply to them. He also has a problem with contractors and visitors entering the estate and walking around where they should not be. In his case, however, the location of Eagle Canyon in a high-crime area makes perimeter security another critical issue.
Visitor management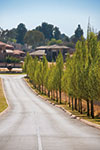 It's clear from the above that visitor management, especially for unannounced visitors, is a problem for all estates.
Unannounced visitors can be friends dropping in to see residents, or contractors, such as plumbers or painters arriving at the request of a resident, but with no advanced warning given to the security team. Hendriks explains that security comes at a price, and if residents want to be secure they need to invest in the proper processes, procedures and systems to manage these visitors, as well as the appropriate technology to support those processes.
In the case of contractors who will regularly be visiting the estate, Serengeti has an identity system in place from Online Intelligence. The contractors (and their employees) must first register with the estate management, where their fingerprints (all 10 fingers) are recorded electronically and sent to SAPS. Within 48 hours a report comes back whether the person has a criminal record or not. Only after this vetting will an access card be issued.
Once the vetting is done, the contractors save time by gaining quick access to the estate, which means they can get on with their business with the minimum of delay. The risk of unknown people accessing an estate is a large one so the management team must control it, even if it causes inconvenience to the residents. The result, however, is a safer environment for all. Speed and convenience is essential, but so is security.
While some estates may simply take a person's ID book or driver's licence for a day while they are inside the estate, Hendriks does not believe this is an optimal way to control access. With so many false documents in circulation in South Africa, you may be left holding a worthless item.
Erasmus, on the other hand, does not implement fingerprinting for contractors at Eagle Canyon. The security team there does take copies of identity documents or driver's licences. However, to prevent people with fraudulent documents from gaining access, all Erasmus's staff are trained and certified by an individual from Internal Affairs in the identification of legal paperwork – from passports to ID books, etc.
This does not mean a person can arrive at the gate with a valid identity document and walk in. All visitors are voice-cleared by the residents before they are allowed to enter and go to a specific stand. Without the resident's confirmation, they will not be able to enter.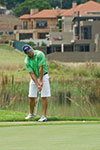 Eagle Canyon also uses a visitor management application, called Secsyst, to manage the process. Erasmus adds that it is not an off-the-shelf application, but has been customised to the estates specific requirements. This also assists with visitors who are not coming to a specific residence – such as those arriving to play a round of golf. These people are not allowed to enter the residential areas, but only gain access to the club house.
Ebotse has a similar system of registering visitors on its electronic visitor system. Vorster says all contractors must register at the head office and are only allowed in during the estate's working hours. They report to the office where their identity is vetted by trained staff and electronically recorded. If you are not invited in you can't get in.
This applies to visitors to the golf course and other facilities as well. If someone arrives unexpectedly, security first contacts the facility, which then books them in. The customised visitor management system also runs on mobile devices and includes a panic system for residents. If a resident is registered, they can press the panic alarm and have the estate's armed response team activated.
Interestingly, given the internal risks mentioned above, Ebotse also has a vetting process for tenants. If a homeowner wants to rent out his property, the potential tenant undergoes a full background check, including checking fingerprints with SAPS. If the individual has a criminal record, they may still be allowed to live on the estate, depending on what their record contains. This may not be popular with all the owners, but the rules are binding.
Rules is rules
Hendriks adds that adherence to the rules the owners accepted when they bought their property is critical. He believes the OTP (Offer to Purchase) is the first document that must contain the requirements on vetting, then the MOI (Memorandum of Incorporation) is important as that gives security a mandate to do certain clearances on tenants and home owners. This is followed by another critical document, the estate's rules and regulations.
He says 80% of the problems estate security has to deal with are internal, people, tenants, children, domestics, gardeners and so forth walking around uncontrolled. Home owners tend to forget that they entered into a contractual agreement when they bought and when they asked for security to allow them to enjoy estate life. Since the estate's security team has that mandate in terms of the contractual agreement, residents must accept that it applies to them, their families and friends, employees as well as everyone else.
People buy in estates for three reasons, Hendriks says, one is security, the second is the lifestyle, and the third is the return on investment they expect to attain on their property. The rules and processes (security and otherwise) are there to ensure those three reasons are valid. Most importantly from a financial perspective, a safe estate automatically reinforces the value of property on the estate, improving the eventual returns.
Erasmus adds that not adhering to the bylaws of the estate is a breach of contract. He has seen many court cases where action was taken against homeowners associations being resolved in favour of the associations because the individuals bringing the case had agreed to the terms in the MOI. It's also worth noting that the employees representing the estate are exactly that, employees with their own jobs to do, they don't invent rules as they see fit. All rules are vetted and implemented by the homeowners associations themselves for the benefit of the homeowners.
Of course, not every case will go in favour of the estates. Erasmus says the estates can't assume a hastily put together set of rules is enough; the governing documents need to be 100% correct and legally enforceable.
Another issue raised concerning the enforcement of rules and overall security responsibility is that of the difference between lifestyle estates and the more traditional residential complexes springing up all over the country. The large estates have dedicated staff to manage the environment, in some cases even taking over waste collection and other functions municipalities in South Africa are supposed to do as well as running the security operations.
In smaller complexes this is generally left to a managing agent which has a number of complexes under management. The fulltime estate personnel establish relationships with their residents, which leads to a more hands-on approach, closer cooperation and, hopefully, better service to residents.
False sense of security
Vorster and De Lange highlight another often mentioned but generally ignored fact of estate living: residents think everything is secure and safe and forget to look after themselves.
Often people move to an estate with a view to escape the high levels of crime that happen 'on the outside'. The problem is that they come into an estate and think they can relax and forget there are sophisticated crime syndicates as eager, or even more eager, to take what estate residents have. One example Vorster mentions is a resident that went away for the weekend and left everything open, doors windows, everything. When called, the resident told them to "just close it".
This is asking for trouble. Vorster says you cannot afford to buy in an estate and then let your guard drop. "Whatever you did outside, you need to do inside, minus the barbwire, etc."
Apathy is a problem in many estates says Erasmus. He once received a complaint from a resident because a guard on night patrol was apparently in the resident's car. The reality, as the guard reported to the control room as per his standard operating procedures, was that the resident had left his car open and the lights on. The guard investigated, switched off the lights and carried on his rounds, but the resident was still upset, not that he may have had a flat battery in the morning, but that the guard had been in his car.
This apathy of assuming your security is taken care of by default is a problem, although it can also be taken as a compliment because people only feel that way when there are no security incidents to scare them into being more security aware.
Securing perimeters
Estates such as the ones represented by the round table attendees have large perimeters that are kilometres long. And as any South African knows, simply building a wall or a fence is not going to cause any problems for criminals who want to get into what they perceive as a rich estate.
Hendriks explains that securing a large perimeter is not easy and if you want to manage it effectively you want to know 'what is penetrating it, where is it penetrating it and to where it is going'. That means you need the ability to detect a potential threat as early as possible, deter it and delay it until a response is there to deal with it. You can obviously not do this with human resources, especially when dealing with kilometres of perimeter, so technology is your answer.
Perimeter solutions therefore start with a communications backbone to facilitate constant observance of the perimeter. Hendriks suggests using thermal cameras, which can be expensive (although the price has declined significantly over the past few years). These should be used for monitoring as well as automated motion detection, and so on. He also recommends vibration detection technology, such as fibre, to ensure optimal detection on the perimeter.
The thermals can be supplemented with visual cameras especially PTZ (pan-tilt-zoom) devices that allow control room operators to follow suspects as they move around. Erasmus does note that you don't have to have thermals if the areas under observation are well lit, which will require an additional budget for lighting.
It goes without saying that these systems are used in support of a physical barrier which is also electrified. This is a significant investment for any estate, so it may be a requirement to roll out the solution in phases. In this regard, the initial design is extremely important, says Vorster, as you need to ensure the maximum security from the start, but also the ability to expand and improve your perimeter security as budget allows. Using the right materials is also critical to ensure you can expand and don't have to divert budget to repair rusted poles or other poorly manufactured or installed components.
De Lange adds that one must also always remember that going through a fence or wall is not the only option, as many estates, large and small, have discovered. Over and under is also an option to criminals today and the appropriate technology must be installed to prevent this, or at least detect, deter and delay them while the estate's security responds.
And it's not all about security. Estates need to cater for migration holes in their walls and fences to comply with environmental rules, gaps which need to be accommodated in a security strategy.
Keeping a watchful eye
Although we have already mentioned cameras, the attendees all note that simply putting cameras up every here and there is pointless. The planning and design of a surveillance system will determine its effectiveness, and this depends on the surveillance infrastructure, including the communications backbone and the amount of video data being transmitted, the set up and efficiency of the control room and its operators, and finally the placement and type of cameras.
Using video analytics to take the boring observation work away from operators is also recommended to reduce manpower requirements, and also ensure people are used most effectively. It also helps prevent operators from staring at a screen for so long they fail to notice anything.
When it comes to control rooms, however, Hendriks says these have become more important over time. He calls it the nerve centre of the estate.
Far from a place where people sit and look at video screens, Hendriks believes the control room of the future will indeed be a nerve centre as all the electronic devices that create data will be attached to the fibre backbone, transported to the nerve centre where it will be transformed to intelligence that puts decision-makers in a better position to make informed decisions in various situations. In estates, we will see the Internet of Things (IoT) become a reality in the nerve centre as everything from security to irrigation, from the status of your generators to the quality of the water being pumped to residences is automatically collected and collated, with meaningful reports sent to the relevant parties in near real time.
Realistically, the nerve centre will be the place where the entire estate is managed. Hendriks describes the control room/nerve centre as one of the four pillars of effective estate risk management. The others are the perimeter, access/egress control and manpower.
Erasmus and De Lange agree, noting that residents already call the control room for almost any reason, from missing utility bills to calls for an ambulance or requesting a plumber. Operators already have to deal with this and using technology to speed the process will ensure a better service and the ability to handle more – which leads to satisfied residents. Perhaps calling it a nerve centre is more accurate than many would like to believe.
Preparation and risk assessments
It's in the area of planning the attendees have found the biggest risk factor. When starting a security plan at a new estate project, or even when joining an existing estate, one often finds that those concerned have not done the necessary preparatory work, including an effective risk assessment to start the security ball rolling.
In existing estates, this means that enhancements to security operations often have to be put on hold while older infrastructure is replaced or updated to handle current requirements. In new projects it means that one needs to take a step back to determine all the risks and then design a solution to cater for current and future security requirements.
An important point when it comes to planning and deciding on solutions is not to be sold a product or technology, but to do a proper risk assessment and analysis that identifies your risks, mitigation measures and the implementation thereof, ensures regular audit trails are done on a regular basis. The board needs to be in on this process, explains Hendriks, as they will have to decide whether they are willing to accept the risks or deal with them.
It's also important to ensure the risk assessment is carried out by an independent consultant or service provider with the requisite knowledge and experience, as well as without any bias or leaning to certain security vendors or service providers.
Hendriks stresses that the idea of estate security should rather be estate risk management because it includes security, disaster management, fire, occupational health and safety, environmental management and so forth.
This extends to training as well. It's no use having a brilliant plan if the people employed to implement and enforce it on a daily basis are not able to do their jobs effectively. Training is available through various independent bodies and the attendees are at various stages of sending their people on these courses, as well as assisting in the development of new course material to ensure future training is up to speed with the realities security staff will face.
Know your guards
Training and risk mitigation are even more crucial when it comes to the human aspect of security. There is a tendency in some circles to claim that technology can be used to replace traditional guards, but in the South African environment this is not the case.
Erasmus says there may be areas where technology is sufficient on its own, but in general you need an efficient combination of technology and people. For one thing, most people are more comfortable seeing a guard at the gate or doing their rounds in the evening. Although this modus operandi brings its own challenges.
Everybody has heard stories about guards who are working with syndicates or who try to help themselves to other people's goods. De Lange says dealing with this is a standard risk mitigation process at Ebotse, which implements specific and strict processes while hiring guards.
All potential guards applying for a job at Ebotse have their biometrics taken for background checks and are also subject to a polygraph test at their first interview. After they have been cleared, there is an extended test they go through and they are rechecked every quarter. This ensures the estate only employs vetted and trustworthy guards.
Apart from this, the guards are also on a continual training programme and are rotated between functions to ensure they understand the full spectrum of security functions at the estate, and also that they don't get complacent continually doing the same job.
Eagle Canyon does not employ its own guards, but still puts them through a similar vetting process and won't allow its service provider to use guards not approved by Erasmus. The estate also insists on continual training to ensure the guards are up to speed with the requirements of the estate.
Security economics
As with all round table events, we can only include a small section of the discussion in an article. To end the discussion, we asked our attendees to take a look into the future and tell us what major issue they foresee they will be facing in their estates. Surprisingly, or perhaps not all that surprising these days, their problems weren't focused primarily on security.
Hendriks sees service delivery as an operational problem estates will need to address. Whether it's water, electricity, refuse or other services, estates are going to have to look at ways to be independent given labour unrest, bad, or no maintenance. This will be a big challenge in the future.
He also sees the economy as a threat as money gets scarcer. Levies are being placed under a magnifying glass as people don't want to pay more and want to see a return on their investment.
Vorster agrees and says the economy and its effect on jobs is going to be a problem. As more people are under pressure with no solution at hand, the criminal threat will grow bigger and more challenging. Then there's the government's inclination to tax everything it can, which may somehow include estate living in the near future.
Erasmus says the economy will also make it more difficult for estate managers to keep their budget increases within the inflation rate. Everybody wants to increase their rates, many by more than the official inflation rate, and to keep your service levels at a high standard is going to require keeping a sharp eye on budget and expenditures.
Vorster echoes that thought, noting that it's easy for residents to adopt a view that the security team is not managing its spending well if they require special levies or additional funds. This is another reason why long-term planning and a phased rollout is critical.
If anyone thought managing an estate and running its security operations was easy, they were wrong. Estates are basically mini towns where the services citizens should receive from government, such as security and utilities, are provided by private companies and individuals. These places also offer a lifestyle not attainable for the average person living in South Africa, a lifestyle that does not come cheaply and that needs to be protected. This is the job of the estate security manager at a high level. This may seem simple, but when broken down into its component parts, securing an estate requires careful planning, a view of the future, an understanding of what is required and how to get it. And then you need to find the budget for it and convince sceptics that it's only because of this security spend that they have the luxury of being sceptical.
Credit(s)