printer friendly version
Bosch focuses on access control in sub-Saharan Africa
Access & Identity Management Handbook 2015 Products, Access Control & Identity Management
Bosch Security Systems will be re-positioning its access control portfolio in sub-Saharan Africa in 2016. Bosch Security SA's Charles Coetzee elaborates on the availability of the company's access products and what ranges are available.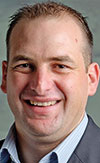 Charles Coetzee.
What does the Bosch access control range consist of and what markets are you targeting?
Coetzee: Bosch is re-positioning its access control platforms in South Africa and sub-Saharan Africa. The following platforms are available:
Access Professional Edition System
Targeted at small to medium scale projects, the Access Control Professional Edition (APE) is a powerful and scalable access control application. The server-client software combines the most advanced Bosch access control hardware to Bosch video devices in one platform. Every aspect of facility access control can be managed by the operator. The support of the mechatronic locks and the enrolment of corresponding credentials provide additional security for offline doors.
Connecting the AMC2-4W controller series, the APE supports all standard Wiegand readers coming with 125 kHz or 13.56 MHz carrier frequency and card technologies which are widely available in the industry. By taking a step further and connecting the AMC2-4R4 controller to the APE, provides the support to a wide range of bi-directional communication RS-485 bus readers. Each reader can be connected to the controller at a distance of up to
1200 metres. RS-485 bus reader connections can be used where a higher security level is needed, readers should be monitored or the distance between controller and reader is higher than the 110 m provided by a Wiegand bus.
Access Engine / Building Integration Systems
Targeted at medium to large scale enterprise projects, the Access Engine (ACE) software, in conjunction with Bosch access hardware, is a complete access control system with the Bosch Building Integration System (BIS). It encompasses all the essential features of any standalone access control system, plus a wide range of optional enhancements. Like the other BIS engines, the ACE takes full advantage of all the extra BIS features, such as interactive location maps and action plans for powerful, fully integrated alarm management.
Alarm messages and access control events can be displayed with graphical location information and workflow instructions. ACE uses the standard BIS user interface and their flexibility of customisation. Additionally, ACE offers specific access configuration interfaces for cardholders, access hardware and access rules. The main benefit of the BIS family is the integration of a wide variety of security systems on the same premises. By combining ACE with other BIS engines (e.g. automation and video) you can design smart security solutions tailored to meet your bid specification requirements. The ACE runs off a single-workstation computer or within a client-server system with a central server and remote workstations.
Which other Bosch security products are integrated with your access systems?
Coetzee: Integrated systems include:
• Bosch video systems
• Bosch intrusion detection
• Bosch Building Integration Systems
• Bosch fire and public address systems (BIS-level integration)
What options are there for users looking to manage their access and other products centrally?
Coetzee: All the systems within the Bosch access control portfolio make it easy for the customer to manage their system from a central application/operation. The Access Professional Edition system is a client-server application whereas the Access Engine / BIS solution is an enterprise-based system allowing for large scalability opportunities accessing the information from anywhere.
Can Bosch's access products be integrated with other companies' products? In other words, is it built on an open platform?
Coetzee: Building on the strong base of video integration between Bosch and Milestone, this élite partnership has expanded into the access control domain with the Bosch Access Professional Edition (APE) and Milestone XProtect plug-in.
The Access Modular Controller (AMC) hardware administrated by Access Professional Edition (APE) software is field proven in thousands of enterprise-level access control applications including high level security projects. The combination with Milestone XProtect covers integrated alarm management, video verification, map viewing, door handling and event viewing from one user interface. This server-based access control solution ensures proper search function and grouping capabilities for cardholders for more effective information management.
For more information contact Bosch Security Systems - South Africa & sub-Saharan Africa, +27 (0)11 651 9600, charles.coetzee@za.bosch.com, africa.boschsecurity.com
Credit(s)
Further reading:
Turnstar ramps up countermeasures
Turnstar Systems Editor's Choice Access Control & Identity Management News Products
Turnstar has developed and patented an early warning and deterrent system which will alert security, and anyone nearby, of any attempt to place ramps over the raised spikes.
Read more...
---
Suprema integrates biometric access control with Genetec
Suprema News CCTV, Surveillance & Remote Monitoring Access Control & Identity Management
Suprema has announced the successful integration of its biometric access control products with Genetec Security Center, a unified security platform that connects security systems, sensors and data in a single intuitive interface.
Read more...
---
Next-generation mobile APN product
Flickswitch Products
SIMcontrol has launched its fully-managed mobile APN product that connects company data SIM cards via a private and secure network.
Read more...
---
The state of the distribution market
ESDA (Electronic Security Distributors Association Bosch Building Technologies Dark Horse Distribution Elvey Security Technologies Regal Distributors SA G4S Secure Solutions SA Editor's Choice Security Services & Risk Management
The distribution industry has evolved over the years and its current challenges simply mean another change is in the wind, for those who can take the next step.
Read more...
---
IDEMIA South Africa achieves level 1 B-BBEE status
IDEMIA News Access Control & Identity Management
As part of the action plan to improve its status to Level 1, IDEMIA now works with over 40 black-owned local suppliers, representing over 30% of IDEMIA's local suppliers.
Read more...
---
Suprema no. 1 in the global biometric market excluding China
Suprema News Access Control & Identity Management
According to the latest report by Omdia, a global market research firm, Suprema ranks first in global market share, excluding China, in the field of biometric readers.
Read more...
---
Dahua and Yeastar PBX-intercom integration
Dahua Technology South Africa News Access Control & Identity Management
Dahua Technology and Yeastar announced their new ECO partnership on PBX-intercom integration to provide a comprehensive and unified communication solution for small- and medium-sized enterprises.
Read more...
---
Traka launches experience centres
News Access Control & Identity Management
Traka launches inaugural Experience Centres in Australia and South Africa; aims to drive continuous collaboration and innovation.
Read more...
---
The Genius electronic advertising barrier
BoomGate Systems Access Control & Identity Management Products
The Genius Electronic Advertising Vehicle Barrier does not only protect and control access of shopping centres across South Africa, but it also offers advertising space for the retail sector.
Read more...
---
Guard site communication
OnGuard Products
Onguard's Guard Patrol radio uses the global PTT service with the backbone based on the GSM cellular network to make communications faster and easier.
Read more...
---