printer friendly version
Bringing things together
November 2015 Products, Access Control & Identity Management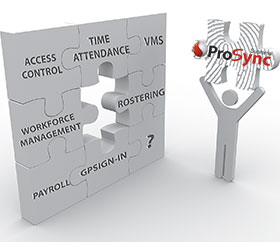 The ProSync biometric engine is designed to effectively add biometrics to leading access control, T&A and workforce management systems. It is designed as an open integration platform that enables easy incorporation of Suprema's biometric and card terminals into external systems, through Web-API or relational database interfaces, allowing manufacturers and solution providers to focus on their core business, while ProSync takes care of device interfaces and real-time communication.
ProSync is a proudly South African product that has been around for more than five years and is integrated into several internationally recognised people and access management systems. It offers static and mobile implementations, operates over fixed or mobile networks and enables true biometric identification through Suprema's range of terminals. It also extends onto iOS and Android mobile platforms, through its pocketOps application, keeping managers up-to-date with operational issues that need immediate attention, enabling remote system management and offering location based GPSign-in for employees that are on the move. ProSync is the recommended solution for small, medium and large enterprises that are seeking a secure, easy-to-use and robust identity management platform.
ProSync is continuously upgraded to automatically offer its users and integrated systems new functionality and the latest hardware and software technology, without additional cost or effort. Supreme ProSync 2.0 is the first major release change and includes:
• Suprema v 2.0 architecture
The recently released Suprema BioStar 2.0 architecture enables large scale deployment, six times faster data transfer rates and enhanced data security though Suprema's new V2.0 device framework. ProSync is fully compatible with this new architecture offering all of the benefits to its users while still offering V1.0 compatibility.
• BioStation 2.0
With the release of Suprema's V2.0 architecture came the release of its BioStation 2. This terminal, now fully integrated into ProSync 2.0 offers:
o Up to 500 000 users (1:1)
o Instant matching: 20 000 matches in 1 second
o Rapid data transfer: 5000 biometric users in 1 minute
o IP65 for in- and outdoor implementations
o Operation in extreme temperatures (-20°C to 50°C)
o Wet and dry fingerprint capture
o Operation in direct sunlight
o Built-in WiFi, PoE and colour LCD
• Automatic device discovery
Expanding your system has never been easier. Enter your server details on your Suprema device, plug into your network and the work is done. ProSync will automatically register the new device and transfer users seamlessly. True automation.
• Smart input for access control platforms
One of the most common flaws of biometric Wiegand integration with external controllers is the controller feedback into the biometric terminal to indicate the final controller (Master) decision. This causes users to receive the green light for successful authentication, independent of whether the controller is opening the door based on system rules. The Smart Input configuration in ProSync, enabled by Suprema terminals, avoids user confusion by indicating clearly on the biometric device if the external access control controller granted access.
• Automated firmware upgrades and device configuration
No need to visit sites or manually connect devices to upgrade devices with enhanced or customised firmware. Simply click and update.
• Network enrolment and verification
Not close to a biometric enrolment station? Enrol and verify users by utilising any of the access control or T&A terminals remotely. Access this functionality through your mobile PocketOps application for greater convenience.
• SupreMobile GPS device tracking
ProSync 2.0 now includes Google Maps mobile device tracking provided through the new GPS enabled SupreMOBILE platform. This enables administrators to ensure mobile T&A is performed at the actual location where it is intended, for example on construction sites, parading grounds or any site without static infrastructure.
• Optimised operating system compatibility
The new version is not only compatible with the latest Windows operating systems (Windows 10 and Windows Server 2016, while maintaining support for older versions), but takes full advantage of these new OS architectures for enhanced performance.
• Enhanced deployment
ProSync users have always enjoyed the convenient click-click-done deployment. This has now been further enhanced by standardising installations and upgrades of any integrated platform using the same installation. No more browsing in search of the right installation.
ProSync 2.0 is distributed through Suprema's international distribution network and is integrated into various internationally acclaimed solutions, including but not limited to Avigilon Access, Paxton Access and EasyRoster workforce management. Thousands of users in guarding, cleaning, industrial, mining corporate, retail and any other market sectors requiring true identification use ProSync on a daily basis without even knowing it. That is seamless integration and that is why ProSync 2.0 is causing a paradigm shift in biometric identification integration.
For more information contact neaMetrics, 0861 632 638, info@neametrics.com, www.neametrics.com; Suprema, +27 (0)11 784 3952, enquiry@suprema.co.za, www.suprema.co.za
Credit(s)
Further reading:
CathexisVision video management software
August 2019, Cathexis Technologies , Products, CCTV, Surveillance & Remote Monitoring
The CathexisVision IP video management software (VMS) helps clients get the most out of their surveillance investment and reap rewards for their companies.
Read more...
---
Secure hands-free access
August 2019, Suprema , Access Control & Identity Management, Residential Estate (Industry)
Suprema's facial biometric terminals bring no-touch access into secure residential estates, high-rise apartments and luxury homes providing fast, easy and intuitive user authentication with the added benefit of hygiene.
Read more...
---
Extended two-way radio communications
August 2019 , Security Services & Risk Management, Residential Estate (Industry), Products
The two-way radio communication industry has been enhanced by the introduction of Halo PTT radio networks, which are GSM based.
Read more...
---
MorphoAccess Sigma Extreme
August 2019, IDEMIA , Products, Access Control & Identity Management
MorphoAccess Sigma Extreme from IDEMIA is a touchscreen device with multiple recognition device interfaces (NFC chip reader, PIN and BioPIN codes, contactless card readers).
Read more...
---
Range of grid-independent power systems
August 2019, Specialised Battery Systems , Products, Residential Estate (Industry)
SBS Solar has a range of solutions to provide power, save on costs and above all provide peace of mind.
Read more...
---
Outdoor access terminals
August 2019, Suprema , Access Control & Identity Management, Residential Estate (Industry), Products
Rugged, dust- and weather-proof access control solutions that provide exceptional durability in extreme conditions is a strong requirement for many residential estates.
Read more...
---
Future-facing cameras
August 2019, Bosch Building Technologies , Products, CCTV, Surveillance & Remote Monitoring
All FLEXIDOME IP starlight 8000i cameras feature built-in Intelligent Video Analytics, making them intuitive, and elevates their importance far beyond security alone.
Read more...
---
MorphoWave Compact
August 2019, IDEMIA , Products, Access Control & Identity Management
The MorphoWave Compact captures and matches four fingerprints on either the right or left hand in any direction. It is robust to environmental factors such as extreme light or dust.
Read more...
---
MorphoAccess Sigma Lite
August 2019, IDEMIA , Products, Access Control & Identity Management
IDEMIA's MorphoAccess Sigma Lite and Lite + are fingerprint access control terminals, offering time and attendance in and out function keys.
Read more...
---
End-to-end security solutions for residential estates
August 2019, Elvey Security Technologies , Integrated Solutions, Residential Estate (Industry), Products
While there are a multitude of security options available for residential estate body corporates, unfortunately the solutions are not always able to integrate seamlessly, resulting in a hotchpotch of disparate systems.
Read more...
---