printer friendly version
SupreMOBILE with GPS tracking
Access & Identity Management Handbook 2015 Products, Access Control & Identity Management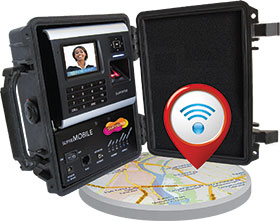 SupreMOBILE is no 'new kid on the block'. Designed and produced in South Africa to mobilise T&A and roll call functions where no static infrastructure exists. The casing is watertight, crushproof and dust proof, ensuring your hardware receives the ultimate protection whilst on the move.
SupreMOBILE operates over a fixed or mobile (3G/GPRS/Edge) network infrastructure. There is also a WiFi option available and all units come standard with an RJ45 Ethernet port for synchronisation via standard network interface. Power is provided by a Lithium-ion battery, with extended battery and car charger options available.
Newly released now is the GPS tracking functionality available for 3G/GPRS/Edge models. High demands were received for functionality that not only allows for biometric identification at mobile/remote sites, but also pinpoints from where the SupreMOBILE is operating so as to prevent time fraudsters from clocking for field trips instead of work.
GPS pulse information is sent up in real-time from the SupreMOBILE to a central server. This location based information can either be sent to the system utilising the clocking data or it can be sent to separate monitoring infrastructure, should the need exist.
The new functionality and related services were designed separately from current systems so as to enable system integrators and software developers to easily integrate this functionality into their current systems, or to enable them to develop new GPS monitoring systems for SupreMOBILE applications. Furthermore, the Supreme ProSync integration platform, designed to easily integrate Suprema biometric and card terminals into existing or new systems, fully incorporates the new SupreMOBILE GPS location data.
This functionality allows system users to view location information, through a familiar Google Maps interface, to see the mobile location of specific users or to monitor the sites where SupreMOBILE units were used. Not only is this an additional benefit to all ProSync users, but also allows for the demonstration of the functionality to system integrators and developers who are not using ProSync so that they can form an idea of the rich functionality and value this can add to their systems.
SupreMOBILE platform
SupreMOBILE is the ideal solution for time management for a mobile workforce e.g. construction and demolition, service contractors (landscaping, gardening, cleaning), mining, agriculture, emergency evacuation roll call, safety and security for schools, and security and guarding services. The new GPS functionality received much attention from the security sector where guarding supervisors are required to visit various sites to report on attendance.
Devices supported include Suprema's BioStation, BioLite Net, BioEntry W and BioEntry Plus readers. This mobile solution functions as a natural extension of the terminal and is, therefore, compatible with BioStar or any solution that integrates with Suprema terminals.
This South African product is distributed internationally through Suprema's international distribution network and is currently implemented in 24 countries. neaMetrics is the authorised distributor of the Suprema range of products.
Credit(s)
Further reading:
Turnstar ramps up countermeasures
Turnstar Systems Editor's Choice Access Control & Identity Management News Products
Turnstar has developed and patented an early warning and deterrent system which will alert security, and anyone nearby, of any attempt to place ramps over the raised spikes.
Read more...
---
Suprema integrates biometric access control with Genetec
Suprema News CCTV, Surveillance & Remote Monitoring Access Control & Identity Management
Suprema has announced the successful integration of its biometric access control products with Genetec Security Center, a unified security platform that connects security systems, sensors and data in a single intuitive interface.
Read more...
---
Next-generation mobile APN product
Flickswitch Products
SIMcontrol has launched its fully-managed mobile APN product that connects company data SIM cards via a private and secure network.
Read more...
---
IDEMIA South Africa achieves level 1 B-BBEE status
IDEMIA News Access Control & Identity Management
As part of the action plan to improve its status to Level 1, IDEMIA now works with over 40 black-owned local suppliers, representing over 30% of IDEMIA's local suppliers.
Read more...
---
Suprema no. 1 in the global biometric market excluding China
Suprema News Access Control & Identity Management
According to the latest report by Omdia, a global market research firm, Suprema ranks first in global market share, excluding China, in the field of biometric readers.
Read more...
---
Dahua and Yeastar PBX-intercom integration
Dahua Technology South Africa News Access Control & Identity Management
Dahua Technology and Yeastar announced their new ECO partnership on PBX-intercom integration to provide a comprehensive and unified communication solution for small- and medium-sized enterprises.
Read more...
---
Traka launches experience centres
News Access Control & Identity Management
Traka launches inaugural Experience Centres in Australia and South Africa; aims to drive continuous collaboration and innovation.
Read more...
---
The Genius electronic advertising barrier
BoomGate Systems Access Control & Identity Management Products
The Genius Electronic Advertising Vehicle Barrier does not only protect and control access of shopping centres across South Africa, but it also offers advertising space for the retail sector.
Read more...
---
Guard site communication
OnGuard Products
Onguard's Guard Patrol radio uses the global PTT service with the backbone based on the GSM cellular network to make communications faster and easier.
Read more...
---
Product Highlights of the Year 2021
Products
While 2021 has been yet another challenging year, Hi-Tech Security Solutions once again offers a selection of products that hit the local market this year and made an impact with installers, integrators and end users.
Read more...
---