printer friendly version
Managing identities across the ­organisation
November 2015 Access Control & Identity Management, Cyber Security
Identity management (IDM) is essentially the management and administration of individual identities within a system, such as a business or a network.
"Everyone has a digital presence of sorts," says Gerald Naidoo, CEO of Logical Consulting. "This could be social media such as Facebook or Twitter, it could be emails, online accounts and suchlike. This digital presence is effectively our digital identity. Within the business word, it is the organisational identity that is important, as it is defines users within the frame of the business."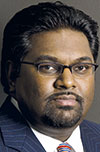 Gerald Naidoo, CEO of Logical Consulting.
He says this collection of unique characteristics that define each of us helps the technical department to manage and maintain the business systems, by having a single identity or view of each individual within the company.
"Identity management (IDM) is crucial to an organisation's security and productivity initiatives. By using an IDM tool, businesses can protect their networks and proprietary information, as well as their applications, all while lowering complexity and costs."
In addition, Naidoo says IDM is core to ensuring that the business networks are secure, and that all the organisation's stakeholders, from staff, to management, to third-party partners have access to the resources they need. "Without IDM, this process would be far too onerous and complex. Add to this the issue of compliance and liability pertaining to protecting customers' data, and you can see why having an IDM solution is not a 'nice to have' but a 'must have'."
How IDM systems work
Describing how IDM systems work, Naidoo says they provide technical departments with a central platform for managing identities, and also feature a number of tools, including password generators and device management systems. "A good IDM tool enables IT departments to centrally manage user accounts, user authorisations and user groups by using a convenient, Web-based management system."
One such tool, Oracle Identity Management, which Logikal has recently become certified in, is a complete and integrated identity management platform that offers unprecedented scalability; enabling businesses to achieve rapid compliance with regulatory mandates. It also secures sensitive applications and data regardless of whether they are hosted on-premises or in a cloud, and it reduces operational costs.
Naidoo says it includes several features. "One of these is access management, which gives clients the flexibility to deploy a comprehensive solution delivering authentication, single sign-on, authorisation, federation, mobile and social sign-on, identity propagation, and risk-based authentication and authorisation at the network perimeter."
In addition, Oracle Identity Governance facilitates self-service, simplifying account administration, and streamlining audit tasks. "This translates into a significantly lower overall total cost of ownership for managing identities. Through the comprehensive platform for user registration, that includes access request, role lifecycle management, provisioning, access certification, closed-loop remediation and privileged account management, the solution simplifies the process to address today's requirements and enables businesses to address new opportunities."
For more information contact Logikal Consulting, +27 (0)11 100 0651, gerald@logikalconsulting.com, www.logikalconsulting.com
Further reading:
Managing staff effectively
September 2019, dormakaba South Africa, iPulse Systems , Integrated Solutions, Access Control & Identity Management
Workforce management solutions allow organisations to track the relationship between productivity and the cost of employment, incorporating issues such as health and safety, T&A, rostering and more.
Read more...
---
Hennie Lategan joins Centurion as head of exports
September 2019, Centurion Systems , News, Access Control & Identity Management
Centurion Systems has announced the appointment of Hennie Lategan as the head of the company's exports department.
Read more...
---
Check Point appoints new regional director for Africa
September 2019 , News, Cyber Security
Check Point Software Technologies has appointed Pankaj Bhula as regional director for Africa.
Read more...
---
ISO standard for protecting personal data
September 2019 , News, Cyber Security
Tackling privacy information management head on: first ISO standard for protecting personal data has been published.
Read more...
---
The hunt for the Carbanak group
September 2019 , Editor's Choice, Cyber Security, News
Tomorrow Unlocked has released a free four-part documentary that tells the story of the notorious Carbanak APT group and its $1 billion bank heist.
Read more...
---
New AlproMAX7 secures maximum rating
September 2019 , Access Control & Identity Management, Products
Alpro has launched a new range of ultra-secure mechanical mortice deadlocks, the AlproMAX7 which comply with BS EN 12209.
Read more...
---
Building automation vulnerable to hacks
September 2019 , News, Cyber Security
New vulnerability revealed in Internet-connected building automation devices at the DEF CON IoT Village that could impact critical building systems.
Read more...
---
ViRDI UBio Tab 5
September 2019 , Access Control & Identity Management, Products
ViRDI Distribution SA (ViRDI Africa) has announced the release of its long-awaited UBio Tablet to the South African market.
Read more...
---
Visitor access control at Ruimsig Country Club
September 2019, Elvey Security Technologies , Access Control & Identity Management, Products
Cost-effective access control solution that would control the ingress and egress of people, without hindering the traffic throughput of members.
Read more...
---
Estate-focused visitor management solution
September 2019, Vox Telecom , Access Control & Identity Management, Residential Estate (Industry)
Vox has expanded its cloud-based visitor management solution to cater specifically for the needs of small multi-dwelling unit estates and large residential estates.
Read more...
---