printer friendly version
Managing identities across the ­organisation
Access & Identity Management Handbook 2015 Access Control & Identity Management, Cyber Security
Identity management (IDM) is essentially the management and administration of individual identities within a system, such as a business or a network.
"Everyone has a digital presence of sorts," says Gerald Naidoo, CEO of Logical Consulting. "This could be social media such as Facebook or Twitter, it could be emails, online accounts and suchlike. This digital presence is effectively our digital identity. Within the business word, it is the organisational identity that is important, as it is defines users within the frame of the business."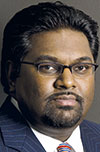 Gerald Naidoo, CEO of Logical Consulting.
He says this collection of unique characteristics that define each of us helps the technical department to manage and maintain the business systems, by having a single identity or view of each individual within the company.
"Identity management (IDM) is crucial to an organisation's security and productivity initiatives. By using an IDM tool, businesses can protect their networks and proprietary information, as well as their applications, all while lowering complexity and costs."
In addition, Naidoo says IDM is core to ensuring that the business networks are secure, and that all the organisation's stakeholders, from staff, to management, to third-party partners have access to the resources they need. "Without IDM, this process would be far too onerous and complex. Add to this the issue of compliance and liability pertaining to protecting customers' data, and you can see why having an IDM solution is not a 'nice to have' but a 'must have'."
How IDM systems work
Describing how IDM systems work, Naidoo says they provide technical departments with a central platform for managing identities, and also feature a number of tools, including password generators and device management systems. "A good IDM tool enables IT departments to centrally manage user accounts, user authorisations and user groups by using a convenient, Web-based management system."
One such tool, Oracle Identity Management, which Logikal has recently become certified in, is a complete and integrated identity management platform that offers unprecedented scalability; enabling businesses to achieve rapid compliance with regulatory mandates. It also secures sensitive applications and data regardless of whether they are hosted on-premises or in a cloud, and it reduces operational costs.
Naidoo says it includes several features. "One of these is access management, which gives clients the flexibility to deploy a comprehensive solution delivering authentication, single sign-on, authorisation, federation, mobile and social sign-on, identity propagation, and risk-based authentication and authorisation at the network perimeter."
In addition, Oracle Identity Governance facilitates self-service, simplifying account administration, and streamlining audit tasks. "This translates into a significantly lower overall total cost of ownership for managing identities. Through the comprehensive platform for user registration, that includes access request, role lifecycle management, provisioning, access certification, closed-loop remediation and privileged account management, the solution simplifies the process to address today's requirements and enables businesses to address new opportunities."
For more information contact Logikal Consulting, +27 (0)11 100 0651, gerald@logikalconsulting.com, www.logikalconsulting.com
Further reading:
Turnstar ramps up countermeasures
Turnstar Systems Editor's Choice Access Control & Identity Management News Products
Turnstar has developed and patented an early warning and deterrent system which will alert security, and anyone nearby, of any attempt to place ramps over the raised spikes.
Read more...
---
Suprema integrates biometric access control with Genetec
Suprema News CCTV, Surveillance & Remote Monitoring Access Control & Identity Management
Suprema has announced the successful integration of its biometric access control products with Genetec Security Center, a unified security platform that connects security systems, sensors and data in a single intuitive interface.
Read more...
---
IDEMIA South Africa achieves level 1 B-BBEE status
IDEMIA News Access Control & Identity Management
As part of the action plan to improve its status to Level 1, IDEMIA now works with over 40 black-owned local suppliers, representing over 30% of IDEMIA's local suppliers.
Read more...
---
Suprema no. 1 in the global biometric market excluding China
Suprema News Access Control & Identity Management
According to the latest report by Omdia, a global market research firm, Suprema ranks first in global market share, excluding China, in the field of biometric readers.
Read more...
---
Dahua and Yeastar PBX-intercom integration
Dahua Technology South Africa News Access Control & Identity Management
Dahua Technology and Yeastar announced their new ECO partnership on PBX-intercom integration to provide a comprehensive and unified communication solution for small- and medium-sized enterprises.
Read more...
---
Traka launches experience centres
News Access Control & Identity Management
Traka launches inaugural Experience Centres in Australia and South Africa; aims to drive continuous collaboration and innovation.
Read more...
---
New platform for keyless access
Access Control & Identity Management
The new ABLOY CUMULUS platform for keyless access combines locking hardware with secure access and management applications in a single ecosystem with a risk-free, integrated cloud service.
Read more...
---
Intelligently adapting African cities for a better as well as a safer life
Government and Parastatal (Industry) Cyber Security
Smart buildings and cities therefore require as much a security-centric approach as they do an environmentally sustainable one.
Read more...
---
The importance of staying up to date
Access Control & Identity Management Government and Parastatal (Industry)
Africa's cyber threat landscape is constantly evolving, with government's facing a range of digital threats from espionage, critical infrastructure sabotage, organised crime and combat innovation.
Read more...
---
Dynamic Drop Arm Barrier
Turnstar Systems Access Control & Identity Management
Suited to medium-volume access and medium-level security applications such as office reception areas, health clubs, universities and libraries, the Dynamic Drop Arm Barrier also allows special needs access.
Read more...
---