printer friendly version
Electronic signatures in the digital economy
November 2015 Access Control & Identity Management, Security Services & Risk Management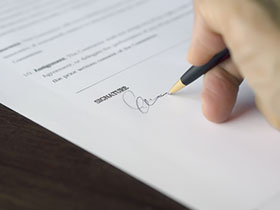 With the increasing digitisation of businesses, a new solution for document signing is required. The old method involving paper, ink, postal services and couriers is simply too slow and cumbersome to deal with the velocity of information that an organisation needs to process today.
Traditional methods of signing documents are also costly, environmentally unfriendly, and expose the organisation to the risks of fraud and identity theft.
However, electronic signatures are emerging as the silver bullet that addresses all of these woes. Although not all digital signatures are the same, the concept behind these signatures is remarkably simple, yet very effective.
Electronic signatures use cryptography to tightly connect a unique individual with their endorsement, or 'sign-off', on a particular document. This leaves no room for tampering, forgery or modifying documents maliciously. It guarantees the validity of the document and the identity of the relevant individuals who have signed the document.
Privacy and security can be further enhanced by requiring the use of two-factor authentication in order to open documents – such as a password delivered via SMS, for instance.
Another key differentiator is that documents using electronic signatures can be more easily routed into workflow systems. This helps to cut down on administrative tasks, and reduces the chances of error as a document winds its way throughout the organisation. Individuals are able to increase their productivity by digitally signing documents from wherever they may be, using their smartphones or tablets. Furthermore, electronic signatures also have a positive environmental benefit as less paper is required and less energy is used to transport documentation.
How do electronic signatures work?
Firstly, an individual creates their unique and verified electronic signature. In South Africa, this can be accomplished through a division of the South African Post Office. This signature carries certain key properties – such as an ID number – which will render it unique and impossible to copy.
Documents that require signatures can be directed at certain individuals, people who are stipulated to sign the document. In these cases, the document is only 'completed' once all the stipulated individuals have signed the document. Other metadata, such as the designation of the individual, can be published; and viewers of the document can see certain properties, like the date and time at which individuals signed it.
From a legal perspective, the Electronic Communications and Transactions (ECT) Act 25 of 2002, saw South Africa following the global trend of recognising the legitimacy of electronic signatures. While electronic signatures are not valid for every type of transaction (such as property purchases), electronic signatures are legally acceptable and binding for almost all private and business documentation.
By reducing the possibility for fraud, organisations help to protect themselves against a host of cybercrime risks; and by embedding electronic signatures within their operations, they reduce the costs associated with manual signing and manual processing. Perhaps most importantly, electronic signatures raise the stature of the organisation and represent high levels of professionalism.
As everything else in the business becomes digitised, one has to wonder why we are still scrawling 'easy-to-forge' patterns on pieces of paper.
For more information contact DocuSign, avi.rose@docusign.com
Further reading:
Why rehearsals and drills for crises and evacuation are so important
August 2019, Leaderware , CCTV, Surveillance & Remote Monitoring, Security Services & Risk Management
The rehearsal of concept (ROC) drill has been used extensively in the military, but is just as important when facing risks in organisations and institutions to protect people on the ground.
Read more...
---
24-hour emergency response for staff
August 2019 , News, Security Services & Risk Management
The FirstRand Group has partnered with PanicGuard to create a 24-hour emergency response programme for staff.
Read more...
---
HID addresses identification challenges at ID4Africa
August 2019 , News, Access Control & Identity Management, Government and Parastatal (Industry)
Being able to verify people's identities is critical for a nation's growth and prosperity and yet HID says nearly half of all African citizens can't prove who they are to vote, travel freely and receive government benefits and services.
Read more...
---
Came acquires Turkish company Özak
August 2019, CAME BPT South Africa , News, Access Control & Identity Management
Came broadens its market horizons and signals growth and consolidation in the Middle East.
Read more...
---
Keeping our changing environment secure
August 2019 , Editor's Choice, Security Services & Risk Management
For a crime to take place there needs to be a victim and a criminal who sees an opportunity. For a cybercrime to take place we need the same set of circumstances.
Read more...
---
The importance of real security risk assessments
August 2019, Sentinel Risk Management , Editor's Choice, Security Services & Risk Management, Residential Estate (Industry)
Andy Lawler, MD, Sentinel Risk Management, says a security risk assessment is an onerous task, but is not something estates can consider optional or a luxury item anymore.
Read more...
---
Risk assessment or product placement?
August 2019, Technews Publishing, Alwinco, SMC - Security Management Consultants , Editor's Choice, Security Services & Risk Management, Residential Estate (Industry)
Hi-tech security solutions asked a couple of experts to provide estate managers and security managers with some insights into what a 'real' risk assessment includes.
Read more...
---
Residential security – caveat emptor
August 2019, Stafix , Integrated Solutions, Security Services & Risk Management
When it comes to improving your property's security, make sure you take all the options into account as you build a layered approach to keeping people safe and assets secured.
Read more...
---
Ensuring your electric fence is compliant
August 2019, Stafix , Perimeter Security, Alarms & Intruder Detection, Security Services & Risk Management
A challenge facing both existing and potentially new perimeter electric fence installations is how to economically meet the legal requirements required in the SANS 10222-3:2016 standards document.
Read more...
---
The benefits of electronic visitor management
August 2019, Powell Tronics , Access Control & Identity Management, Residential Estate (Industry)
Access control is a critical aspect of estate security as it represents the controls put in place to restrict entry (and possibly exit) along the outer boundary of the location.
Read more...
---