printer friendly version
Electronic signatures in the digital economy
Access & Identity Management Handbook 2015 Access Control & Identity Management, Security Services & Risk Management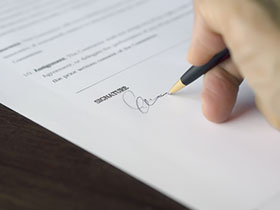 With the increasing digitisation of businesses, a new solution for document signing is required. The old method involving paper, ink, postal services and couriers is simply too slow and cumbersome to deal with the velocity of information that an organisation needs to process today.
Traditional methods of signing documents are also costly, environmentally unfriendly, and expose the organisation to the risks of fraud and identity theft.
However, electronic signatures are emerging as the silver bullet that addresses all of these woes. Although not all digital signatures are the same, the concept behind these signatures is remarkably simple, yet very effective.
Electronic signatures use cryptography to tightly connect a unique individual with their endorsement, or 'sign-off', on a particular document. This leaves no room for tampering, forgery or modifying documents maliciously. It guarantees the validity of the document and the identity of the relevant individuals who have signed the document.
Privacy and security can be further enhanced by requiring the use of two-factor authentication in order to open documents – such as a password delivered via SMS, for instance.
Another key differentiator is that documents using electronic signatures can be more easily routed into workflow systems. This helps to cut down on administrative tasks, and reduces the chances of error as a document winds its way throughout the organisation. Individuals are able to increase their productivity by digitally signing documents from wherever they may be, using their smartphones or tablets. Furthermore, electronic signatures also have a positive environmental benefit as less paper is required and less energy is used to transport documentation.
How do electronic signatures work?
Firstly, an individual creates their unique and verified electronic signature. In South Africa, this can be accomplished through a division of the South African Post Office. This signature carries certain key properties – such as an ID number – which will render it unique and impossible to copy.
Documents that require signatures can be directed at certain individuals, people who are stipulated to sign the document. In these cases, the document is only 'completed' once all the stipulated individuals have signed the document. Other metadata, such as the designation of the individual, can be published; and viewers of the document can see certain properties, like the date and time at which individuals signed it.
From a legal perspective, the Electronic Communications and Transactions (ECT) Act 25 of 2002, saw South Africa following the global trend of recognising the legitimacy of electronic signatures. While electronic signatures are not valid for every type of transaction (such as property purchases), electronic signatures are legally acceptable and binding for almost all private and business documentation.
By reducing the possibility for fraud, organisations help to protect themselves against a host of cybercrime risks; and by embedding electronic signatures within their operations, they reduce the costs associated with manual signing and manual processing. Perhaps most importantly, electronic signatures raise the stature of the organisation and represent high levels of professionalism.
As everything else in the business becomes digitised, one has to wonder why we are still scrawling 'easy-to-forge' patterns on pieces of paper.
For more information contact DocuSign, avi.rose@docusign.com
Further reading:
Turnstar ramps up countermeasures
Turnstar Systems Editor's Choice Access Control & Identity Management News Products
Turnstar has developed and patented an early warning and deterrent system which will alert security, and anyone nearby, of any attempt to place ramps over the raised spikes.
Read more...
---
Suprema integrates biometric access control with Genetec
Suprema News CCTV, Surveillance & Remote Monitoring Access Control & Identity Management
Suprema has announced the successful integration of its biometric access control products with Genetec Security Center, a unified security platform that connects security systems, sensors and data in a single intuitive interface.
Read more...
---
The state of the distribution market
ESDA (Electronic Security Distributors Association Bosch Building Technologies Dark Horse Distribution Elvey Security Technologies Regal Distributors SA G4S Secure Solutions SA Editor's Choice Security Services & Risk Management
The distribution industry has evolved over the years and its current challenges simply mean another change is in the wind, for those who can take the next step.
Read more...
---
Training that delivers
Technews Publishing Leaderware ESDA (Electronic Security Distributors Association BTC Training Africa Editor's Choice Security Services & Risk Management Conferences & Events Training & Education
Hi-Tech Security Solutions hosted a virtual conversation to address the challenges and solutions related to effective and measurable training and education in the security industry.
Read more...
---
IDEMIA South Africa achieves level 1 B-BBEE status
IDEMIA News Access Control & Identity Management
As part of the action plan to improve its status to Level 1, IDEMIA now works with over 40 black-owned local suppliers, representing over 30% of IDEMIA's local suppliers.
Read more...
---
Suprema no. 1 in the global biometric market excluding China
Suprema News Access Control & Identity Management
According to the latest report by Omdia, a global market research firm, Suprema ranks first in global market share, excluding China, in the field of biometric readers.
Read more...
---
Dahua and Yeastar PBX-intercom integration
Dahua Technology South Africa News Access Control & Identity Management
Dahua Technology and Yeastar announced their new ECO partnership on PBX-intercom integration to provide a comprehensive and unified communication solution for small- and medium-sized enterprises.
Read more...
---
Traka launches experience centres
News Access Control & Identity Management
Traka launches inaugural Experience Centres in Australia and South Africa; aims to drive continuous collaboration and innovation.
Read more...
---
New platform for keyless access
Access Control & Identity Management
The new ABLOY CUMULUS platform for keyless access combines locking hardware with secure access and management applications in a single ecosystem with a risk-free, integrated cloud service.
Read more...
---
The importance of traceable records
Technews Publishing Editor's Choice Security Services & Risk Management
Traceable records streamline performance management, training, evidence records and reduce fraud, corruption and criminal activities.
Read more...
---