printer friendly version
Access control in healthcare
Access & Identity Management Handbook 2015
Access Control & Identity Management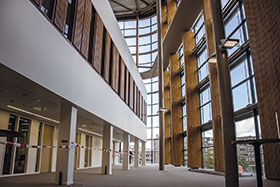 Access control and security in healthcare facilities have their unique challenges, largely due to the presence of large people flow which makes it difficult in many cases to control access and identify trespassers. This basic vulnerability is complicated when combined with several other considerations such as the fact that a large amount of hospital property has ordinary domestic uses or is otherwise useable outside the healthcare environment.
Relatively easy access to medicines and drugs and the fact that access to secure areas often goes unchallenged, make healthcare facilities attractive to negative elements. Given the fact that most of the items stolen are disposable means that reporting of crime in healthcare facilities is often under-reported or not even realised. This risk clearly justifies an access control system to ensure that storage facilities for consumables, medicines and drugs are secure and also compliant with drug administration statutory requirements.
The challenge faced is that to install a hard wired, full online access control system for a facility securing amongst others, internal doors, pharmaceutical cabinets, refrigerators, storerooms and patient/employee lockers, is not only prohibitively expensive but not always technically practical due to the difficulty of installing mains power and network cabling wire ways. In addition it is not possible to secure portable drug or consumable cabinets with conventionally wired systems.
With the latest advancement of Salto XS4 wireless online access control systems, the challenges posed above are a thing of the past as the latest XS4 self-powered electronic locking systems offer flexible and functional access control with a wide choice of software options. These systems are designed to work in a wire-free environment so there is no need for hard wiring the building and in most cases allowing you to keep your original wired access control system, doors and locks in place. This makes installation fast, self-contained and straightforward. Salto access control systems make use of distributed intelligence in both the lock and the access card, to communicate wirelessly with the PC based programming software.
Hygienic hospital access
Both access cards and locks can be programmed to allow or restrict access to different parts of the building. The information stored in the access card can be transferred to a database when the card is swiped at an online reader to provide precise audit trail information about where and when each lock has been accessed including the date, time and whether access was allowed or denied. This combined with the additional functionality provided by the Salto Virtual Network (SVN), where access data from offline locks is carried on the access card, this provides 90% of the benefits of a full on-line system for the cost of a standalone system.
All Salto XS4 locks are available with the latest BioCote antimicrobial silver ion technology that helps eliminate up to 99.99% of microbes on product surfaces to help provide a cleaner, safer and more hygienic environment for staff, visitors and patients.
More than locks
With Salto online wireless locking systems, healthcare facilities can now experience affordable, real-time access control without the need for wiring, drastically reducing the cost of implementation with the added benefit of recording and controlling access to padlocks, portable medicine and consumable cabinets as well as patient and employee personal lockers - all with one access card.
Budgets can be used more effectively as the cost benefits from installing wireless readers is used to secure more doors in the facility with the same spend as well as secure doors/locks that were previously not possible or justified using a hard wired system.
Choosing an implementation partner such as IPM who can seamlessly integrate this new wireless technology with your current hard wired access control system (including biometrics) eliminates the need to replace existing systems. Perimeter booms, gates, doors, lifts are secured with online / offline wall readers, interior doors and fire escapes are secured with Salto XS4 battery powered networked electronic locks compatible with the hospital's staff ID badge or an RFID bracelet. Closets, file cabinets, drug storage cabinets and patient lockers are secured with XS4 wire-free locker locks. The same RFID card can also be used for time recording, secure log onto PC systems, operate printers and copiers or used at the canteen for cashless purchases.
All of the above is seamlessly integrated to HR / payroll / time management / administrative solutions to eliminate the need for duplicate capture of data and ensure that tags are cancelled when a person / patient leaves. The result is an entire facility effectively secured whist permanently eliminating the need for keys and master keys.
For more information contact IPM, +27 (0)87 550 0760, info@ipm.za.com, www.ipm.za.com
Further reading:
Turnstar ramps up countermeasures
Turnstar Systems Editor's Choice Access Control & Identity Management News Products
Turnstar has developed and patented an early warning and deterrent system which will alert security, and anyone nearby, of any attempt to place ramps over the raised spikes.
Read more...
---
Suprema integrates biometric access control with Genetec
Suprema News CCTV, Surveillance & Remote Monitoring Access Control & Identity Management
Suprema has announced the successful integration of its biometric access control products with Genetec Security Center, a unified security platform that connects security systems, sensors and data in a single intuitive interface.
Read more...
---
IDEMIA South Africa achieves level 1 B-BBEE status
IDEMIA News Access Control & Identity Management
As part of the action plan to improve its status to Level 1, IDEMIA now works with over 40 black-owned local suppliers, representing over 30% of IDEMIA's local suppliers.
Read more...
---
Suprema no. 1 in the global biometric market excluding China
Suprema News Access Control & Identity Management
According to the latest report by Omdia, a global market research firm, Suprema ranks first in global market share, excluding China, in the field of biometric readers.
Read more...
---
Dahua and Yeastar PBX-intercom integration
Dahua Technology South Africa News Access Control & Identity Management
Dahua Technology and Yeastar announced their new ECO partnership on PBX-intercom integration to provide a comprehensive and unified communication solution for small- and medium-sized enterprises.
Read more...
---
Traka launches experience centres
News Access Control & Identity Management
Traka launches inaugural Experience Centres in Australia and South Africa; aims to drive continuous collaboration and innovation.
Read more...
---
New platform for keyless access
Access Control & Identity Management
The new ABLOY CUMULUS platform for keyless access combines locking hardware with secure access and management applications in a single ecosystem with a risk-free, integrated cloud service.
Read more...
---
The importance of staying up to date
Access Control & Identity Management Government and Parastatal (Industry)
Africa's cyber threat landscape is constantly evolving, with government's facing a range of digital threats from espionage, critical infrastructure sabotage, organised crime and combat innovation.
Read more...
---
Dynamic Drop Arm Barrier
Turnstar Systems Access Control & Identity Management
Suited to medium-volume access and medium-level security applications such as office reception areas, health clubs, universities and libraries, the Dynamic Drop Arm Barrier also allows special needs access.
Read more...
---
Automatic tyre spike industrial vehicle barrier
Turnstar Systems Access Control & Identity Management
The Turnstar Velocity Raptor automatic tyre spike industrial barrier, with SwiftDrive technology, is aimed at high-volume and high-security access applications such as parkades, shopping centres, residential estates and airports.
Read more...
---