printer friendly version
Biometrics goes mainstream
November 2015 Editor's Choice, Access Control & Identity Management
Dr Nick van der Merwe, director of technology & business development at Muvoni Biometric & Smart Card Solutions (recently acquired by EOH), has been touting the benefits of biometric technology for over a decade. Hi-Tech Security Solutions spoke to him to find out how far biometrics has advanced and how it is being used in the real world today. We also asked him how the industry in general is working to find more secure and reliable ways to authenticate people, especially in the new world of mobile everything.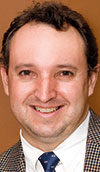 Dr Nick van der Merwe, director of business development & technology at Muvoni.
As far as biometrics is concerned, Van Der Merwe says the technology has matured to the point where it is no longer questioned. Buying decisions still depend on many factors, but the efficacy and reliability of biometrics, especially fingerprint systems is not in question.
And while there are many modalities available, with facial and voice biometrics proving reliable and popular primarily due to their non-contact nature and the ability of using voice biometrics remotely, fingerprints still rule the roost. For use cases where convenience and ease of use is at a premium then modalities such as face and voice could be better suited, whereas fingerprint and iris is still more accurate and provides a higher level of security.
Fingerprint technology has been used far longer than any other biometric modality, with an even longer history in the non-technical world. In South Africa, the conversion of the Department of Home Affairs paper-based fingerprint records to electronic records almost 10 years ago (SAPS started its conversion to electronic fingerprints a few years earlier) has made fingerprint biometrics the standard in the country. Muvoni played an important role in these projects.
Today we are seeing most local banks using HANIS (Home Affairs National Identification System) to authenticate customers opening a new account or apply for a loan via their electronic fingerprints in order to avoid identity fraud. Many banks have already implemented this system in a nationwide project under the auspices of SABRIC.
However, many banks have gone further and use biometrics for other functionality for both internal and external processes. Capitec and African Bank are examples of where biometrics has been integrated into the banks' business models. Van Der Merwe adds we will see more banks and other companies adopting this technology as more people realise that the scope and benefits of biometrics go much further.
He says it could lead to people transacting without any form of identification authentication except for a fingerprint scan. Biometrics can also secure internal processes as every financial transaction, for example, would be authorised by a fingerprint scan instead of a password. This will ensure that the authorisation is linked to a specific person at a specific time and place, avoiding issues such as having passwords stolen or 'borrowed'.
Van Der Merwe points to the Nigerian financial system as one that is becoming one of the most modern and safest in the world due to the rollout of a nationwide system to identify all bank customers by their fingerprints.
Different modalities are also growing
Having noted the growth of other modalities, Van Der Merwe says facial technology has improved dramatically in recent years. The systems on offer today can recognise faces of people in crowds or in motion, and it is a non-contact system, which many people prefer. Voice authentication is also growing, but it is not yet as secure as fingerprint or facial authentication.
The benefit of voice authentication is that you don't need to install readers wherever you need to authenticate people. Companies can use geolocation and a mobile device to authenticate people remotely, accurately knowing who is where, when. The weakness of voice authentication is that in a country like South Africa with 11 official languages and even more unofficial ones, accurate authentication can be a challenge. Nonetheless, it is still a growing field and many interactive voice response systems are using it, as are other organisations from helpdesks to banks.
The evolution of mobile technology is also having an impact on fingerprint biometrics as we are seeing the commoditisation of the technology in mobile authentication devices and even on smartphones. This has brought the idea of biometrics to the average user, making it commonplace and teaching people how easy it is to use.
And as can be seen in other articles in the Access Control and Identity Management Handbook, digitised signatures are also being used in more business situations to better ensure identity authentication for transactions and contracts verification.
Global authentication standards
We have also seen the growth of authentication standards designed to support secure authentication in different environments and situations. IdentityX from Daon is a platform that allows users to make use of a variety of authentication mechanisms, used in combination, to authenticate mobile users or customers. IdentityX allows organisations to integrate existing security systems into an overall security scheme and add new technologies as they become available. This includes technology-based authentication such as multi-modal biometrics or digital certificates, as well as PINs, passwords, tokens, geolocation and others.
Perhaps the most recognised standard at the moment is the FIDO (Fast IDentity Online) Alliance (fidoalliance.org). FIDO also offers multiple types of authentication, but the organisation has developed its authentication methodology as an open framework that anyone can adopt and apply. The organisation was founded to "address the lack of interoperability among strong authentication devices as well as the problems users face with creating and remembering multiple usernames and passwords". It offers a method of multifactor authentication that is more secure than passwords alone, while keeping the process simple for the end user. The list of organisations that have joined FIDO is impressive as it includes companies such as Google, Microsoft, MasterCard, VISA and many more.
Finally, Van Der Merwe notes that an important indicator that the use of biometrics will soon be as common as the password is that the likes of MasterCard and VISA are integrating biometrics into their payment systems, primarily voice, facial and fingerprint biometrics. It's a safe bet that once MasterCard and VISA standardise on biometrics the financial industry will follow hot on its heels, which means everyone else will be taken on the biometric journey in a short time.
For more information contact Muvoni Biometric & Smart Card Solutions, +27 (0)11 267 2900, mbss@muvoni.com, www.muvoni.com
Credit(s)
Further reading:
HID addresses identification challenges at ID4Africa
August 2019 , News, Access Control & Identity Management, Government and Parastatal (Industry)
Being able to verify people's identities is critical for a nation's growth and prosperity and yet HID says nearly half of all African citizens can't prove who they are to vote, travel freely and receive government benefits and services.
Read more...
---
Came acquires Turkish company Özak
August 2019, CAME BPT South Africa , News, Access Control & Identity Management
Came broadens its market horizons and signals growth and consolidation in the Middle East.
Read more...
---
Keeping our changing environment secure
August 2019 , Editor's Choice, Security Services & Risk Management
For a crime to take place there needs to be a victim and a criminal who sees an opportunity. For a cybercrime to take place we need the same set of circumstances.
Read more...
---
Augmented security with drones
August 2019, Drone Guards , Editor's Choice, Integrated Solutions
Drone Guards is moving into an untapped market of using drones to secure residential estates and other high-value assets such as mines, farms and commercial properties.
Read more...
---
The importance of real security risk assessments
August 2019, Sentinel Risk Management , Editor's Choice, Security Services & Risk Management, Residential Estate (Industry)
Andy Lawler, MD, Sentinel Risk Management, says a security risk assessment is an onerous task, but is not something estates can consider optional or a luxury item anymore.
Read more...
---
Risk assessment or product placement?
August 2019, Technews Publishing, Alwinco, SMC - Security Management Consultants , Editor's Choice, Security Services & Risk Management, Residential Estate (Industry)
Hi-tech security solutions asked a couple of experts to provide estate managers and security managers with some insights into what a 'real' risk assessment includes.
Read more...
---
How far are we really at with artificial intelligence?
August 2019, Axis Communications SA , Editor's Choice, CCTV, Surveillance & Remote Monitoring, IT infrastructure, Residential Estate (Industry)
Justin Ludik unpacks exactly how far AI has come and what it potentially can do for society and more importantly, surveillance.
Read more...
---
The importance of effective perimeter security
August 2019, Elf Rentals - Electronic Security Solutions, Stafix , Editor's Choice, CCTV, Surveillance & Remote Monitoring, Residential Estate (Industry)
Protecting the perimeter is critical for any residential estate; how does one go about making sure your perimeter is as secure as possible?
Read more...
---
MorphoAccess Sigma Extreme
August 2019, IDEMIA , Products, Access Control & Identity Management
MorphoAccess Sigma Extreme from IDEMIA is a touchscreen device with multiple recognition device interfaces (NFC chip reader, PIN and BioPIN codes, contactless card readers).
Read more...
---
MorphoWave Compact
August 2019, IDEMIA , Products, Access Control & Identity Management
The MorphoWave Compact captures and matches four fingerprints on either the right or left hand in any direction. It is robust to environmental factors such as extreme light or dust.
Read more...
---