printer friendly version
From drawbridge to biometrics
Access & Identity Management Handbook 2015
Access Control & Identity Management
History tells us that there were walled cities (residential estates) and castles (private estates) and both had very strict access rules. It would seem that the management of the access was based on manpower, drawbridges and big gates.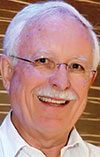 Rob Anderson.
It is unlikely that there was any record keeping, not even a Kalamazoo book and we have to assume that visitor management was an important feature. Probably facial recognition. Thankfully, access control has moved on from this technology, to what we see being installed at present.
At this point in time, the mature products in this sector are most likely to:
1. Be a fingerprint/biometric solution.
2. Have a central database with access groups and transaction records.
3. Integrated with other security solutions.
4. Have the ability to interface with multiple input/scan devices.
The part of the industry that has not matured to the level we would expect is the access rights to the software and databases on the system. We still see access control systems with all the bells, whistles and rules, that have remote access. The remote access is based on PINs and passwords that are shared. This is common practice and does not seem to match the high level of security of access being rolled out at the front gate.
The access control industry clearly has lots of energy, with many plans for the future. If we listed what we would like to see and dream a little, what will the list look like:
1. Improvement in software management control is a must. This ties in with the POPI Act requirements so is a primary requirement.
2. Standardise on database export and import for the industry. (Standardisation is not a popular word in the security industry.)
3. Improved database integration with other platforms, such as:
(i) Salaries and wages
(ii) Human resources staff management software
(iii) Accounting packages
(iv) Property management portals
(v) Security management software, such as the Electronic O.B.
(vi) Asset tracking and management software.
4. New access control primary scanning devices to validate the person entering.
5. And most important, that big green override at the gatehouse that opens the gate, if all else fails, must be put in the museum.
As we have clearly moved into biometrics as the way forward, a short story will be of interest.
We had a client change his access control from RFID cards, with pictures and details of the individual, to a fingerprint access control system. Some months after it had all settled down and was doing what it should do, he found one of the contractors in an area where he should not have been. He asked the individual to show him his ID. The worker proudly showed him his thumb. This was clearly the worker's understanding of his new ID, since his thumbprint had replaced the old ID card. Progress can sometimes be painful.
With the advent of number plate recognit-ion and long range readers, it is not uncommon to see a vehicle approach an entrance and the boom opens. This approach assumes that the occupant is the person who has access. If not, then the wrong person has gained entry, or even worse, stolen your car and left.
It is possible to have a dual scan, with car and driver matched. A better solution.
The key question has to be, are you controlling "people" or "vehicles"? People cause crime, so in most cases, the answer is people.
Finally, what is the industry saying the future of access control will look like? The following technologies are either available or close to being common practice:
1. Palm scanning.
2. Vein scanning.
3. Iris scanning.
4. Face recognition.
5. Voice recognition.
There is definitely a call for processes that do not require the scanning device to be physically touched. This relates to health issues. There is also a need to evaluate the success of the solution in the environment in which it is being used. Working in the laboratory does not mean the product is ready for the market place. There is also always the need to evaluate the suitability of the solution for the user group. (As with the worker and his thumb.)
It has been a long journey from the drawbridge to biometrics. By all accounts, it is the biometric solution that will be the final choice, although improving systems and integration will be with us for a while.
As a final note, even if you have access control on your door, lock it when you go home.
Further reading:
Turnstar ramps up countermeasures
Turnstar Systems Editor's Choice Access Control & Identity Management News Products
Turnstar has developed and patented an early warning and deterrent system which will alert security, and anyone nearby, of any attempt to place ramps over the raised spikes.
Read more...
---
Suprema integrates biometric access control with Genetec
Suprema News CCTV, Surveillance & Remote Monitoring Access Control & Identity Management
Suprema has announced the successful integration of its biometric access control products with Genetec Security Center, a unified security platform that connects security systems, sensors and data in a single intuitive interface.
Read more...
---
IDEMIA South Africa achieves level 1 B-BBEE status
IDEMIA News Access Control & Identity Management
As part of the action plan to improve its status to Level 1, IDEMIA now works with over 40 black-owned local suppliers, representing over 30% of IDEMIA's local suppliers.
Read more...
---
Suprema no. 1 in the global biometric market excluding China
Suprema News Access Control & Identity Management
According to the latest report by Omdia, a global market research firm, Suprema ranks first in global market share, excluding China, in the field of biometric readers.
Read more...
---
Dahua and Yeastar PBX-intercom integration
Dahua Technology South Africa News Access Control & Identity Management
Dahua Technology and Yeastar announced their new ECO partnership on PBX-intercom integration to provide a comprehensive and unified communication solution for small- and medium-sized enterprises.
Read more...
---
Traka launches experience centres
News Access Control & Identity Management
Traka launches inaugural Experience Centres in Australia and South Africa; aims to drive continuous collaboration and innovation.
Read more...
---
New platform for keyless access
Access Control & Identity Management
The new ABLOY CUMULUS platform for keyless access combines locking hardware with secure access and management applications in a single ecosystem with a risk-free, integrated cloud service.
Read more...
---
The importance of staying up to date
Access Control & Identity Management Government and Parastatal (Industry)
Africa's cyber threat landscape is constantly evolving, with government's facing a range of digital threats from espionage, critical infrastructure sabotage, organised crime and combat innovation.
Read more...
---
Dynamic Drop Arm Barrier
Turnstar Systems Access Control & Identity Management
Suited to medium-volume access and medium-level security applications such as office reception areas, health clubs, universities and libraries, the Dynamic Drop Arm Barrier also allows special needs access.
Read more...
---
Automatic tyre spike industrial vehicle barrier
Turnstar Systems Access Control & Identity Management
The Turnstar Velocity Raptor automatic tyre spike industrial barrier, with SwiftDrive technology, is aimed at high-volume and high-security access applications such as parkades, shopping centres, residential estates and airports.
Read more...
---