printer friendly version
Panasonic security solutions return to SA
October 2015 Editor's Choice, CCTV, Surveillance & Remote Monitoring, News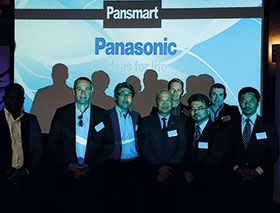 Panasonic is a well-known electronics brand the world over and has created a name for itself in the South African market. In the security field, however, Panasonic has been noticeably absent from South African shores for the past six years.
This sad state of affairs has now changed with the launch of Pansmart, a new distributor of Panasonic security and communications products in the country. Pansmart will focus on CCTV, PBX and video conferencing solutions from Panasonic.
Headed by Louis Fourie, Pansmart is set to bring the once popular product back into the country, and is confident of its success in the market due to the quality and versatility of the products. Moreover, Fourie says he is so sure of the quality of the products he is distributing, he is offering a lifetime warranty on specific Panasonic surveillance equipment.
Pansmart works closely with the Panasonic security employees, who have also set up shop in the country to support the products. Pansmart will work closely with Panasonic SA's security product team in getting the brand's return to the South African market into the news, and to sign dealers and provide the necessary training on Panasonic products to them. Currently, the local team reports into the Dubai office, but will transform the local office into an African headquarters for Panasonic in Gauteng in 2016.
Fourie admits that the removal of Panasonic from the market has left the company with a small market share in South Africa, and the systems still installed are mostly analogue systems. He does not see this as an unbeatable obstacle though, and says the Panasonic value offering is significant, even when compared to the current market leaders.
Launching Pansmart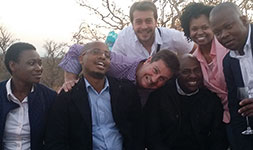 The launch event wasn't all business.
Pansmart was launched recently at a luxury weekend getaway where Fourie and the local Panasonic team were able to meet a host of systems integrators and resellers interested in the re-emergence of this market leader. Fourie says the market's reception to Panasonic as well as Pansmart was very positive.
The event was used to introduce the Panasonic equipment that Pansmart will make available to the market, but also to highlight what Pansmart will offer its channel. Fourie, with many years in the security distribution channel under his belt, says Pansmart will not simply box-drop. One of the differentiators will be the value offering Pansmart offers its dealer channel, such as a lifetime warranty for specific IP surveillance products. Unknown in the local market, or anywhere for that matter, this will see the company's channel partners being able to swap out these cameras in the event of a failure for as long as the camera is in use. Naturally the warranty does not apply to malicious damage or "acts of God".
Fourie has set himself a steep target and wants to grow the brand to a 30% market share over time. He says he realises this seems steep, but he is confident the target is reachable with the quality on offer from the Panasonic brand as well as the specialist skills he has available to assist the channel in meeting specific customer requirements.
Cameras available from Pansmart
Pansmart is distributing three surveillance product ranges in South Africa. The E-Series is Panasonic's entry or mid-level IP camera that boasts easy installation and operation. Fourie says it is a good option for companies looking to make the move from analogue to IP and it satisfies the basic requirements for IP cameras, with a few extras.
The E-Series consists of fixed IR dome and fixed IR box cameras with various focal lengths. While they may be entry-level systems, the E-Series offers clear colour reproduction, low-light sensitivity, and IR functionality. For example, the box cameras offer start with the following specifications:
• 1/3-inch, 1.3 megapixel progressive scan CMOS.
• H.264 and MJPEG dual-stream encoding.
• Max 30 fps at 1.3 MP (1280× 960) and 720p (1280× 720).
• WDR, Day/Night (ICR), 3DNR, AWB, AGC, BLC.
• Multiple network monitoring options: Web browser, EMS and Mobile-EMS.
• Fixed focal lens.
• Max IR LEDs, length 30 m.
• IP66, PoE, DC 12 V.
The E-Series also includes two NVRs (network video recorders). These offer:
• Up to 4/8 channel with 1080p real-time live view.
• H.264/MJPEG dual codec decoding.
• Max 200 Mbps incoming bandwidth.
• HDMI/VGA simultaneous video output.
• 4/8 channel synchronous real-time playback.
• 2 SATA HDDs up to total of 8 TB, 2 USB ports (1 USB 3.0).
• Network Camera UPnP, 4/8 channel PoE ports.
• Multiple network monitoring options: Web browser, EMS and Mobile-EMS.
There is also a 16-channel PoE NVR available. The NVRs are designed for real plug-and-play operation and make finding and setting up a Panasonic camera simple. Fourie says the cost of these systems comes in at almost half the price of competing systems offering the same quality. The systems are covered by the lifetime warranty as long as they are connected to Panasonic equipment and as long as the user has the prerequisite installation configuration – such as surge protection. More information on the lifetime warranty is available from Pansmart.
The E-Series also comes with its own management software, the EMS (E-Series Management Software) and Mobile-EMS. EMS supports Window XP/Vista/7/8 and can have a maximum of 256 E-Series cameras and NVRs directly connected to it. It supports live playback and users can choose between display patterns split into 1, 4, 6, 8, 9, 16, 25, 36 or 64 screens. It also supports mapping functionality.
Mobile-EMS is the smartphone management application and is supported on iOS 4.3 or later, and Android 2.2 or later.
i-Pro Series
Panasonic's professional surveillance solutions are marketed under the i-Pro banner. These consist of NVRs ranging from 16 to 128 channels. The NVRs can be scaled, meaning they can be rack mounted to handle hundreds or thousands of camera feeds.
The ND400 NVR, for example, is a complete Linux-based NVR with open expandability that allows it to run open platform software such as Milestone. In the professional range, Panasonic supplies the Video Insight video management solution, which it recently bought.
The i-Pro camera range consist of the 3, 5 and 6 series, which offer resolutions from HD through to 4K. One of the most important features found across the i-Pro range is Panasonic's UniPhier video compression codec. This software, developed by Panasonic, reduces the bandwidth required to transmit high quality images by as much as 38%, and reduces hard drive space requirements by up to 41%.
The 3-series range offers IP mini-dome day/night cameras that are vandal resistant. They incorporate Multi-Process Noise Reduction (MNR) and Enhanced Super Dynamic Range (ESDR), which is similar to WDR but better, according to Fourie. They include an onboard SDXC card slot and can stream four channels from the camera.
The 5-Series are dual stream cameras starting at 1080p that include ESDR and facial recognition. It also includes a built-in heater that operates over PoE and ensures the lens doesn't fog or freeze. It is also coated with a substance that repels dust and smudging – another Panasonic patent. These cameras are also vandal resistant. The 5-series offers 60 frames per second (fps) recording in full motion.
The 6-Series includes the above, but also offers low-light viewing through built-in LEDs in certain models, as well as Smart DOF (depth of field) in which the iris and shutter deliver a deeper depth of field. The depth of field is automatically optimised to enhance focus for both near and far objects within the camera's view.
All of the high-end cameras offer built-in video analytics on top of the image enhancement options. The analytics include functionality such as heat mapping and people counting. It also features motion, direction and loitering detection, as well as object, scene change and cross-line detection. Certain models also include facial recognition functionality.
Fourie confirms that Pansmart is completely channel focused and offers an enviable business partner programme to its channel that includes skills development. Pansmart is up and running, with stock in its warehouse, and Fourie encourages potential partners to contact the company to see what Panasonic's surveillance equipment can do for their businesses.
For more information, contact Louis Fourie, Pansmart, +27 (0)10 010 6777, l.fourie@pansmart.co.za, www.pansmartsa.co.za; Panasonic, +27 (0)11 312 7015, e.nyingeni@za.panasonic.com, www.panasonic.com
Further reading:
Shorten your checkout lines to enhance customer experience
September 2019, Hikvision South Africa , Retail (Industry), CCTV, Surveillance & Remote Monitoring
Hikvision's queue detection technology is purpose-built to offer cutting-edge flow analysis to retail outlets and any situation where waiting to pay is required.
Read more...
---
Constructive CCTV contributions to research
September 2019, Leaderware , Editor's Choice, CCTV, Surveillance & Remote Monitoring
Study leads to understanding that we need more recognition and reward for constructive participation in society.
Read more...
---
TAPA conference 2019 explores layered approach to security
September 2019, Technews Publishing, TAPA (Transported Asset Protection Association) , News, Transport (Industry)
The Transported Asset Protection Association (TAPA) held its annual South African conference at Emperors Palace in Johannesburg on 26 July 2019.
Read more...
---
Ensuring a seamless ultra-wideband ecosystem
September 2019 , Editor's Choice, IT infrastructure
FiRa consortium ensures an interoperable ultra-wideband technology ecosystem across chipset, device and service infrastructure through standards and certifications.
Read more...
---
New Africa sales manager for Axis Communications
September 2019, Axis Communications SA , News, CCTV, Surveillance & Remote Monitoring
Axis Communications has appointed Brendon Hall, previously the founder and MD of Pentagon, as its new sales manager, Africa.
Read more...
---
Hikvision helps secure African Union Summit
September 2019, Hikvision South Africa , News, CCTV, Surveillance & Remote Monitoring
Hikvision established a complete intelligent video solution to ensure the security of the thirty-third African Union (AU) Summit held on 7 July in Niamey, the capital of Niger.
Read more...
---
The hunt for the Carbanak group
September 2019 , Editor's Choice, Cyber Security, News
Tomorrow Unlocked has released a free four-part documentary that tells the story of the notorious Carbanak APT group and its $1 billion bank heist.
Read more...
---
Genetec to integrate CylancePROTECT
September 2019, Genetec , Editor's Choice, CCTV, Surveillance & Remote Monitoring, News
Genetec has announced it is partnering with Cylance, a business unit of Blackberry, to bring AI-based antivirus protection to its appliance customers.
Read more...
---
Best in class at sea and ashore
September 2019, Axis Communications SA , Transport (Industry), CCTV, Surveillance & Remote Monitoring
Thermal network cameras support the guard tour function that can be used for continuous monitoring of a particular area according to the pre-set guard tour.
Read more...
---
X-rays in 3D
September 2019, XPro Security Solutions , Editor's Choice, Security Services & Risk Management
Hi-Tech Security Solutions asked Greg Dixon, director of XPro, for some insights into X-ray scanning and its pros and cons in today?s volatile world.
Read more...
---