printer friendly version
What happened during the holidays?
February 2015
News
It's a sad state of affairs, but not everyone shuts down over the Christmas period. So, while most South Africans are in braai mode, the rest of the world carries on. Since this is the first issue we're doing in 2015 – the January issue was completed at the end of 2014 – I thought I'd start off with a mini recap on some of the news we missed out on during the break.
The 80 million dollar news is that Avigilon bought the patent portfolio of ObjectVideo. The portfolio includes 126 patents or applications, as well at the company's licensing programme. ObjectVideo has become the black sheep of the industry recently by suing or threatening to sue other companies for alleged patent infringement. It's been called a patent troll, among other unflattering names, while claiming it was only protecting its intellectual property.
We'll soon know if Avigilon plans to continue the legal action or if it made the deal to boost its own analytics capabilities. Personally I hope it's the latter as that will give the analytics market a boost it really needs. Avigilon made another major buy in this area about a year ago when it bought VideoIQ, so it must have a pretty formidable analytics offering to support its high resolution cameras right now. The announcement is at http://goo.gl/5peIb5
Biometrics gets the boot
While we've been harping on about how the world needs to dump passwords in favour of biometrics, Germany's Chaos Computer Club went and spoiled all the fun. During the club's annual conference, some clever person showed how he could create a fake fingerprint of a real person from a few good quality photos of said finger.
The subject they chose was the German Defence Minister, Ursula von der Leyen – which is rather brave if you think about it. What's more, a commercially available application called VeriFinger was used to create the fake, which is just way too simple for comfort. Apparently facial and iris recognition is also in the fake firing line. You can read the story at http://goo.gl/XcZA0T
A burning hack
And while the world was huffing about the Sony hack, which was blamed on North Korea by the FBI before almost everyone else complained and said it wasn't them, an organisation in Germany (again) was the victim of a hack that actually caused physical damage.
Wired reported that the hackers gained access to the industrial control system of the organisation and managed to disrupt it to the extent that "a blast furnace could not be properly shut down, resulting in 'massive' – though unspecified – damage". You can find the story at http://goo.gl/u0R3M3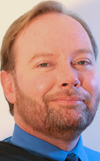 Of course there was other news as well. ASSA ABLOY bought China's Digi Electronic Lock, which may bode well for the electronic lock market going into 2015. Locally, there seems to be a possibility of another security guard strike this year, although I'm just recycling rumours. It wouldn't be surprising though given the length of time since the last strike.
And cybercrime is set to continue on its merry way this year with the only organisations able to effectively fight it, more interested in catching evil terrorists like you by reading your email and checking out your online selfies. Fortunately for South Africans, if these organisations want to read our mail they will have to plan carefully to ensure they manage to catch the country on the odd occasion it has electricity.
Andrew Seldon
Editor
Credit(s)
Further reading:
A contact-free hotel experience
Issue 7 2020, Technews Publishing , Access Control & Identity Management
Check-in and go straight to your room without stopping at the reception desk at Hotel Sky in Sandton and Cape Town.
Read more...
---
New hires at iPulse
Issue 7 2020, iPulse Systems , News
iPulse has welcomed two new employees into its ranks. Shai Weil has been appointed as operations director, while Corneli Botha is the new customer sales liaison.
Read more...
---
HID Global acquires Access-IS
Issue 7 2020, HID Global , News
HID Global acquires provider of miniaturised reader devices that combine key technologies for mission-critical markets.
Read more...
---
Securing digital transformation
Issue 7 2020 , News
Schneider Electric partners with Fortinet to strengthen ability to secure operations across the business lifecycle and unlock the advantages of a secure IIoT.
Read more...
---
Suprema integrates with Paxton's Net2 access control
Issue 7 2020, Suprema , News
Suprema has announced it has integrated its devices with Paxton's access control system, Net2.
Read more...
---
Free cybersecurity courses
Issue 7 2020 , News
Check Point Software partners with Harvard and MIT-founded edX to deliver free online courses to help close the cybersecurity skills gap.
Read more...
---
Fidelity partners with Auto & General Insurance
Issue 7 2020, Fidelity Security Group , News
Fidelity Services Group in partnership with Auto & General Insurance has launched Fidelity InSure, a comprehensive vehicle, home, and building insurance offering.
Read more...
---
More apps for open camera OS
Issue 7 2020 , News
The App Challenge will result in 21 new apps running on the Security & Safety Things' camera OS, based on the Android Open Source Project.
Read more...
---
Milestone Systems announces Thomas Jensen as new CEO
Issue 7 2020, Milestone Systems , News
Milestone Systems announced that its board of directors has appointed Thomas Jensen as chief executive officer. Jensen will assume the role on October 1, 2020.
Read more...
---
Suprema announces its first virtual event
Issue 7 2020, Suprema , News
Suprema will be hosting its first virtual event, Suprema Connect 2020, which is scheduled to take place over one month from September 15.
Read more...
---