printer friendly version
Access control goes postal
October 2014
Access Control & Identity Management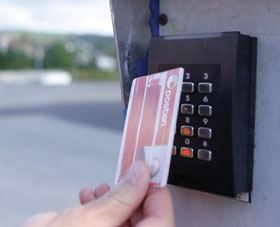 Norway Post is a Nordic postal and logistics company that develops and delivers integrated solutions for postal, communications and logistics services. The organisation is headquartered in Oslo, Norway, and operates under two brands – Posten and Bring. Posten covers services to private customers and Bring is aimed at business customers for mail and logistics in the Nordic region. It has over 20 000 employees and more than 1400 points of sale in Norway via traditional post offices and in-store post offices in retail outlets such as supermarkets.
Norway Post was keen to deploy an advanced access control solution that would ensure it stayed at the forefront of cutting edge technologies when it came to security and sustainability. The implementation was focused on Norway Post's Robsrud Terminal, from where more than 60% of all the mail in Norway is handled. Norway Post has been successfully working with HID Global since the mid 1990s, and HID Global was a natural choice when looking towards the next phase in upgrading their access solutions while future proofing their systems.
Its new system needed the capability to efficiently handle the following requirements:
* Offer a fast, secure and convenient card solution that was interoperable with various HID Global card readers and Norway Post's three different access control systems.
* Provide the ability to upgrade its readers but not all the associated existing controllers.
* Support multi-functional applications such as time and attendance, canteen payment and secure printing.
* Support multi-technology cards, enabling it to seamlessly migrate from existing legacy technologies to newer, more advanced technologies.
* Allow Norway Post to keep its established Corporate 1000 format whilst upgrading to higher security.
* Enable sustainable material to be added to cards and extend the lifetime of cards used in harsh environments.
The solutions
Norway Post extended its relationship with HID Global as it was confident that it was the only trusted and credible organisation that could fulfil these stringent requirements. "We knew HID Global as a leading company in the industry and had great confidence in its skills. We changed to HID Global's high security multi-technology cards with our own Corporate 1000 format. At the same time, we added new functions to the card, which made it possible for it to be used in new ways," said Arnfinn Nordheim, security director, Norway Post.
The new solution for Norway Post includes HID Global´s multiclass SE readers that support multiple technologies on a single card including standard iCLASS and HID Prox. The new cards supplied to Norway Post were manufactured with a high-durability composite material.
"We have got a multi-functional card with many different uses. This includes using the card for secure access control, discounts on railways, payments in canteens and even for access to vehicles. It has improved our security and lowered our costs, since it is much easier to replace a card than a key if you lose it," said Nordheim.
"The iCLASS credential is used for multiple applications like secure printing and scanning in our offices. It is also being used for clocking in and out of a time and attendance system," said John Aslaksby, Security Consultant, Norway Post.
The key benefits for Norway Post's employees are that they can use a convenient, multi-functional access card with higher levels of security. Further, HID Global's partner network of third-party application developers assisted by creating innovative applications for discounts on railways, payments in canteens, vehicle access control.
From a business perspective, HID Global's advanced access control solution with its multi-functional card resulted in significant cost savings. In addition, HID Global's solution could be easily integrated with Norway Post's existing technology systems, allowing for seamless migration from magnetic stripe cards to contactless smartcards.
"Today, we have approximately 40 installations in Norway, with approximately 3500 card readers in all. We have approximately 18 000 active cards in Norway today and that's a lot of cards," said Aslaksby.
As a result of another successful deployment, HID Global is continuing to strengthen its relationship and future collaboration with Norway Post. "We have advanced from magnetic stripe cards to the multi-technology cards we have today, thanks to HID Global's valuable help. They have provided full support during this journey and I'm sure this will carry on," said Nordheim.
For more information contact HID Global, +27 82 449 9398, rtruter@hidglobal.com, www.hidglobal.com
Credit(s)
Further reading:
Enhanced biometric technology for mines
September 2019, ZKTeco , Mining (Industry), Access Control & Identity Management
Biometric identification and authentication are currently used at various mines in South Africa and in the SADC region.
Read more...
---
Improving access in mines
October 2019, Astra Fasteners , Mining (Industry), Access Control & Identity Management, Products
The VP1 controller provides full access control and remote monitoring of intelligent locks without having to wire into a network or install, manage and maintain software.
Read more...
---
Invixium and Pyro-Tech partner in South Africa
October 2019 , News, Access Control & Identity Management
Invixium, a manufacturer of IP-based biometric solutions and Pyro-Tech Security Suppliers have announced a new distribution partnership.
Read more...
---
Suprema receives FBI PIV/FAP30 certification
October 2019, Suprema , News, Access Control & Identity Management
Suprema has announced that the company's BioMini Slim 3 has received FBI PIV (Personal Identity Verification) and Mobile ID FAP30 certification.
Read more...
---
Frictionless access with a wave
October 2019, IDEMIA , Access Control & Identity Management, Residential Estate (Industry)
IDEMIA was the Platinum Sponsor for the Residential Estate Security Conference 2019 and set up its MorphoWave Compact frictionless fingerprint biometric scanner at the entrance to the conference.
Read more...
---
Streamlined access and reporting
October 2019, Comb Communications , Access Control & Identity Management, Residential Estate (Industry)
The main focus of the Comb stand was its practical demonstration of the MK II Lite intercom system with third-party integrated products.
Read more...
---
Customised and integrated solutions
October 2019, Suprema , Access Control & Identity Management, Residential Estate (Industry)
iVisit offers both high-end and low-end residential complexes a cost-effective visitor management solution that is fully integrated into Suprema's offerings.
Read more...
---
Access solutions for every estate
October 2019, Impro Technologies , Access Control & Identity Management, Residential Estate (Industry)
Impro's flagship Access Portal solution comprises one of the most user-friendly software solutions on the market.
Read more...
---
Managing staff effectively
September 2019, dormakaba South Africa, iPulse Systems , Integrated Solutions, Access Control & Identity Management
Workforce management solutions allow organisations to track the relationship between productivity and the cost of employment, incorporating issues such as health and safety, T&A, rostering and more.
Read more...
---
Hennie Lategan joins Centurion as head of exports
September 2019, Centurion Systems , News, Access Control & Identity Management
Centurion Systems has announced the appointment of Hennie Lategan as the head of the company's exports department.
Read more...
---