printer friendly version
SALTO provides AISJ with secure and stable solution
October 2014
Access Control & Identity Management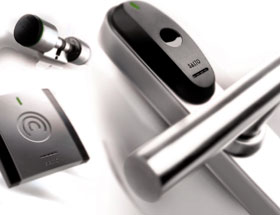 The existing access control solution at the American International School of Johannesburg (AISJ) was functionally a good fit and worked well, but frequent lightning strikes within the area made repair costs excessive. The school required technology that would provide a secure and stable solution across all departments.
This private academic institution faced security issues due to rapid expansion, primarily in the addition of the new indoor sports centre, and needed a system that would control access to new facilities and buildings across two campuses. In addition, any new doors within the facilities would require extensive infrastructure to be in place prior to installation, including all cabling, power supply, door strikes and override systems.
After a detailed site inspection, systems integration company, Integrated People Management (IPM), presented a wireless SALTO-driven solution to the architects, who were impressed by the simplicity and aesthetics of the system. When compared to traditional hard-wired technology, and factoring in minimal maintenance costs, the SALTO solution proved to be very cost effective.
The client stipulated certain non-negotiable requirements including the fact that the solution needed to be online, to enable real-time door monitoring as well as remote control. In addition, the system had to be suitable for various doors, including fire, sliding, wooden, steel and aluminium, with minimal infrastructure requirements.
Other needs were speed and ease of installation, as it needed to have minimal impact on school operations, as well as integration with the existing access control system. SALTO Systems' Wouter du Toit says that all the requirements were considered and SALTO's access rights further allows for flexible allocation of access at a group or individual level.
Integrated solution
The project initially required the installation of approximately 50 doors, eventually scaling to a few hundred doors across two campuses. Dual tag technology, namely 13.56 MHz MIFARE 4K + 125 kHz EM4102, was required. SALTO is integrated to the existing solution (approximately 300 doors), allowing for a single access control platform across the campus, without the need to replace legacy equipment.
The solution included SALTO Pro-Access software together with SALTO XS4 wireless electronic escutcheons/geo-cylinders and fire doors. Wireless POE SALTO gateways allow for a minimal footprint, while securing access to all door types without the need for the installation of cables, mag-locks or other legacy door hardware.
Online update points (Ethernet) are installed at key points on campus to enable automatic linking of cards to people as well as updating of access plans and validity to the cards. Some of the update points have a Wiegand output into AISJ's existing system, so transactions are recorded in both systems.
The SALTO solution is automatically populated with card and people information from the existing access control system. SALTO read/write update points allow for existing cards to be initialised on the SALTO system without the need for users to return their cards to the security office.
SALTO's proven success in the educational space was a strong motivator for their appointment as a supplier and plans are in place for SALTO to be integrated with the school's administration and HR systems. This will further streamline processes, including the printing of ID cards for students and staff and the automatic allocation of access groups.
"Probably the biggest challenge we faced was the integration of the new technology into the existing solution (firebird database). However, IPM was able to achieve this using its integration platform and SALTO's built-in synchronisation tools," says Du Toit.
"The SALTO wireless access control solution provides all the features of a wired solution, while significantly reducing exposure to lightning. We are extremely pleased with the fact that we now have more control over school security, whilst being able to control access to almost any type of door including lockers, padlocks, server cabinets and cam-locks. The technology works well in our environment and future expansion is very easy – we simply install a wireless POE gateway and then the locks," AISJ's Theo van der Westhuizen enthuses.
For more information contact Wouter du Toit, SALTO Systems, +27 (0)11 534 8489, w.dutoit@saltosystems.com, www.saltosystems.com
Credit(s)
Further reading:
Managing staff effectively
September 2019, dormakaba South Africa, iPulse Systems , Integrated Solutions, Access Control & Identity Management
Workforce management solutions allow organisations to track the relationship between productivity and the cost of employment, incorporating issues such as health and safety, T&A, rostering and more.
Read more...
---
Hennie Lategan joins Centurion as head of exports
September 2019, Centurion Systems , News, Access Control & Identity Management
Centurion Systems has announced the appointment of Hennie Lategan as the head of the company's exports department.
Read more...
---
New AlproMAX7 secures maximum rating
September 2019 , Access Control & Identity Management, Products
Alpro has launched a new range of ultra-secure mechanical mortice deadlocks, the AlproMAX7 which comply with BS EN 12209.
Read more...
---
ViRDI UBio Tab 5
September 2019 , Access Control & Identity Management, Products
ViRDI Distribution SA (ViRDI Africa) has announced the release of its long-awaited UBio Tablet to the South African market.
Read more...
---
Visitor access control at Ruimsig Country Club
September 2019, Elvey Security Technologies , Access Control & Identity Management, Products
Cost-effective access control solution that would control the ingress and egress of people, without hindering the traffic throughput of members.
Read more...
---
Estate-focused visitor management solution
September 2019, Vox Telecom , Access Control & Identity Management, Residential Estate (Industry)
Vox has expanded its cloud-based visitor management solution to cater specifically for the needs of small multi-dwelling unit estates and large residential estates.
Read more...
---
Biometrics control airport railroad
September 2019, Suprema , Access Control & Identity Management
63 km railroad to Incheon Airport is centrally controlled and secured by Suprema biometric hardware and software.
Read more...
---
Dual energy X-ray inspection system
September 2019, Regal Distributors SA , Products, Access Control & Identity Management
The ZKX6550 X-ray inspection system increases the operator's ability to identify potential threats; the device is designed to scan briefcases, carry-on baggage, small cargo parcels.
Read more...
---
ZKTeco parking barrier
September 2019, Regal Distributors SA , Products, Access Control & Identity Management
The PB3000 parking barrier is an ideal automatic car park barrier for parking lot and security control; it can easily integrate with revenue collection and access control systems.
Read more...
---
ZKTeco automatic bollard
September 2019, Regal Distributors SA , Products, Access Control & Identity Management
The high-quality automatic bollard is used to protect security areas from vehicle intrusion; in case of power failure, the bollard can be lowered manually.
Read more...
---