printer friendly version
SALTO provides AISJ with secure and stable solution
1 October 2014 Access Control & Identity Management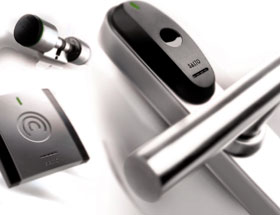 The existing access control solution at the American International School of Johannesburg (AISJ) was functionally a good fit and worked well, but frequent lightning strikes within the area made repair costs excessive. The school required technology that would provide a secure and stable solution across all departments.
This private academic institution faced security issues due to rapid expansion, primarily in the addition of the new indoor sports centre, and needed a system that would control access to new facilities and buildings across two campuses. In addition, any new doors within the facilities would require extensive infrastructure to be in place prior to installation, including all cabling, power supply, door strikes and override systems.
After a detailed site inspection, systems integration company, Integrated People Management (IPM), presented a wireless SALTO-driven solution to the architects, who were impressed by the simplicity and aesthetics of the system. When compared to traditional hard-wired technology, and factoring in minimal maintenance costs, the SALTO solution proved to be very cost effective.
The client stipulated certain non-negotiable requirements including the fact that the solution needed to be online, to enable real-time door monitoring as well as remote control. In addition, the system had to be suitable for various doors, including fire, sliding, wooden, steel and aluminium, with minimal infrastructure requirements.
Other needs were speed and ease of installation, as it needed to have minimal impact on school operations, as well as integration with the existing access control system. SALTO Systems' Wouter du Toit says that all the requirements were considered and SALTO's access rights further allows for flexible allocation of access at a group or individual level.
Integrated solution
The project initially required the installation of approximately 50 doors, eventually scaling to a few hundred doors across two campuses. Dual tag technology, namely 13.56 MHz MIFARE 4K + 125 kHz EM4102, was required. SALTO is integrated to the existing solution (approximately 300 doors), allowing for a single access control platform across the campus, without the need to replace legacy equipment.
The solution included SALTO Pro-Access software together with SALTO XS4 wireless electronic escutcheons/geo-cylinders and fire doors. Wireless POE SALTO gateways allow for a minimal footprint, while securing access to all door types without the need for the installation of cables, mag-locks or other legacy door hardware.
Online update points (Ethernet) are installed at key points on campus to enable automatic linking of cards to people as well as updating of access plans and validity to the cards. Some of the update points have a Wiegand output into AISJ's existing system, so transactions are recorded in both systems.
The SALTO solution is automatically populated with card and people information from the existing access control system. SALTO read/write update points allow for existing cards to be initialised on the SALTO system without the need for users to return their cards to the security office.
SALTO's proven success in the educational space was a strong motivator for their appointment as a supplier and plans are in place for SALTO to be integrated with the school's administration and HR systems. This will further streamline processes, including the printing of ID cards for students and staff and the automatic allocation of access groups.
"Probably the biggest challenge we faced was the integration of the new technology into the existing solution (firebird database). However, IPM was able to achieve this using its integration platform and SALTO's built-in synchronisation tools," says Du Toit.
"The SALTO wireless access control solution provides all the features of a wired solution, while significantly reducing exposure to lightning. We are extremely pleased with the fact that we now have more control over school security, whilst being able to control access to almost any type of door including lockers, padlocks, server cabinets and cam-locks. The technology works well in our environment and future expansion is very easy – we simply install a wireless POE gateway and then the locks," AISJ's Theo van der Westhuizen enthuses.
For more information contact Wouter du Toit, SALTO Systems, +27 (0)11 534 8489, [email protected], www.saltosystems.com
Credit(s)
Further reading:
Powder coating provides durable finish
Turnstar Systems Access Control & Identity Management Industrial (Industry)
Turnstar's powder coating line provides corrosion resistance, high-quality surface finishing and a long-term environment-friendly impact for all access control components the company manufactures.
Read more...
---
Salient Systems manages campus security
Education (Industry) CCTV, Surveillance & Remote Monitoring Access Control & Identity Management
The University of Massachusetts Amherst relies on Salient Systems for video, access control operations for flagship campus as it standardises on IP surveillance.
Read more...
---
From physical to virtual IDs
Access Control & Identity Management
The future of sovereign documents (IDs) such as identity cards, passports and driver's licences is virtual, however, there are still some key challenges to overcome in order to get there.
Read more...
---
QR Code passwordless authentication method
News Access Control & Identity Management Products
LogMeOnce introduces a patented QR Code passwordless authentication method allowing users to scan a code with their mobile device for secure authentication.
Read more...
---
Improving biometrics to address privacy, scale and accuracy
Editor's Choice Access Control & Identity Management News
CryptoNets uses artificial intelligence and a new type of encryption; it is very fast, locating a face among countless others in milliseconds without the need to have any other data to narrow the search.
Read more...
---
Integration relieves PoPIA pressure for estates
Access Control & Identity Management
ATG Digital has announced that its flagship product, At The Gate, is available as an add-on to the EstateMate community management app.
Read more...
---
Web-based access control
Regal Distributors SA ZKTeco Access Control & Identity Management
Managed over the cloud, ZKBioSecurity is the access control solution that ensures total control over all entrances, exits, internal doors, gates and turnstiles, and more.
Read more...
---
The AI knows best
Access Control & Identity Management
RBA makes use of the vast computing power of machine learning to analyse thousands of data points to determine how risky a transaction may be.
Read more...
---
Enterprise identity fraud prevention
Access Control & Identity Management
Trustmatic brings government-grade facial 1:N search capabilities to the cloud, supporting face deduplication and identification against watchlists, and providing seamless integration via REST API.
Read more...
---
Gallagher announces ISO 27001 certification
Gallagher News Access Control & Identity Management
Gallagher has announced it has achieved ISO 27001 accreditation, a standard that ensures organisations protect their information in a systematic and efficient way, through a comprehensive Information Security Management System (ISMS).
Read more...
---