printer friendly version
Improved residential estate security
October 2014
Access Control & Identity Management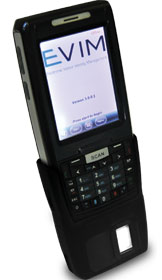 ADT Security, the armed response and guarding service provider to Kilcullen Estate, has deployed Ideco's Electronic Visitor Identity Management (EVIM) solution to improve security and enhance the overall effectiveness of existing services.
Kilcullen needed to find a more effective way of securing the estate where visitors' identities could be accurately verified and recorded and residence entry to the estate could be better controlled. ADT believed it could optimise existing security processes and solutions by deploying cutting edge technology.
Jan van Wyk, ADT national guarding manager, says remotes and tags were far too expensive to maintain, replace and administrate. "ADT approached Ideco for an innovative solution that would enhance the overall effectiveness of existing services.
"Our guards were using a manual visitor record book and were opening the gate for visitors with a pushbutton solution from the guard house. They realised that often visitors would record inaccurate or even false information in the visitors register. More importantly, the entries were often illegible and indecipherable."
Residents accessed the estate via RF frequency remotes. ADT approached Ideco to demonstrate its EVIM solution and also the option of a fingerprint access control system for residents. Although ADT had intercom communication with each resident's mobile phone, it felt that it could optimise its existing solutions to keep the guards and residents more secure.
After understanding the benefits of EVIM and Ideco's biometric solutions, the Kilcullen body corporate asked ADT to place an EVIM solution for an initial service period of three years. They also decided to implement a fingerprint access control solution for residents as well as an incident-based offsite video monitoring solution linked to ADTs video response centre.
Kilcullen opted for the Ideco EVIM solution from ADT because the visitor scanning device cannot only read and record South African drivers' cards but also offers a combination of features on one solution.
EVIM 'Live' ID checking functionality not only records visitor data, but also verifies the integrity of the visitor's identity. The mobile handheld EVIM device has an integrated fingerprint reader which is approved by global law enforcement and judicial agencies including the South African Police Services. This is much more than just a highly effective criminal deterrent. The visitor's fingerprint record is also irrefutable proof that the visitor was present when the transaction was recorded and that the visitor gave permission for their details to be verified and recorded.
PoPI compliant
EVIM visitor transactions are also recorded, processed and archived in a POPI compliant manner. All data is stored offsite and visitors' fingerprints are recorded, transmitted and stored in an encrypted format, which cannot be reverse engineered to a latent fingerprint image. No data is stored on the handheld scanning device and all data is transmitted in an encrypted format to a secure offsite hosting engine.
Mark Paynter, business solutions executive at Ideco says electronic visitor logs are emailed on a daily basis to the ADT operations management team to enable them to analyse visitor patterns and suspicious tendencies. "The report is searchable and data can be filtered by Visitor Name, Visitor ID Number, Vehicle Make, Vehicle Colour, Vehicle Registration Number, Visitor Cell Phone Number, Resident Unit Number Being Visited or Date/Time."
EVIM Web portal access was granted to the Kilcullen body corporate and to select ADT senior management. The EVIM Web interface allows authorised users to access visitor data from any Web browser by means of a secure user name and password. Visitor data is indexable and searchable allowing for effective and efficient post incident analysis.
Paynter says unlike traditional electronic visitor recording systems which process visitor data via an all too often non-compliant unsecured Wi-Fi network, the EVIM solution utilises an encrypted HTTPS and APN network which is accessible only to authorised EVIM devices.
"Despite this state-of-the-art network architecture, when Kilcullen contracted ADT for 36 months, they were pleasantly surprised by the price compared to a site specific proprietary solution."
The body corporate of Kilcullen Estate also contracted ADT to install a residents' access control solution which uses Morpho (Sagem) outdoor fingerprint readers and ES² Software. One of the requirements was that ADT procure the devices from an Ideco accredited distributor to ensure that should the devices require repair or vendor support they would not be subject to non-Ideco accredited repair charges and repair fees.
ADT chose ADI Global Distribution as its supplier for the solution, as ADI is a fully accredited Ideco Distribution Partner.
Biometric access standard
All Kilcullen residents' remote key fobs have been disabled and residents can now only access the estate using their fingerprint. Not only does this prevent unauthorised remotes from opening the gates, but it also allows residents to delay access and notify an ADT guard in the event of a duress situation.
Kilcullen also opted for Ideco's OMA520 biometric readers as they offer the upgrade choice to fake fingerprint detection as an optional extra. Unlike other fake finger detection readers, the Ideco Morpho fake finger detection option cannot be bypassed. Kilcullen Estate opted not to install the fake finger detection option as they felt that if their enrolment process was well managed and secured, this was not a risk.
ADT chose the Ideco ES² biometric management software package for Kilcullen resident access control enrolment and management as this is available free of charge for up to six readers meaning that Kilcullen was able to make use of the best biometric solution without having to install costly and complex system controllers and related peripherals that are often part and parcel of a biometric access control solution.
After seeing ADT's holistic solution offering, the body corporate also opted to install an ADT Offsite Video Alarm solution. Each Kilcullen resident retains their traditional individual armed response alarm link to ADT, but now the ADT Emergency Control Room can also view live video footage of the estate remotely should the need arise.
Van Wyk says instead of offering permanent video streaming to the ADT control room, which is known to cause control room operator 'video blindness', the solution rather makes use of incident-based video alarm technology whereby events such as panics and intrusion alarms are streamed live to the ADT Video Response Centre as an audited alarm incident.
"Controllers can then interact live with guards on site via an IP intercom solution and with ADT response officers en route to the site. The solution makes use of an ADT Teleye Digital Video Recorder with patented video compression and video alarm capability using infrared cameras and HSUPA GSM data streaming," he concludes.
There is now increased resident awareness about security and less long-term administration of access control system. Visitors who are problematic are now also easily traced and blacklisted if necessary. Guards feel more secure and know that the ADT video response team is seconds away from live intervention. Furthermore, ADT armed response feels more confident knowing that the ADT video response team will guide it with incident intelligence during armed response incidents.
With Ideco's EVIM, Kilcullen has gained a reputation as a secure estate and visitors now take security more seriously.
For more information, contact Jan Van Wyk, ADT South Africa, jawyk.za@adt.co.za, www.adt.co.za
Credit(s)
Further reading:
HID addresses identification challenges at ID4Africa
August 2019 , News, Access Control & Identity Management, Government and Parastatal (Industry)
Being able to verify people's identities is critical for a nation's growth and prosperity and yet HID says nearly half of all African citizens can't prove who they are to vote, travel freely and receive government benefits and services.
Read more...
---
Fire suppression systems for data centres
August 2019, Fidelity ADT Security , Fire & Safety
Fire suppression has changed substantially and managers must consider a range of different factors when it comes to their data centre fire suppression systems.
Read more...
---
Came acquires Turkish company Özak
August 2019, CAME BPT South Africa , News, Access Control & Identity Management
Came broadens its market horizons and signals growth and consolidation in the Middle East.
Read more...
---
The benefits of electronic visitor management
August 2019, Powell Tronics , Access Control & Identity Management, Residential Estate (Industry)
Access control is a critical aspect of estate security as it represents the controls put in place to restrict entry (and possibly exit) along the outer boundary of the location.
Read more...
---
Addressing risks by means of access control layout and design
August 2019 , Access Control & Identity Management, Security Services & Risk Management
In order to develop a suitable, practical and appropriate security system for any organisation, it is essential to first develop a master security and life safety plan strategy.
Read more...
---
Secure hands-free access
August 2019, Suprema , Access Control & Identity Management, Residential Estate (Industry)
Suprema's facial biometric terminals bring no-touch access into secure residential estates, high-rise apartments and luxury homes providing fast, easy and intuitive user authentication with the added benefit of hygiene.
Read more...
---
MorphoAccess Sigma Extreme
August 2019, IDEMIA , Products, Access Control & Identity Management
MorphoAccess Sigma Extreme from IDEMIA is a touchscreen device with multiple recognition device interfaces (NFC chip reader, PIN and BioPIN codes, contactless card readers).
Read more...
---
Outdoor access terminals
August 2019, Suprema , Access Control & Identity Management, Residential Estate (Industry), Products
Rugged, dust- and weather-proof access control solutions that provide exceptional durability in extreme conditions is a strong requirement for many residential estates.
Read more...
---
MorphoWave Compact
August 2019, IDEMIA , Products, Access Control & Identity Management
The MorphoWave Compact captures and matches four fingerprints on either the right or left hand in any direction. It is robust to environmental factors such as extreme light or dust.
Read more...
---
MorphoAccess Sigma Lite
August 2019, IDEMIA , Products, Access Control & Identity Management
IDEMIA's MorphoAccess Sigma Lite and Lite + are fingerprint access control terminals, offering time and attendance in and out function keys.
Read more...
---