printer friendly version
Cable-free future looms
October 2014
Access Control & Identity Management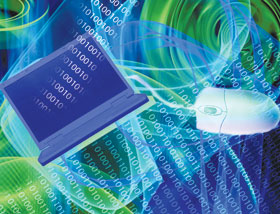 There is a growing trend to the use of wireless access control systems along with other security technology around the world. The benefits of not having cabling problems, among other benefits, has made wireless a consideration for most new or upgradable access solutions. There are, of course, cons to match the wireless pros, but these are being managed more effectively as technology improves.
Wireless access is not simply about not having cables to every door, however. Hi-Tech Security Solutions asked a couple of access experts to talk to us about the wireless access world and tell us about the pros and cons of this technology, as well as about the latest products they're bringing to market.
SALTO Systems' Wouter du Toit says there is a growing demand globally for wireless systems, but there still needs to be substantial education in the market as to what these systems can provide. "Many people out there just don't know why they should consider wireless access control solutions and many are still sceptical. I believe that wireless and wire-free access control systems go hand in hand, offering flexibility with RFID technology that offers distributed intelligence between the access control device and the card/carrier."
When looking at the benefits on offer, Du Toit says wireless and wire-free systems provide flexibility and scalability were traditional wired systems can be expensive and may be unable to offer solutions for many access control requirements. Wireless is also cost effective compared to conventional cabled systems, while offering the same or better security.
Francois Breedt from ASSA ABLOY adds that he also sees a shift towards wireless systems. "Traditional wired systems are not cost effective from a time-to-install point of view. Wired systems by their nature are also obtrusive and can be the blemish on the otherwise pretty face of a building entrance. The functionality of an access system is in no way hindered by using wireless as the communication medium between the reader and the rest of the control hardware. We have found that 80% of users of traditional wired systems believe that a wireless system will be more cost effective and less of a hassle to manage."
Pros and cons

When considering the positives and negatives of going wireless, Breedt explains that some naysayers will claim that the distance between the door unit (transmitter) and the hub (receiver) is a big issue and that hardwired systems have a more reliable communications infrastructure. "This is true to an extent, wireless systems have a limited range, but a 15 m to 30 m radius between door unit and hub is more than adequate for most installation requirements. Expanding the number of doors on a wired system is labour and cost intensive, whilst expanding on a wireless system is quick, easy and inexpensive."
Breedt also notes that wireless door handles and cylinders are battery powered and reduce the electrical power consumption of the access system significantly, as there is no need for power supply units to power card readers and magnetic door locks.
Du Toit lists the benefits of wireless access systems as follows:
* Cost reduction with the same or better security features than wired access control.
* Massive cost reduction to deploy. A typical wireless escutcheon will install in under 15 minutes where a cylinder will install in one minute. Conventional access control on average takes four hours, but can be more depending on cable runs, cableways, cable marking, etc., and it requires certified electricians in some cases, adding to the cost.
* Can operate in any environment, indoor, outdoor, harsh conditions etc.
* Can secure doors where conventional cabled systems are not feasible or too expensive due to cable runs or inaccessibility.
* Easier to retrofit and to roll out.
* Can secure more than just doors. You can start replacing all keys, from server cabinets, cabinet locks, padlocks, emergency exits and more.
* Intelligent use of wireless networks. Data transmitted is a lot smaller so you do not need a superior LAN/WAN to communicate effectively.
* Data is securely encrypted via AES128.
* 1-to-many connection from a single wireless access point in a 15 m to 30 m radius. (The radius could be more depending on building construction.)
* Access points can be PoE (Power over Ethernet) enabled, reducing cost of installation and maintenance.
* Hardware is battery operated and has no cabling, freeing it from power cuts, spikes and lightning.
* Even if the wireless system is down, the technology is still able to function comfortably in offline mode.
* Wireless channels used are free, no licence is required.
* Consumes less power and is more cost effective with batteries.
There are, of course, some negatives those interested in wireless access control should be aware of. For example, wireless access can use a similar frequency as normal data transmission. Du Toit, adds a few other points to the list:
* Wireless black spots (areas with no wireless coverage). However, these can easily be picked up with wireless testers and the access points moved to ensure complete coverage.
* Wireless networks are more vulnerable to attack, but there are many ways of countering this and creating a secure wireless network.
* Wireless networks are susceptible to interference from other RF signals, potentially reducing coverage. Adhering to minimum wireless access point distances will ensure your access control equipment is never affected.
* Wireless transmission speeds could be less than wired networks. Wireless access control is not affected, however, because the data packets are much smaller than standard wireless packages. It is also transmitted intelligently, finding empty hops in the transmission, securing a continuous feed of information.
Cost and time issues

Excluding the cabling from an installation makes an enormous difference to the time and cost involved in installing an access system, and this saving is greater for those systems that don't use PoE. When going the wireless route, however, some may claim that the battery costs of these solutions will negate the cable-based savings over the course of a few years.
Du Toit disagrees, noting that, while different manufacturers require a different number of batteries for their devices, the top players use three normal AAA alkaline batteries per device on average. This will provide the user with two to five years or 40 000 to 60 000 openings on a single device. "If you open your door 55 times a day, you will probably have to replace the batteries on 40 000 openings, or every two years. Power is therefore never a problem and battery replacement is quick and easy at a nominal price every couple of years."
He also points out that most conventional access control systems also use a power pack with a battery, which is more expensive to replace than normal alkaline batteries – which require no special process to be discarded (although he still recommends we dispose of them properly). Wired systems are also vulnerable to lightning, power spikes and surges, making maintenance costs higher.
Similarly, Breedt also states that wireless systems are by far more cost effective. He says the ASSA ABLOY Aperio range runs off a single CR2 3 V lithium battery and will allow in excess of 40 000 cycles before the battery needs replacement. "This equates to at least 2 years of usage (about 90% of all installations) before the system will indicate that the battery needs replacing. In contrast, wired systems need constant power from a mains power source, and on a door with a card reader, door controller and magnetic door lock, can exceed 2-3 Amp/hour current in usage. Calculate this per day and multiply by the time (minimum five-years per device) a system is implemented and the figures are staggering. This is the hidden cost in the traditional systems that never get factored in."
In most situations, an access system is not a brand new installation and there will be a legacy of previous installations and products. Very few clients will be in a position where they are willing to completely discard their old systems – specifically in larger installations – and require their installers to integrate the parts of the existing system, including wired access solutions, with newer technologies. Fortunately, this type of hybrid installation is not only possible, but easy.
Du Toit says integration like this is a regular occurrence for SALTO. "Integration today is a lot quicker and easier than people realise. There are also many traditional access control manufacturers that seamlessly integrate with wireless and wire-free products, selling our systems with theirs. Having a hybrid system is often the best solution for clients."
Breedt says the Aperio range can be integrated in various ways with existing access systems. "There is full integration via the 485 BUS with most major international OEMs (Gallagher, Lenel, Rosslare, etc.) and low level interfacing using the Wiegend outputs from the hub. As a retrofit to an existing system, nothing could be easier."
The future looks wireless
Looking ahead, both Breedt and Du Toit see a bright future for wireless access technology. Most people today are comfortable with wireless systems, be it WiFi or GSM-related, says Breedt, especially young people. They do not even consider whether it works or not. "The technology will improve as does everything once the demand for it is established and the possibilities for where the technology can be implemented are endless. Aperio systems have been successfully implemented in tertiary institutions, hospitals, large offices, student accommodation, data centres, etc. The range caters for almost every requirement from access control at a door to access to lockers, server racks and cabinets."
Du Toit also sees wireless access control systems continuing to grow and that more companies will use it not just for an internal security deterrent, but also for external and perimeter security. "Cabled systems will never disappear because there will always be a need to control access to security devices that require I/O units as a trigger, but more of these units will also be available in wireless format.
"It is not just about securing access to a door, it is also becoming more about removing mechanical keys, which are a massive cost to organisations," says Du Toit. "This is not only from a loss/replacement or cost/labour perspective, but also to uphold the master key system that is a continuous and a costly exercise. Wireless and wire-free access systems are easier to manage and update, more affordable and almost ready to secure every door and completely remove the mechanical key headache."
ASSA ABLOY wireless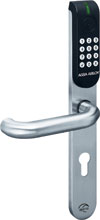 ASSA ABLOY has a few wireless products in its stable and the Aperio and SMARTair range is definitely top of the mark. These units are easy to install, low on cost of ownership and reliable.
The card reader technology is built into the door handle or knob cylinder and can read Mifare, IClass, Desfire and Legic protocols. The reader unit wirelessly communicates with the hub, which is usually located at a point away from the door and installed out of sight. The hub is connected to the data bus of the access system controller in a conventional wired configuration and clocking data from the reader is sent to the control hardware and software. Conventional access control operating procedures are followed from here to grant or deny access to the user presenting a credential to the reader.
SALTO wireless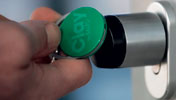 SALTO has launched its cloud-based wireless electronic access control solution (Clay by SALTO), bringing wireless technology to the SME market. With wireless access control products being so secure, easy to install/retrofit and maintain, it was the next logical step for SALTO was to create an even more affordable way for everybody to have access to this technology.
Clients are always on the go and mobility is a key feature of their day-to-day business. Clay by SALTO gives these clients exactly that – access control and security management anywhere, anytime. It is accessible through the cloud or any mobile device.
ClayIQ is the brains within the system. This ensures secure, fully wireless connectivity from the Clay cylinders and door locks at each door to and from My-Clay.com and the Clay app for remote control of the system. It is plug-and-play and only requires power to find its own way to the cloud.
Clay's real-time reporting to the clay app brings together control and convenience by combining an intuitive software platform with high quality and well-designed hardware that is easy and quick to install. All of this in a user centred pay per-use model.
Credit(s)
Further reading:
HID addresses identification challenges at ID4Africa
August 2019 , News, Access Control & Identity Management, Government and Parastatal (Industry)
Being able to verify people's identities is critical for a nation's growth and prosperity and yet HID says nearly half of all African citizens can't prove who they are to vote, travel freely and receive government benefits and services.
Read more...
---
Came acquires Turkish company Özak
August 2019, CAME BPT South Africa , News, Access Control & Identity Management
Came broadens its market horizons and signals growth and consolidation in the Middle East.
Read more...
---
The benefits of electronic visitor management
August 2019, Powell Tronics , Access Control & Identity Management, Residential Estate (Industry)
Access control is a critical aspect of estate security as it represents the controls put in place to restrict entry (and possibly exit) along the outer boundary of the location.
Read more...
---
Addressing risks by means of access control layout and design
August 2019 , Access Control & Identity Management, Security Services & Risk Management
In order to develop a suitable, practical and appropriate security system for any organisation, it is essential to first develop a master security and life safety plan strategy.
Read more...
---
Secure hands-free access
August 2019, Suprema , Access Control & Identity Management, Residential Estate (Industry)
Suprema's facial biometric terminals bring no-touch access into secure residential estates, high-rise apartments and luxury homes providing fast, easy and intuitive user authentication with the added benefit of hygiene.
Read more...
---
MorphoAccess Sigma Extreme
August 2019, IDEMIA , Products, Access Control & Identity Management
MorphoAccess Sigma Extreme from IDEMIA is a touchscreen device with multiple recognition device interfaces (NFC chip reader, PIN and BioPIN codes, contactless card readers).
Read more...
---
Outdoor access terminals
August 2019, Suprema , Access Control & Identity Management, Residential Estate (Industry), Products
Rugged, dust- and weather-proof access control solutions that provide exceptional durability in extreme conditions is a strong requirement for many residential estates.
Read more...
---
MorphoWave Compact
August 2019, IDEMIA , Products, Access Control & Identity Management
The MorphoWave Compact captures and matches four fingerprints on either the right or left hand in any direction. It is robust to environmental factors such as extreme light or dust.
Read more...
---
MorphoAccess Sigma Lite
August 2019, IDEMIA , Products, Access Control & Identity Management
IDEMIA's MorphoAccess Sigma Lite and Lite + are fingerprint access control terminals, offering time and attendance in and out function keys.
Read more...
---
Eliminating forced gate opening scenarios
August 2019, ET Nice , Home Security, Access Control & Identity Management
When activated by the gate forced open alarm feature, the transmitter transmits a wireless alarm signal up to 750 metres in any direction.
Read more...
---