printer friendly version
Hosted and managed access control
October 2014
Access Control & Identity Management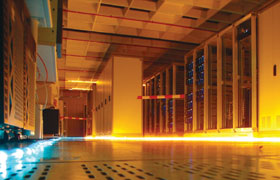 The business world has been inundated with news about cloud computing and software as a service. In keeping with the advance of technology, the security industry is also incorporating aspects of cloud computing into its arsenal of services.
In the access and identity market, a trend to hosted and managed access control has developed, with service providers offering various solutions to take the requirement for the management and maintenance of access solutions away from customers, leaving them with only the benefits of the service.
Unfortunately, many of these services rely on Internet connections and therefore are not always popular in South Africa with its expensive and unreliable connectivity. Nevertheless, some service providers have adapted and still manage to offer managed or hosted services, delivering an access or T&A service to clients for a monthly fee, sometimes even incorporating the cost of the hardware and its maintenance into the cost.
Barry East, Impro Technologies.
When looking at access as a service, clients who want to have the service, but not the hassle that goes with it are often faced with the choice of a managed or hosted service. Hi-Tech Security Solutions asked Ernest Mallett from Tyco Security Products and Barry East from Impro Technologies to explain the difference and benefits of each.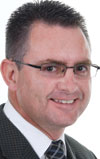 Ernest Mallett, Tyco Security.
Starting off, we asked what the difference is between a hosted service and a managed service. Mallett explains that the main difference between the two is in the management of the software. "With hosted access control, the management service provider (MSP), who is typically a dealer or integrator, provides the initial set-up and server hosting only. In managed access control, the MSP not only installs and hosts the instance of the software, but also manages and performs changes and updates to the customer's system."
With hosted access control, the MSP hosts the database, server applications and hardware infrastructure, and provides the initial set-up of the account and components. Customers access the software through a browser and/or mobile device to maintain and monitor their access control system, with the ability to manage such variables as adding an access card for a new employee or deleting a cardholder who has left the company. The MSP hosts the software for a monthly fee.
In a managed access control scenario, the MSP still hosts the software as in the hosted access scenario, but in addition, also manages any additional changes or updates for the system. With a managed access control system, the host, in this case the dealer or integrator adds and deletes cards for the client and so forth.
East expands, noting that a hosted solution refers to the fact that there is no requirement for server infrastructure at the local deployment point for the access control solution. "In other words, the site is still managed and administrated by the client, but the physical hardware that runs the service side of the application is hosted in the cloud. A managed access control service, in some instances can follow a cloud-based server deployment, but the administration of the system is managed by an offsite third party on behalf of the end users."
Realistic for South Africa
In both of these scenarios, there is an element of offsite hosting, which requires some form of connectivity. As noted in the Access and Identity Management Round Table, printed earlier in this issue, these services are not generally popular in South Africa, but may be of value in smaller businesses.
Mallett confirms that this is not a huge business in South Africa at the moment. However, he notes there has been interest from some Tyco partners in deploying armed reaction and video monitoring, as well as hosted access control. "Property developers with multi-tenant environments also have started to see the value and have shown interest in hosted and managed access control."
Coming at it from a different angle, East says these types of systems are being deployed all over South Africa, especially in the time and attendance market, but less in the larger enterprise market. "At this stage, most of the clients prefer to have localised control of their access control infrastructure, but globally it does seem to be a trend and I suspect as Internet connectivity and the like increase in South Africa, so adoption of cloud based computing will expand accordingly."
What are the benefits?
The decision to move to a hosted solution is not unlike the decision by many companies to seek a third party to run their IT. As staffing shrinks and people are pulled in more directions, Mallett says questions are bound to arise: "Do we have the resources to stay on top of everything that is required to manage the security system, not only generating new cards and photo IDs or putting additional doors and elevators on line, but also backing up data, upgrading software and maintaining the equipment?"
Some data suggests that around 90% of companies are negligent when it comes to staying on top of systems updates and backups, which means a potential loss of important data and costly service calls when the computer housing their access control software fails and significant data is lost. A hosted solution allows staff to focus on the daily operation of the system while the rest is taken care of.
East says the main driver behind cloud-based computing is that the customer does not have to worry about continual physical server hardware and operating systems upgrades. "So the maintenance of the entire IT infrastructure is handled by a third party with a guaranteed high availability or 99.9% uptime. In the case of the Internet going down, certainly as far as Impro systems are concerned, all of our hardware operates with 100% intelligence and there is no need for service-side interaction in order for the site to continue to function fully. It would simply buffer transactions that occurred on the site and as soon as the service side application was back online, the transactions would migrate to the hosted solution."
Mobility also plays a productivity role in these scenarios, according to Mallet. "Mobile applications allow users to remotely manage a multitude of everyday tasks, and security and access control is no exception. Similar to the Web portal, the advent of the smart phone and tablet, the creation of applications for these devices that link with the access control system has allowed administrators to execute tasks remotely that used to be handled in front of a computer screen. Everything from report generation to updating and managing ID cards to viewing event history can now be handled on a mobile device."
Are small businesses the best clients?
As noted above, it seems that these solutions are optimal for smaller businesses that don't want the responsibility or don't have the skills for managing their own infrastructure.
"If training or hiring human resources to manage an access control system is prohibitively expensive, or if the appropriate personnel aren't available to manage operations, a managed solution is a good option," notes Mallett. "It places installation, maintenance and the more complex operational responsibilities upon the integrator/dealer. The user does not have to provide advanced training for its staff. Companies that may not be sure of their future locations or infrastructure can also benefit from a managed solution, as the solution can move with the company, regardless of the company's location or specific personnel."
The major benefits behind a hosted solution, according to East, is the fact that the ongoing cost to maintain a high availability IT infrastructure is now no longer borne by the customer. "A simple monthly rental ensures that all the service specifications and operating systems are maintained and the latest security patches etc. are automatically updated.
"So the main reason why people go for a hosted solution as has been seen in products such as Office 365, is because the cost of the IT infrastructure is no longer a capex cost borne by the customer."
And while smaller companies are the best target for these types of services (but by no means the only targets), Mallett says there is additional interest arising from larger companies with multi-site locations or branches. Instead of having a separate access system at every branch, a managed system can ease the complexity and ensure standard access across all the locations.
Products on offer
Both Tyco and Impro are active in this market. Kantech, part of Tyco Security Products, offers the hattrix security services solution with three tiers of service: a hosted option, a fully managed solution or a hybrid of the two. This translates into significant advantages in flexibility and scalability, and reduces the infrastructure and training costs compared with other more traditional systems.
"With our hattrix solution, the data resides in secure, cloud-based servers, capacity is no longer an issue and scalability is achieved much more easily," explains Mallett. "We don't have to have the debate about servers and storage, as it is trumped by the fact that a system can now grow from 10 doors to 100 doors to 1000 or more and it doesn't take a room full of hardware on site to achieve this."
From Impro's perspective, East says the company's Access Portal range offers a managed solution. "We have not yet made the hosted solution commercially available in South Africa, however it is in our roadmap for the early part of 2015 to start deployment of a hosted Portal solution into a South African environment."
For more information, go to: www.tycosecurityproducts.com, www.impro.net
Credit(s)
Further reading:
Facial access control for ministry
Issue 1 2020, ZKTeco , Access Control & Identity Management
The Ministry of Culture in Saudi Arabia has adopted ZKTeco's facial recognition technology and fingerprint biometrics to manage access control into its building.
Read more...
---
New Door Pilot app from dormakaba
Issue 1 2020, dormakaba South Africa , Access Control & Identity Management
With new dormakaba Door Pilot, automated doors can also now be operated on the basis of remote control technologies. The system, comprising the Door Pilot app for smartphones and a Wi-Fi interface for ...
Read more...
---
Giles Calenborne takes the helm at Impro Technologies
Issue 1 2020, Impro Technologies , News
Impro Technologies has welcomed a new managing director, Giles Calenborne, to the fold with the goal of unlocking the existing networks and building new opportunities.
Read more...
---
Identity lifestyle
Issue 1 2020, Suprema , Access Control & Identity Management
Once the technology of the future, biometrics has quietly snuck into our daily lives through smartphones and access controls into our places of work.
Read more...
---
Securing BP's new head office
Issue 1 2020, ISF SFP , Access Control & Identity Management
ISF SFP was awarded the contract to secure the first development phase for Oxford Parks, the new head office for BP South Africa.
Read more...
---
Combining aesthetics and access control
Issue 1 2020, Turnstar Systems , Access Control & Identity Management
Prestigious law firm Bowman Gilfillan recently upgraded its physical security with the addition of four Turnstar Speedgate Express access control lanes.
Read more...
---
Video doorbells from Ring
Issue 1 2020 , Access Control & Identity Management
Ring has a number of video doorbells available in South Africa that run off batteries or power and enable users to answer their doors from anywhere.
Read more...
---
Centurion to unveil new product
Issue 1 2020, Centurion Systems , Access Control & Identity Management
Centurion Systems will be hosting its third Access Automation Expo this year, with dates confirmed for Durban, Johannesburg and Cape Town.
Read more...
---
Looking ahead with mobile access technologies
Access & Identity Management Handbook 2020, Technews Publishing, HID Global, dormakaba South Africa, Salto Systems Africa, Suprema, Gallagher , Access Control & Identity Management, Integrated Solutions
Given the broad use of smartphones around the world and the numerous technologies packed into these devices, it was only a matter of time before the access control industry developed technology that would ...
Read more...
---
Mobile access is more secure than card systems
Access & Identity Management Handbook 2020 , Access Control & Identity Management
The ability to use mobile phones as access credentials is one of the biggest trends in a market that historically has been slow in adopting new technology.
Read more...
---