printer friendly version
Selecting the right audio or video access system
October 2014
Access Control & Identity Management
Rapid developments in technological innovation, systems and processes are common characteristics of the modern information era. Furthermore, the security industry as a whole is known for its high levels of competition and product evolution. It is therefore no surprise that consumers themselves are often forced to maintain a steady pace in their attempts to make sound purchasing decisions. One thing is for sure, the only constant we are continually faced with in our day to day lives is that of change.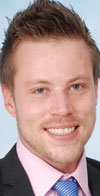 Matthew Cigler
Amidst all the hustle and bustle in social and commercial environments, instant gratification has become increasingly the norm. Individuals have become accustomed to a lifestyle in which needs and wants can be satisfied within an arm's reach in most instances. But how does a person sift through the abundance of available information, taking the form of clever advertisements and sales ploys, towards the obtainment of a sound solution regarding matters and/or decisions of a more complex nature?
Having been asked on several occasions by Fermax customers how one can approach the selection, and ultimate installation of door entry systems has resulted in two primary realisations. The first being that although the direct scales and requirements might differ between B2C and B2B buyers, the over arching principles remain the same. Secondly, a person need not be a technical guru to make a decision in line with that of a well-informed customer.
If a series of logical surface level assessments are conducted as a mere thought process, the evaluation procedure can actually prove to be rather uncomplicated. Although there is no substitute for a professional installer and/or assistance as the unique requirements will undoubtedly differ on a number of levels, it is nonetheless worthwhile to possess some degree of understanding (and the ability to contribute) throughout the overall process.
Although it might seem obvious, security should be considered during the early stages of premises occupation. In a similar light to the immediate tasks of painting a house/office and tiling the floors, should be considerations that are dedicated to ensuring a safe and secure property.
In the event of an existing system being present it is important to make sure that it has been tested and that it is running optimally. Continuous postponement or cost saving inclinations may very well cost more in the end and of course increase the risk of placing individuals in danger. Once the need for a system has been established and prioritised, it is helpful to make a rough list whereby you answer some of the following questions.
What are the best brands?
There are a number of options to choose from, however, once again I cannot stress how basing a decision purely on the cheapest option poses serious risk towards the acquisition of larger unforeseen costs in the future. I have often seen members of our team spending more time on their attempts to fix a poorly conducted job and ultimately replacing the entire thing – proving to be a costly exercise for the customer. The best brands are well known in the industry and can be found at leading security outlets such as Elvey.
With what products do I have the best training and experience?
Since the decision was made to offer free training on all Fermax products we have seen a jump in customer satisfaction accompanied by a decrease in returns. This service is offered by a number of leading brands and is highly important from an installer perspective. Establishing familiarity, relationships, experience and sufficient levels of training enhances overall understanding and productivity levels – which ultimately allows for satisfied end users and more customers for the installer themselves. As an end user it might be beneficial to contact one of the (or the selected) chosen brands so they can recommend an installer that is both affordable and reliable.
What services are of key importance to me?
It is important for all types of consumers to have the ability to shop around. Certain organisations offer and adopt different service-based product augmentations that might mean a big difference in what is ultimately received. Such services can take many forms and include support, after sale service, site visit attendance, warrantees etc.
How many people need to use the system?
Depending on the nature of the premises (building, residential, flats), you will need different types of systems. Certain systems facilitate a very basic one-to-one communication, while others are aimed at dealing with a variety of access granters.
Is there someone frequently on the premises?
Certain products are available to cater for different settings. The Fermax Vivo Monitor (7-inch capacitive touch screen), as an example, contains various features – one such that you are afforded the ability to leave a message. This might be appropriate in a setting where there is not often someone on the premises. There are also a number of GSM based systems that allow for wireless communication so that you can keep in touch with your guests even when you are not at home.
Where are the key entry and exit points?
Once key exit and entry points have been determined, it is clear where you should place the panels (keep in mind that there are both indoor and outdoor panels depending on specific requirements) as well as what critical areas should be covered in the case of a potential video entry system.
What will work for me in terms of aesthetics?
It is important that the chosen product solution matches the design and feel of its surroundings. Of course, this is largely subjective in nature and certain solutions have been devised for both end users and installers to showcase a full variety of products in real settings. The Fermax For Real Augmented Reality App allows you to view any Fermax products from your tablet or smartphone.
Would it benefit me to see the entrant or would hearing their voice be sufficient?
Depending on the individual and contextual needs of the situation, it may be necessary to see the person wishing to enter as opposed to just their voice. This is largely a personal choice, however it is definitely more beneficial from a safety perspective to be able to see a visual.
What is the distance between all the modules and technical considerations?
Most products require cable that links them together and allows for smooth connectivity. It is important to be accurate (and perhaps consult where necessary) on both cable and technical requirements. Installation can often be very technical and requires the person to have knowledge on the product.
What unique requirements do I have and what would be ideal?
A large amount of integration exists with access control and door entry systems. It might be economical to link payroll or utilise a tag-based system in certain instances, to point out but a few examples. It is a good idea to isolate such requirements during the early phases to ensure there are no problems in the future.
What were the results of the questions?
These questions are but a few of the many logical questions that can be used in a basic best practice assessment for door entry system needs. Although seemingly simplistic they might prove to be a great help and actually assess within themselves what might not be so clear during the consideration stage.
For more information contact Matthew Cigler, Fermax, +27 (0)11 422 6001, matthew@fermax.co.za, www.fermax.com
Further reading:
Managing visitors effectively and responsibly
June 2019, Powell Tronics, IDEMIA , Vox Telecom, Technews Publishing , Access Control & Identity Management
Managing access for visitors has always been something of a balancing act between keeping unwanted people out, and letting authorised people in. Particularly in a business environment, it is also crucial to make guests feel welcome and safe.
Read more...
---
Foresight means secure offices
June 2019, Bosch Building Technologies , Commercial (Industry), CCTV, Surveillance & Remote Monitoring, Access Control & Identity Management
If you're responsible for a medium or large-sized office, it's more important than ever that you have access to a means of ensuring people's safety, managing risks and fraud, and protecting property.
Read more...
---
Security for 14 million passengers
June 2019, Johnson Controls , Access Control & Identity Management
Bahrain International Airport secured with CEM Systems AC2000 Airport security solution from Johnson Controls.
Read more...
---
AI serving border security
June 2019, IDEMIA , Access Control & Identity Management
Recent border security improvements, including use of cutting-edge biometric technology, ensures everyone who enters and leaves a country is safely identified.
Read more...
---
Centurion announces new board of directors
June 2019, Centurion Systems , News, Access Control & Identity Management
After more than 30 years at the helm of access automation manufacturer, Centurion, co-founder Pat Dickens stepped down as the company's MD at the end of March, with current sales and marketing director Richard Rohman being named as his successor.
Read more...
---
Identity management in West Africa
June 2019 , News, Access Control & Identity Management, Conferences & Events
HID Global's Wisam Yaghmour was at Securex West Africa 2019 and spoke to Hi-Tech Security Solutions about the company and its operations in Africa.
Read more...
---
Powell Tronics enhances PT-Guest
June 2019, Powell Tronics , Products, Access Control & Identity Management
Powell Tronics' PT-Guest 2019 model brings a number of enhancements that increase user-friendliness and overall functionality on both the web application and the scanner option.
Read more...
---
PoPI-compliant identity scanner
June 2019, OnGuard , Products, Access Control & Identity Management
Identiscan is a web-based, PoPI-compliant visitor access system targeted primarily at residential estates and complexes.
Read more...
---
Electronic visitor information management system
June 2019, Access Track , Products, Access Control & Identity Management
Access Track Integri-Register is an easy-to-use and cost-effective electronic visitor information management system aimed at replacing traditional access registers.
Read more...
---
The face of visitor management
June 2019, ZKTeco , Commercial (Industry), Access Control & Identity Management
Visible light facial recognition technology can ensure that visitor management processes make everyday proceedings easier, especially for regular clients.
Read more...
---