printer friendly version
Taking time out with T&A
October 2014
Access Control & Identity Management
While companies like to think of the most complex uses for technology, sometimes the simplest solutions deliver the best results. Time & Attendance (T&A) is one of those solutions. The simple process of accurately managing employees as they clock in and out of work saves money and benefits both parties.
Hi-Tech Security Solutions asked some of our local T&A experts for some insight into the local market. Our interviewees are:
* Teryl Schroenn from Accsys.
* Thomas Marshall from Econz Wireless.
* Richard Burton from Eco Time Technology.
* Peter Noppe from Uniclox Technologies.
Hi-Tech Security Solutions: What are the latest trends in T&A? Are customers looking at implementing biometric systems to replace cards? What are the pros and cons of using biometrics and what returns can one expect from a project like this?

Teryl Schroenn from Accsys.
Schroenn: Biometric systems have increased their spread significantly over the past few years and pricing has come down too. There is still a place for card systems, but the majority of people we are seeing look for biometrics as their first choice. The pros of biometrics include:
* Radically reducing buddy clocking (the truly innovative can get around just about anything with the right kind of collusion).
* This means that management can be confident of who is where and when.
* Cheaper maintenance as cards are often lost and there is a cost to that.
* People always bring their bodies to work, hence their fingerprint can't be left at home.
The ROI (return on investment) of going from no system to a T&A system can be seen almost immediately, but the average is three to six months. The size of the project will obviously impact on this.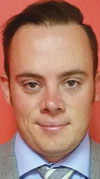 Thomas Marshall from Econz Wireless.
* Marshall: The latest trend is to capture T&A via a mobile device. Mobile time, attendance and GPS applications offer a way for remote staff to capture information that can be transferred to payroll systems like VIP, Pastel, Kronos, etc. Most systems offer the ability to transfer data through Web services or simple Excel spreadsheets. Capturing timecard information via a paper-based system is now the past. The future is mobile data capture since almost everyone has a mobile cellular device. Mobile capture can be an individual capturing time of any field workers, service staff, sales staff, or a foreman/supervisor capturing time for a group of workers.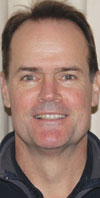 Richard Burton from Eco Time Technology.
Burton: The concept of card-based T&A systems has taken a back seat over the past few years. Undoubtedly, the trend has been towards biometric-based systems with the most common solution being fingerprint. In terms of demand, 80% to 90% of our revenue stream consists of biometric solutions. If implemented correctly biometrics offers business owners peace of mind when it comes to time theft. In certain cases the cost of a biometric solution can be on a par with a card based system (when using RFID for example) after factoring in the costs of RFID cards and the costs of continuous replacement of lost, stolen or damaged cards.
There are a number of biometric solutions available today e.g. retina scanners, vein scanners etc. While these solutions appear to be cutting-edge, they have very little track record in the field. Fingerprint systems have been around for quite some time and have been continuously improved to provide a robust and reliable solution. Eliminating time theft like buddy clocking is a big attraction for business owners. Fingerprint systems with reliable, high quality fingerprint readers will stop this problem in its tracks. The client will very quickly recognise the improvement in productivity and the costs of wages.
Food for thought: 10 minutes of lost time per day results in 1 week of lost productivity per year for a single employee. Now multiply that by your workforce complement and it very quickly becomes evident how important eliminating time theft is to any business.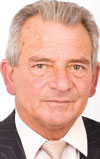 Peter Noppe from Uniclox Technologies.
Noppe: Biometrics is still the top contender when it comes to T&A. The most common biometric is fingerprint technology, but where employees are sensitive to having their fingerprints read (due to privacy and hygiene concerns) then face, vein and hand geometry terminals are preferred. Iris recognition is an option as it is a no-touch system, but because the reader technology proved inefficient in the past, this type of technology is rarely used for T&A.
The key benefit of a biometric terminal is that the employee has to be physically present in order to clock in or out, so that eliminates buddy clocking, which was such a problem in the past with electronic clock cards. Depending on the system, a company can enjoy a reduction in payroll cost of between 5% and 15%, and companies with a large workforce have shown higher savings. One of the biggest issues with biometrics is that each of the systems is governed by their respective biometric trait. Therefore, damage or dirt on your fingertips affects a fingerprint scanner, and you will not be recognised.
It is therefore critical to consider the type of business you are in when selecting the biometric characteristic you measure, and where possible to have a backup system such as a PIN code or key card for users that experience problems regularly.
Hi-Tech Security Solutions: Is there still a demand for non-biometric T&A systems? Why would customers opt for this type of solution? What non-biometric solutions are available?
Schroenn: In certain types of business, biometrics are not ideal. While approximately 3% of the population don't have easily readable fingerprints, there are industries where fingerprints are compromised during the workday, e.g. high acid and abrasive usage. Card, PIN and chip options are some of the options.
Marshall: Biometric devices can experience problems, especially if fingerprint based. Manual workers often do not have clear fingerprints. The most useful non-biometric solution is mobile time, attendance, and GPS application. These applications offer real-time data as well as real-time access to their remote staff, increase productivity and reduce time theft, and thus save on costs.
Burton: Demand for card-based T&A systems continues to decline. Barcode cards are outdated and many companies are discontinuing production thereof. For this reason, mainly RFID cards are used in card-based systems. RFID cards are relatively expensive in comparison and are not as robust as barcode cards (the card is flexible and the coil inside the card can be broken). However, due to the contact-less nature of RFID there is far less wear and tear on the readers which saves on maintenance costs. The main reasons behind the use of card-based systems are in environments where biometrics is unlikely to work reliably e.g. mines, construction etc. In addition, some clients use cards for other systems like HR kiosks, canteen kiosks and want their staff to use one card for all systems. Cards can also have identity information (including a photo) printed on them and displayed by staff on their person. Card systems are generally easier to use, more robust and cheaper than biometric systems so if budget is a concern then cards are an option.
Noppe: Traditional clock card terminals are still in demand, as well as RFID Proximity cards used with software. The traditional clock machines are still widely used by hospitals to monitor theatre times and by services departments for costing and then the smaller companies with a small staff complement. The Proximity card is still the most reliable means of clocking, but it is open to abuse, unless clocking is strictly supervised.
Hi-Tech Security Solutions: Can a biometric T&A system be installed and integrated into payroll and HR applications with ease? Or do they require additional support and customisation from the application developers?
Schroenn: Our solution is a single database running payroll, HR, T&A and access control. There is no additional development support required. We support biometrics (finger and face) as well as card, PIN, Dallas chip.
Marshall: Being able to integrate into multiple payroll systems with ease is essential, regardless of type of system used. We currently offer published Web services SOAP APIs for customers that have a technical resource in-house, and we will support and develop integration for customers as needed. We also have the ability to take data into other systems through CSV/Excel files (all 28 reports are exportable).
Burton: Most payroll systems support the import of T&A data via an ASCI or CSV file. Our system can readily be customised to conform to the requirements of these payroll systems. In addition, our system can be tailored to export other information to HR and payroll systems, e.g. leave records. Although our HR module offers a comprehensive leave accrual system, some clients prefer managing their leave accrual in their payroll systems. We can help with the automation of this process by exporting the leave record and re-importing the leave balances from the payroll/HR system after they have been processed. As our product is locally developed, it enables us to deliver excellent response times on maintenance and service calls. We also have direct involvement in the application development, which means speedy response times even when the application developers need to be involved.
Noppe: Uniclox is able to integrate their systems into almost any payroll system with ease. Integrating into some of the more complex HR applications will require our experts who will work with a trained and experienced software developer to provide a customised solution.
Hi-Tech Security Solutions: Do you advise clients to opt for T&A solutions or would you recommend a full workforce management system that integrates into much more than just time and attendance? Where is the line between T&A and workforce management?
Schroenn: Workforce management includes resource planning and this would depend on the requirement of the client. Employee self service and manager self service also adds to the mix of a strong workforce management tool, as does mobile control.
Marshall: Workforce management holds different meanings to different companies and industries. Timecard GPS is a great way to capture and manage mobile sheets from field staff in an easy-to-use format. Moreover, our Eservice GPS Solution offers a fully mobile field dispatch and work order management system that enables you to send information about customer work orders to teams in the field, and allows them to respond.
Burton: In addition to the T&A system, workforce management systems typically also include modules such as payroll systems, access control and labour costing systems, employee scheduling and tracking systems, amongst others. Eco Time Technology's core focus is to meet the client's T&A needs, as every employer must maintain an accurate record of their employees' attendance. Some of Eco Time Technology's Corporate clients use ERP systems to manage their operation. In these instances, Eco Time has designed its solution to 'feed' the data required from its CSTime software into these systems.
Noppe: Uniclox's forte is T&A, access control and job costing. Each of these applications can be very complex, but we can then integrate our data into the customer's existing workforce management system or ERP system if required.
Hi-Tech Security Solutions: What solutions/products/technology do you provide in the T&A space?
Schroenn: Our full solution, Accsys PeopleWare Enterprise is made up of modules that all work off a single database, but may be purchased individually. PeopleTime is the T&A component, and works both in server and cloud environments, as do all our solutions. The single database means one point of entry and also provides meaningful reports as well as a business intelligence offering. The ESS working with T&A offers daily sign-offs for clockings, as well as mobile approval of leave, views of late arrivals, absenteeism etc. on your mobile phone or tablet. And it clocks people in too.
Marshall: Our solutions are used globally in many industries. We take pride in tailoring aspects of our solutions as needed to fit the customer's needs and struggles in capturing job details from their employees:
The Econz Timecard GPS Lite offers a cost-effective way to track time and job details from individual employees as well as the location and driving behaviour of that employee on the road by gathering information about routes, speed and distance travelled. You receive alerts if the driver exceeds a set speed limit, is stationary for longer than a set period, or travels outside set routes. Econz Timecard GPS Lite offers both satellite and terrestrial mapping, and secure GPS data storage.
The Econz Timecard GPS is the big brother of the Lite package, and comes with additional time and attendance features, enabling employees and team leaders to log time, attendance, tasks, cost codes and breaks on their mobile device. It enables you to track your off-site workers' location and driving behaviour, send messages to workers in the field, and remotely clock employees in and out. In addition, you can generate reports and export data to accounting and payroll systems.
Econz EService GPS is a mobile field dispatch and work order management system enables you to send information about customer work orders to teams in the field, and allows them to respond. It gathers information at remote sites, including workers' locations, job progress and resource usage.
Burton: Eco Time Technology specialises in the marketing, distribution and support of time management solutions throughout South Africa. Our products have been developed to offer a range of integrated T&A, access control, HR and leave management and visitor management solutions. This allows the client to manage all these aspects of workforce management in one easy-to-use software package.
Eco Time also supplies proprietary fingerprint and/or RFID card-based clocks which support TCP/IP and GPRS. CS Time software is user friendly and caters for small business as well as large complex enterprise solutions. The software supports Web-based online leave application and management, paperless visitor management, mobile clocking via smartphone, built-in report writer, integration with sage VIP payroll and most other payroll systems. Our fingerprint clocks use the Lumidigm fingerprint sensor. Eco Time's products are locally developed and manufactured for the South African market. This ensures timeous response on requests for hardware support and excellent servicing in addressing clients software needs.
Noppe: Uniclox offers hand geometry, face geometry, fingerprint and RFID readers as well as a wide range of slave readers and accessories. We also have conventional manual and electronic time clocks, wall clocks, sirens and other auxiliary products for time management.
For more information, go to: www.accsys.co.za, www.econz.co.za, www.eco-time.com, www.uniclox.com
Credit(s)
Further reading:
HID addresses identification challenges at ID4Africa
August 2019 , News, Access Control & Identity Management, Government and Parastatal (Industry)
Being able to verify people's identities is critical for a nation's growth and prosperity and yet HID says nearly half of all African citizens can't prove who they are to vote, travel freely and receive government benefits and services.
Read more...
---
Came acquires Turkish company Özak
August 2019, CAME BPT South Africa , News, Access Control & Identity Management
Came broadens its market horizons and signals growth and consolidation in the Middle East.
Read more...
---
The benefits of electronic visitor management
August 2019, Powell Tronics , Access Control & Identity Management, Residential Estate (Industry)
Access control is a critical aspect of estate security as it represents the controls put in place to restrict entry (and possibly exit) along the outer boundary of the location.
Read more...
---
Addressing risks by means of access control layout and design
August 2019 , Access Control & Identity Management, Security Services & Risk Management
In order to develop a suitable, practical and appropriate security system for any organisation, it is essential to first develop a master security and life safety plan strategy.
Read more...
---
Secure hands-free access
August 2019, Suprema , Access Control & Identity Management, Residential Estate (Industry)
Suprema's facial biometric terminals bring no-touch access into secure residential estates, high-rise apartments and luxury homes providing fast, easy and intuitive user authentication with the added benefit of hygiene.
Read more...
---
MorphoAccess Sigma Extreme
August 2019, IDEMIA , Products, Access Control & Identity Management
MorphoAccess Sigma Extreme from IDEMIA is a touchscreen device with multiple recognition device interfaces (NFC chip reader, PIN and BioPIN codes, contactless card readers).
Read more...
---
Outdoor access terminals
August 2019, Suprema , Access Control & Identity Management, Residential Estate (Industry), Products
Rugged, dust- and weather-proof access control solutions that provide exceptional durability in extreme conditions is a strong requirement for many residential estates.
Read more...
---
MorphoWave Compact
August 2019, IDEMIA , Products, Access Control & Identity Management
The MorphoWave Compact captures and matches four fingerprints on either the right or left hand in any direction. It is robust to environmental factors such as extreme light or dust.
Read more...
---
MorphoAccess Sigma Lite
August 2019, IDEMIA , Products, Access Control & Identity Management
IDEMIA's MorphoAccess Sigma Lite and Lite + are fingerprint access control terminals, offering time and attendance in and out function keys.
Read more...
---
Eliminating forced gate opening scenarios
August 2019, ET Nice , Home Security, Access Control & Identity Management
When activated by the gate forced open alarm feature, the transmitter transmits a wireless alarm signal up to 750 metres in any direction.
Read more...
---