printer friendly version
Integrated border protection in the 21st century
October 2014
Access Control & Identity Management
Border safeguarding is constantly challenged by the ever-changing threats of the 21st century. It is vital to providing a strong defence against external threats such as international terrorism, drugs and foreign disease. Border safeguarding must also be highly efficient, presenting no obstacles to legitimate trade and travel.
The central idea is to protect the homeland from external threats and aggression using integrated strategic, operational and tactical defensive and offensive measures as the situation requires. The ability to detect, deter, prevent or if necessary defeat threats is a required capability for protection of the border.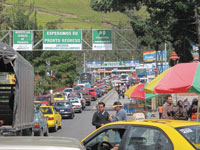 Crossing the Colombia-Ecuador border. Attribution: Some rights reserved by Fabulousfabs. Image via Flickr Creative Commons (www.flickr.com/photos/fabulousfabs/)
Border safeguarding incorporates all applications of land, air and naval power designed to detect, pre-empt, respond to, mitigate, and recover from the full spectrum of incidents and threats to the country, whether man-made or natural. It involves a unique collection of government departments, civil agencies and in some instances non-governmental organisations, which present a number of challenges that can be summarised as follows:
* Border safeguarding operations are distinguished by reliance on coordination rather than control.
* The multiplicity of government departments, civil agencies and non-governmental organisations and wide variety of potential types of border safeguarding operations make a common operational picture (COP) very difficult. A government department and civil agencies' COP is often dependent upon the type of scenario in which it is involved and its functions, roles, and responsibilities in relation to the scenario.
* The processes used by civil agencies are complex and the number of different agencies involved adds to the complexity, and
* Different departments and agencies have different rules of engagement.
It is thus very important that these aspects must be addressed in a national management system for border safeguarding that must integrate effective practices in emergency preparedness and response into a comprehensive national framework. It requires a coordinated commitment with cooperation among all levels of government, the private sector, and individual citizens to be successful.
Employment of the latest ICT
The world of command and control is in the midst of a paradigm shift, a change in the way we think about the subject. Information Age concepts and technologies offer opportunities to do things we could never do before. It is time to recognise that, if we are to be successful in meeting the 21st century challenges that we face, there will be major discontinuities between the command and control concepts and practices being taught and practiced today and those of tomorrow.
Today's missions differ from traditional military missions, and are simultaneously more complex and more dynamic, requiring the collective capabilities and efforts of many organisations in order to succeed. This requirement for assembling a diverse set of capabilities and organisations into an effective coalition is accompanied by shrinking windows of response opportunity. Traditional approaches to command and control are not up to the challenge. Simply stated, they lack the agility required in the 21st century. Fortunately, advances in information technologies have created a new space within which individuals and organisations can operate.
In order to ensure that the border safeguarding environment remains at the forefront of technology innovative ideas will have to be adopted and implemented taking into consideration the rapid change in technology and the resultant cost. This will be no more visible than in the acquisition of a suitable C2 solution for border safeguarding when conducting Joint, Integrated, Inter-agency and Multi National [JI2M] operations.
It is in the light of this experience, and the role that technology has played in improving the command and control capabilities of military forces, that one should review the advantages to be gained from:
* The effective utilisation of proven technology, and
* The capabilities of industry to support the functional requirements of the military for border safeguarding command and control.
Everyone must have 'the picture', the same picture, the only picture, fully integrated, secure, identified, in time, covering all land, sea and airborne forces. The key, however, lies in the approach at military level, the clear definition of the requirement, the identification of all the role players (including industry), effective utilisation of national assets and building on past experience, and lastly, applying the right level of technology to suit the environment.
Some of the questions vital to the process of shaping the future of border safeguarding command and control capabilities of the military should focus on:
* The role that modern technology will play in providing effective border safeguarding, and
* How industry must support the efforts of the military.
The need for faster, more accurate, more reliable, available information to support integrated command and control continues to grow at an ever-increasing pace.
Impact of the increasing dependency on MOTS and COTS
Technology is constantly evolving and as such it will be difficult to keep pace with the development of technology. In order to address this challenge in the border safeguarding environment the idea is increasingly turning to the acquisition of military-off-the-shelf (MOTS) and commercial-off-the-shelf (COTS) products integrated to provide an effective solution.
This is very relevant in today's defence environment where funds are scarce and the intervals at which large sums of funding is being availed for big and complex defence projects are becoming very long. The focus is thus on the procurement of COTS and MOTS products integrated in such a way that it provides the desired result. This is also mostly done to offset obsolescence management in reaction to shortening product and technology life cycles.
Although a lot of emphasis is placed on MOTS products and solutions, one will seldom find a product or solution that fully complies with all specific requirements, as such systems are usually developed according to pre-defined requirements and will in most instances require some changes and re-work in order to tailor it to own requirements.
Many of the military's COTS-based systems also require modification to withstand the harsh conditions common in the soldier's environment. Instead of starting from scratch, many designers are using a building-block approach, purchasing a basic COTS system and then adapting the configuration to meet application-specific requirements.
Ensuring safety and effectiveness
The emergence of new threats and measures taken by the military to adapt its capabilities accordingly has led to changes in operational requirements for the military. These changes have significantly enhanced the importance of interoperability with respect to matériel, doctrine, tactics, training, communication, and many other areas in which interoperability is a major factor for military forces and the systems that support them. This in effect entails that where possible standardisation of matériel, doctrine, tactics, training and communications should be established.
The objective of standardisation is to achieve the required critical level of interoperability with regard to all these aspects. Standardisation makes a vital contribution to the combined operational effectiveness of the military and promotes opportunities for the better use of economic resources.
Extensive efforts must be made to improve cooperation and to eliminate duplication in the research, development, production, procurement and logistic support of border safeguarding systems, primarily through the promulgation of standardisation agreements.
Implementation of standardisation agreements will assist the military to achieve the required levels of interoperability and to better accomplish the common strategic, operational and tactical tasks, to understand and execute command procedures, and to employ techniques, matériel and equipment more efficiently.
Due to the complexity of the JI2M environment and the role that border safeguarding will play in said environment it is of the utmost importance that safety and effectiveness of border safeguarding systems can be verified and validated.
The principal forum for the elaboration of standardisation policy can be an integrated development environment (IDE) or capability demonstration centre (CDC), which should aim to incorporate standardisation as an integral part of planning and acts as a coordinator between the military and the industry addressing standardisation requirements. For event management and disaster management support others role players like government departments, civil agencies and non-governmental organisations could also be included.
Facilities such as the IDE/CDC do have a role to play in verifying and validating system of systems interoperability and doctrine. What must however be kept in mind is that such an institution must at all times obtain guidelines from the user environment against which such actions can be measured.
It should undertake this by initiating, harmonising and coordinating standardisation efforts throughout the military and the defence industry and by providing support for standardisation activities. It should also act on behalf of the military in developing, coordinating and assessing operational standardisation matters.
The various arms of service should develop and implement concepts, doctrines, procedures and designs which will enable them to achieve and maintain interoperability. This requires the establishment of the necessary levels of compatibility, interchangeability or commonality in operational, procedural, material, technical and administrative fields in conjunction with the defence industry.
The IDE/CDC must provide an integrated planning, experimentation, development and preparation process to examine new concepts in doctrine, organisation and technology that is required for current and future joint command and control through workshops, symposia, experimentation, simulation, demonstrations and field exercises. It should also provide an integrating environment for transformation activities for services, joint forces, combatant commands and other key role-players and partners.
The IDE/CDC should support various military transformation events through live or virtual, classified/unclassified and JI2M experimentation and should also create an environment in which interoperability and the establishment of capabilities can be tested, evaluated, validated and verified and as such not become involved in the development of systems and capabilities other than providing standards and the validation of conformance thereto.
Conclusion
Securing a nation's vast and diverse borders is a daunting task. The nature, size, and complexity of borders highlight the importance of the military, government departments, civil agencies and non-governmental organisations working together to enhance security.
Border safeguarding is an extremely challenging and demanding joint and combined operation. It requires detailed planning and execution that is a focused effort across the military, government departments, civil agencies and non-governmental organisations. The key to success is a system that can effectively employ the C4I structure to plan and execute a border safeguarding plan that supports Joint, Integrated, Inter-agency and Multi National [JI2M] operations at tactical and operational levels.
For more information contact Anne Lewis-Olsson, Saab sub-Saharan Africa, +27 (0)71 681 0429, www.saabgroup
Further reading:
HID addresses identification challenges at ID4Africa
August 2019 , News, Access Control & Identity Management, Government and Parastatal (Industry)
Being able to verify people's identities is critical for a nation's growth and prosperity and yet HID says nearly half of all African citizens can't prove who they are to vote, travel freely and receive government benefits and services.
Read more...
---
Came acquires Turkish company Özak
August 2019, CAME BPT South Africa , News, Access Control & Identity Management
Came broadens its market horizons and signals growth and consolidation in the Middle East.
Read more...
---
The benefits of electronic visitor management
August 2019, Powell Tronics , Access Control & Identity Management, Residential Estate (Industry)
Access control is a critical aspect of estate security as it represents the controls put in place to restrict entry (and possibly exit) along the outer boundary of the location.
Read more...
---
Addressing risks by means of access control layout and design
August 2019 , Access Control & Identity Management, Security Services & Risk Management
In order to develop a suitable, practical and appropriate security system for any organisation, it is essential to first develop a master security and life safety plan strategy.
Read more...
---
Secure hands-free access
August 2019, Suprema , Access Control & Identity Management, Residential Estate (Industry)
Suprema's facial biometric terminals bring no-touch access into secure residential estates, high-rise apartments and luxury homes providing fast, easy and intuitive user authentication with the added benefit of hygiene.
Read more...
---
MorphoAccess Sigma Extreme
August 2019, IDEMIA , Products, Access Control & Identity Management
MorphoAccess Sigma Extreme from IDEMIA is a touchscreen device with multiple recognition device interfaces (NFC chip reader, PIN and BioPIN codes, contactless card readers).
Read more...
---
Outdoor access terminals
August 2019, Suprema , Access Control & Identity Management, Residential Estate (Industry), Products
Rugged, dust- and weather-proof access control solutions that provide exceptional durability in extreme conditions is a strong requirement for many residential estates.
Read more...
---
MorphoWave Compact
August 2019, IDEMIA , Products, Access Control & Identity Management
The MorphoWave Compact captures and matches four fingerprints on either the right or left hand in any direction. It is robust to environmental factors such as extreme light or dust.
Read more...
---
MorphoAccess Sigma Lite
August 2019, IDEMIA , Products, Access Control & Identity Management
IDEMIA's MorphoAccess Sigma Lite and Lite + are fingerprint access control terminals, offering time and attendance in and out function keys.
Read more...
---
Eliminating forced gate opening scenarios
August 2019, ET Nice , Home Security, Access Control & Identity Management
When activated by the gate forced open alarm feature, the transmitter transmits a wireless alarm signal up to 750 metres in any direction.
Read more...
---