printer friendly version
Analytics, 4K and the cloud
CCTV Handbook 2014
News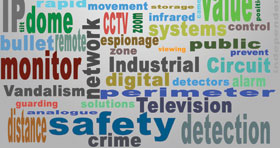 What changes should we be aware of in the surveillance market? What technologies are going to take the security camera out of security's hands and make it a business tool? Our round-table attendees discuss these questions and more.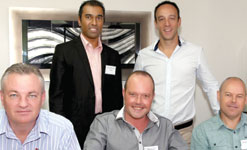 Seated: Brian Wynberger, MJ Oosthuizen, Bertus van Jaarsveld. Standing: Jeremy Padayachee, Roy Alves.
Keeping up with our tradition of getting the latest insights from the horses' mouths, so to speak, Hi-Tech Security Solutions hosted a round-table and asked a few people from the surveillance industry to gather around our boardroom table to discuss what they saw as the major trends and happenings the industry would experience in 2014. Getting those in the industry to share their views and talk among each other provides our readers with a different take on market trends as the participants come from different areas of the market and specialise in various fields, making for an interesting conversation.
The CCTV Handbook 2014 round-table produced an interesting conversation touching on a few pertinent issues that those who will be buying or selling surveillance products over the next year or so should be aware of.
Our participants this year were:
Brian Wynberger, national technical manager at security distributor Reditron. When looking ahead, Wynberger says video analytics is becoming more prevalent as the software delivers better results than ever before. Another trend he sees is an increase in the number of integrated systems in demand, consisting of access control, alarm and intrusion and building management systems and so on.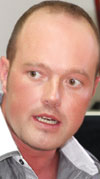 MJ Oosthuizen, international business development manager for Sunell.
MJ Oosthuizen who is a consultant, primarily acting as international business development manager for Sunell at the moment, but with extensive experience in the distribution field. He expects to see cloud-based surveillance solutions expanding this year as well as an improvement in the internal processors of cameras to support more video analytics on the edge (i.e. in the camera itself).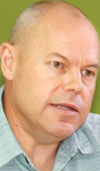 Bertus van Jaarsveld is the CEO of Miro distribution.
Bertus van Jaarsveld is the CEO of Miro Distribution, a networking ICT distributor. Miro supplies a lot of wireless networking products as well as security – and sometimes the two go together. He also foresees a big push towards cloud integration, online availability of systems and a drive to increase the ease of configuration and integration. He also expects to see interesting movement in the storage arena.
Jeremy Padayachee is the technical director of VideoIQ South Africa.
Jeremy Padayachee is the technical director of VideoIQ South Africa, a pure analytics player that offers business intelligence by piggy backing on existing installations and working with existing system integrators and installers. He says the major trend he sees, like the others, is video analytics becoming more important. Although he notes there is still a substantial amount of naïvety in the market when it comes to analytics. "I think there's a steep learning curve for the traditional installers coming into the market and trying to deploy analytic solutions. He adds that VideoIQ is also seeing a more marked convergence between IT and security as integration becomes more important.
Roy Alves from Axis Communications believes we've seen the much talked-about tipping point of more IP cameras being shipped than analogue in South Africa this year, and this trend is also moving into Africa. He also mentions the growing importance of analytics as well as integration – starting with the integration of access control and surveillance solutions.
Representing a camera manufacturer, Alves also says there is a significant emphasis on 4K (high quality video also known as ultra HD. "I see there's a lot of it in the consumer space, and the surveillance market always follows the consumer market.
Other important issues in the market Alves sees are manufacturers supporting open systems and standards, and an increase in edge storage across the board.
Extracting intelligence from video data
One of the biggest issues people are having to deal with these days is how to take the video data they store and apply it or mine it for more than security purposes. In the IT world, this used to be called business intelligence (BI), and today it's called big data – the problem of dealing with enormous amounts of data and getting useful information from it.
Padayachee says there are queries from all sorts of industries about making better use of data, especially from the retail sector. He says that video gives you the emotional aspect of data versus your traditional big data, which is two-dimensional and only gives you insight into patterns in terms of transactional data. "Video gives you the real emotional feel of what customers are doing in the shopping centre, from people counting to hotspots and more."
He also warns that the IT industry has been hurt by the complexity of BI installations in the past and in some areas sports only a 50% success rate for these solutions – and now companies want to add video data to the equation. Storage is going to play an important part of the equation, whether it's the addition of transitional storage systems to allow for video processing or other changes to the traditional infrastructure. Whatever the case, this is still a new field in the video world and it's going to take time to make sense of it all.
Metadata and how to extract it will become increasingly important, according to Alves. He says companies need to start making use of intelligence to find 'interesting' data. For example, the retail field has been using surveillance for years, but they are only now starting to use it to benefit the business. Today we see retailers combining video data with transactional data to find issues – like for example if one cashier sells 100 boxes of matches every day while the others sell only 10 on average there is an anomaly that needs to be investigated.
He adds that it is also the case that black screen technology (an alert is presented when an event happens instead of having operators watching the screen on a 24x7 basis) is being used not only to alert operators in the control room, but also to alert people on their mobile devices in real time. He believes the importance of mobile access to video streams when appropriate is going to be huge.
While BI or data mining is becoming more important as well as more challenging, Oosthuizen adds that reporting is the next biggest challenge. Skilled manpower is even more lacking in these data areas than in the transitional IT areas and vendors are reaching the point where they must try to make the mining as easy and automated as possible. At the same time, however, they must focus on the same ease of use for reporting so that it's easier to get the right information to the right people in a format that is easily understood and acted upon.
And while retail is a sweet spot for video intelligence at the moment, Wynberger, says the interest is growing in other sectors as well, like banking. Even departments normally not interested in video and surveillance are learning the value of this type of data. Marketing departments can make good use of information about, for example, how long people watch a screen for or the time they stand in a specific location.
However, he warns that there is a lot of naïvety when it comes to video analytics as many people expect it to be 100% accurate all the time. This is something to educate the user about and something for the vendors to work on.
Underperforming analytics
On this point, Alves notes that while analytics has been oversold and has generally failed to perform over the years, the improvements in image quality we've seen from camera manufacturers has allowed analytics software to improve its performance significantly.
Oosthuizen agrees, noting that products such as motion detection, number plate recognition and perimeter protection solutions are working well at the moment, especially when including directional motion and trip wires.
It's also important to decide where the analytics application is going to be run, says Padayachee. In some cases, such as perimeter analytics, it can be run on the edge (in the camera), while in others, for facial recognition or number plate recognition, for example, it generally happens on the server. Each is run in the optimal way to deliver results and make optimal use of resources.
It's also important for users and integrators to know what they plan to achieve with their analytics. Van Jaarsveld says it's pointless to have vast amounts of video data with analytic applications; the important thing is to be able to translate these to results that deliver business benefits. If you don't plan it properly you simply end up with vast amounts of video with another layer on top, which is your analytics data, and you're doing as little with that as you do with the underlying video data – expensive and pointless.
H.265 and Ultra HD
If we accept that better images will deliver better analytics as there are so many more pixels for the software to examine, then we must also take notice of the latest in resolution. As noted above, the surveillance market follows the consumer market and we have seen many 4K (or Ultra HD) televisions hitting the exhibition trail this year, so when will the security industry follow? And will the newest compression standard, H.265 boost the uptake of the new format and limit the larger storage and bandwidth requirements it brings along? (H.265 supposedly gives a 50% increase in compression than H.264.)
Alves is certain 4K (and possibly 8K) as well as H.265 will be the standard in the near future and there are already companies displaying products based on these standards – as far as they have been developed. However, there are still some hurdles to overcome before we see massive adoption.
"The challenges," Alves explains, "are the same as we saw for H.264 in terms of the processing power requirements. It's one thing encoding the video on the camera side, but then on the other end where you're recording the video it becomes very CPU intensive at the moment.
"Recording and writing to disk seems to work well enough, but when you examine the video, playing it backwards for example, the CPU load is intense. So we need to get past these hurdles before we will see mass adoption."
Oosthuizen says the proof of concepts he has seen of companies producing 4K cameras with H.265 encryption does not deliver the 50% improvement promised. Real-world tests show between 15% and 25% at best. Even with the frontrunners in 4k and/or H.265 delivering example devices now, we will only see products towards the end of the year as the developers deal with the increased processing power required and other design issues. And Van Jaarsveld adds that there are storage considerations to take into account as well.
The old cloud conundrum
While it's no longer a new technology, cloud-based surveillance services are finding traction in some countries. The market has always been nervous about trusting video to the cloud because of the cost and reliability of local bandwidth, but this seems to be changing (to a limited degree).
One of the projects Oosthuizen is testing at the moment involves cloud services. He admits bandwidth costs and reliability are an issue, but also notes that wireless connectivity, especially the quality and not the quantity of the bandwidth is becoming an issue many providers are focusing on. H.265, when it's working as required, will play a role in promoting these surveillance scenarios, although he expects to see more edge storage being used and bandwidth being occupied mainly for alarm triggers etc.
Alves supports this view, noting that even with the general improvements in bandwidth, the upstream pipes are still insufficient (ADSL severely limits the upstream capabilities, which is what cloud-based video footage would require).
The issue of convergence comes into play here as well as the attendees agreed that the security industry tends to operate in a bubble instead of using what other industries, like IT have already done. Padayachee notes that you can't talk about cloud from a video sense unless you take the capabilities of data centres into account as well as the networks that will be tasked with transporting the video. Hosting ERP (enterprise resource planning) systems is vastly different from hosting video servers, but the network optimisation processes are even more critical in the surveillance model.
He adds that analytics and metadata is all the more important here because it's not about watching video on a 24x7 basis, but watching the events that are relevant to the viewer. In this regard, the security manager will want to be alerted to different events than the CEO would. This extends right into the realm of governance, risk and compliance, as well as safety and health, which is a new arena for surveillance experts.
Finally, Van Jaarsveld says the primary adoption of cloud-based surveillance services in South Africa is seen in the consumer space where multiple vendors are bringing out cloud service bundled with cameras. "I think the key to that is integration for the home user."
The services being rolled out are far easier than they used to be. The user does not need to know about their IP address or port forwarding, it's all built into the cameras. All you need are a username and password. He adds that on the business front we're seeing a lot of remote monitoring and virtual patrolling.
At the same time in the alarm and intrusion sector, Wynberger says we're seeing a growing market for video verification where a camera is linked to an alarm. When the alarm sounds, the incident can be verified via the camera and false alarms ignored. When there is a real problem, the security company or police can be sent in knowing what waits on the other side of the fence.
Vertical focus or not?
A final question we put to the attendees was whether we'd see more systems and solutions being developed especially for vertical markets. There seems to be a trend in some areas to focus on specific verticals, with vendors or integrators claiming expertise in these areas. Of course, expertise and experience is vastly different from products.
The answer to the vertical scenario is both yes and no. In terms of hardware, even if cameras are initially designed for specific verticals, they soon become commoditised and are used in a broad range of industries. Thermal cameras are an example of this as they continually find new uses in various scenarios.
In terms of software, however, analytics is where specialisation or a vertical focus comes into play. The retail industry is a clear example of this as analytics are developed specifically for this environment. At the same time, we sometimes see even software solutions being adopted in other arenas once they have proven their worth in a one target area.
As is always the case in Hi-Tech Security Solutions' round tables, the debate offers much more than we can translate into an article. However, this article brought out most of the issues discussed and highlighted what people in the industry see as the important issues and trends we should see emerging in the near future. Other articles in the CCTV Handbook 2014 will expand on this and discuss other trends.
One thing is certain, however. The surveillance market is still a fast-moving and innovative segment of the security industry and users or potential users will do well to do their homework before making investments in technology to ensure they spend money wisely on systems and solutions that can meet their needs now and for the long term.
Contacts
Reditron, 087 802 CCTV (2288), [email protected], www.reditron.co.za
Sunell SA, +27 (0)11 469 3598, [email protected], www.sunellsecurity.com
Miro distribution, 086 123 MIRO, [email protected], www.miro.co.za
VideoIQ South Africa, 0861 VIDEOIQ, [email protected], www.videoiq.co.za
Axis Communications, +27 (0)11 548 6780, [email protected], www.axis.com
Credit(s)
Further reading:
Compact, lightweight bullet cameras with support for analytics
Axis Communications SA Products CCTV, Surveillance & Remote Monitoring
Axis Communications announced two new outdoor-ready bullet-style cameras featuring deep-learning processing units for analytics based on deep learning on the edge.
Read more...
---
Johnny Aucamp joins iPulse exco
News
Johnny Aucamp has joined iPulse Systems as its chief sales officer (CSO), adding a massive boost to the executive team.
Read more...
---
A key to urban transport challenges
Axis Communications SA Transport (Industry) CCTV, Surveillance & Remote Monitoring Integrated Solutions Logistics (Industry)
There are many enabling technologies that can impact transportation in South Africa, but a good place to start is by considering the applications for smart physical technology with the ability to collect and respond to data.
Read more...
---
From the editor's desk: Security and resilience
Technews Publishing News
It's often said that South Africans are a resilient bunch, and history has proven this correct. When it comes to security, both cyber and physical, resilience is key to an effective defensive plan. ...
Read more...
---
Hikvision aims for solutions
Technews Publishing Hikvision South Africa Editor's Choice CCTV, Surveillance & Remote Monitoring News Integrated Solutions Conferences & Events
Hikvision recently held a roadshow titled Industry X, where the company highlighted its latest products and solutions, supported by partners and distributors.
Read more...
---
Olarm launches PRO 4G communicator
Olarm News Perimeter Security, Alarms & Intruder Detection Products
Olarm has announced an additional 4G/LTE version of its Olarm PRO smart communicator. It is aimed at areas suffering from poor connectivity by providing support for 4G, 2G and Wi-Fi networks.
Read more...
---
ADI Expo returns to South Africa
Technews Publishing ADI Global Distribution News
September saw the return of the ADI Expo to South Africa. The Johannesburg event was held at the Focus Rooms and the Durban event, two days later, at the Southern Sun Elangeni & Maharani.
Read more...
---
Technoswitch Awards dinner for 2022
Technews Publishing News Fire & Safety
Technoswitch hosted its fifth awards dinner at Montecasino in September, where customers and suppliers celebrated a year of success.
Read more...
---
Suprema joins FiRa Consortium
Suprema News Access Control & Identity Management
Suprema recently became a member of the FiRa Consortium, a consultative body that establishes standards for ultra-wideband (UWB) technology, the next generation of wireless communication.
Read more...
---
Reliable, low-maintenance video appliances
Technews Publishing Editor's Choice CCTV, Surveillance & Remote Monitoring News IT infrastructure Products
Symetrix, part of the Agera Group, has added the AES range of video recording servers, storage appliances and workstations to its portfolio.
Read more...
---