printer friendly version
Visual alarm devices enable effective, lifesaving evacuation
August 2019
Fire & Safety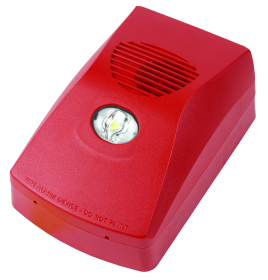 In the event of a fire, saving lives is the highest priority. Building occupants need to be alerted as early as possible using alarm devices, so they can evacuate quickly. It is a mandatory requirement for audio alarms to be used as an integral part of the fire detection and alarm system. Visual alarm devices (VADs) are used to supplement audio, providing an effective means of alerting and evacuating occupants.
EN54-23 standard for visual alarm devices
The installation of VADs has been mandatory since January 2014 and with the introduction of EN54-23 the use of VADs has grown considerably. The recent release of EN54-23 by the European Committee for Standardization (CEN) clarifies the use of visual alarm devices in fire detection and alarm systems for non-domestic premises.
EN54-23 provides clarity by standardising requirements, test methods and performance criteria of VADs and ensures all device parameters are measured in a uniform manner. Prior to its release, misinterpretation and confusion over a particular product's performance was a common concern in the industry, since there was no EN standard in existence for VADs.
Where visual alarm devices are needed
Regulations and codes recommend that VADs should be installed in places where audible devices alone would be ineffective or where they are simply undesirable. Typical applications where VADs should
be installed are areas with hearing impaired people, hospitals or sleeping areas like hotels, public assembly buildings, broadcasting studios, manufacturing sites or where people wear hearing protection due to high ambient-level noise.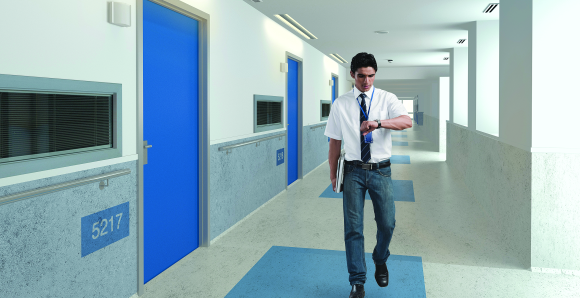 Requirements for VADs
There are four main requirements each VAD needs to achieve to be compliant with EN54-23. First is the illumination level, with a minimum of 0,4 lux in the area covered by the device. Second is the flash rate, which should be set at 0,5 Hz to 2 Hz.
Flash colour is the third consideration and is dependent on how the evacuation criteria are defined. Red or white light can be used for a single-stage evacuation, while amber may be used for the first stage in a multi-stage evacuation process. Keep in mind that white light requires higher power consumption than other colours, which should be taken into consideration when the fire alarm system is designed.
The fourth criterion is the installation category, which refers to the area illuminated by the VADs. These are mainly classified by wall category, ceiling category and open class category. There is also a distinction between devices for indoor and outdoor use.
The coverage volume that can be achieved with VADs today has increased due to advancements in technology. Depending on the category, the diameter of coverage ranges between 7,5 metres and 15 metres. This means fewer devices are required to reach the same exposure.
Faster evacuation with shorter pulse length
In addition to alerting occupants as early as possible, it is important to quickly foster a reaction so they understand they must leave the building immediately. Independent laboratory tests show the way people react to a VAD is influenced by the duration of the pulse. Interestingly, the shorter the pulse duration, the faster the reaction. Consequently, shorter pulse durations of LED VADs will result in improved attention from occupants.
Regular testing of fire detection systems is necessary but often disruptive, especially in buildings such as hospitals or hotels. The latest VADs available offer automatic self-test features which minimise disruption during testing.
Automatic self-tests can be scheduled at any time and the test duration is typically less than 1 second per device, so there is virtually no disruption to occupants. Additionally, accuracy is high as the system monitors real physical outputs and not just electrical simulations.
VADs offer a fast and effective way to alert and evacuate people during an emergency. Environmental conditions, ambient light levels and other factors determine the type and specification of the devices required. Therefore, it's advisable to carry out a fire risk assessment of the area before applying any system design. This will maximise the effectiveness of the system and increase the potential to save lives.
Anja Schäfers joined Johnson Controls in 2012 and has more than 7 years of experience in the fire industry. She holds the position of a product marketing manager for the EMEA region and supports both the FireClass and ZETTLER fire detection product portfolios. Anja earned her Master's degree of business administration and is based out of the Johnson Controls office in Munich, Germany.
For more information, contact Shane Payne, Johnson Controls, +27 11 011 4069, [email protected], www.johnsoncontrols.com
Credit(s)
Further reading:
Fidelity SecureFire steps into critical fire response space
News Fire & Safety
With the majority of fire stations around the country being crippled by a lack of resources to offer effective responses, Fidelity Fire Solutions has launched its own 'first responder' model, Fidelity SecureFire.
Read more...
---
Long-distance connectivity with Simplex ES Net Life Safety
Johnson Controls Global Products Fire & Safety Products
ES Net Network Bridge allows fire alarm system data to be transmitted across distant buildings via a customer's existing network infrastructure, improving system-wide monitoring and control in facilities and campuses where life safety networks are often widely dispersed.
Read more...
---
Elvey Group and Technoswitch part ways
Elvey Security Technologies Fire & Safety News
The Elvey Group (a division of the Hudaco Group of Companies) is relinquishing its distributorship of the Technoswitch brand, following Hudaco's acquisition of Brigit Fire.
Read more...
---
From one month to 10 minutes
Dahua Technology South Africa Fire & Safety
Dahua has integrated technology with the inspection mode of the photovoltaic power station in order to create a robust system that can monitor the fire situation in the power plant and its surrounding areas 24/7.
Read more...
---
Protecting poultry processing plant
Technoswitch Fire Detection & Suppression Fire & Safety
Grain Field Chickens, based in Reitz in the Orange Free State Province, features all the typical fire detection challenges one would expect to encounter in a food processing facility.
Read more...
---
Fire prevention for energy systems
Technoswitch Fire Detection & Suppression Fire & Safety
With the significant push towards renewable energy, such as wind and solar, the demand for battery energy storage systems has grown exponentially, as has the need for fire safety solutions for these environments.
Read more...
---
Fire risks in solar panel installations
Technoswitch Fire Detection & Suppression Fire & Safety
Installed global solar capacity doubled in three years from 2018, and the expectation is that in the next three years, it will more than double. In South Africa, the year-on-year growth from 2021 to 2022 was 24,90%.
Read more...
---
Smart firefighting
Fire & Safety IT infrastructure
By integrating smart radios, innovative wireless technologies, fusion field networks, and IoT sensors, firefighters can respond faster and coordinate better during emergencies, protecting lives, property, and their own safety.
Read more...
---
Compliant with the National Building Regulations?
Fire & Safety
Over the past few years, there has been a surge in building fires, increasing the risk for loss of life and damage to structures and property.
Read more...
---
Make sure your alternative power solutions are not a fire hazard
Fire & Safety
While alternative heating and energy devices fulfil a crucial role in the current energy crisis, Fidelity Fire Solutions reminds users that such devices can pose a risk if not installed, stored and used properly.
Read more...
---