printer friendly version
Simplifying fire detection system installations
May 2019 Editor's Choice, Fire & Safety, Security Services & Risk Management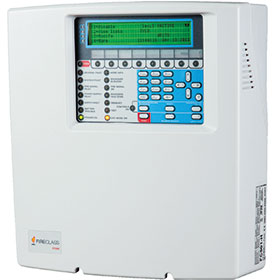 Due to the nature of its intended purpose, a fire detection system needs to be selected with extreme care. Aligned to this is the importance of selecting an installer that not only understands the various technologies employed in fire detection, but who also has the necessary accreditations and certifications to perform such an installation.
Brett Boyd, product specialist for fire at Elvey, says that the first step when selecting an installer is to ensure that they have predefined accreditations that include SANS 10139 (fire detection and alarm systems for buildings), SANS 322 (fire detection and alarm systems for hospitals) and SANS 246 (fire protection for electronic equipment installations). Furthermore, they should be certified by the South African Qualification and Certification Committee (SAQCC) Fire.
Elvey has a wide range of addressable, conventional and specialised fire detection products to provide greater choice for installers and end users, aligned with their specific requirements. Typically, the choice of which system is determined by a number of factors that include the size/layout of the building to be protected, user requirements, category of risk and budget.
Conventional panels
Conventional panels are often used in small to medium sized facilities where a few zones can provide sufficient alarm annunciation. The FireClass J400 series of conventional panels available in 2-zone, 4-zone, 8-zone and 8-zone extendable (up to 24 zones), provide fire detection together with both visual and audio alerts and call points.
Boyd says that systems can be easily enhanced by adding the extinguishing module which allows the panel to work in conjunction with gas suppression systems. This makes it ideal for use in sensitive areas such as IT server rooms.
The FireClass Prescient III gaseous extinguishant control panel is powerful yet user-friendly and is designed and manufactured to a high standard. Three fully-monitored detection zones are provided: Zones 1 and 2 normally provide first stage and second stage fire conditions to allow extinguishant discharge (coincidence detection zones). Zone 3 is an auxiliary zone for detection-only purposes and Zone 4 is used as a manual release zone.
Addressable panels
Addressable fire detection systems use digital encoding and multiplex technology to more accurately identify alarm locations and device conditions. Each fire alarm device in a system is programmed with a unique address.
The FireClass FC501 is the flagship product in the company's addressable solutions for small systems range. This out-of-the-box panel offers the simplicity of a conventional system, but with the benefits associated with FireClass' addressable digital technology.
Using single-loop technology, it enables three circuits of devices to be connected to the loop. This results in greater flexibility and a simplification of the wiring process. The triple sensor allows for the detection of smoke, CO and heat.
"The configuration software used by the FC501 makes the system extremely user friendly and intuitive. Programming of the system is performed in a few quick and easy steps. The system is auto addressing and has intelli-zone mapping, a USB interface and is configured using an integrated keypad," Boyd points out.
A full range of 2- and 4-loop addressable panels are also available.
Specialised fire products
The Xtralis OSID (open-area smoke imaging detection) system uses a sophisticated algorithm to map and compare the strength of infrared (IR) and ultraviolet (UV) light signals from detectors configured in a building.
Using a CMOS imager with wide viewing angles, the system can easily compensate for drift caused by natural shifts in building structures, making it extremely accurate. Furthermore, it is highly resistant to potential interference caused by dust, fogging, steam, reflections and object intrusion into the field of detection.
The Xtralis VESDA (Very Early Smoke Detection Aspirator) provides high sensitivity detection for clean rooms that require fast detection. VESDA works by continuously drawing air into a distributed pipe network via a high-efficiency aspirator. The air sample then passes through a dual-stage filter to remove dust and provide an additional clean-air supply to keep the detector's optical surfaces free from contamination. From the filter, the air sample goes through the detection chamber where it is exposed to a laser light source.
When smoke is present, light is scattered within the detection chamber and is instantly identified by the highly sensitive receiver system. The signal is then processed and presented via a bar-graph display, alarm threshold indicators and/or graphic display. VESDA detectors are able to communicate this information to a fire alarm control panel, a software management system, or a building management system via relays or a High Level Interface (HLI).
"Because each end-user requirement is different and therefore no two installations will be identical, the Elvey team consults closely with installers to design a solution that is tailored to suit specific risk factors and needs. Leveraging our years of technical experience and best-of-class fire detection systems from leading suppliers, we are able to provide increased safety for the people occupying and visiting end user premises," says Boyd.
Credit(s)
Further reading:
Fulcrum Biometrics expands into Africa
Issue 3 2020, Fulcrum Biometrics , Editor's Choice
Fulcrum Biometrics Southern Africa, a subsidiary of Fulcrum Biometrics in Texas, USA, has been launched in Johannesburg with a number of industry stalwarts at the helm.
Read more...
---
Post lockdown implications for crime rates
Issue 3 2020, Leaderware , Editor's Choice
Post lockdown, we can expect security managers and security service providers to come under increasing scrutiny to up their game.
Read more...
---
Financing for the systems integrator
Issue 3 2020, Elvey Security Technologies , Integrated Solutions
Financing your security project through your technology distributor can benefit both the systems integrator and the end user.
Read more...
---
Four financial risks for the future
Issue 3 2020, CA Southern Africa , Editor's Choice
Gregory Dellas, security presales consultant at CA Southern Africa, highlights four areas of cyber-risk the financial industry will face in 2020 onwards.
Read more...
---
Elvey exclusive Aiphone distributor
Issue 3 2020, Elvey Security Technologies , Access Control & Identity Management
Aiphone has appointed the Elvey Group as its official distributor in South Africa with effect from 1 April 2020.
Read more...
---
Securex postponed to August 2020 due to COVID-19
Issue 3 2020 , Editor's Choice
Specialised Exhibitions has opted to reschedule its Securex South Africa, A-OSH Expo and Facilities Management Expo trade shows to 18 to 20 August 2020.
Read more...
---
Leaders in risk & security: Yesterday's achievement, tomorrow's standard
Issue 3 2020, Technews Publishing , Editor's Choice
Jack Edery ran a successful security distribution company and developed a team that was the envy of his competitors.
Read more...
---
The impact of the COVID-19 virus on security
Issue 3 2020, Leaderware , Editor's Choice
The social and personal implications of the COVID-19 Corona virus has already had a devastating impact on countries, social institutions, communities, businesses and individuals.
Read more...
---
85% of South African businesses are vulnerable to disruption
Issue 3 2020 , Editor's Choice
Disruption is an inescapable and growing threat across industries in South Africa. Accenture's 2020 Innovation Maturity Index shows that the majority of South African companies are vulnerable.
Read more...
---
Round table: Secure identification and authentication
Issue 3 2020, Technews Publishing, Dahua Technology South Africa, Suprema, neaMetrics, ViRDI Distribution SA, ZKTeco , Editor's Choice
Hi-Tech Security Solutions hosted a round-table specifically to look at what is happening in the world of secure identity verification and authentication.
Read more...
---