printer friendly version
Selling biometrics to your employees
October 2013
Access Control & Identity Management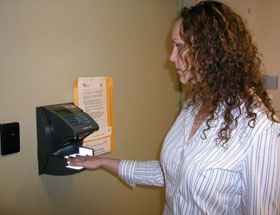 In some cases, companies implementing biometrics will initially receive employee resistance with the issues of privacy and hygiene taking centre stage. This will invariably be the case if a union is involved and looking for negotiating points.
However, when they dig deeper into the concerns of their employees, companies report the only real problem with the new biometric system is that "it's new". Any concerns are eliminated if employees are educated upon announcement of the new system. After they have operated the biometric reader once or twice and see how easy it is to use, they prefer biometrics to alternative methods.
Nobody likes change. That is particularly true when it comes to biometrics, as there are several urban myths about biometrics that refuse to die, basically because they are brought up over and over again, especially by employee groups resisting change.
These concerns include the potential for invasion of privacy and hygiene, neither of which should be a concern, given that biometrics provide employees with increased security in access control applications and improved record keeping in time and attendance applications. Let's look at each in more detail.
Biometrics authenticates, it does not identify
People confuse biometrics with the systems they see on TV crime shows. When considering the privacy concerns associated with biometrics, an important distinction must be made between identification, a one-to-many match, and authentication – a one-to-one match. It is vital that users understand the difference.
A system designed to identify a person compares a biometric presented by a person against all biometric samples stored in the database. The system identifies the individual if the presented biometric matches one of the many samples on file. This is called a one-to-many match. This type of system is used by the police to identify criminals, and by governments to identify qualified recipients for benefit programmes and registration systems for voting, licensing drivers, etc. This is the type of system we see on TV crime shows.
The authentication process, however, involves a one-to-one search. A live biometric presented by the user is compared to a stored sample, previously given by that individual during enrolment and the match is confirmed. The hand geometry or fingerprint of the user is not stored in a database or on an ID card. Instead, a mathematical equation, or algorithm, is performed with points measured on the finger or hand. The template that results from this equation is all that is stored.
When the user presents an ID card or enters an assigned PIN, only that template is transmitted. When the employee presents his/her hand or finger, the reader runs the authentication process to determine if the template that is stored matches the biometric being presented. If there is a match, the person is authenticated.
To emphasise, the authentication of the person has been previously established. The matching of the live biometric to the established stored sample is all that is necessary to authenticate the individual as an eligible user. No search takes place to match a user's data to a central database. Palm prints or fingerprints of the 'Law and Order' type are never analysed.
And, unlike the biometric identification on these shows, authentication does not require the template be stored in a central database. This data can be stored on a smartcard and kept in the possession of the individual, thereby, keeping control of its use in the hands of the users themselves.
Regarding privacy issues, most companies will find that hand readers are easier to sell to employees than fingerprint readers. After all, hand readers are never used in crime shows; almost every CSI show runs a fingerprint match.
Whether a hand geometry or fingerprint system is employed, an explanation of how the biometric authentication system works will calm fears.
Hygiene and doorknobs
It is certainly true that users frequently touch objects or surfaces, which potentially may provide risks of contamination. Initially, some hand geometry and fingerprint reader users show an opposition towards this technology, using hygiene concerns as a starting point for a dispute. The bottom line is that a user is no more likely to pick up germs from a biometric reader than from other common objects or surfaces, which he/she may touch, including doorknobs and counter tops.
Nonetheless, to avoid a perception of hygiene problems, suggest that the biometric unit be cleaned and disinfected more than a doorknob would be and that organisations provide a dispenser with liquid hand sanitiser by each unit. Such measures help increase the confidence of the users for the system.
A new generation of hand readers meets this problem head-on. They feature an advanced technology that reduces the spread of microorganisms.
Biometrics provides greatly increased security
In today's world, employees should welcome the increased security that biometrics provide. It seems that, too often, we hear about disgruntled employees rampaging through the workplace. That's a very good reason to implement biometric access control. The biometric provides additional safety for a workforce, as it will unlock and monitor their doors, assuring only those authorised to enter are allowed to enter. Employees understand this.
Let employees know that hand geometry and fingerprint readers cover 80% of biometric access control and time and attendance applications. Both recognise people, not plastic, keeping the bad guys out. If there is already a card system, they provide higher security to vital entrances or doors.
Not only do biometrics help keep the bad guys out, hand geometry and fingerprint readers ensure the good guys gain access quickly and easily. After all, nobody forgets to bring his hands or fingers to work.
More accurate time and attendance
Hand readers are also used to record payroll hours quickly and accurately. Such biometric systems ensure that payroll information is transmitted correctly to the payroll department, and that exact time worked, including overtime, is recorded properly.
With a biometric system, the company eliminates the costs and mistakes inherent in manual data inputting. Among the costs and mistakes eliminated are those that can affect an employee's pay cheque – input errors can short-change an employee's pay, wasting both the employee's and the employer's time in correcting the mistake, to say nothing of the frustration on the part of the employee.
Facing a new procedure, employees sometimes worry that they won't be able to use the units easily. What about an injury, for instance? Not to worry. Units such as the HandPunch are very forgiving. Since it analyses 90 different points to match the stored one-to-one template, a bandage on a finger will probably make little difference. However, if the bandage dramatically changes the shape of the hand, the organisation will have a protocol to allow for these instances. Most importantly, any concerns about accuracy disappear after the first pay period when employees see that all times have been accurately processed.
In addition, with the biometric system, employees are provided increased flexibilities. They can view up to 24 information fields to immediately review punches or find out about their schedules, total hours worked, and other important information. They can check on their accrued vacation time directly from the HandPunch, without having to make any calls or appointments.
Most complaints are really concerns over the unknown
We see it over and over again. Employee concerns generally disappear after a brief system introduction. The personnel manager might say, "This new biometric reader uses the size and shape of the hand to verify an individual's identity. You punch in a short user ID code, and then the HandPunch looks at the length, width, thickness and surface area of your hand, identifying unique features from a projected image that resembles the shadow cast by your hand."
Following this up with a clear description of how biometric verification works – at the very beginning – demystifies the device and helps users feel at ease.
Source: Ingersoll Rand Security Technologies
Uniclox Technologies is the authorised distributor in South Africa for Ingersoll Rand biometric hand scanners.
For more information, contact Peter Noppe, Uniclox Technologies, +27 (0)11 439 2000, peter@uniclox.com, www.uniclox.com
Further reading:
The benefits of electronic visitor management
August 2019, Powell Tronics , Access Control & Identity Management, Residential Estate (Industry)
Access control is a critical aspect of estate security as it represents the controls put in place to restrict entry (and possibly exit) along the outer boundary of the location.
Read more...
---
Addressing risks by means of access control layout and design
August 2019 , Access Control & Identity Management, Security Services & Risk Management
In order to develop a suitable, practical and appropriate security system for any organisation, it is essential to first develop a master security and life safety plan strategy.
Read more...
---
Secure hands-free access
August 2019, Suprema , Access Control & Identity Management, Residential Estate (Industry)
Suprema's facial biometric terminals bring no-touch access into secure residential estates, high-rise apartments and luxury homes providing fast, easy and intuitive user authentication with the added benefit of hygiene.
Read more...
---
MorphoAccess Sigma Extreme
August 2019, IDEMIA , Products, Access Control & Identity Management
MorphoAccess Sigma Extreme from IDEMIA is a touchscreen device with multiple recognition device interfaces (NFC chip reader, PIN and BioPIN codes, contactless card readers).
Read more...
---
Outdoor access terminals
August 2019, Suprema , Access Control & Identity Management, Residential Estate (Industry), Products
Rugged, dust- and weather-proof access control solutions that provide exceptional durability in extreme conditions is a strong requirement for many residential estates.
Read more...
---
MorphoWave Compact
August 2019, IDEMIA , Products, Access Control & Identity Management
The MorphoWave Compact captures and matches four fingerprints on either the right or left hand in any direction. It is robust to environmental factors such as extreme light or dust.
Read more...
---
MorphoAccess Sigma Lite
August 2019, IDEMIA , Products, Access Control & Identity Management
IDEMIA's MorphoAccess Sigma Lite and Lite + are fingerprint access control terminals, offering time and attendance in and out function keys.
Read more...
---
Eliminating forced gate opening scenarios
August 2019, ET Nice , Home Security, Access Control & Identity Management
When activated by the gate forced open alarm feature, the transmitter transmits a wireless alarm signal up to 750 metres in any direction.
Read more...
---
IAM has business on high alert
August 2019 , Access Control & Identity Management
Identity and Access Management (IAM) is now a must in commerce and the need to protect digital assets is driving the development of solutions and widespread adoption
Read more...
---
Came acquires Turkish company Özak
August 2019, CAME BPT South Africa , News, Access Control & Identity Management
Came broadens its market horizons and signals growth and consolidation in the Middle East.
Read more...
---