printer friendly version
Load shedding calls for essential genset maintenance
1 April 2019 Security Services & Risk Management, Fire & Safety, Agriculture (Industry)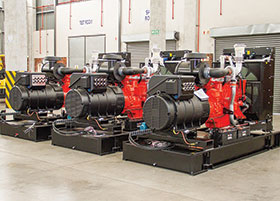 Genset failure due to a lack of proper maintenance poses a significant business risk. "What is your business risk if a genset goes down? Here you are not only looking at protecting the value of your assets, but what does this genset actually support and protect? If it is a hospital or a financial services provider, the implications speak for themselves," poses ASP Fire CEO, Michael van Niekerk.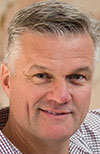 Michael van Niekerk.
The first issue to be taken into consideration in terms of genset upkeep is the fuel supply. This can range from an integral tank at the base of the genset to a 2200 litre Bulk To Farm Tank (BTF), or merely a 210 litre drum. "Hence we have the presence of flammable liquids, especially in terms of refuelling and the possibility of any spillages," van Niekerk points out.
Another issue is to control the growth of vegetation around a genset, especially if it is located outside. "Very often we will have vegetation encroaching on a genset, which is tucked away somewhere as an afterthought. We have even seen corporate customers piling office equipment onto, and around, a genset," van Niekerk reveals.
The genset itself is a potential source of fire ignition due to the high temperatures of the manifold itself. If the genset is located internally, these temperatures can be considerable, especially in the absence of adequate ventilation.
Another important issue is the necessity for proper maintenance. If an oil filter has not been screwed on tightly enough, for example, it can result in an oil leak. If oil sprays onto a hot manifold as a result of this, a fire will erupt. Thereafter the temperature will build quickly to a point where entrance into such a room is well-nigh impossible.
Companies and individuals often lack the correct fire-fighting equipment to deal with genset fires. For example, a dry chemical fire extinguisher will douse the flames, but not cool down any hot surfaces. A carbon dioxide fire extinguisher, on the other hand, might cool down the overheated genset itself, but this can result in major damage to the equipment due to thermal shock.
Gensets do not only supply standby power, they are essential to the day-to-day operations of institutions such as financial services and medical care. Hospitals, for example, will often have backup gensets, all located in the same room. If a fire breaks out in one genset, the rest of the equipment is immediately at risk.
"Hence we recommend an automatic fire suppression system for such environments. It is unmonitored equipment, with a high fire hazard due to the presence of both flammable liquids and combustible products, as well as electricity. The probability of something going wrong may be slim in the mind of the end user, but in the likelihood that it does, the consequences can be potentially disastrous, and even fatal," van Niekerk stresses.
In terms of fixed fire suppression systems, a range of options are available. Sprinklers are an obvious choice, but this depends on whether or not such a system has been installed already. If not, the cost can be prohibitive, as sufficient hydraulic capacity has to be guaranteed, which means that cheaper and more effective alternatives need to be investigated.
The next best option is a clean-gas fire suppression system. "The problem with gensets and the heat they produce is that the rooms they are located in are normally ventilated, which compromises the integrity of the enclosure. If you discharge a gas system in this environment, it is therefore not possible to maintain the concentration of that gas for a sufficient period to suppress the fire. This means that clean-gas systems are not ideal in these scenarios," van Niekerk cautions.
The third option is a water-mist fire suppression system, which has the added environmental benefit of only using a minimal quantity of water, which is also far more cost-effective than the clean gases themselves necessary to recharge the system. This supresses a fire rapidly, cooling any remaining hot spots down to below the automatic ignition temperature. This is why ASP Fire recommends AFFF water-mist fire suppression systems for gensets. A foamless system can even be supplied for environments such as gensets housed in shipping containers.
A standalone water-mist fire suppression system with mechanical activation should be inspected monthly. Gensets should by rights be started up frequently, at least once a week, to ensure the batteries are charged adequately. A cursory visual inspection will also reveal any potential problems or issues.
"It is all about risk mitigation at the end of the day, and how integral the genset is to the business in question. While it is essential for financial service providers and hospitals to invest in the best systems possible, smaller end users also need to look at the impact of genset failure or fire on their businesses. These smaller companies often do not take into account the knock-on effect of a genset going down. Will your business be able to continue operating in such an eventuality?" van Niekerk questions.
In terms of regulations and specifications related to gensets, such enclosures are classified as D4, which implies certain minimum fireproof requirements, including a specific fire rating for the walls. "If the gensets in a building are not located in a purpose-built room, and are stuck away in the basement located next to parked cars, for example, that is a clear violation of the regulations. This is important for end-users to bear in mind as well," van Niekerk concludes.
For more information contact Michael van Niekerk, ASP Fire, +27 11 452 2169, michael@aspfire.co.za, www.aspfire.co.za
Further reading:
Three new portable power stations to ease load shedding
News Security Services & Risk Management Products
EcoFlow has launched three portable power stations that provide sufficient power for consumers wherever they are; the DELTA 2 and RIVER 2 Series are feature-filled power solutions to the volatile electricity supply.
Read more...
---
You cannot bribe a computer
Access Control & Identity Management Security Services & Risk Management
Corruption is a cancer that destroys the prospects and stability of countries and businesses. It widens wealth gaps and punishes the poor. It costs countries many billions in lost revenue.
Read more...
---
How much protection does cyber insurance really give businesses?
Cyber Security Security Services & Risk Management
If organisations don't meet even the minimum requirements of security and data protection, insurance will do them little good. Instead, it needs to be just one part of the digital resiliency toolbox.
Read more...
---
Off-grid power solution for residential estate
Editor's Choice Security Services & Risk Management Residential Estate (Industry) Products
Coral Beach Estate, an upmarket residential estate based in East London, has been struggling with load shedding and power outages due to South Africa's energy crisis, as well as the vandalism of its power infrastructure.
Read more...
---
SafeCity Guarding rolls out across 14 suburbs in Johannesburg
News Security Services & Risk Management
In a major drive to provide communities across Johannesburg with additional safety, Vumacam, in partnership with Fidelity ADT and other security providers across the region, rolled out the innovative SafeCity Guarding initiative in 14 suburbs.
Read more...
---
FleetDomain underpins Afrirent's value proposition
Logistics (Industry) Security Services & Risk Management
Afrirent, a 100% female black-owned fleet management company, has been relying on FleetDomain software for a number of years to help it deliver outstanding service to a growing number of clients.
Read more...
---
Choosing an inferior lithium battery can be detrimental and unsafe
Uniross Batteries Security Services & Risk Management Products
South Africans looking to mitigate the impact of load shedding by installing a solar system for their home must do so through an accredited installer or electrician to avoid insurance claims being rejected.
Read more...
---
Employee screening, a hiring necessity or an invasion of privacy?
Security Services & Risk Management
There is a fine line between checking a potential employee's qualifications and references, and investigating aspects of their lives that have nothing to do with their job application.
Read more...
---
Keeping students, staff and communities safe
Vumacam News CCTV, Surveillance & Remote Monitoring Security Services & Risk Management
South African schools are facing increasing security challenges, making effective surveillance systems more important than ever. To address this issue, Vumacam is offering advanced security solutions with security partners, aimed at keeping students, staff, and the community safe.
Read more...
---
Technology is key to securing physical and cybersecurity
Education (Industry) Security Services & Risk Management
The interpretation of security in educational institutions depends on whom you are talking to and whether their focus is on the physical security of the institution, its assets and its people, or its information and communication technology perspective.
Read more...
---