printer friendly version
Load shedding calls for essential genset maintenance
April 2019 Security Services & Risk Management, Fire & Safety, Agriculture (Industry)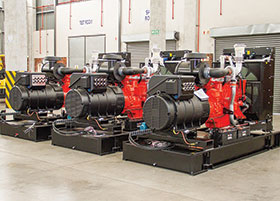 Genset failure due to a lack of proper maintenance poses a significant business risk. "What is your business risk if a genset goes down? Here you are not only looking at protecting the value of your assets, but what does this genset actually support and protect? If it is a hospital or a financial services provider, the implications speak for themselves," poses ASP Fire CEO, Michael van Niekerk.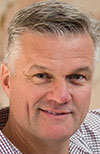 Michael van Niekerk.
The first issue to be taken into consideration in terms of genset upkeep is the fuel supply. This can range from an integral tank at the base of the genset to a 2200 litre Bulk To Farm Tank (BTF), or merely a 210 litre drum. "Hence we have the presence of flammable liquids, especially in terms of refuelling and the possibility of any spillages," van Niekerk points out.
Another issue is to control the growth of vegetation around a genset, especially if it is located outside. "Very often we will have vegetation encroaching on a genset, which is tucked away somewhere as an afterthought. We have even seen corporate customers piling office equipment onto, and around, a genset," van Niekerk reveals.
The genset itself is a potential source of fire ignition due to the high temperatures of the manifold itself. If the genset is located internally, these temperatures can be considerable, especially in the absence of adequate ventilation.
Another important issue is the necessity for proper maintenance. If an oil filter has not been screwed on tightly enough, for example, it can result in an oil leak. If oil sprays onto a hot manifold as a result of this, a fire will erupt. Thereafter the temperature will build quickly to a point where entrance into such a room is well-nigh impossible.
Companies and individuals often lack the correct fire-fighting equipment to deal with genset fires. For example, a dry chemical fire extinguisher will douse the flames, but not cool down any hot surfaces. A carbon dioxide fire extinguisher, on the other hand, might cool down the overheated genset itself, but this can result in major damage to the equipment due to thermal shock.
Gensets do not only supply standby power, they are essential to the day-to-day operations of institutions such as financial services and medical care. Hospitals, for example, will often have backup gensets, all located in the same room. If a fire breaks out in one genset, the rest of the equipment is immediately at risk.
"Hence we recommend an automatic fire suppression system for such environments. It is unmonitored equipment, with a high fire hazard due to the presence of both flammable liquids and combustible products, as well as electricity. The probability of something going wrong may be slim in the mind of the end user, but in the likelihood that it does, the consequences can be potentially disastrous, and even fatal," van Niekerk stresses.
In terms of fixed fire suppression systems, a range of options are available. Sprinklers are an obvious choice, but this depends on whether or not such a system has been installed already. If not, the cost can be prohibitive, as sufficient hydraulic capacity has to be guaranteed, which means that cheaper and more effective alternatives need to be investigated.
The next best option is a clean-gas fire suppression system. "The problem with gensets and the heat they produce is that the rooms they are located in are normally ventilated, which compromises the integrity of the enclosure. If you discharge a gas system in this environment, it is therefore not possible to maintain the concentration of that gas for a sufficient period to suppress the fire. This means that clean-gas systems are not ideal in these scenarios," van Niekerk cautions.
The third option is a water-mist fire suppression system, which has the added environmental benefit of only using a minimal quantity of water, which is also far more cost-effective than the clean gases themselves necessary to recharge the system. This supresses a fire rapidly, cooling any remaining hot spots down to below the automatic ignition temperature. This is why ASP Fire recommends AFFF water-mist fire suppression systems for gensets. A foamless system can even be supplied for environments such as gensets housed in shipping containers.
A standalone water-mist fire suppression system with mechanical activation should be inspected monthly. Gensets should by rights be started up frequently, at least once a week, to ensure the batteries are charged adequately. A cursory visual inspection will also reveal any potential problems or issues.
"It is all about risk mitigation at the end of the day, and how integral the genset is to the business in question. While it is essential for financial service providers and hospitals to invest in the best systems possible, smaller end users also need to look at the impact of genset failure or fire on their businesses. These smaller companies often do not take into account the knock-on effect of a genset going down. Will your business be able to continue operating in such an eventuality?" van Niekerk questions.
In terms of regulations and specifications related to gensets, such enclosures are classified as D4, which implies certain minimum fireproof requirements, including a specific fire rating for the walls. "If the gensets in a building are not located in a purpose-built room, and are stuck away in the basement located next to parked cars, for example, that is a clear violation of the regulations. This is important for end-users to bear in mind as well," van Niekerk concludes.
For more information contact Michael van Niekerk, ASP Fire, +27 11 452 2169, michael@aspfire.co.za, www.aspfire.co.za
Further reading:
30 years of business continuity
May 2019, ContinuitySA, Technews Publishing , Editor's Choice, Security Services & Risk Management
ContinuitySA is celebrating its 30th anniversary this year and Hi-Tech Security Solutions spoke to CEO Michael Davies about the changes he has seen in the business continuity and disaster recovery markets.
Read more...
---
The benefits of background screening
May 2019, iFacts, Managed Integrity Evaluation , Editor's Choice, Security Services & Risk Management
Companies need to be more vigilant about the people they employ by making sure comprehensive background screening checks are conducted.
Read more...
---
Fidelity Fire Solutions receives BSI accreditation
May 2019, Fidelity Security Group , Editor's Choice, Fire & Safety, News
Fidelity Fire Solutions is one of the first fire solutions providers in South Africa to be awarded the British Standards Institution (BSI) certification for portable fire products.
Read more...
---
Keyless access control launched in Africa
May 2019, FS-Systems , News, Access Control & Identity Management, Agriculture (Industry)
FS-Systems launches a cutting-edge keyless access control solution for the critical infrastructure environment across the African market.
Read more...
---
Simplifying fire detection system installations
May 2019, Elvey Security Technologies , Editor's Choice, Fire & Safety, Security Services & Risk Management
A fire detection system needs to be selected with extreme care, as is selecting an installer that not only understands the various technologies employed in fire detection, but that also has the necessary accreditations and certifications.
Read more...
---
Security workforce management platform
May 2019, Secutel Technologies , CCTV, Surveillance & Remote Monitoring, Integrated Solutions, Security Services & Risk Management
Secutel Technologies says the South African market is excited about body-cam technology and clearly sees the potential benefits.
Read more...
---
Solar energy storage systems
May 2019, Specialised Battery Systems , Products, Security Services & Risk Management
Specialised Battery Systems has a range of Energy Storage Systems (ESS) available, both standard and custom designed to suit customer requirements.
Read more...
---
Intelligent ceiling detector
May 2019, Regal Distributors SA , Perimeter Security, Alarms & Intruder Detection, Products, Agriculture (Industry)
The RISCO Industrial LuNAR Grade 3 is an intelligent ceiling detector with bidirectional remote control, a mounting height of up to 8,6 m and a coverage area of up to 18 m in diameter.
Read more...
---
Lightning protection insurance for thatched roofs
May 2019, DEHN Africa , Security Services & Risk Management
DEHNinsure offers surge and lightning protection insurance for thatched roofed buildings using its high-voltage-resistant insulated (HVI) technology.
Read more...
---
New operations director at Hochiki Europe
May 2019 , News, Fire & Safety
Hochiki Europe has appointed Roland Martin-Bessey as the company's new operations director to further enhance its production efficiency and supply chain capabilities across the business.
Read more...
---