printer friendly version
Automatic transmission of fire alarms
April 2019
Fire & Safety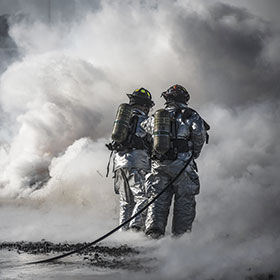 Automatic fire detection and suppression systems are installed to protect the occupants and property in all types of buildings and structures. These systems gain maximum benefit if alarm signals are transmitted automatically to alert the fire brigade or an ARC – alarm receiving centre/monitoring centre. A quick response to an actual fire alarm can assist in the saving of lives and lessening the extent of damage to property.
The automatic alerting of the monitoring centre of a potential emergency is of the utmost importance to assist in dealing timeously and successfully with an emergency, irrespective of whether premises are manned 24/7 or not. Automatic transmission of an alarm signal to the monitoring centre does not only assist in a quicker response being initiated, but can also give the responders pertinent details of the specific premises from which the alarm originated.
The information pertaining to the premises will assist the responders in dealing with the emergency. Typically, the database at the monitoring centre should contain relevant information about, for example, the site name; physical address; contact names and numbers of responsible persons, location of fire hydrants; flammable stores; etc. This empowers a 'knowledge-based' response to be initiated.
As per SANS 10139 Part 8.8.2(b), the primary means of alerting the fire service is for the occupants to make a call to the fire department. However, in an emergency, occupants may panic and forget to alert the monitoring centre timeously, which makes automatic transmission a critical feature, especially for high rise buildings or premises with a high-density occupancy. The transmission system should form part of the building safety plan.
Often, where SMS communicators are used to inform responsible staff (and not emergency services), the reaction time may be unsuitable to adequately attend to a fire situation. It is critical to ensure one has a suitable response plan for a real fire situation.
Methods of transmitting fire alarms to the monitoring centre are numerous. These include a normal telephone line, which is not ideal in South Africa due to cable theft, lightning, etc., mobile/cellular/GSM, one-way radio and two-way radio systems. A system that offers two-way speech is the preferred method, in order to allow voice communication between the protected premises and the monitoring centre.
In addition to the automatic transmission of fire alarms to the monitoring centre, other information such as fire panel faults, can also be relayed to enable quick action to be taken to resolve the problem and ensure the on-going integrity of the installation. False alarms must be eliminated as far as possible to prevent unnecessary responses by the fire service and/or evacuation of the protected premises.
The designer of the fire alarm system, after doing a risk assessment, will advise the user if an automatic transmission is required to the fire department or an alarm receiving centre. The designer will then refer to SANS 10139:2012 Part 8.8 on the guidelines to follow. An important point to note, mentioned in the standards, is that Category P systems should have an automatic transmission of fire signals to an alarm receiving centre, unless the premises is continuously occupied and the power requirements for automatic transmitting equipment should comply with SANS 10139 Part 8.18
We continue to encourage all end users and consultants to only use FDIA registered contractors as they have the commitment, capability and mandate to ensure that not only is your fire detection system installed correctly but it is serviced and maintained as per the required standards and regulations.
For comments and enquiries please contact the FDIA on fdia@fdia.co.za
Credit(s)
Further reading:
GUI for fire detection systems
November 2019, FDIA (Fire Detection Installers Association) , Editor's Choice
A graphical user interface for fire detection is a graphics program that makes it easier for the operator to access all the functionalities of the fire detection system.
Read more...
---
Fire Beam Xtra covers up to 160 metres
October 2019, Technoswitch , Products, Fire & Safety
The Fire Beam overcomes traditional beam detection challenges where building movement and accessibility made beam detection unreliable and laborious to commission and maintain.
Read more...
---
Emergency voice communication system
October 2019, Technoswitch , Products, Fire & Safety
The Technoswitch Emergency Voice Communication Systems concept offers fire telephone and disabled refuge systems, as well as integrating emergency assist alarm systems in a single solution.
Read more...
---
Fast detection of smoke and flames
October 2019, Bosch Building Technologies , Editor's Choice, CCTV, Surveillance & Remote Monitoring, Fire & Safety
Video-based fire detection AVIOTEC from Bosch has been optimised for tunnels to provide early and reliable detection of smoke and flames in these dark environments.
Read more...
---
Choosing the right fire detection system
August 2019, FDIA (Fire Detection Installers Association) , Fire & Safety
Charles Thiong'o from the FDIA highlights important factors to consider when choosing a fire detection system.
Read more...
---
Local security technology manufacturer
August 2019, Technoswitch , Fire & Safety
Technoswitch, a South-African manufacturer, importer and distributor of fire detection and suppression equipment turned 45 this year.
Read more...
---
Fire detection and suppression for server cabinets
August 2019, Technoswitch , Fire & Safety
The TEC601, designed and manufactured by Technoswitch, is an all-in-one fire and extinguishing rack-mountable control system designed to protect electronic equipment in 19-inch server room cabinets.
Read more...
---
ORYX conventional fire panel range
August 2019, Technoswitch , Fire & Safety
The ORYX range of conventional panels from Technoswitch offers 2, 4 and 8 zone options, including weatherproof versions (with or without DIN rail) specifically suited to industrial applications.
Read more...
---
Next generation BlazeCut T-series
August 2019, Technoswitch , Fire & Safety
Designed to protect small enclosed spaces with greater risk of fire, the BlazeCut T-series system is easy to install.
Read more...
---
Emergency lighting and fire detection combination
August 2019 , Fire & Safety, Products
Hochiki Europe has launched FIREscape+, a system which combines emergency lighting, fire detection and wayfinding technology.
Read more...
---