printer friendly version
Automatic transmission of fire alarms
April 2019
Fire & Safety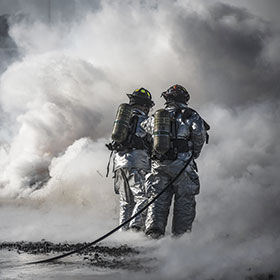 Automatic fire detection and suppression systems are installed to protect the occupants and property in all types of buildings and structures. These systems gain maximum benefit if alarm signals are transmitted automatically to alert the fire brigade or an ARC – alarm receiving centre/monitoring centre. A quick response to an actual fire alarm can assist in the saving of lives and lessening the extent of damage to property.
The automatic alerting of the monitoring centre of a potential emergency is of the utmost importance to assist in dealing timeously and successfully with an emergency, irrespective of whether premises are manned 24/7 or not. Automatic transmission of an alarm signal to the monitoring centre does not only assist in a quicker response being initiated, but can also give the responders pertinent details of the specific premises from which the alarm originated.
The information pertaining to the premises will assist the responders in dealing with the emergency. Typically, the database at the monitoring centre should contain relevant information about, for example, the site name; physical address; contact names and numbers of responsible persons, location of fire hydrants; flammable stores; etc. This empowers a 'knowledge-based' response to be initiated.
As per SANS 10139 Part 8.8.2(b), the primary means of alerting the fire service is for the occupants to make a call to the fire department. However, in an emergency, occupants may panic and forget to alert the monitoring centre timeously, which makes automatic transmission a critical feature, especially for high rise buildings or premises with a high-density occupancy. The transmission system should form part of the building safety plan.
Often, where SMS communicators are used to inform responsible staff (and not emergency services), the reaction time may be unsuitable to adequately attend to a fire situation. It is critical to ensure one has a suitable response plan for a real fire situation.
Methods of transmitting fire alarms to the monitoring centre are numerous. These include a normal telephone line, which is not ideal in South Africa due to cable theft, lightning, etc., mobile/cellular/GSM, one-way radio and two-way radio systems. A system that offers two-way speech is the preferred method, in order to allow voice communication between the protected premises and the monitoring centre.
In addition to the automatic transmission of fire alarms to the monitoring centre, other information such as fire panel faults, can also be relayed to enable quick action to be taken to resolve the problem and ensure the on-going integrity of the installation. False alarms must be eliminated as far as possible to prevent unnecessary responses by the fire service and/or evacuation of the protected premises.
The designer of the fire alarm system, after doing a risk assessment, will advise the user if an automatic transmission is required to the fire department or an alarm receiving centre. The designer will then refer to SANS 10139:2012 Part 8.8 on the guidelines to follow. An important point to note, mentioned in the standards, is that Category P systems should have an automatic transmission of fire signals to an alarm receiving centre, unless the premises is continuously occupied and the power requirements for automatic transmitting equipment should comply with SANS 10139 Part 8.18
We continue to encourage all end users and consultants to only use FDIA registered contractors as they have the commitment, capability and mandate to ensure that not only is your fire detection system installed correctly but it is serviced and maintained as per the required standards and regulations.
For comments and enquiries please contact the FDIA on [email protected]
Credit(s)
Further reading:
FlameSpec flame detectors from Technoswitch
Technoswitch Fire Detection & Suppression Fire & Safety
The FM-approved FlameSpec detectors address slow-growing fires and fast eruptions of fire while maintaining high performance and reliable detection in all weather and light conditions.
Read more...
---
Improved hydraulic performance and efficiency
Johnson Controls Global Products Fire & Safety
Tyco 5.8K LFII sprinkler from Johnson Controls Global Products brings improved hydraulic performance and efficiency to residential fire protection.
Read more...
---
One-bolt coupling
Johnson Controls Global Products Fire & Safety
The G-Fire One-Bolt Figure 579A is a grooved, rigid coupling ready for out-of-the-box, push-on installation including self-lubricating gaskets for a smooth installation experience.
Read more...
---
Ensure your generator is fire-safe
Fire & Safety
A backup power supply such as a genset is critical during loadshedding, however, it is vital that such important equipment is maintained properly and serviced regularly to be able to cope with outages.
Read more...
---
Technoswitch Awards dinner for 2022
Technews Publishing News Fire & Safety
Technoswitch hosted its fifth awards dinner at Montecasino in September, where customers and suppliers celebrated a year of success.
Read more...
---
Mass transportation requires massive security
Fire & Safety
The technologies and design styles behind transit hubs may have changed over the years, but from a fire safety perspective the threats have remained constant.
Read more...
---
ZYTEQ Fire Engineering Summit 2022
ZYTEQ Fire Fire & Safety News
Cape Town-based ZYTEQ Fire hosted its inaugural Engineering Summit at the Commodore Hotel in Cape Town and the Leonardo Hotel in Sandton, Johannesburg.
Read more...
---
Fire prevention in your home or business?
Fidelity Services Group Fire & Safety Security Services & Risk Management
A recent fire at a nightclub in Boksburg has once again highlighted the importance of fire safety for both homes and businesses. When a fire breaks out, the consequences can be devastating.
Read more...
---
Integration of Bosch planning software with AutoCAD
Technews Publishing Fire & Safety Security Services & Risk Management Products
Bosch has released its new software version of Safety Systems Designer with a new, free plugin available that enables automatic data transfer between AutoCAD software and Designer.
Read more...
---
Water deluge fire suppression system
FS Systems Editor's Choice Fire & Safety Mining (Industry) Products
The FS Group custom-designed and installed an electronically actuated water deluge fire suppression system for an underground explosives magazine, ensuring both the safety of miners and operations, as well as regulatory compliance.
Read more...
---