printer friendly version
Automatic transmission of fire alarms
April 2019
Fire & Safety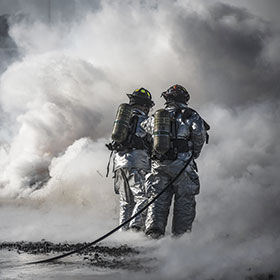 Automatic fire detection and suppression systems are installed to protect the occupants and property in all types of buildings and structures. These systems gain maximum benefit if alarm signals are transmitted automatically to alert the fire brigade or an ARC – alarm receiving centre/monitoring centre. A quick response to an actual fire alarm can assist in the saving of lives and lessening the extent of damage to property.
The automatic alerting of the monitoring centre of a potential emergency is of the utmost importance to assist in dealing timeously and successfully with an emergency, irrespective of whether premises are manned 24/7 or not. Automatic transmission of an alarm signal to the monitoring centre does not only assist in a quicker response being initiated, but can also give the responders pertinent details of the specific premises from which the alarm originated.
The information pertaining to the premises will assist the responders in dealing with the emergency. Typically, the database at the monitoring centre should contain relevant information about, for example, the site name; physical address; contact names and numbers of responsible persons, location of fire hydrants; flammable stores; etc. This empowers a 'knowledge-based' response to be initiated.
As per SANS 10139 Part 8.8.2(b), the primary means of alerting the fire service is for the occupants to make a call to the fire department. However, in an emergency, occupants may panic and forget to alert the monitoring centre timeously, which makes automatic transmission a critical feature, especially for high rise buildings or premises with a high-density occupancy. The transmission system should form part of the building safety plan.
Often, where SMS communicators are used to inform responsible staff (and not emergency services), the reaction time may be unsuitable to adequately attend to a fire situation. It is critical to ensure one has a suitable response plan for a real fire situation.
Methods of transmitting fire alarms to the monitoring centre are numerous. These include a normal telephone line, which is not ideal in South Africa due to cable theft, lightning, etc., mobile/cellular/GSM, one-way radio and two-way radio systems. A system that offers two-way speech is the preferred method, in order to allow voice communication between the protected premises and the monitoring centre.
In addition to the automatic transmission of fire alarms to the monitoring centre, other information such as fire panel faults, can also be relayed to enable quick action to be taken to resolve the problem and ensure the on-going integrity of the installation. False alarms must be eliminated as far as possible to prevent unnecessary responses by the fire service and/or evacuation of the protected premises.
The designer of the fire alarm system, after doing a risk assessment, will advise the user if an automatic transmission is required to the fire department or an alarm receiving centre. The designer will then refer to SANS 10139:2012 Part 8.8 on the guidelines to follow. An important point to note, mentioned in the standards, is that Category P systems should have an automatic transmission of fire signals to an alarm receiving centre, unless the premises is continuously occupied and the power requirements for automatic transmitting equipment should comply with SANS 10139 Part 8.18
We continue to encourage all end users and consultants to only use FDIA registered contractors as they have the commitment, capability and mandate to ensure that not only is your fire detection system installed correctly but it is serviced and maintained as per the required standards and regulations.
For comments and enquiries please contact the FDIA on fdia@fdia.co.za
Credit(s)
Further reading:
Fidelity Fire Solutions receives BSI accreditation
May 2019, Fidelity Security Group , Editor's Choice, Fire & Safety, News
Fidelity Fire Solutions is one of the first fire solutions providers in South Africa to be awarded the British Standards Institution (BSI) certification for portable fire products.
Read more...
---
Moisture detection and the dangers of digital disruption
May 2019 , Fire & Safety, Products
When it comes to protecting businesses against disruption, water damage poses a significant threat, especially in the modern age where electrical systems are ingrained in almost every aspect of daily life.
Read more...
---
Simplifying fire detection system installations
May 2019, Elvey Security Technologies , Editor's Choice, Fire & Safety, Security Services & Risk Management
A fire detection system needs to be selected with extreme care, as is selecting an installer that not only understands the various technologies employed in fire detection, but that also has the necessary accreditations and certifications.
Read more...
---
New operations director at Hochiki Europe
May 2019 , News, Fire & Safety
Hochiki Europe has appointed Roland Martin-Bessey as the company's new operations director to further enhance its production efficiency and supply chain capabilities across the business.
Read more...
---
Load shedding calls for essential genset maintenance
April 2019 , Security Services & Risk Management, Fire & Safety, Agriculture (Industry)
It is important that such important equipment is maintained properly and serviced regularly in order to be able to cope with extended electricity outages.
Read more...
---
Ewers appointed as director at ZYTEQ
March 2019, ZYTEQ Fire , News, Fire & Safety
ZYTEQ Fire has announced the appointment of Terence Ewers as sales director responsible for sales and business development.
Read more...
---
Benefits of a voice alarm system
February 2019, FDIA (Fire Detection Installers Association) , Fire & Safety, Commercial (Industry)
Despite all of the evidence reporting the greatly increased response times and improved evacuation, installations of voice alarm systems are still relatively low.
Read more...
---
Early warning smoke detection
February 2019, Technoswitch , Fire & Safety
Brett Birch, general manager at Technoswitch, discusses very early warning smoke detection systems.
Read more...
---
Early warning in warehouses
February 2019, Securiton , Fire & Safety
Smoke aspiration technology offers a reliable early warning detection system for warehouses where it is often difficult to spot fires before they are out of control.
Read more...
---
Aftercare centre upgraded
February 2019 , Fire & Safety
Eaton Africa's sponsorship of a vital fire safety system helped the Alta du Toit Centre in Bellville in revamping its out-dated and faulty fire alarm system.
Read more...
---