printer friendly version
Hosted access control improves recurring revenue
March 2019
Access Control & Identity Management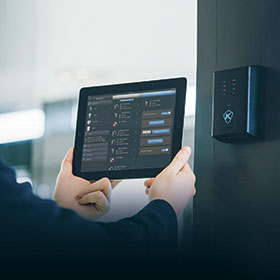 Previously, all equipment for access control systems was installed at the customer's premises. This included a server running access control software, one or more computers running client software, readers, door locks, a master control panel, and possibly slave panels controlled by the master control panel.
Advances in IP network technology over the past decade have resulted in a growing trend towards using a hosted access control service. This robust and secure option entails a server, running access control software, which is not located at the customer's premises, but which is instead owned and operated by a dealer or a third party.
In line with this, 10 years ago Kantech (part of Tyco Security Products), launched hattrix, a flexible and scalable security platform
that marks a dramatic shift toward outsourcing security, similar to other services such as IT, HR, and legal services. Internationally over 70 000 doors now run on hattrix applications in the cloud. hattrix is now available to the South African market through Elvey.
Gary Lowe, CEO of Elvey, says that by adopting one of the three options available under the hattrix umbrella, customers avoid having to purchase, operate and maintain their own server and software.
"hattrix encompasses a hosted access control solution, a fully managed solution, or a hybrid approach, where users can employ different access control services to meet their specific needs. This flexibility in offering gives customers the option to match the service to their budget and their specific requirements. It furthermore provides resellers and installers with the ability to increase and control their Recurring Monthly Revenue (RMR)."
Using 128-bit AES data encryption and with low bandwidth usage, hattrix offers a migration path from traditional access control to a services platform. hattrix includes an intuitive and secure WebStation which includes animated graphics, and email reporting of live events. This enables end users to remotely control their own security management tasks in real-time over the web for a hosted approach, or turn over some or all security responsibilities to a Managed Service Provider (MSP) for a hybrid or fully managed solution.
hattrix is supported by the EntraPass Web platform and EntraPass Go Mobile app, both of which are designed to enhance the user experience by delivering remote and convenient real-time access, to manage common security tasks. These include locking/unlocking doors, managing cards and schedules, requesting reports, viewing live video, and monitoring events by floor plan.
Reducing costs and manpower
Cloud-hosted access control systems allow users to convert some capital expenses to operational expenses and result in fewer in-house resources needing to be dedicated to access control, thereby allowing customers to focus on their core business.
"With cloud-based access control hosting, MSPs or security personnel can be located anywhere in the world, with the ability to remotely manage the access control systems on multiple sites," says Lowe.
hattrix is equally suited to enterprise or SMME type deployments. In the first instance, enterprises benefit because the cost and resources required to support a premises-based approach are magnified when multiple locations are involved. Retail businesses also tend to be good candidates for cloud-based access control hosting because they are unlikely to have dedicated technical staff at each location. Similarly, on the other end of the scale, SMMEs also tend not to employ dedicated technical staff, making a hosted solution an advantageous option.
hattrix is true 'plug and play' connectivity. One simply plugs the system in and communication instantly begins, without the need for a technician to program the central station information into a controller. This results in greatly reduced labour costs, on-site programming time and IT expenses for both the end user and the MSP.
Other benefits of hattrix include reduced infrastructure expenses, minimised reliance on access control knowledge and elimination of maintenance inefficiencies. Due to the inherent software functionality, systems can also be updated more regularly. With minimal training, authorised personnel are able to configure hattrix to deliver customised reports by email or they can view activity in real-time. Scheduled backups, audit trails and automated health checks, ensure that security best practice is adhered to at all times.
Because of its backwards compatibility with Kantech hardware, hattrix provides those dealers with existing Kantech customers with a highly marketable business opportunity. Furthermore, with its scalability from two doors to an enterprise-wide deployment, the platform can assist in boosting RMR through direct service contracts.
"Traditionally, access control system installations have not had RMR associated with them. However, offering cloud-based access control hosting presents new recurring revenue opportunities for security dealers, as payment is generally made on a per-door, per-month basis. It is clear that there are significant financial benefits for both end users and dealers in adopting this technology," says Lowe.
Credit(s)
Further reading:
Security system for high-end hotel
September 2019, Elvey Security Technologies , CCTV, Surveillance & Remote Monitoring, Integrated Solutions, Entertainment and Hospitality (Industry)
An international hotel group has made a substantial investment in upmarket hotels within a prestigious Northern Suburbs mixed-use precinct.
Read more...
---
Enhanced biometric technology for mines
September 2019, ZKTeco , Mining (Industry), Access Control & Identity Management
Biometric identification and authentication are currently used at various mines in South Africa and in the SADC region.
Read more...
---
Improving access in mines
October 2019, Astra Fasteners , Mining (Industry), Access Control & Identity Management, Products
The VP1 controller provides full access control and remote monitoring of intelligent locks without having to wire into a network or install, manage and maintain software.
Read more...
---
Invixium and Pyro-Tech partner in South Africa
October 2019 , News, Access Control & Identity Management
Invixium, a manufacturer of IP-based biometric solutions and Pyro-Tech Security Suppliers have announced a new distribution partnership.
Read more...
---
Mallett appointed as Elvey sales director
October 2019, Elvey Security Technologies , News
Ernest Mallett has been appointed as sales director of the Elvey Security Technologies group of companies.
Read more...
---
Suprema receives FBI PIV/FAP30 certification
October 2019, Suprema , News, Access Control & Identity Management
Suprema has announced that the company's BioMini Slim 3 has received FBI PIV (Personal Identity Verification) and Mobile ID FAP30 certification.
Read more...
---
Frictionless access with a wave
October 2019, IDEMIA , Access Control & Identity Management, Residential Estate (Industry)
IDEMIA was the Platinum Sponsor for the Residential Estate Security Conference 2019 and set up its MorphoWave Compact frictionless fingerprint biometric scanner at the entrance to the conference.
Read more...
---
Streamlined access and reporting
October 2019, Comb Communications , Access Control & Identity Management, Residential Estate (Industry)
The main focus of the Comb stand was its practical demonstration of the MK II Lite intercom system with third-party integrated products.
Read more...
---
Customised and integrated solutions
October 2019, Suprema , Access Control & Identity Management, Residential Estate (Industry)
iVisit offers both high-end and low-end residential complexes a cost-effective visitor management solution that is fully integrated into Suprema's offerings.
Read more...
---
Access solutions for every estate
October 2019, Impro Technologies , Access Control & Identity Management, Residential Estate (Industry)
Impro's flagship Access Portal solution comprises one of the most user-friendly software solutions on the market.
Read more...
---