printer friendly version
Changing the security landscape
March 2019 Editor's Choice, News, Security Services & Risk Management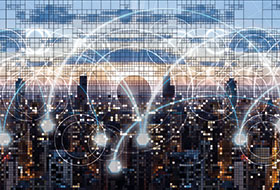 The standard state of play for the private security industry in South Africa is that, unless you're wealthy, you pay for a best-attempt service for securing your home and person. This normally means a monthly subscription to a security company and an alarm installation in your home. When something happens, an alarm is raised and the security company responds to your home.
It's all reactive services, which are usually too late to prevent crime and violence. If your security company has someone nearby in an emergency, the officer may speed to your location to assist. Or, as sometimes happens, they may take a long route to your premises as they don't want to be caught in any action.
Warren Myers (founder of Myertal Tactical Security) has come up with an idea that could change the face of security services in South Africa, using smart technology and an intelligent platform called Aura as its foundation. His vision is that the platform and its partners will reduce crime in South Africa by 50% by 2025.
Started in 2017 as a panic button alarm app, Aura has advanced to the point where it now covers the major centres in South Africa. Aura has about 80 independent security companies signed up as partners at the moment – a number that is growing – covering the Western Cape, Gauteng, Durban and Port Elizabeth.
These companies all have an Android device installed in their response vehicles which tracks the location of the vehicles. Aura's partners provide users with a panic button app on their mobile devices which is connected to their security company and Aura. When the user has an emergency or notices something suspicious, they press the button and the Aura platform immediately identifies the closest vehicles to the user's location.
What makes Aura different is that it identifies any of its partner companies' vehicles in the area. Plots the fastest route to the user for each of these vehicles and then automatically dispatches the vehicle that will arrive fastest. The officer in the vehicle is guided to the location via Google Maps integration and provided with the details of the user.
At the same time, the user is provided with the details of the responding vehicle and officer, and also gets an ETA (expected time of arrival) and can follow their progress via Google Maps on their device.
Because it's app based, users can request assistance even when not at home via GPS location tracking. Myers gives the example of someone signed up with an Aura partner in Cape Town who travels to Johannesburg. This person will still have a security service on call via the partner companies in Johannesburg.
Partner benefits
Partner companies benefit from joining the Aura team because it costs them nothing to join up, but provides additional revenue from day one – the Aura Android device is installed in vehicles at no cost.
Furthermore, Myers adds that these companies will receive a far better return on their investment in their vehicles. Most response vehicles are parked and doing nothing for most of their working lives. By joining the Aura team, these vehicles will be put to use more often without having to buy new vehicles or hire new personnel, enabling companies to do more with less without it costing more.
The ability to assure customers that their emergency app will work anywhere and not just at home is another selling point for these companies. The additional cost to users is minimal in comparison to a monthly armed response contract.
The app itself is not branded as an Aura app, but as an app provided by the security company to its customers, with its own branding. This, again, provides for additional marketing and brand building for partner companies, while bringing in more revenue.
In terms of reporting, the Aura platform can provide partner companies with precise information about their vehicles and their performance in any timeframe they choose. The system is also designed to analyse the data it collects to improve future services.
An app is not an app
Another differentiator for Aura is that, while there are many emergency apps available that send an alert to your family or friends when you are in a situation, none of them can dispatch armed response or medical units to your location. The Aura platform offers this from a number of independent partner companies, meaning you are always covered.
Because of the intelligence in the system, there are many additional features that are in the development pipeline. One example is an autonomous 'meet& greet' system that will automatically dispatch a vehicle to meet someone as they arrive at home – which is where most household crimes start.
There is also a journey specification application on the way. The user will plot a journey he/she is planning and the app will notify the control room if there is any deviation from the planned journey or if the user stops unexpectedly. When this happens a call will be made to the user and if it's an emergency or the call isn't answered a response unit will be dispatched.
The strength of Aura as a platform is in its ability to gather data from many resources on a national scale and use intelligent algorithms to turn this into practical (and useable) information. Currently Myers has a number of large companies in proof-of-concept projects and once these are completed, the platform will expand to additional areas and bring in new partners.
For more information, go to www.aura-app.io
Credit(s)
Further reading:
TAPA: The role of an effective treasury function in business risk management
June 2019, Technews Publishing , News
Neil Le Roux, the Founder of Diligent Advisors will speak at the TAPA SA (Transported Asset Protection Association) annual conference on 26 July 2019.
Read more...
---
From the Editor's desk: No really, take it seriously
July 2019, Technews Publishing , News
Cybersecurity is a topic that has been done to death in the media. The blanket coverage has been so great that people, even the few that realised the danger, have started to gloss over the issue, barely ...
Read more...
---
Residential Estate Security Conference 2019
July 2019, Technews Publishing , Calendar of Events
20 August 2019    Indaba Hotel, Fourways, Johannesburg    Following sold-out events in 2017 and 2018, Hi-Tech Security Solutions will once again be hosting a full-day conference covering residential estate ...
Read more...
---
iLegal 2019
July 2019, Technews Publishing , Calendar of Events
12 September 2019    Johannesburg, South Africa    iLegal, hosted by Dr Craig Donald and Hi-Tech Security Solutions, returns in 2019 with another full-day event covering insights and advice into a range of ...
Read more...
---
Social media and intelligence-led surveillance
July 2019, Leaderware , Editor's Choice, Integrated Solutions, Security Services & Risk Management
Social media has become a major feature of most people's lives in the last few years and they can be invaluable as a source of information for companies and security organisations.
Read more...
---
The 4th Industrial Revolution
July 2019, Wolfpack Information Risk , Editor's Choice, Cyber Security, Security Services & Risk Management, Industrial (Industry)
Most major industries have turned to and are reliant on technology to run their operations. This is a time of great promise, but also one of frightening peril.
Read more...
---
Data protection more challenging
July 2019 , Editor's Choice, IT infrastructure
The number of businesses unable to recover data after an incident nearly doubled from 2016, according to the Global Data Protection Index surveying 2 200 IT decision makers from 18 countries.
Read more...
---
Cyber-attacks target operational technology
July 2019 , Editor's Choice, Cyber Security, Industrial (Industry)
Focus on operational technology security increasing as around 74% of OT organisations come under attack in the past year, finds a new Fortinet report.
Read more...
---
Fear of the unknown
July 2019, Kaspersky Lab , Cyber Security, Security Services & Risk Management
Fear of the unknown: while there's still interest in cryptocurrencies, just 19% locally understand how they work.
Read more...
---
Ingo Mutinelli moves to IDEMIA
July 2019, Technews Publishing, IDEMIA , Editor's Choice, News
IDEMIA, the security and identity management company has announced that Ingo Mutinelli will be taking on the post of regional sales director for the southern Africa region.
Read more...
---