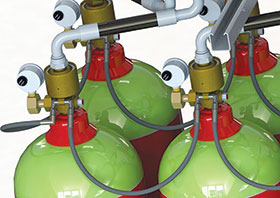 Equipment for improved fire protection
February 2019, Fire & Safety
Aspirating smoke detectors have mostly been viewed as being a very expensive and an over complicated solution for fire detection. This however is not the case with the SecuriRAS range of aspirators. The ASD 321, 532 and 535 are among the most precise and most reliable early warning systems against fires.
Developed in Switzerland and manufactured in Germany, the detectors are particularly reliable and robust. Thanks to their sophisticated detection technology, they can detect incipient fires immediately. SecuriRAS ASD detectors are available in three models. All detectors can be seamlessly integrated into the SecuriFire fire detection system and are extremely durable.
Linear heat detection is one of the most misunderstood and incorrectly applied equipment in the market. Unlike smoke detection, linear and line type heat detection can operate in very harsh environments, but comes with a drawback as ceiling heights are often too high for effective operation. This is worsened as ambient temperatures along the detection ceiling space increase. Another drawback with linear heat detection is that the temperature is measured over a large area and cannot be pinpointed in zones.
This is where SecuriSense LIST and SecuriSense d-LIST line type detectors from Securiton come in. Mainly used along tunnels in Europe and along conveyer belt rollers in mining, the SecuriSense products can pinpoint where a heat source is located along the cable. The cable can be ordered with variable addressed and monitored sensor intervals to meet your custom criteria.
The ADW535 is another detector from Securiton. This has the same look and feel as the ASD range of equipment, but uses pressurised sampling tube instead of sampled air to monitor air temperature changes. The equipment is highly tolerant to EMI from high voltage equipment such as transformers and generators and can even be used in chemically harsh environments.
The unit has an IP65 rating, making it ideal to install close to equipment located outside and in need of being monitored for sudden heat changes.
Inert gas and HFC systems
Continuous improvements have been made in the last 20 years in valve and delivery technology for inert gas systems. Gas storage changed from 150 bar to 200 bar and 300 bar systems are now becoming the norm. Valve and manifold technology changed and several manufacturers have introduced valves that regulate the flow at a constant pressure over the duration of the discharge. These changes have resulted in more economical installations with fewer cylinders and smaller discharge piping.
Kidde Fire Suppression released the new Series 400 Inert gas systems at the end of 2018. The system offers a choice of four NFPA and ISO approved environmentally friendly agents, namely IG55 (argon/nitrogen), IG 541 (argon/nitrogen/carbon dioxide), IG 01 (argon) or IG100 (nitrogen). Cylinders with a capacity of 80 litres and 140 litres in either 200 bar and 300 bar are available.
The new Series 400 valves introduces further improvements in technology that results in further cost savings as well as improved safety. These include:
• Selectable discharge times up to 120 seconds.
• Pressure and flow regulated to allow for Schedule 40 piping throughout – including manifolds for multi-hazard applications as outlet pressure is limited to 55 bar with auto-shutoff at 60 bar. Older systems have piping sections at either 200 or 300 bar.
• Actuation of up to 60 cylinders from a single release unit on primary cylinder with no need for separate pilot cylinders.
• Pressure monitoring of all cylinders with pluggable harnesses resulting in reduced installation time and neat appearance.
• Quick connect fittings on all interconnecting hoses resulting in faster installation and easier maintenance and no risk of over or under tightening of connections.
• Quick connect fittings on all interconnecting hoses resulting in faster installation and easier maintenance and no risk of over or under tightening of connections. Pressure in the actuation hoses is limited to 8.3 bar.
• Test procedures that actuate all electrical and mechanical components during routine maintenance to ensure correct operation.
The Series 400 system also offers both 180° and 360° discharge nozzles as well as nozzle silencers that limits the risk of hard storage disk failures in IT environments. Longer discharge periods at constant flow rates results in a reduction of piping sizes with corresponding cost savings, reduced energy dissipation at nozzle that results in less noise and reduction in pressure relief vent sizes.
Kidde Fire Protect also released the Advanced Delivery System for NOVEC 1230 fire suppression systems. A limiting factor of all HFC and NOVEC 1230 systems is the relatively low storage pressure of between 25 and 42 bar. This results in the failure to discharge large quantities of the fire suppression agent within the required ten second discharge period or discharging the agent over longer distances as there is simply not enough pressure to propel the suppression agent to the nozzles.
The new NOVEC 1230 ADS system utilises an external nitrogen cylinder(s) to continuously boost the pressure in the cylinder(s) with the NOVEC 1230 agent. This improvement allows for configuration of NOVEC 1230 systems protecting very large hazard areas and also centralised system protecting multi-hazard areas from a central bank of cylinders.
For more information contact Atlas Fire Security, +27 21 551 5080, distribution@atlascenta.co.za, www.atlascenta.co.za