printer friendly version
Aftercare centre upgraded
February 2019
Fire & Safety
Eaton Africa's sponsorship of a vital fire safety system helped the Alta du Toit Centre in Bellville in revamping its out-dated and faulty fire alarm system and secure a safe environment for residents and staff members.
After an inspection was done by the local fire department, it was found that the centre was no longer compliant according to the minimum fire safety regulations. According to the law, this is an essential requirement for facilities such as Alta du Toit Centre, and if not attended to, it might have to close down till requirements are met. The centre has since been fully upgraded with a brand-new safety-compliant fire detection system sponsored by Eaton Africa and Procom Fire.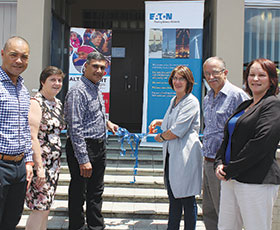 Dean Gopal (life safety devices product manager at Eaton) with Linda Niemöller, centre manager, Alta Du Toit.
The centre cares for 164 residential intellectually disabled adults and 55 day-care clients, and is run by more than 70 dedicated staff members. The centre had no funds to maintain or upgrade its existing fire detection system. Rather than try to upgrade the aged infrastructure, Eaton Africa collaborated with Procom Fire to remove all the existing equipment that had failed over time and replace it with an Eaton Addressable Fire Solution.
"The most important objective was to ensure that the residents were protected in the best way, should a fire break out," says Peter Le Roux, director and business owner at Procom Fire. "The second objective was to limit damage to the building and other assets."
Work on the project began on 23 August 2018 and all four buildings were completed and fully operational in the first week of October. The installation included over 250 analogue smoke detectors, 15 heat sensors and 42 addressable surface call points as well as 75 decibel alarm sounders in all passage ways across the centre's four hostels.
Procom also replaced all the old cabling and installed 5000 metres of PH30 fire-resistant cabling to link all the devices. This part of the project was sponsored by Pinnacle. Procom went a step further and installed a fully automated communication system, which sends text messages to identified personal in the event of a fire. This includes all management staff and appointed security personnel that would be able to respond accordingly.
"We had to be sensitive to the unique needs of the care centre, particularly not to alarm sleeping residents, so we placed sounders in passageways rather than inside the rooms," Le Roux says. "We replaced security fences with maglock doors equipped with push bars and ensured that all entrances, including sliding doors, open automatically and stay open as soon as a fire breaks out and for the entire duration of the emergency. We looked at various safety factors such as blocked entrances and other elements that might not normally fall in the scope of a fire detection system."
According to Le Roux, a former fire inspector, it's common for companies to cut corners to save money, while legislation mandates that buildings should have a certain level of fire safety based on the type of building and requirements thereof. He says the decision to use an Eaton Fire System was firstly the flexibility and resilience of the equipment and secondly Eaton`s professional approach to assist with this project as well as their stance for people safety.
"People safety and business continuity always takes first preference. For Alta du Toit, we focused on the most essential requirements of the environment we were working in and designed a system that would be affordable, easy to maintain and fully upgradable in the future," says Dean Gopal, life safety product manager at Eaton Africa. "It was particularly important to us and to the centre to ensure that its operations and residents were not disturbed during installation, and we achieved this by approaching the whole project with sensitivity to the centre's nurturing approach."
Procom Fire also hosted training sessions to upskill all staff members in using the new system and, together with Eaton Africa, will ensure that the fire system is always fully functional at all times. This complies with all fire prevention regulations and requirements as well as ensures the safety of the centre's residents and staff.
Further reading:
Choosing the right fire detection system
August 2019, FDIA (Fire Detection Installers Association) , Fire & Safety
Charles Thiong'o from the FDIA highlights important factors to consider when choosing a fire detection system.
Read more...
---
Local security technology manufacturer
August 2019, Technoswitch , Fire & Safety
Technoswitch, a South-African manufacturer, importer and distributor of fire detection and suppression equipment turned 45 this year.
Read more...
---
Fire detection and suppression for server cabinets
August 2019, Technoswitch , Fire & Safety
The TEC601, designed and manufactured by Technoswitch, is an all-in-one fire and extinguishing rack-mountable control system designed to protect electronic equipment in 19-inch server room cabinets.
Read more...
---
ORYX conventional fire panel range
August 2019, Technoswitch , Fire & Safety
The ORYX range of conventional panels from Technoswitch offers 2, 4 and 8 zone options, including weatherproof versions (with or without DIN rail) specifically suited to industrial applications.
Read more...
---
Next generation BlazeCut T-series
August 2019, Technoswitch , Fire & Safety
Designed to protect small enclosed spaces with greater risk of fire, the BlazeCut T-series system is easy to install.
Read more...
---
Emergency lighting and fire detection combination
August 2019 , Fire & Safety, Products
Hochiki Europe has launched FIREscape+, a system which combines emergency lighting, fire detection and wayfinding technology.
Read more...
---
Introducing Gulf Security Technology
August 2019, UTC Fire & Security SSA , Fire & Safety
Gulf Security Technology manufactures more than 16 million detectors and modules and more than 120 thousand control panels per year, making it one of the largest fire detection manufacturers in the world.
Read more...
---
Visual alarm devices enable effective, lifesaving evacuation
August 2019, Johnson Controls , Fire & Safety
Visual alarm devices are used to supplement audio alarms, providing an effective means of alerting and evacuating occupants when a fire emergency occurs.
Read more...
---
Condensed aerosol fire suppression
August 2019, Technoswitch , Fire & Safety
] The Stat-X condensed aerosol fire suppression product, distributed by Technoswitch, is one possible solution for fires in battery energy storage systems.
Read more...
---
Video-based fire and smoke detection
August 2019, Secutel Technologies , Fire & Safety
AxxonSoft has developed an early fire notification system based on intelligent video technology.
Read more...
---