printer friendly version
Technoswitch launches kitchen and vehicle fire suppression kits
September 2018 Editor's Choice, Fire & Safety, News & Events, Products & Solutions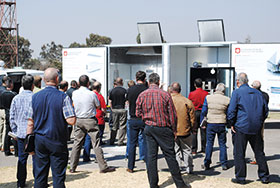 Technoswitch recently held a launch event at the FPA College in Boksburg to announce it had added the Rotarex FireDETEC range of pre-engineered fire detection and suppression systems to its product portfolio. The first two pre-engineered systems being made available from Rotarex were also announced on the day, along with a demonstration of their capabilities.
Technoswitch's Brett Birch was on hand to introduce the attendees to Rotarex and the new products. He explained that although this was the first time Technoswitch was importing Rotarex products, the company has been in operation for over 90 years and its products can be found in over 65 countries.
Rotarex started out in the fire safety market by producing CO2 and gas valves, later expanding to other areas, one of which was Firetec, the division producing the new products. The first new product is a kitchen fire suppression system, the second a vehicle suppression system.
Birch noted that the two Firetec products were chosen because of their quality design and engineering, and because they are pre-engineered systems – meaning they are basically sold in kit form which makes installation faster and easier.
Kitchen fire suppression
The FireDETEC automatic fire suppression system for commercial kitchen fires was the first product announced. Commercial kitchens are often busy and cooking results in a lot of grease and oil being in or around grills, open flames, deep fat fryers and so on. If oil, for example, catches fire, trying to douse it with water will only exacerbate the danger (as was demonstrated at the launch).
These kitchens therefore need a better solution, preferably one that can automatically detect a fire and immediately launch a suppression action. The FireDETEC kit does exactly that without requiring any power supply. The system is installed over a stove or cooking area and protects the area as well as the extraction hood.
The kit consists of a 9-litre cylinder that can protect up to two cooking areas and contains pressurised nitrogen and the extinguishing agent, which cools and smothers the fire. The agent is biodegradable and safe, meaning it can be washed off after a fire has been extinguished and the kitchen can get back to work. The kit also contains the detection and discharge tubes, as well as three nozzles (one for the extraction hood) and all you need to connect everything. A manual actuator is also available to manually start the discharge.
The flexible detection tube is placed over the danger areas and pressurised. The one end is attached to the cylinder and the other to the actuator. When it is exposed to a fire and its temperature rises to 175 degrees Celsius, it ruptures and the loss in pressure releases the valve on the cylinder. The suppression agent is then released through the discharge tube, putting out the fire in seconds.
The length of the discharge depends on the cylinder in use, but the 9-litre device continues for about 40 seconds of continuous discharge. As a modular kit, kitchens can combine two kits to double the area under protection. These kits can be set up independently or they can be interlinked so that a fire will cause both kits to discharge simultaneously.
Birch says different sized cylinders that will be able to protect larger areas are under development and 16-litre and 25-litre cylinders should be available soon. A smaller 3-litre unit for residential applications such as student residences, frail care centres and B&Bs is also in the pipeline.
Vehicle fire suppression
The FireDETEC automatic fire suppression system for vehicles works on a similar principle as the kitchen system, apart from being more rugged and sporting different cylinder sizes. The system needs careful planning however to ensure it covers the engine correctly as engines vary in size and capacity. You can also combine cylinders if required.
The detection tube is more rugged than the kitchen one and ruptures at 110 degrees Celsius. There is also an option for an electronic activation switch, an in-cabin monitoring unit that provides the status of the system at a glance and a manual activation switch. You can also test the system from the monitoring unit.
The vehicle cylinder is vibration and impact resistant, and can be mounted in any orientation. There are two options for the suppression agent: FireDETEC TS-55 which can operate in sub-zero temperatures (to -55°C), or BerkiCold which can't operate below zero degrees Celsius. Birch says both are as effective and are also biodegradable. The cylinders are available in 4-, 7- and 12-litre sizes depending on the engine size. The 7 litre cylinder currently has the internationally recognised P-Mark (SPCR183 certification) for vehicle suppression systems and all the cylinder sizes are approved for use in commercial buses under UNECE R107.
Technoswitch has sent its staff to the EU for training and is now geared to offer its installers training in the FireDETEC solutions. It also has stock on hand.
For more information contact Technoswitch Fire Detection, +27 11 794 9144, info@technoswitch.co.za, www.technoswitch.co.za
Credit(s)
Further reading:
SafeQuip introduces lithium fire extinguishers
Fire & Safety Products & Solutions
With the use of Lithium batteries increasing in many types of portable devices and battery storage solutions, SafeQuip, in partnership with AVD Lithex, is introducing a fire extinguisher aimed at suppressing and extinguishing, and also preventing re-ignition of lithium fires.
Read more...
---
New generation of cyber-focused controllers
Gallagher News & Events Access Control & Identity Management Products & Solutions
The C7000 gives users an opportunity to leverage their hardware and firmware to build a platform designed to catapult their organisation into the future, with cybersecurity baked in from inception.
Read more...
---
Nextivity CEL-FI ROAM R41 boosts your cell signal
IoT & Automation Products & Solutions
Designed for cars, trucks, and boats, it is the industry's most powerful cellular coverage solution for on-the-go applications. It features the 4th generation IntelliBoost chip to deliver channelised coverage for mobile network operator (MNO) signals.
Read more...
---
South Africans play a role in becoming scam victims
Editor's Choice Risk Management & Resilience
The South African fraud landscape is becoming increasingly risky as fraudsters and scammers look to target individuals with highly sophisticated scams, in an environment where it is becoming increasingly difficult for lawmakers and authorities to bring these criminals to justice.
Read more...
---
Service orientation and attention to detail
Technews Publishing Editor's Choice Risk Management & Resilience
Lianne Mc Hendry evolved from working for an accounting firm to an accomplished all-rounder familiar with the manufacturing, distribution, and system integration aspects of the security industry value chain.
Read more...
---
Are you leaving money on the table?
Editor's Choice Security Services & Risk Management
How many customers have you helped since starting your business? Where does most of your new business come from? If the answer is not from your database's existing customers, you might have a problem.
Read more...
---
Wireless fire tech offers unexpected benefits for load shedding
Technoswitch Fire Detection & Suppression Editor's Choice
For the long-suffering residents of South Africa, the policy of load shedding to help manage demand from the country's ageing and poorly maintained electrical generation and distribution system, is a major inconvenience, and it can be fatal to fire alarm systems.
Read more...
---
Consolidated cybersecurity management
Technews Publishing Editor's Choice Information Security Infrastructure
SMART Security Solutions spoke to Gareth Redelinghuys, Country Managing Director, African Cluster at Trend Micro, to find out what makes Trend stand out from the crowd and also its latest market offerings.
Read more...
---
Olarm advances smart security with Texecom integration
Olarm News & Events Perimeter Security, Alarms & Intruder Detection Products & Solutions
Following Olarm's achievement as the OSPA 2023 winner of 'Outstanding Security Integrator', it has taken another significant step in its innovation journey with the announcement of its integration with Texecom Premier Elite.
Read more...
---
ADI to close SA operation
ADI Global Distribution Editor's Choice
In a move that will shock the local security industry, ADI Global recently sent an email to its customers notifying them that it will cease its business operations in South Africa.
Read more...
---