printer friendly version
Transformer fire protection solutions
September 2018
Fire & Safety
Industrial fires cause damage to the amount of approximately R430 Million per year. Transformer fires are disruptive, dangerous and may cause loss of life due to the severity of the fire and the high incidence of explosions.
In most transformer fires, the transformer and surrounding equipment are damaged extensively or can even be totally destroyed, resulting in significant downtime and costly replacement expenses. While the instances of transformer fires and the costs of damages increase every year, protecting transformers against fire is relatively easy, providing a few guidelines are followed.
Common causes of transformer fires include:
• Incorrect or lack of maintenance of the transformer and/or supporting equipment.
• Ageing equipment.
• Transformer overloaded due to increased demand.
• Weather factors (i.e. lightning).
• Sabotage (i.e. cable theft).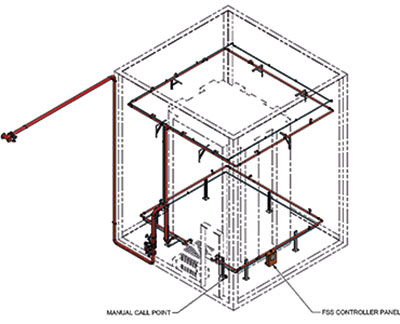 Transformer fire protection guidelines
Best practice suggests that fire protection measures should first of all be preventative in nature, before moving on to detection of fires, and finally suppression, should the prevention methods fail for whatever reason. Typical preventative guidelines that can be followed to prevent damage from transformer fires are the following:
• Build transformers far away from critical buildings or equipment.
• Separate transformers with blast/fire walls on three sides.
• Aim the opening of the blast walls away from sensitive areas.
• Provide areas around the transformers to contain any oil spills.
• Provide gravel stones in the bunds as "passive fire protection" to absorb any possible burning oil spills.
• Provide proper security fencing around the transformers to prevent sabotage.
• Prevent uncontrolled access to the transformers as far as possible.
• Only allow properly trained and experienced personnel to perform any services on the transformers.
• Make sure the equipment is always in a good condition, fix oil leaks as quickly as possible, as these pose a fire risk.
• Provide a correctly designed fire detection and suppression system for the transformers.
Transformer fire suppression systems are typically designed in accordance with NFPA13 and 15, which deal with water spray deluge and sprinkler systems. These systems should be designed, tested and inspected according to the applicable regulations, codes or standards. The design of equipment should take into account ease of installation, maintenance, environment etc. The fire protection system should be sized to provide, as a minimum, the requirements as described in the final performance criteria.
It must be noted that the purpose of suppression on transformers is not to protect or save the transformer (transformers that burned should always be replaced), but rather to protect surrounding equipment, people and buildings, by preventing further fire spread.
Design calculations should be to the applicable design standard. These designs, calculations and commissioning should be signed off by a competent person.
Basic transformer fire protection design
A typical transformers detection medium will be a hydraulic pilot line with fast response sprinkler heads. When the sprinklers are activated by heat the pilot line will lose pressure and open the fire deluge valve suppling fire water to the pipe manifold with strategically placed open ended high velocity as per design requirements.
Care should be taken to install suppression components such as sprinklers and nozzles in such a manner that they are securely fastened in positions where they will provide the quickest possible response time, and adequately cover the most critical areas with sufficient amounts of water when activated. Alarms can also be communicated to control rooms through the correct fire rated detection panels.
The following standards may typically be applicable to transformer fire protection system design:
• South African National Standards (SANS) Standards:
- SANS 10287 – Automatic Water Spray Installations for Fire Fighting.
- ANS 10139 – Fire Detection.
• Applicable National Fire Protection Association (NFPA) Codes and Standards:
- NFPA 13 – Installation of Sprinkler Systems
- NFPA 15 – Standard for Water Spray Fixed Systems for Fire Protection
- NFPA 16 – Installation of Foam-Water Sprinkler and Foam-Water Spray Systems
- NFPA 750 – Water Mist Fire Protection Systems
Cutting-edge detection and suppression technologies are applied to ensure safe working and operational conditions even in harsh environments. This is achieved by installing monitoring and controlling remote detection devices. Sperosens certifications and accreditations include: SAQCC, ASIB, FDIA, FPASA, ECSA Professional Registration, FEASA, ISO 9001, SANS 1475 and CIDB.
For more information contact Marihette Hattingh, Sperosens, +27 12 665 0317, marihette.hattingh@spero.co.za, www.spero.co.za
Credit(s)
Further reading:
SafeQuip introduces lithium fire extinguishers
Fire & Safety Products & Solutions
With the use of Lithium batteries increasing in many types of portable devices and battery storage solutions, SafeQuip, in partnership with AVD Lithex, is introducing a fire extinguisher aimed at suppressing and extinguishing, and also preventing re-ignition of lithium fires.
Read more...
---
Modern warehouses come with added fire risk
Fire & Safety Transport (Industry)
Along with increased investments in modern warehousing in Africa, there is also a need to focus on protecting warehouses from crime, however, fire can arguably be a greater danger to business continuity.
Read more...
---
How to prevent solar inverter short-circuits and fires
Fire & Safety
With many South Africans installing inverters as part of solar power systems to mitigate the impact of load shedding in homes and at businesses, users need to be aware of the potential fire risks.
Read more...
---
Fidelity SecureFire steps into critical fire response space
News & Events Fire & Safety
With the majority of fire stations around the country being crippled by a lack of resources to offer effective responses, Fidelity Fire Solutions has launched its own 'first responder' model, Fidelity SecureFire.
Read more...
---
Long-distance connectivity with Simplex ES Net Life Safety
Johnson Controls Global Products Fire & Safety Products & Solutions
ES Net Network Bridge allows fire alarm system data to be transmitted across distant buildings via a customer's existing network infrastructure, improving system-wide monitoring and control in facilities and campuses where life safety networks are often widely dispersed.
Read more...
---
Elvey Group and Technoswitch part ways
Elvey Security Technologies Fire & Safety News & Events
The Elvey Group (a division of the Hudaco Group of Companies) is relinquishing its distributorship of the Technoswitch brand, following Hudaco's acquisition of Brigit Fire.
Read more...
---
From one month to 10 minutes
Dahua Technology South Africa Fire & Safety
Dahua has integrated technology with the inspection mode of the photovoltaic power station in order to create a robust system that can monitor the fire situation in the power plant and its surrounding areas 24/7.
Read more...
---
Protecting poultry processing plant
Technoswitch Fire Detection & Suppression Fire & Safety
Grain Field Chickens, based in Reitz in the Orange Free State Province, features all the typical fire detection challenges one would expect to encounter in a food processing facility.
Read more...
---
Fire prevention for energy systems
Technoswitch Fire Detection & Suppression Fire & Safety
With the significant push towards renewable energy, such as wind and solar, the demand for battery energy storage systems has grown exponentially, as has the need for fire safety solutions for these environments.
Read more...
---
Fire risks in solar panel installations
Technoswitch Fire Detection & Suppression Fire & Safety
Installed global solar capacity doubled in three years from 2018, and the expectation is that in the next three years, it will more than double. In South Africa, the year-on-year growth from 2021 to 2022 was 24,90%.
Read more...
---