printer friendly version
Transformer fire protection solutions
September 2018
Fire & Safety
Industrial fires cause damage to the amount of approximately R430 Million per year. Transformer fires are disruptive, dangerous and may cause loss of life due to the severity of the fire and the high incidence of explosions.
In most transformer fires, the transformer and surrounding equipment are damaged extensively or can even be totally destroyed, resulting in significant downtime and costly replacement expenses. While the instances of transformer fires and the costs of damages increase every year, protecting transformers against fire is relatively easy, providing a few guidelines are followed.
Common causes of transformer fires include:
• Incorrect or lack of maintenance of the transformer and/or supporting equipment.
• Ageing equipment.
• Transformer overloaded due to increased demand.
• Weather factors (i.e. lightning).
• Sabotage (i.e. cable theft).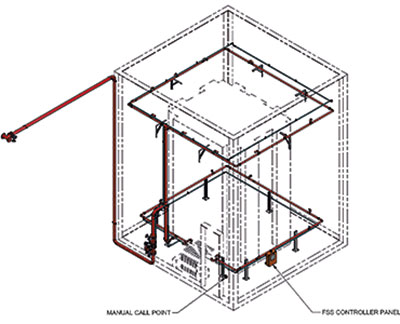 Transformer fire protection guidelines
Best practice suggests that fire protection measures should first of all be preventative in nature, before moving on to detection of fires, and finally suppression, should the prevention methods fail for whatever reason. Typical preventative guidelines that can be followed to prevent damage from transformer fires are the following:
• Build transformers far away from critical buildings or equipment.
• Separate transformers with blast/fire walls on three sides.
• Aim the opening of the blast walls away from sensitive areas.
• Provide areas around the transformers to contain any oil spills.
• Provide gravel stones in the bunds as "passive fire protection" to absorb any possible burning oil spills.
• Provide proper security fencing around the transformers to prevent sabotage.
• Prevent uncontrolled access to the transformers as far as possible.
• Only allow properly trained and experienced personnel to perform any services on the transformers.
• Make sure the equipment is always in a good condition, fix oil leaks as quickly as possible, as these pose a fire risk.
• Provide a correctly designed fire detection and suppression system for the transformers.
Transformer fire suppression systems are typically designed in accordance with NFPA13 and 15, which deal with water spray deluge and sprinkler systems. These systems should be designed, tested and inspected according to the applicable regulations, codes or standards. The design of equipment should take into account ease of installation, maintenance, environment etc. The fire protection system should be sized to provide, as a minimum, the requirements as described in the final performance criteria.
It must be noted that the purpose of suppression on transformers is not to protect or save the transformer (transformers that burned should always be replaced), but rather to protect surrounding equipment, people and buildings, by preventing further fire spread.
Design calculations should be to the applicable design standard. These designs, calculations and commissioning should be signed off by a competent person.
Basic transformer fire protection design
A typical transformers detection medium will be a hydraulic pilot line with fast response sprinkler heads. When the sprinklers are activated by heat the pilot line will lose pressure and open the fire deluge valve suppling fire water to the pipe manifold with strategically placed open ended high velocity as per design requirements.
Care should be taken to install suppression components such as sprinklers and nozzles in such a manner that they are securely fastened in positions where they will provide the quickest possible response time, and adequately cover the most critical areas with sufficient amounts of water when activated. Alarms can also be communicated to control rooms through the correct fire rated detection panels.
The following standards may typically be applicable to transformer fire protection system design:
• South African National Standards (SANS) Standards:
- SANS 10287 – Automatic Water Spray Installations for Fire Fighting.
- ANS 10139 – Fire Detection.
• Applicable National Fire Protection Association (NFPA) Codes and Standards:
- NFPA 13 – Installation of Sprinkler Systems
- NFPA 15 – Standard for Water Spray Fixed Systems for Fire Protection
- NFPA 16 – Installation of Foam-Water Sprinkler and Foam-Water Spray Systems
- NFPA 750 – Water Mist Fire Protection Systems
Cutting-edge detection and suppression technologies are applied to ensure safe working and operational conditions even in harsh environments. This is achieved by installing monitoring and controlling remote detection devices. Sperosens certifications and accreditations include: SAQCC, ASIB, FDIA, FPASA, ECSA Professional Registration, FEASA, ISO 9001, SANS 1475 and CIDB.
For more information contact Marihette Hattingh, Sperosens, +27 12 665 0317, marihette.hattingh@spero.co.za, www.spero.co.za
Credit(s)
Further reading:
Avenar fire alarm panels
Issue 7 2020, Bosch Building Technologies , Fire & Safety
Avenar panel 2000 and 8000 are new fire alarm panel platforms offer connectivity and scalability from small to large-sized installations.
Read more...
---
Linear heat detection under difficult conditions
Issue 5 2020, Technoswitch , Fire & Safety
Securiton's SecuriHeat ADW535 linear heat detector prevails where conventional fire detectors reach their physical limits.
Read more...
---
High-precision aspirating smoke detectors
Issue 5 2020, Technoswitch , Fire & Safety
The SecuriSmoke ASD range by Securiton offers three VdS approved models and makes the lightning-fast detection of fires both scalable and cost-effective for any area.
Read more...
---
Competency in the fire industry
Issue 5 2020, FDIA (Fire Detection Installers Association) , Fire & Safety
Persons who design, commission, install or service fire protection equipment or systems should have the required level of competence for the task they perform.
Read more...
---
Public address/voice alarm partnership
Issue 5 2020, Johnson Controls Global Products , Fire & Safety
Johnson Controls customers now have single-source access to a complete line of fire detection products, including high-quality PA/VA systems.
Read more...
---
Hochiki Europe's L@titude system distributed by XtraVision
Issue 5 2020, XtraVision , Fire & Safety
Hochiki Europe's L@titude range of fire alarm control is both sophisticated, yet simple to use.
Read more...
---
Hochiki shines a light on luxury
Issue 5 2020, XtraVision , Fire & Safety
Luxury hotel chooses fire safety equipment from Hochiki as part of extension and restructuring works.
Read more...
---
Self-test for fire alarms
Issue 4 2020, Johnson Controls Global Products , Fire & Safety
Johnson Controls notification appliance self-test technology receives UL Verification Mark.
Read more...
---
New FireClass addressable fire alarm panels
Issue 4 2020, Johnson Controls Global Products , Fire & Safety
Johnson Controls has introduced two new FireClass addressable fire alarm panels, the FC702 and FC708, to its range of fire detection solutions.
Read more...
---
University of Sudan tackles heat and dust with life safety solutions
Issue 4 2020, Hochiki Europe , Fire & Safety
To guarantee the safety of students, staff and visitors, Sudan University chose fire safety devices from Hochiki with the ability to withstand the harsh Sudanese environment.
Read more...
---