printer friendly version
Visibility is security
August 2018
Cyber Security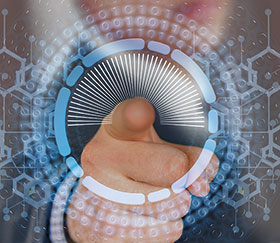 There is no shortage of cyber threats in the world today and while it's possible to spend an age listing the various types of cyber-attacks and their methods, they all have one thing in common. Cyber criminals are after data in order to commit online fraud, identity theft and a host of other cybercrimes. To get their hands on what they need, they target organisations that make use of personal data in their everyday operations.
Given that every organisation in the world deals with personal or sensitive data in some form or another, whether global corporation, small business, municipality or financial service, there is no business that is not a potential target for a data breach in the form of a cyber-attack. Despite their differences, two things remain the same for organisations large and small: effective cybersecurity and vulnerability management all hinges on visibility.
See the forest for the trees
It's easy to get caught up in the hype about cybercrime and lose focus of what's important: protecting an organisation's digital assets, infrastructure and people from cyber harm. It's not possible to protect against something that cannot be seen, which is why vulnerability management and threat detection are such hot topics right now. After all, that's the element that hackers are relying on: stealth tactics to exploit the weaknesses and vulnerabilities inherent in technology.
As fast as businesses are pushing for new technologies to be able to do new things and innovate, new vulnerabilities are appearing just as quickly. This makes it important to achieve visibility over all connections entering and leaving the corporate network, in order to ascertain that these connections pose no threat.
To this end, there are already gateway security solutions that exist that will integrate easily into the existing network architecture, redirecting all inbound and outbound internet traffic in order to classify and monitor connections. The benefit of utilising intelligent gateway solutions to create visibility is that this unlocks the power of reporting.
Without a meaningful view of the Internet gateway an organisation is at risk by default, so the benefits of an intelligent gateway solution is that creating visibility is made possible through the power of reporting. This depends obviously on artificial intelligence, and the AI engine that runs this is the key to unlocking that meaningful network view.
Simple solutions to complicated problems
To be effective, security needs to be proactive and preventative. Intelligent threat detection solutions need to deliver the ability to block, in addition to visibility and control. This allows the security-conscious network administrator to clamp down on all malware, and proactively identify possible suspicious connections so that these can be dealt with appropriately. By ensuring visibility over all connections in the network at a gateway level, this also performs a preventative security function.
Why is visibility over every single connection so important? Let's consider ransomware. On average, a hacker, targeting a specific organisation, takes about 180 days from point of penetration before they can successfully encrypt the entire organisation's data.
However, if the network administration team has visibility into all of the connections on the network, it becomes possible to more effectively identify suspicious connections, report on them, and have them blocked and thus neutralised in under an hour.
The benefits of visibility and control
Such an approach to cybersecurity is a very effective way of killing off potentially risky connections in a proactive manner. Unless it's been deemed safe, disable suspicious connections. Once disabled, it becomes possible to safely assess that connection and if it is deemed safe, it can be added to a whitelist of security exceptions.
This approach is two-fold: block all connections to known malware and phishing sites, and report on those with the option to allow or kill. It is this reporting function that is especially important, because these phone-home ransomware connections don't present themselves as known malware if your organisation has been specifically targeted. As we add more devices to the Internet of Things and we start to build more connections with the world and devices around us, it's better to err on the side of being too restrictive and blocking as much as possible, than not.
It must be stressed, however, that technological security measures are insufficient on their own. Given that the weakest link in any security system will always be the human element, security awareness training and risk management education is important and is a necessary component of a successful cybersecurity strategy based on visibility.
For more information, contact LucidView, 086 110 3117, www.lucidview.net
Further reading:
Understanding the evolving cybersecurity landscape
Issue 5 2021, Vox , Cyber Security
Given the global disruption that took place last year, it is hardly surprising that malware increased by 358% and ransomware by 435% as compared to 2019.
Read more...
---
Protecting business from ransomware at the edge
Issue 4 2021 , Cyber Security
It might not always be possible to prevent ransomware from infecting remote networks, however, a robust backup and disaster recovery strategy can get the business back on track if systems are locked down.
Read more...
---
How safe are our factories?
Issue 5 2021, Wolfpack Information Risk , Industrial (Industry), Cyber Security
In this, the first part of a series on cybersecurity for operational technology, Bryan Baxter asks how safe our factories are from cyber threats.
Read more...
---
Managing a breach or 'dirty' network
Issue 5 2021 , Editor's Choice, Cyber Security
Nasser Bostan, head of security sales, Middle East and Africa, BT, shares BT's insights gleaned from the SolarWinds incident and offers recommendations for organisations to step up their cybersecurity strategies.
Read more...
---
Protecting your workforce
Issue 5 2021, J2 Software , Cyber Security
With Workforce Cyber Intelligence, organisations can reduce legal liability by identifying the personal online activities that put the enterprise at risk, while still protecting employee privacy.
Read more...
---
Can businesses really protect their customers?
Issue 5 2021 , Cyber Security
Cyber-criminals use many methods to extract data from businesses or individuals, but spam remains one of the key means of parting consumers from their cash.
Read more...
---
USBs threats are back
Issue 4 2021 , Cyber Security
Kaspersky has uncovered a rare, wide-scale advanced persistent threat (APT) campaign; initial infection occurs via spear-phishing emails containing a malicious Word document and can then spread to other hosts through removable USB drives.
Read more...
---
Incedo consolidates its cybersecurity defence
Issue 4 2021 , Cyber Security
Check Point Software´s end-to-end solution safeguards Incedo and its customers from a global spike in cyberattacks, while reducing costs and increasing productivity.
Read more...
---
Top 10 security misperceptions
Issue 4 2021 , Cyber Security, Security Services & Risk Management
The Sophos Rapid Response team has compiled a list of the most commonly held security misperceptions they've encountered in the last 12 months while neutralising and investigating cyberattacks in a wide range of organisations.
Read more...
---
Top cybersecurity considerations for SMEs in 2021
Issue 3 2021 , Cyber Security, News
Cisco has published its 2021 SMB Security Outcomes Study, highlighting what SMB leaders are doing to thrive in today's ever-evolving threat landscape, as well as offering actionable insights on where they should focus.
Read more...
---