printer friendly version
Visibility is security
August 2018
Cyber Security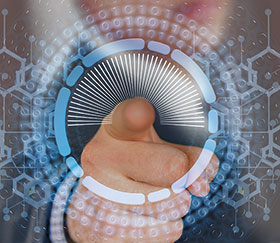 There is no shortage of cyber threats in the world today and while it's possible to spend an age listing the various types of cyber-attacks and their methods, they all have one thing in common. Cyber criminals are after data in order to commit online fraud, identity theft and a host of other cybercrimes. To get their hands on what they need, they target organisations that make use of personal data in their everyday operations.
Given that every organisation in the world deals with personal or sensitive data in some form or another, whether global corporation, small business, municipality or financial service, there is no business that is not a potential target for a data breach in the form of a cyber-attack. Despite their differences, two things remain the same for organisations large and small: effective cybersecurity and vulnerability management all hinges on visibility.
See the forest for the trees
It's easy to get caught up in the hype about cybercrime and lose focus of what's important: protecting an organisation's digital assets, infrastructure and people from cyber harm. It's not possible to protect against something that cannot be seen, which is why vulnerability management and threat detection are such hot topics right now. After all, that's the element that hackers are relying on: stealth tactics to exploit the weaknesses and vulnerabilities inherent in technology.
As fast as businesses are pushing for new technologies to be able to do new things and innovate, new vulnerabilities are appearing just as quickly. This makes it important to achieve visibility over all connections entering and leaving the corporate network, in order to ascertain that these connections pose no threat.
To this end, there are already gateway security solutions that exist that will integrate easily into the existing network architecture, redirecting all inbound and outbound internet traffic in order to classify and monitor connections. The benefit of utilising intelligent gateway solutions to create visibility is that this unlocks the power of reporting.
Without a meaningful view of the Internet gateway an organisation is at risk by default, so the benefits of an intelligent gateway solution is that creating visibility is made possible through the power of reporting. This depends obviously on artificial intelligence, and the AI engine that runs this is the key to unlocking that meaningful network view.
Simple solutions to complicated problems
To be effective, security needs to be proactive and preventative. Intelligent threat detection solutions need to deliver the ability to block, in addition to visibility and control. This allows the security-conscious network administrator to clamp down on all malware, and proactively identify possible suspicious connections so that these can be dealt with appropriately. By ensuring visibility over all connections in the network at a gateway level, this also performs a preventative security function.
Why is visibility over every single connection so important? Let's consider ransomware. On average, a hacker, targeting a specific organisation, takes about 180 days from point of penetration before they can successfully encrypt the entire organisation's data.
However, if the network administration team has visibility into all of the connections on the network, it becomes possible to more effectively identify suspicious connections, report on them, and have them blocked and thus neutralised in under an hour.
The benefits of visibility and control
Such an approach to cybersecurity is a very effective way of killing off potentially risky connections in a proactive manner. Unless it's been deemed safe, disable suspicious connections. Once disabled, it becomes possible to safely assess that connection and if it is deemed safe, it can be added to a whitelist of security exceptions.
This approach is two-fold: block all connections to known malware and phishing sites, and report on those with the option to allow or kill. It is this reporting function that is especially important, because these phone-home ransomware connections don't present themselves as known malware if your organisation has been specifically targeted. As we add more devices to the Internet of Things and we start to build more connections with the world and devices around us, it's better to err on the side of being too restrictive and blocking as much as possible, than not.
It must be stressed, however, that technological security measures are insufficient on their own. Given that the weakest link in any security system will always be the human element, security awareness training and risk management education is important and is a necessary component of a successful cybersecurity strategy based on visibility.
For more information, contact LucidView, 086 110 3117, www.lucidview.net
Further reading:
Is your business a cyber target?
Issue 2 2020 , Cyber Security
MJ Strydom, MD of cybersecurity specialist DRS reveals why every business is a breach target in 2020.
Read more...
---
Passwordless authentication
Issue 2 2020 , Cyber Security
Thales's support for Fast IDentity Online (FIDO) 2.0 provides passwordless access to Microsoft Azure Active Directory-connected apps and other services.
Read more...
---
Sophos expands MSP programme
Issue 2 2020 , Cyber Security
Sophos MSP Connect Programme premiers new security offerings and PSA/RMM integrations amidst increasing partner demand.
Read more...
---
Educating employees about mobile cyber threats
Issue 2 2020 , Cyber Security
While nearly 9 in 10 companies allow employees to access critical business apps using their personal devices, Android-based malware now represents 14% of all cyber threats.
Read more...
---
Africa, you've been phished
Issue 2 2020 , Cyber Security
The 2019 KnowBe4 African Report across South Africa, Kenya, Nigeria, Ghana, Egypt, Morocco, Mauritius and Botswana has found that Africa is not prepared for cyber risks.
Read more...
---
Suprema BioMini Slim 3
Issue 2 2020, Suprema , Cyber Security
Replace passwords by integrating fingerprint biometrics into your solution with BioMini Slim 3 and its easy-to-use SDK.
Read more...
---
Understanding evolving cybersecurity needs
Issue 2 2020, Vox Telecom , Cyber Security
In the digitally-connected world with numerous data entry points into the organisation, cybersecurity requires a multi-layered approach.
Read more...
---
Coronavirus-themed security attacks on the increase
Issue 2 2020 , Cyber Security
Cybercriminals aren't guided by the same moral compass as the rest of humanity. In fact, they are using the current COVID-19 pandemic to try and break through defences.
Read more...
---
Tips on secure remote working
Issue 2 2020 , Cyber Security
NordVPN advises how to stay secure while working from home during the coronavirus outbreak.
Read more...
---
What will happen to digital privacy in the upcoming decade?
Issue 2 2020, Kaspersky , Cyber Security
Your data is now everywhere. Your phone. Your smartwatches. Your smart home. And if something goes just a little bit wrong – it will disappear in just one click.
Read more...
---