New voice systems
August 2018, Healthcare (Industry), Fire & Safety
The TOA VX-3000 is an energy-saving voice alarm system that combines all important functions for public address, voice alarm and background music in one unit frame. The limited number of components makes the design and installation easier, as well as saving space and reducing cable complexity. This enables rapid system configuration and makes the VX-3000 a cost-effective system. The VX-3000 voice alarm system can be installed as a decentralised system (using an IP network). This will reduce cable runs as the headend equipment can be installed in different areas of the site. The VX-3000 Voice Alarm System is EN 54-4 and EN 54-16 certified.
It uses low-loss modular class D amplifiers with three different output ratings. These can easily be removed or replaced simply by unplugging them, so there is no need for specialist tools. By using modern power supply switching technology, the system becomes much more energy efficient and keeps the operating costs low.
Thanks to its flexible and scalable system architecture, the VX-3000 system can be used for both small and large applications, with up to 256 remote microphones and 128 audio sources.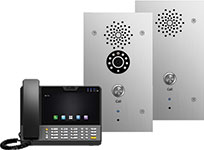 N-SP80 series.
TOA has also launched the N-SP80 range of SIP video intercoms as well as the N-8000SG SIP gateway to integrate the TOA N-8000 IP intercom to the SIP intercom range or with SIP PABX systems.
The three contemporary SIP-based intercom stations offer high-quality audio and video communication and a user-friendly electronic access control system. The SIP Intercom stations are compatible with a variety of SIP servers (Cisco, Avaya, Asterisk, Genetec) and enable peer-to-peer communication with an unlimited number of connectable stations within the SIP system. It can integrate with external SIP compatible systems through a SIP server. Peer-to-Peer mode is also available for standalone system operations without SIP server environment. Additionally, multi-cast transmission ensures paging into multiple zones.