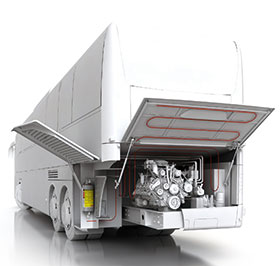 Protect passengers and prevent major fire damage to vehicles
August 2018, Fire & Safety, Products
Technoswitch has added the FireDETEC Compact Line Vehicle Fire System – a complete, pre-engineered fire detection and suppression system designed to protect an engine compartment against fire – to its product portfolio.
Effective, compact and economical, the 4-, 7- and 12-litre systems accommodate vehicle engines of any size. FireDETEC Compact Line's dual chamber technology combines the pressure chamber and extinguishing agent into one, making installation much easier, while the pneumatic detection tubing effectively withstands the harsh conditions of a moving vehicle engine.
If a fire occurs, the heat causes the pressurised sensor tubing to burst at the point closest to the fire. Sudden de-pressurisation actuates a valve and instantly floods the entire compartment with a liquid-based agent that suppresses the fire moments after it began.
FireDETEC uses liquid-based extinguishing agents with corrosion inhibitors (for corrosion control of metals) that are extremely efficient for extinguishing fire and preventing re-ignition. A special dashboard alarm warns the driver, giving them time to stop and evacuate passengers. In most cases, the fire will be out even before the bus has stopped.
FireDETEC advantages:
• Smart integration due to the compact and unique design.
• Superior safety: The pressurised compartment is in an inner chamber protected from external shocks.
• Easy mounting: FireDETEC is safely installed in any position.
• High resistance to vibration and impact.
• Quick extinguishing with prevention of reignition: Results of the combination of constant pressure discharge technology and FireDETEC extinguishing agent.
• Highly dependable (no external power source needed).
• A choice of suppression agent.
• UNECE R107 certification.
For more information contact Technoswitch Fire Detection, +27 11 794 9144, info@technoswitch.co.za, www.technoswitch.co.za